Have you ever come across a website with pages overrun with banner and video ads, questionable content, and multiple clickbait-like links to similar content websites? If you have, it was probably a Made-for-Advertising (MFA) site.
MFA is a term used to describe some websites or web content that are primarily designed to poach ad revenue from online advertising networks and exchanges by providing cheap reach to advertisers. According to Jounce's criteria for classifying MFA sites, they usually have three characteristics: paid traffic acquisition, aggressive monetization by stuffing pages with ads, and superficial KPIs.
From a user perspective, content on MFA sites is usually overloaded with keywords to optimize for SEO and offers little value or information to the user. On the advertiser side, the cluttered user experience and low-quality ad placements may provide advertisers with low-cost ad impressions, and maybe even viewable ad impressions, but the ad experiences leave a lot to be desired for the advertiser. No wonder that Jounce, a leading voice on supply path management, defines MFA sites as "inventory that achieves superficial KPIs like viewability by creating a user-hostile advertising experience."
To be clear, they are usually not featuring fraudulent inventory as defined by conventional IVT standards, but they are not good at driving real connections between consumers and advertisers.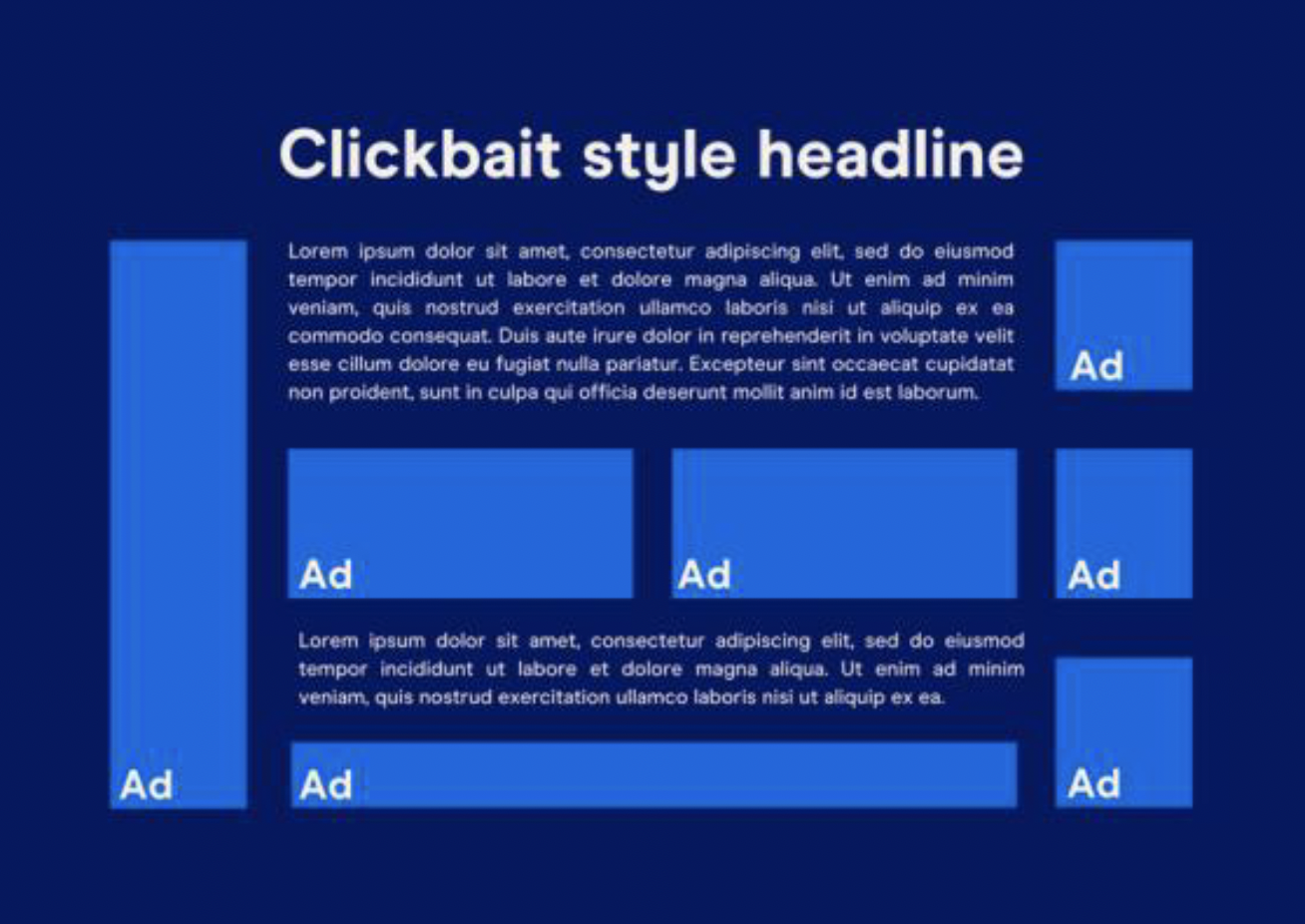 But why all this noise now?
A study by American National Advertisers (ANA) found that MFA sites represent 21% of impressions and capture up to 15% of ad spend. Similarly, Jounce estimates that the share of web auctions attributed to MFA sites is 4.5x more than three years ago.
In the same report, Jounce points out the difference in conversion metrics between premium publishers and MFA publishers, and no points for guessing which inventory ends up with a massive conversion deficit.
Additionally, as sustainability in media buying becomes an important topic, it's important to know that MFA sites also have a higher carbon footprint. According to ANA, MFA sites produce 26% higher carbon emissions than non-MFA inventory.
So what can you do?
There are two steps you can take to ensure your ads are worth the bucks:
Choose the right ad environment: Your ad gets noticed when it appears in a user-focused environment not an ad-focused environment. In the web environment, your ad competes with content and multiple other ads for user attention.

In-app ads on the other hand are clutter free: With clearly defined boundaries, and typically only one ad per page, in-app gets your brand more user attention.
In-app is also much more protected than web: As the content on the apps go through a more rigorous set of checks before the app is available in the App Store or Play Store — both at a content and user experience level.

Prioritize quality media buys: The cheapest media is rarely the best media. As an advertiser, it is critical that you balance cost with quality. Viewable, fraud-free, and brand safe are must-haves. Look for supply partners that not only give you visibility into these metrics but are working (or are open to working) with third-party measurement vendors to implement best practices that reduce your exposure to low quality inventory.
InMobi's Stance
InMobi has consistently demonstrated its commitment to quality and authenticity. Rooted in the in-app ecosystem, InMobi has an inherent advantage over web-based Exchanges when it comes to inventory quality control.
But we don't stop at that. InMobi Exchange deploys a dedicated and skilled Supply Operations team that conducts 16 different checks on each inventory partner before a single ad request is allowed.
To learn more about trust and safety on the InMobi Exchange, please visit us here: