Here's how to take in-app mobile performance advertising to the next level.
Running mobile performance advertising campaigns but want to scale them to see more high-quality app installs? Here's what you can do to expand the reach of your in-app performance marketing efforts and achieve unprecedented mobile growth.
Why Performance-Based Advertising Strategies from 2012 Don't Cut it Anymore
Remember what so-called advertising experts were pushing a decade ago? In the past, it was all about scale and reach. And when it came to scale, mobile was the top choice.
Back then, performance media buys took a spray and pray approach. Performance advertisers would leverage social media (including Facebook and Twitter ads), search engine marketing and a wide variety of ad networks and ad exchanges to reach just about everyone. The thought process was that by casting a wide net, you'd snag enough of the right people eventually.
Alas, the good times were not to last. Marketers trying to take this kind of wide approach to performance advertising became doomed to fail. So what happened in the intervening years?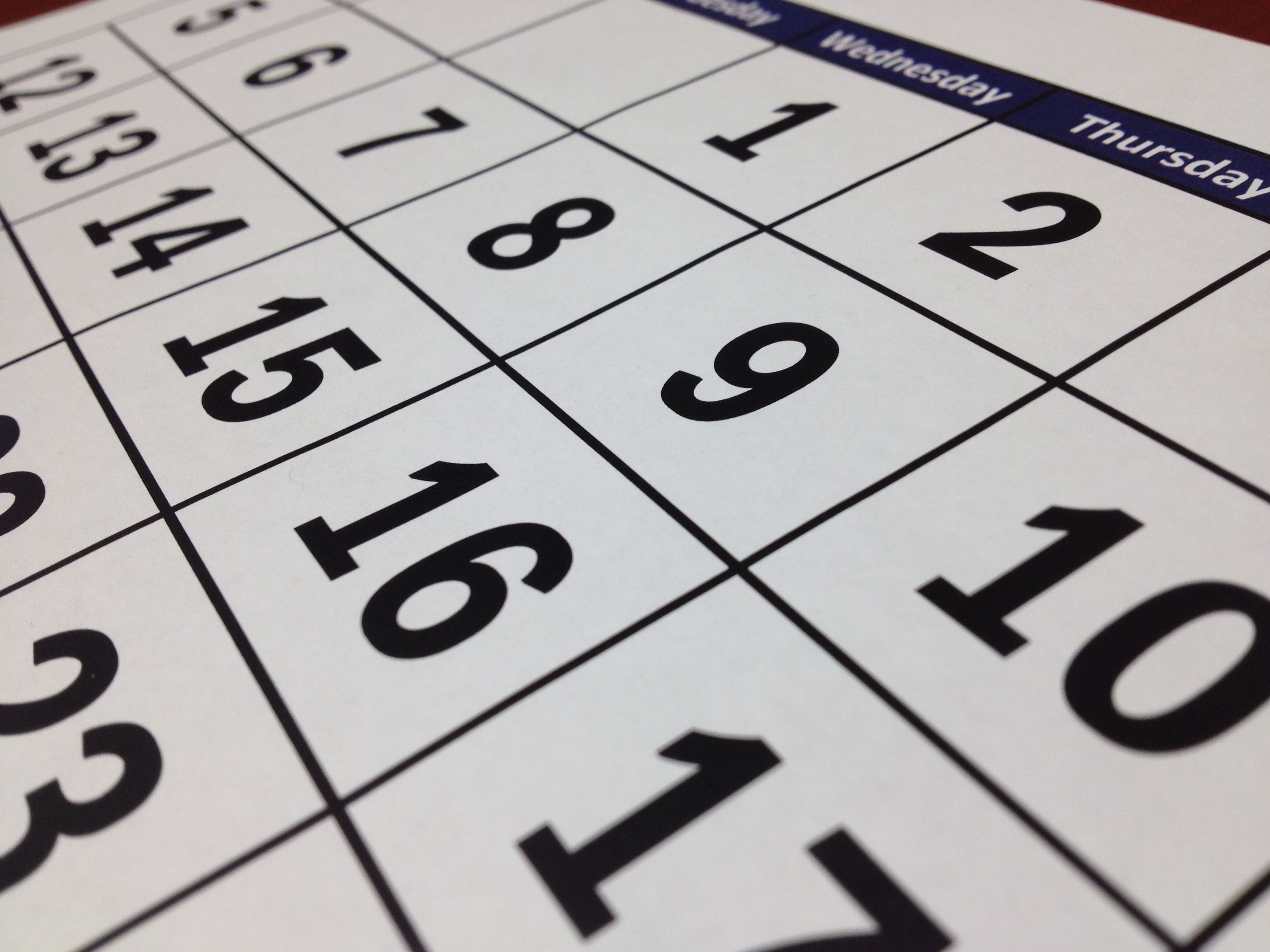 First, the type of apps being brought to market are very different. In 2012, Angry Birds and Draw Something were among the biggest apps of the year. These kinds of apps had mass appeal, and could conceivably be downloaded and used by at least half of the smartphone-owning audience in a more mature market like the U.S.
Today, the kinds of apps coming to market have more niche audiences. Mass marketing is a very different ballgame than niche marketing — especially as far as reach and targeting are concerned.
And, there's a key difference in how someone would interact with an entertainment app with wide, popular appeal versus the more niche apps today that tend to provide a more concrete utility. Think about a mobile game like Subway Surfers versus an app that provides a real-life utility like Uber. The barrier to entry for a game is low; you download it for free, and there's little change to your life if you delete it off your phone. With an app like Uber, you're committing dollars to it, so it's unlikely you're going to download it on a whim.
These differences impact who performance marketers will be working with. Before, in an effort to maximize reach and scale above all else, advertisers would turn to a wide variety of partners and technologies. But when the goal isn't just mass appeal, who should advertisers turn to?
Increasingly, performance marketers will only leverage a select group of niche experts to help them achieve very specific goals that correspond to specific marketing initiatives. For example, they may have one partner for brand awareness at the top of the funnel, one partner for driving engagement and interest and then another one just for user acquisition — and that's it.
Some down-funnel demand-side platforms ensure marketing are paying only for those that actually use their app. This is in contrast to what marketers did before, where they just paid for impressions or clicks and hoped for the best.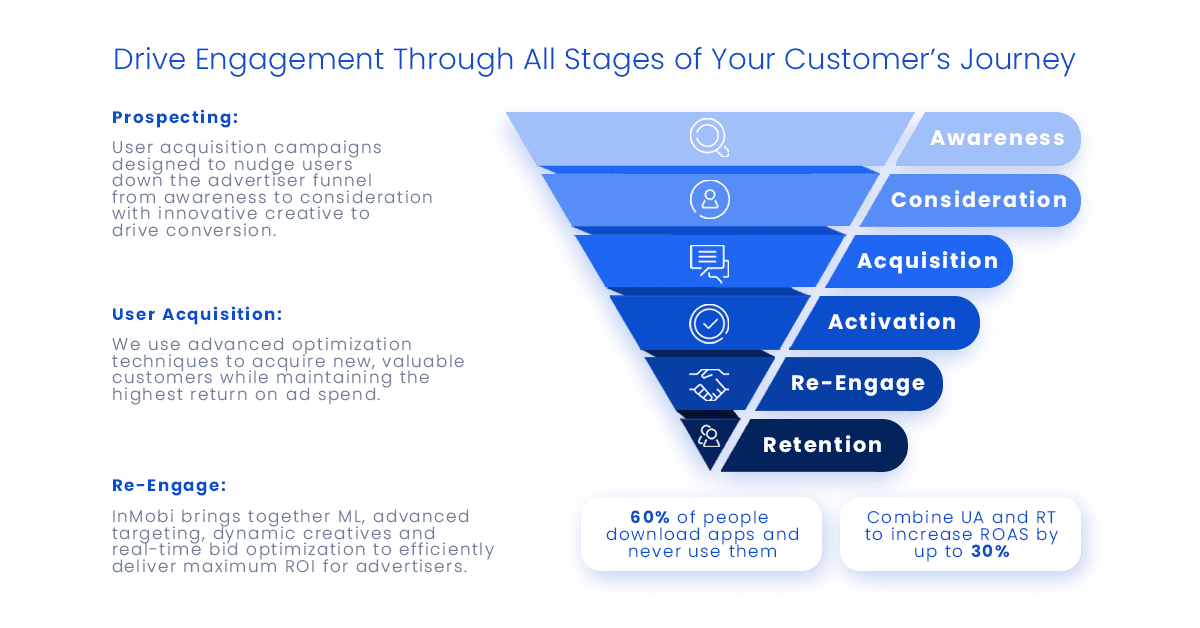 So considering these various changes, what can performance advertisers and marketers do to both meet their app business and user acquisition goals in an ever-tightening market while also realizing wide scale? Here are three key steps to take.
1) Growth Marketers Need to Embrace Programmatic Mobile Advertising Campaigns
When marrying specificity with scale, programmatic needs to be included in the mix. This is now just about the only way to combine the wide reach of older mechanisms with the granularity needed for optimal transparency.

Today's performance marketers need to know who saw which ads, where they saw them and what they were doing when the ads appeared, among other key points. This level of specificity is needed in order to make sure today's savvy mobile consumer is seeing the right message at the right time.
This is possible to achieve manually, but it doesn't scale. With programmatic, performance marketers have full control and oversight for their campaigns, but the automation that programmatic brings to the table ensures that specific targeting is spread out to as wide of an audience as is available.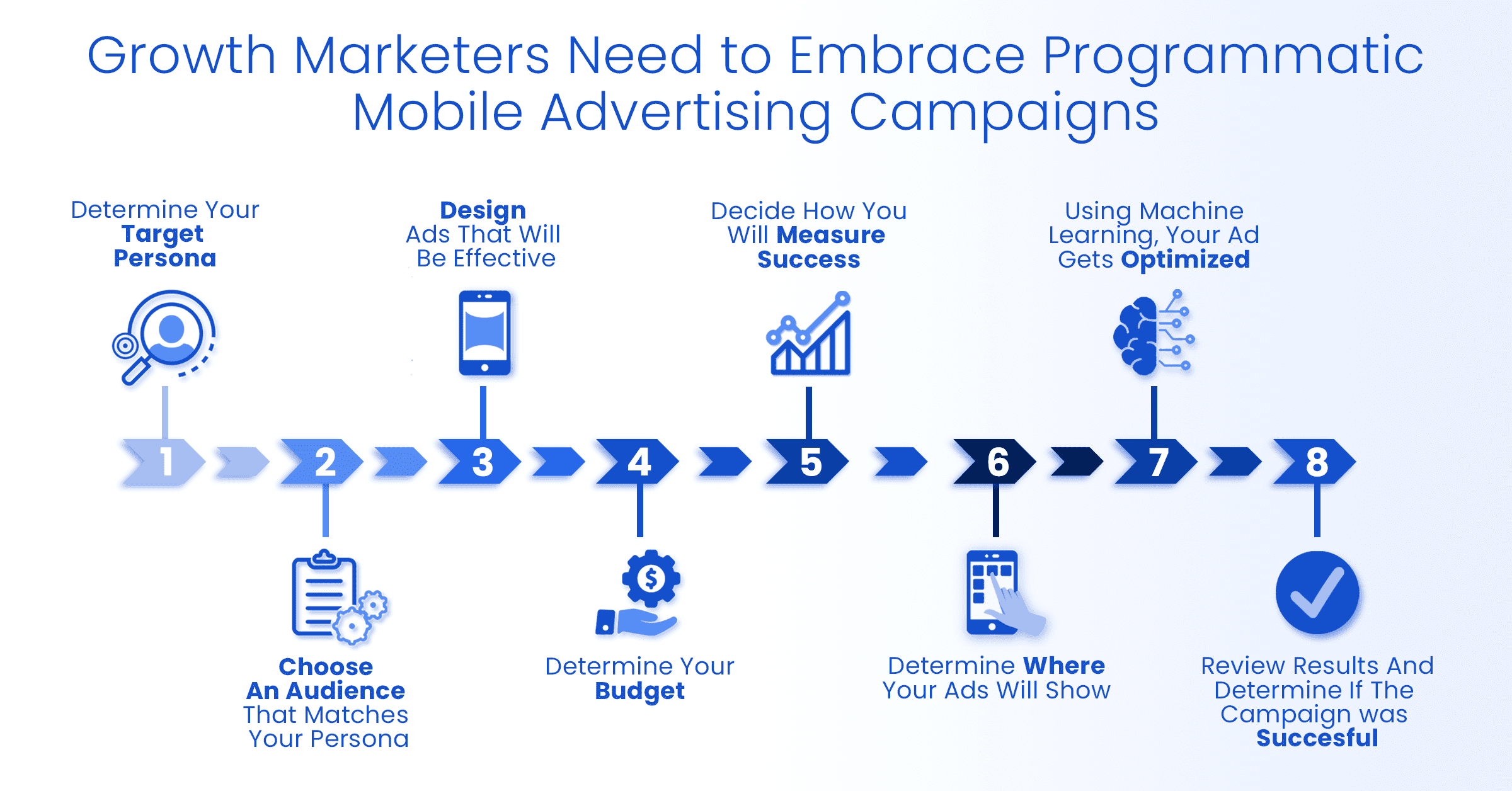 2) Mobile Advertisers Must Be Data Driven
By and large, Facebook and Google have proven the value of data in performance advertising. Because both have among the largest and most accurate data stockpiles, they are able to provide unparalleled results.
Performance marketers today not only need their own high-quality first-party data sources, they need partners that can bring unique data sets to the table as well. Knowledge is power, after all, and the more you know about your target audience the better you can reach them.
And, increasingly, mobile advertising is seen not just as a data sink but as a source of new data as well. Advertising is part of the customer stack now, which is why it's ideal to have data delivered back to you whenever possible and have a feedback loop. The idea here is to gather as much data as is feasible from current and previous ad campaigns, to see what they can reveal and how they can inform future performance marketing efforts.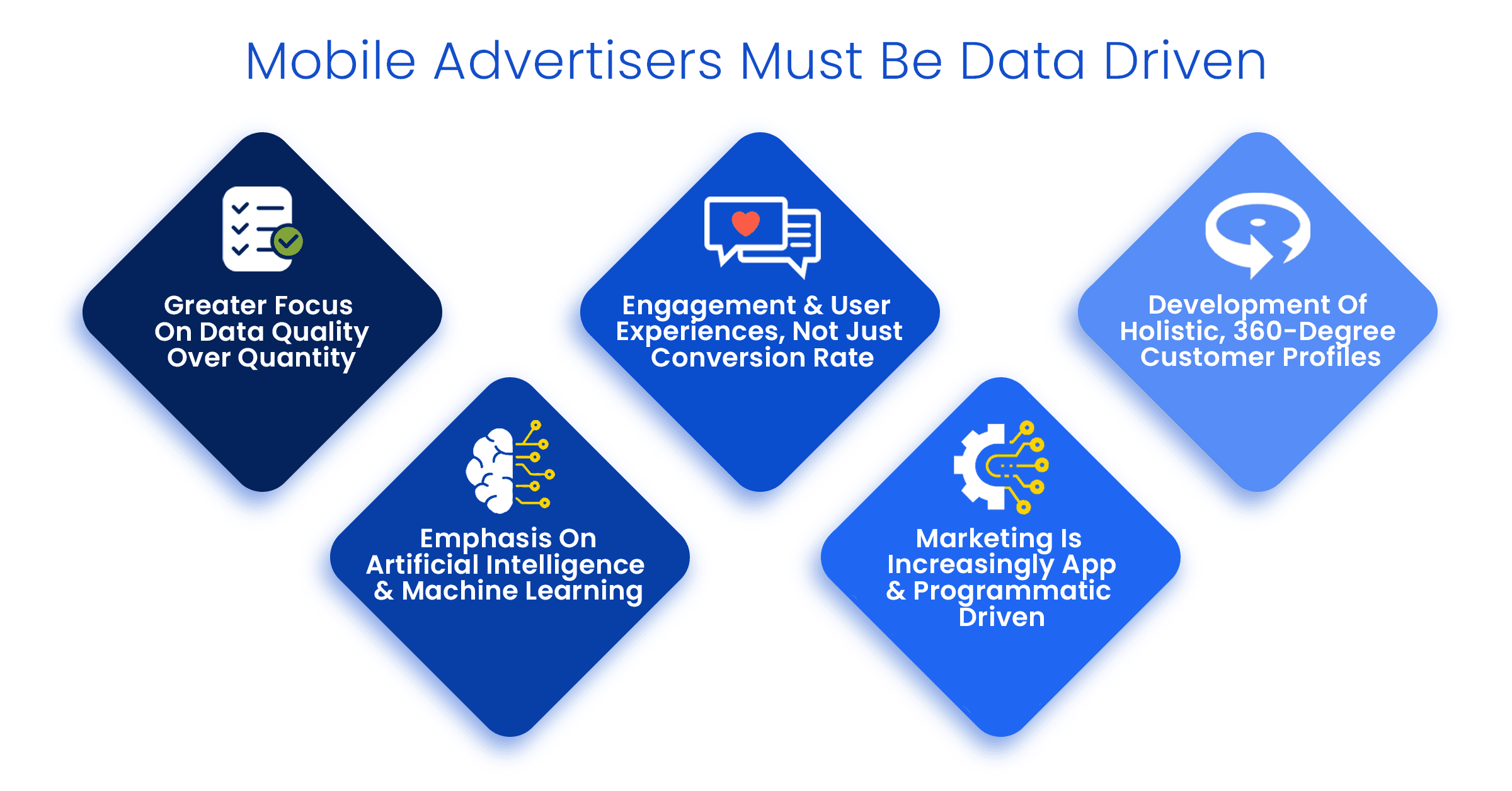 "From a data perspective, probably the most important change we can see is the collective effort towards greater data integration. We have all this data with us – transactions, channel engagement, support inquiries, etc. - but, ultimately, it's information about the same consumer. What we want to be able to do is get a 360-degree customer view – who they are, what they like, how they engage with us, etc. – all at one place, and then use this data to communicate with them in a more personalized and relevant way. Stitching together data becomes important not only across functions, but across channels as well – both offline and online," said Rana Saha, Senior Director of Growth Marketing at Grab.
3) User Acquisition Managers Have to Embrace Mobile-First Ad Formats
What does good ad creative look like on mobile? For performance marketers, the best ones leverage all the best that mobile has to offer, and have a clear purpose in mind.
Let's consider a simple banner ad, for example. Originally a holdover from the desktop world, banners these days only offer reach. This is hardly a bad thing, as brand awareness and name recognition are critical components to a well thought-out mobile marketing campaign. But, in and of themselves, they're often not ideal for achieving down-funnel metrics.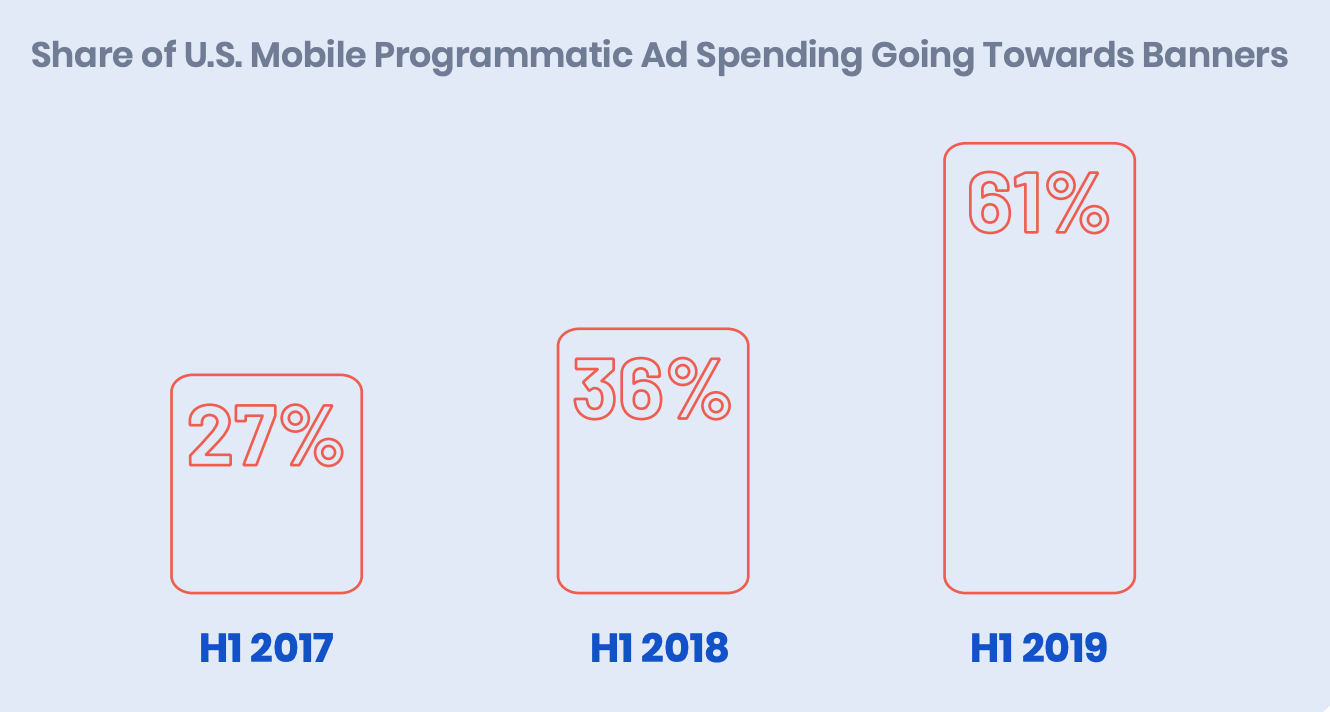 This is why interactive, rich media creatives are on the rise. By adding mobile-first, eye-catching capabilities to standardized ad placement sizes and formats, performance marketers can see better results from their campaigns at scale. In the U.S., approximately 30% of banners and around 40% of all display ads leverage rich media creative experiences now.
And, this is largely why video ads are becoming increasingly effective. By pairing video's ability to grab someone's attention with interactive features like end cards, marketers can see huge success.
According to InMobi's 2019 Mobile Programmatic Advertising Trends report, U.S. video click-through rates were 10x greater than CTRs for banners on average and 2x greater than native ad CTRs during the first three months of 2019. In the U.S., 60% of video private marketplace deals take advantage of video end cards, up from 10% a year or so ago.

Other increasingly popular mobile-first ad creative formats include rewarded ads, playable ads and ads that feature a preview of the app being marketed, along with six-second video ads. Expect many more innovations in the future too; the newer story formats that were popularized by Snapchat and Instagram may well likely be the proverbial tip of the iceberg in terms of mobile ad format innovations to come.
The effectiveness of mobile-optimized ad formats is amplified further through dynamic creative optimization (DCO). With DCO, advertisers are able to automatically alter the type of ad someone sees based on what they know about them. That way, people see ads that are more likely to appeal to them, and thus are more likely to get them to download an app or take another desired action.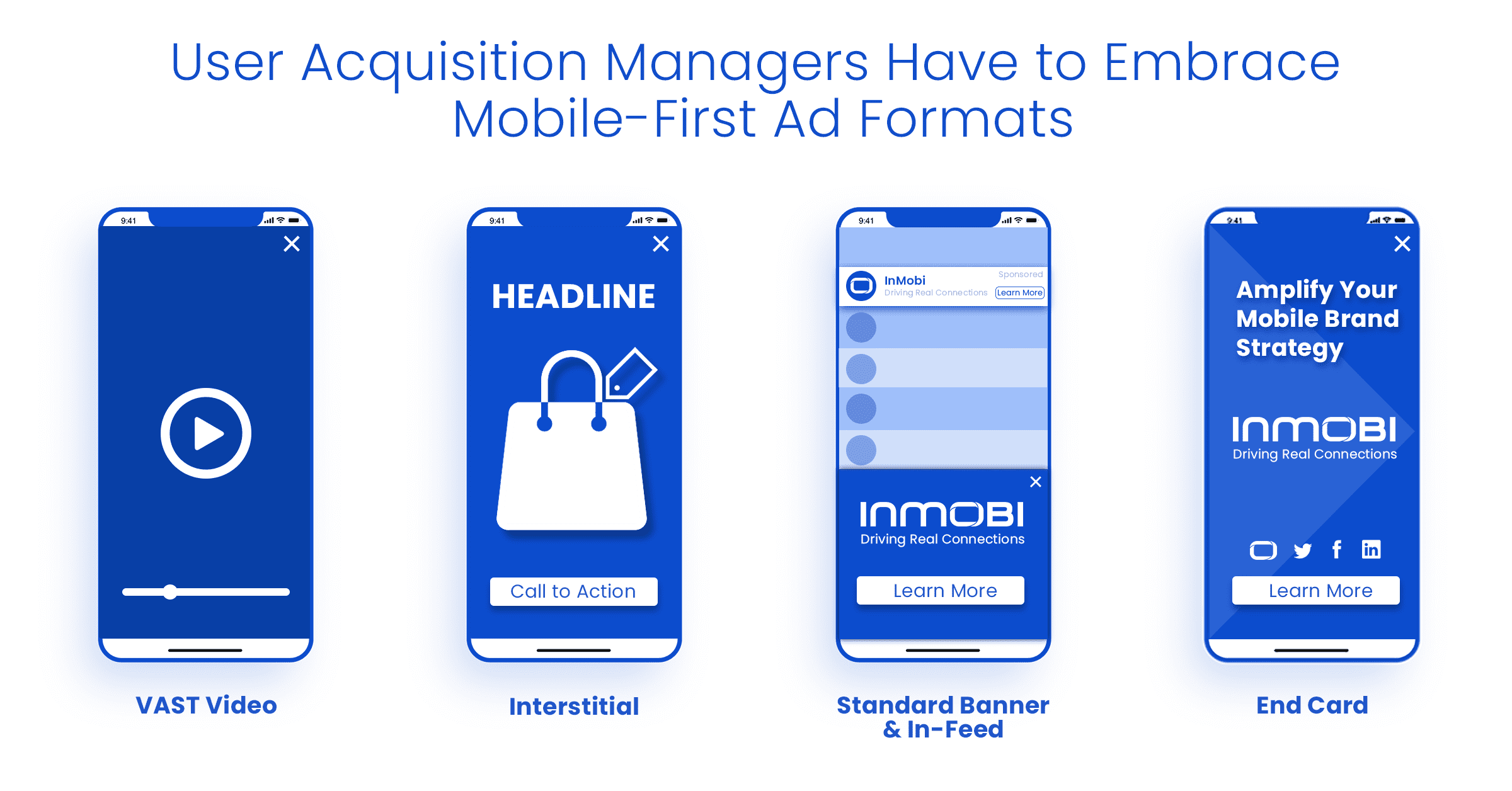 "Take an app download use case, where the KPI [key performance indicator> trend is moving toward not just CPM and CPC, but also cost-per-install and post-install metrics. For a retailer that wants to drive a transaction to happen after the install, we use MVT (multivariate testing) to make sure that the right creative variant is shown to the user, optimizing not just toward higher clickthrough rates, but toward increasing transactions," Prajwal Barthur, InMobi's Director of Products, told eMarketer.
How to Thrive in Performance Advertising Today
Successfully scaling a mobile in-app performance advertising campaign today is no easy feat. As the app and marketing worlds become more competitive, advertisers must make sure they are leveraging programmatic channels, prioritizing data and using the best possible creatives is they ever want to prosper at scale.
Interested in learning more about mobile performance advertising and seeing how others have done it? Check out these case studies for more insights: