The last decade has witnessed substantial improvements in regards to diversity and equality at the workplace. The evolution of the modern workplace has created an increased focus, on long-overdue changes in the world of business such as empowering women with more professional opportunities and providing equal pay as their male counterparts. McKinsey recently released a detailed report on how women have progressed over the years in the workplace and maps out the way ahead for companies to incorporate gender equality as a mandatory measure.
We at InMobi take this opportunity as a part of International Women's Day to recognize the extensive contributions made everyday by the incredible women at work. Despite efforts taking place across the globe to improve equality in the workplace, there is still much that needs to be done. We have always been dedicated to providing equality in the workplace and exploring new ways of empowering women who make up such an important part of the InMobi Group. As such, we chatted with some of these women one-on-one to understand the initiatives they take to succeed in their respective careers and the gaps that they think companies need to bridge to encourage gender equality . .
---
Driving Technology Leadership
Among the most successful initiatives, perhaps, are those that seek to instruct employees on their unconscious biases and how to recognize them. Women who experience microaggressions are three times more likely to regularly think about leaving their job than women who have not experienced this form of discrimination.
Q. Over the last decade, have there been any major changes in representation in technology and technology leadership?
Supriya Goswami
Over the last ten years, there has been a distinct acknowledgment by the system that the gender gap exists. This acknowledgment is the first step out of many that will help bring real change. There has been a remarkable attitudinal shift at multiple levels from an organizational, ecosystem and industry lens. In large parts, I believe that this shift can be attributed to a tipping point, with personal and organizational initiatives meeting at a common point bolstered further by an increased awareness made possible by access to information, especially on social media. Access to role models and support systems have tremendously changed as well, with women-led initiatives focused on entrepreneurship and technology such as Grace Hopper Celebration of Women in Computing and SoGal Ventures finding a massive audience who lead the change in mitigating gender bias.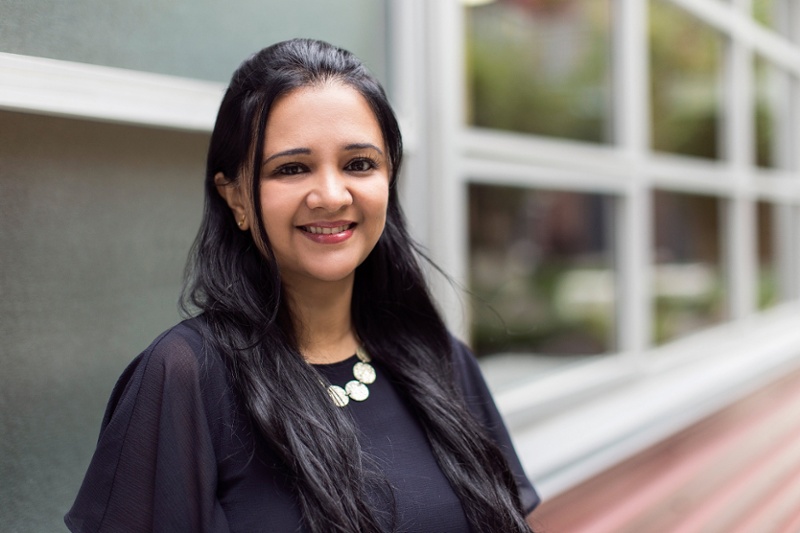 Supriya Goswami is the VP and Global Head of Marketing at InMobi Marketing Cloud. Having spent over seven years at InMobi in various roles, she is currently responsible for Marketing Strategy, Brand Marketing, Demand Generation, Product Marketing, Digital and Field Marketing at InMobi, working with a team across the globe. With over 17 years of experience, her expertise goes beyond marketing, having worked across HR and Consulting. Supriya holds a Master's degree from INSEAD and the Tata Institute of Social Science.
Ekta Grover
Leading a team diligently in a women-skeptic world is a challenge in itself. With evolving cultures in companies that are women-friendly and support gender equality like InMobi, we feel welcomed and encouraged. The real question to ask is not about representation (or cardinality) but about the impact of that representation that women are creating. The real problem I see is that when women take high visibility roles, there is little thoughtfulness on the impact they are creating. This, coupled with the access to low proactive mentorship, makes our career journeys incremental rather than multiplicative. Women need to have the insatiable drive to learn across teams and perform beyond job descriptions. While there is a bit of bias in the industry, on wanting to see women leading with more aggression, one should not want to change one's natural assertive leadership style. It's an implicit way of making our workplaces more aware of diverse leadership styles. Not men, not women - just distinctively us. So, back to your question on gender representation, we should reflect accountability in our actions and the impact will follow.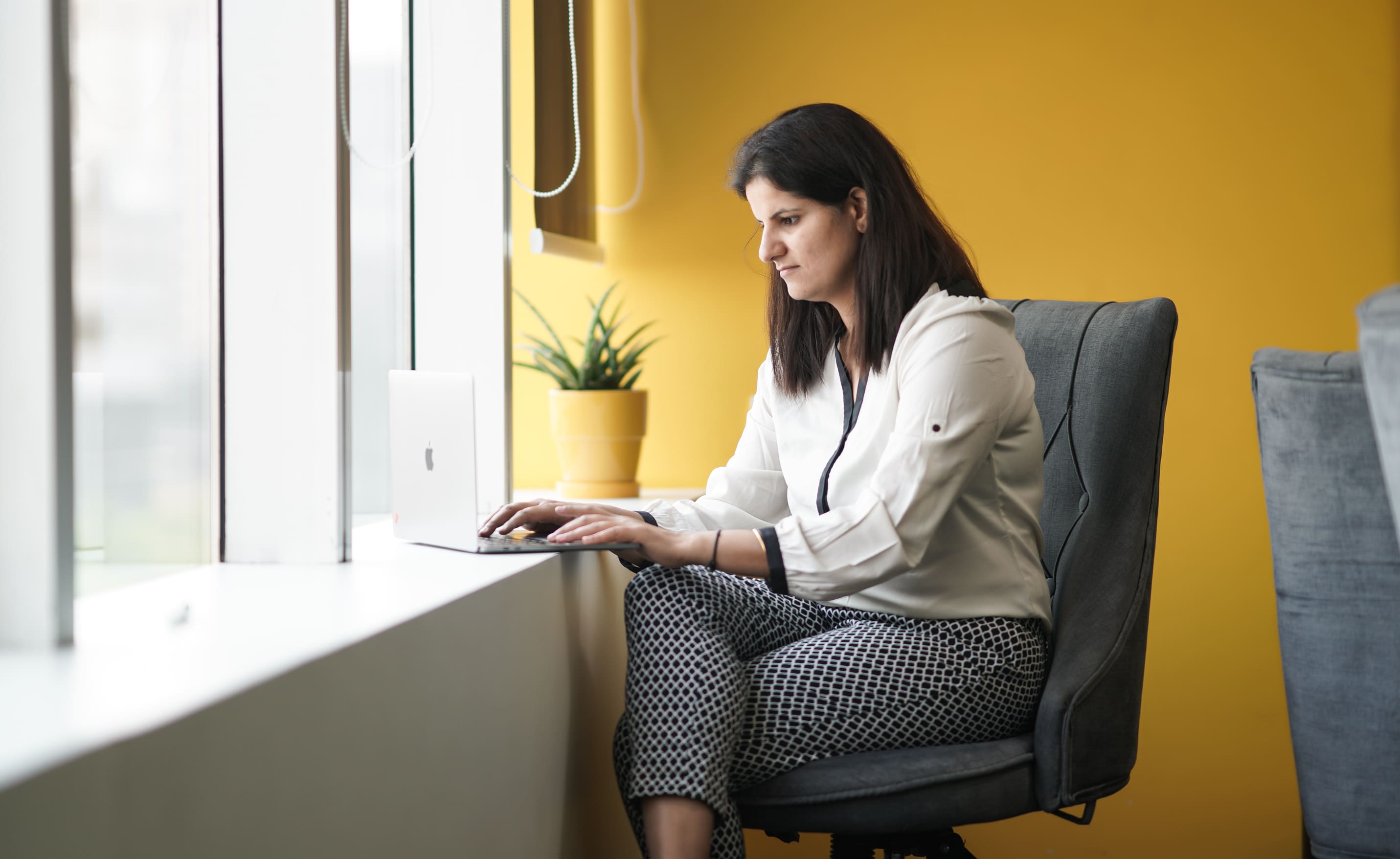 Ekta Grover is the Chief of Staff for InMobi Marketing Cloud. She has over 12 years of experience in creating software applications for enterprises and consumer internet segments. By taking part in national and international conferences, she has strong latent skills to take up pro-bono consulting and successfully create value-driven outcomes out of it.
---
Encouraging Workplace Diversity
Despite efforts to encourage unbiased performance measures in workplaces, one in four women think that their gender has played a role in missing out on a raise, promotion or chance to get ahead—and slightly more women think their gender will make it harder going forward. For every 100 men promoted and hired as a manager, only 72 women are promoted and hired. This broken rung results in more women getting stuck at the entry level and fewer women becoming managers. Not surprisingly, men end up holding 62% of manager-level positions.
Q. Increasing diversity takes more than recruiting – it's also creating the right environment for that diversity to thrive. How can companies overcome this early inequality?
Aakanxa Pandey
Over the past four to five years, women are increasingly taking the call around family and career. Flexibility and accommodations in the workplace have been much more accepted, especially with work-life balance. There's room for improvement, but women have more choices about their career trajectory.
It's also important to see beyond gender to hire the right candidate. Talent is irrespective of gender and companies need to advocate this to move in the right direction. Further, companies need to recognize that women can take up managerial roles and contribute equally. At InMobi, we swear to be an equal opportunity provider to have the right set of talent pools and encourage women to take up leadership roles.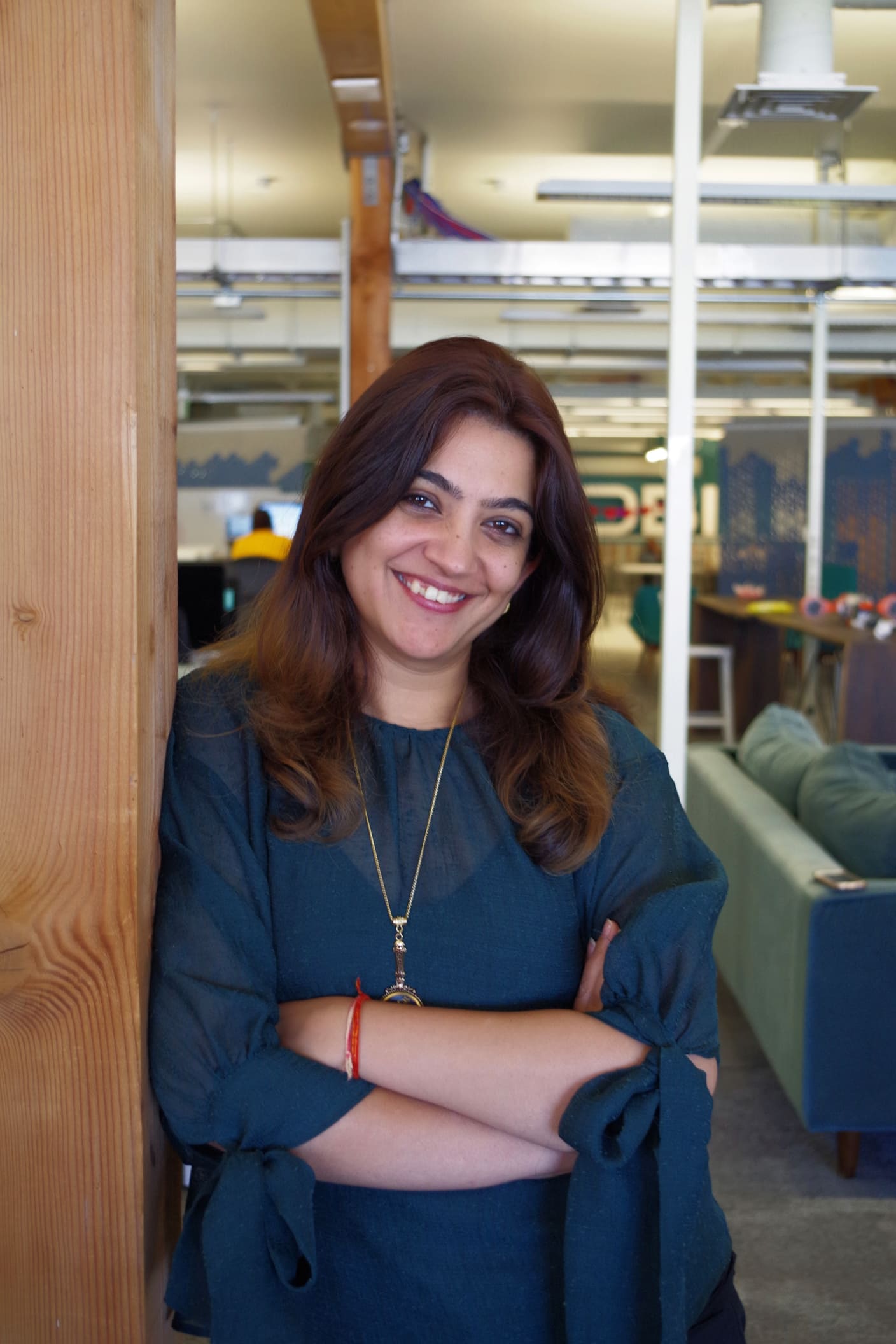 Aakanxa Pandey is Director of HR at InMobi, working across geographies at the organization for the last three years and currently heading HR for IMC North America. Aakanxa has over 15 years of experience in human resources, with most of her experience focused on partnering with senior leadership on strategic people initiatives. She also carries considerable consulting experience, having worked with Mercer Consulting in the Total Rewards Consulting space.
Mansi Jain
Creating diversity starts with creating a more welcoming and nurturing work environment. Especially in roles like Strategy, which requires working across teams and functions, if the culture promotes women at the managerial level having a point of view and gives them the space to voice it openly, it will go a long way in developing women leaders. It's equally important for companies to encourage freshers to take up leadership roles to fix the broken rung and have women and men at all roles in the workplace.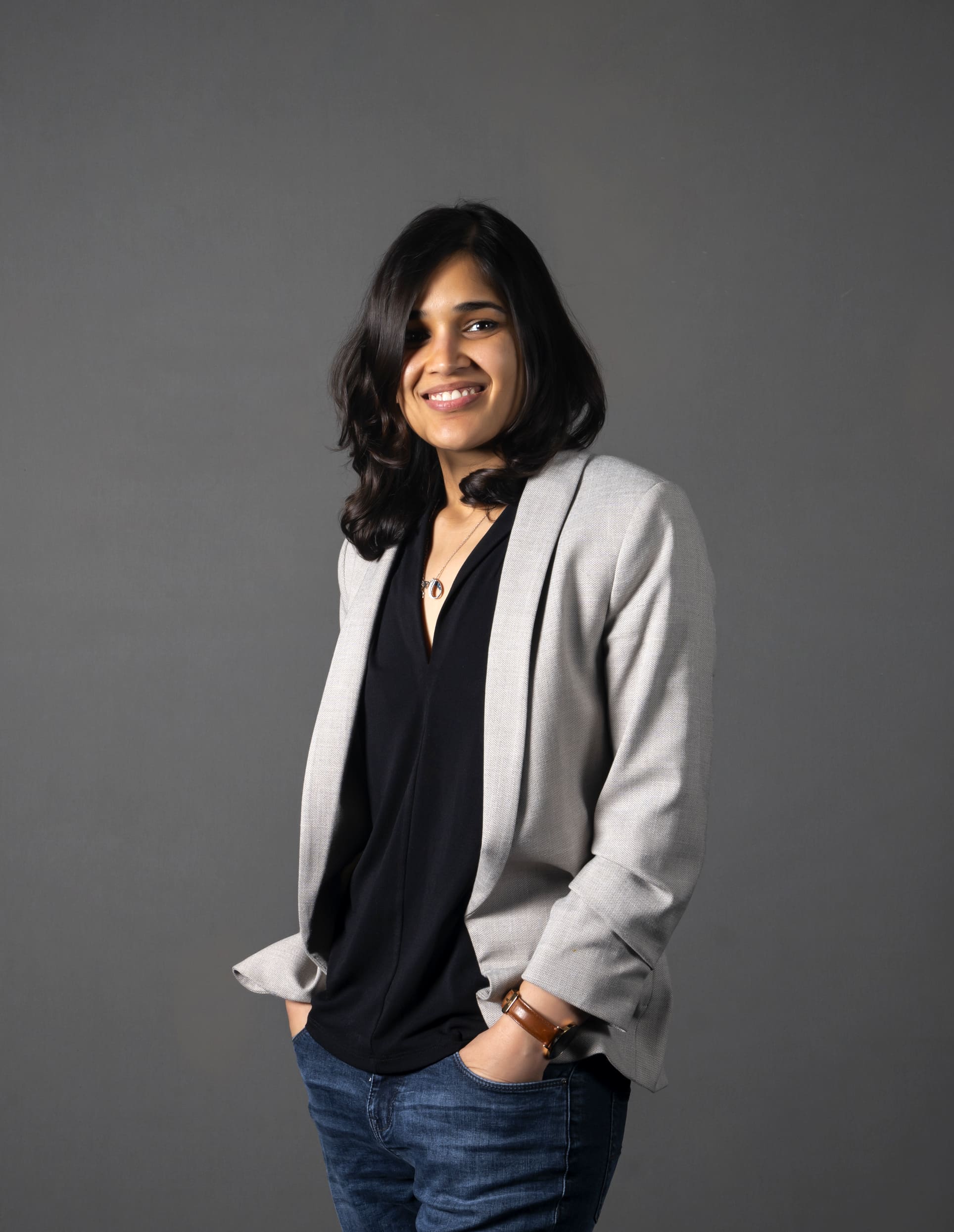 Mansi is the Vice President, Content and Revenue for Glance, leading revenue and P&L for the B2C business of InMobi Group. She works with leading content partners across news, entertainment, commerce and gaming, and marketers to drive their content discovery on 100 Million DAUs on Glance. She manages a team of 150 across India and Southeast Asia. Mansi has more than 10 years of experience across Strategy and driving new businesses globally. Mansi graduated from IIT-Delhi and prior to InMobi, Mansi was a consultant with Bain & Company.
Shefali Rai
The first big step to creating the right environment is to not talk about "gender equality" as a separate paradigm. A talented professional, whether male or female, should start off on an equal footing basis, on their own merit with no perceived bias towards their gender, be it for recruiting the right candidate or giving them the deserving raise and promotion. This in itself will create diversity and also enable many more leaders who happen to be women to feel empowered to chart out their own path. At InMobi, one of the most important aspects that managers and leaders are encouraged to strengthen is to speak up, and have a point of view that they can share openly. This holds true for not just women but men too. We stand for the concept #EachforEqual at InMobi.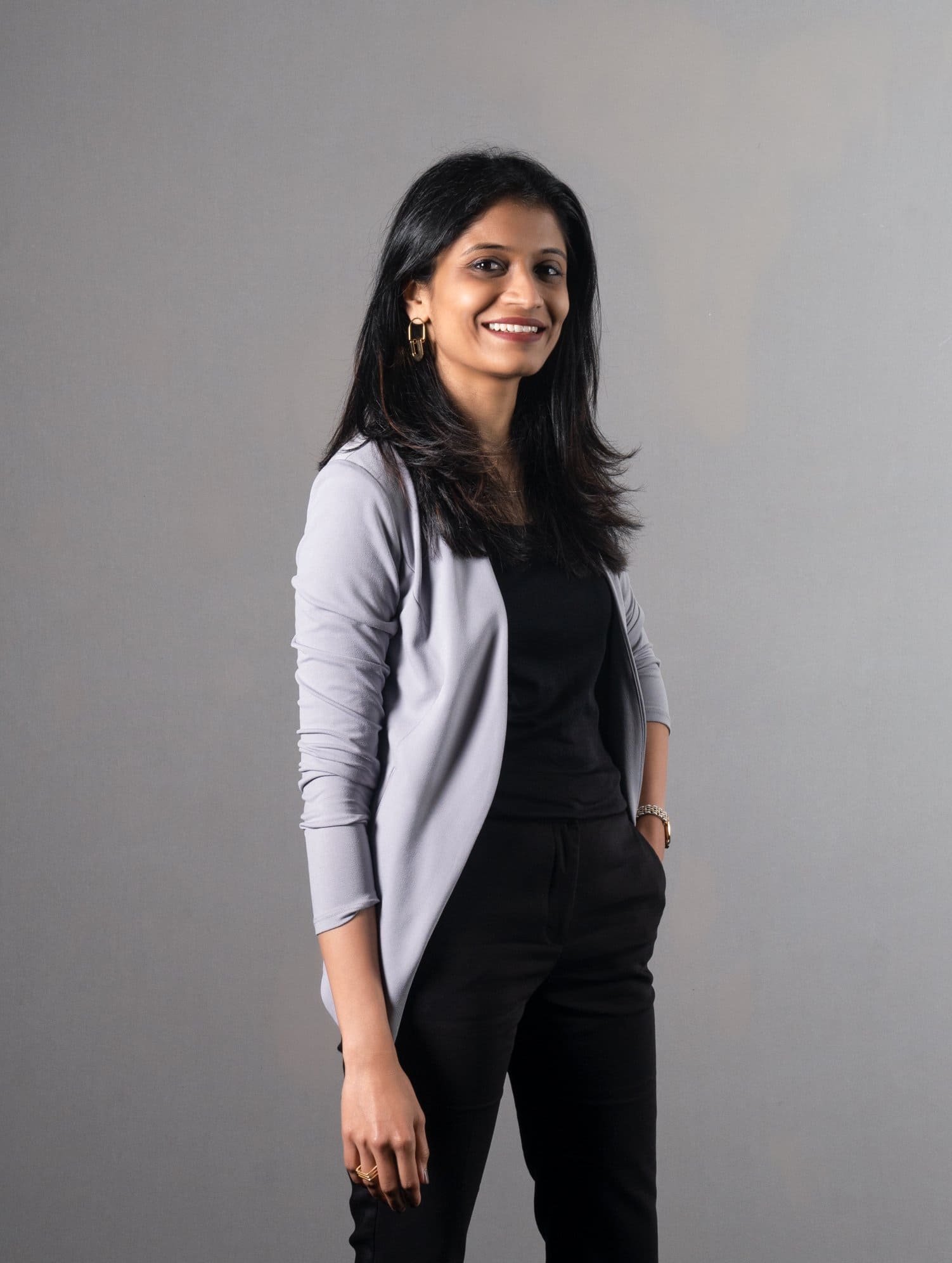 Shefali has a broad-based HR experience straddling across areas of Talent Acquisition, Learning and Development, Talent management, Organizational Development and HR strategy. Work experience at InMobi Group includes Head of HR for Glance, along with HR leadership roles managing Technology, Product and Business teams at InMobi, prior to that, she worked at Yahoo and Symphony Services as a specialist managing Talent acquisition for different functions across the organization.
---
Building an Inclusive Culture
The McKinsey Report claims that employees may be apprehensive about speaking up because it feels like a high-risk endeavor: 37 percent say it could hurt their career. Or they might not think it will make a difference: Half of the employees who've spoken up say nothing happened as a result.
Q. Especially in global companies that deal with various cultural and regional nuances, how do you ensure your voice is heard? What is your advice to women?
Vasuta Agarwal
I would tell young female professionals to always strive to achieve things beyond the 'Job Description,' and give everything to every role that you take up. One should not ignore opportunities just because they are outside of the current scope of work or because no one asked you to do it. The other advice I have to offer is to ensure you make your presence felt and speak up. Often we hesitate to do that, especially at the start of our career, but it's important to speak up if you have a point of view.
Vasuta is the Managing Director for the Asia Pacific at InMobi. She is responsible for the P&L, revenue, strategic partnerships and business for India, Southeast Asia, Japan, Korea and ANZ markets. Prior to this, she was the VP and GM for India business at InMobi, driving consistent scale and growth over the last 3+ years. She was chosen among the "Top 50 Influential women in media and marketing in India" for 2019 and in the "Economic Times Women Ahead List" for 2018. She has been with InMobi, one of the first start-ups and unicorns to go global from India, for over seven years and has worn many hats in her time there from Founders' strategy to product to business roles. Before InMobi, she was at McKinsey as a management consultant and with Intel as a chip design engineer. She is a graduate from BITS, Pilani and the Indian Institute of Management, Bangalore.
Veena Sethuraman
You cannot achieve anything only by yourself. All of us are who we are because of meeting some right people at the right time. So, continue to build yourself by seeking help – your leadership, your team, your peers, your family, your friends; Learn to lean on others without feeling embarrassed about it. Similarly, do allow others to lean on you. Build up others by helping them believe in themselves. Without this healthy giving and receiving, we may end up in an imbalanced vicious circle. So, do receive and give with healthy boundaries. In the process, respect your needs and other's needs. It takes a lot of courage to be vulnerable in front of others and seek help. But, once you do that, it just makes life so much easier. The key is to ask!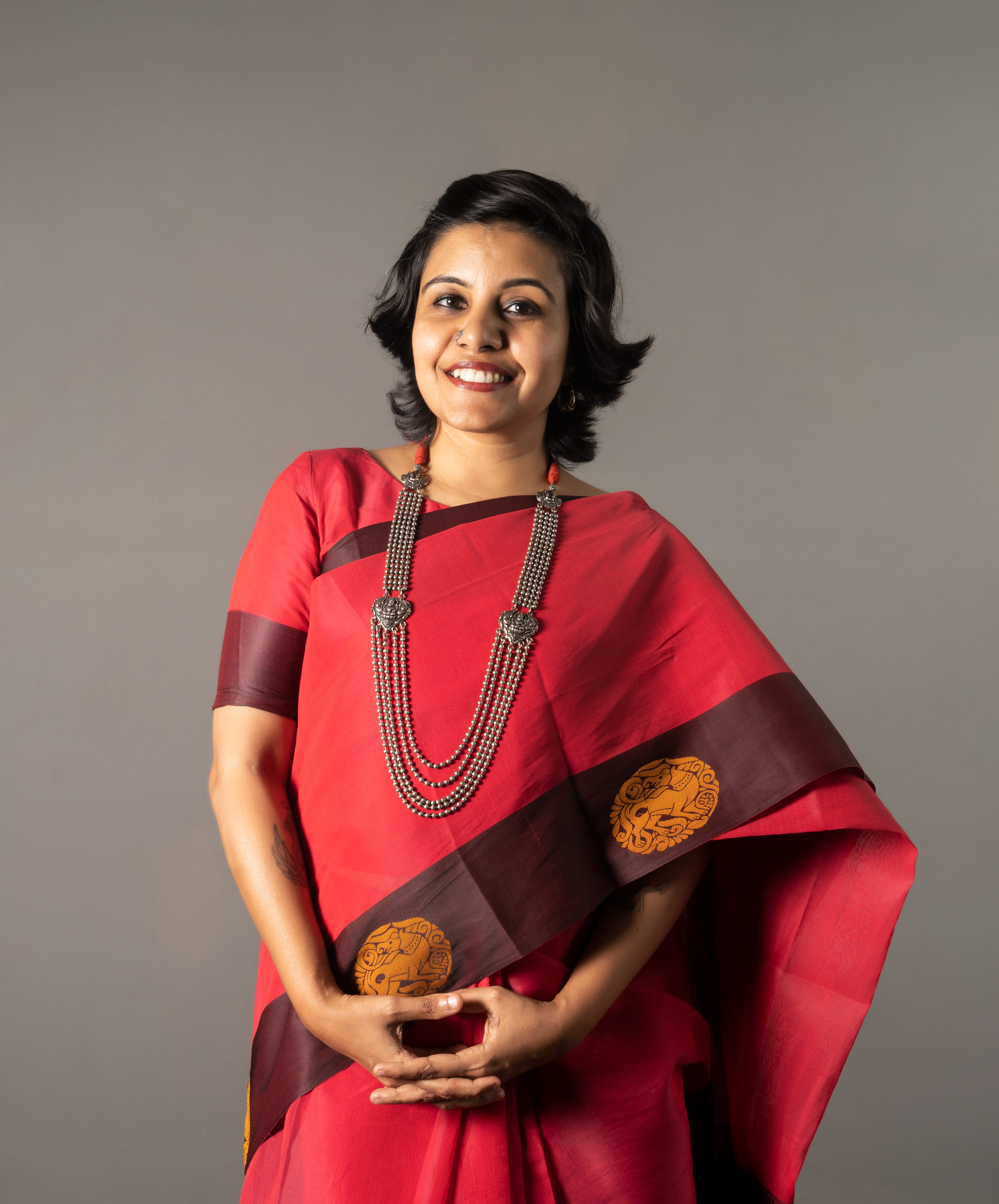 Veena Sethuraman is a Senior Leadership and Organizational Development Consultant by profession and a Psychotherapist by passion. She is currently employed as the "Global Head of Learning and Organizational Development" at InMobi. She is a proponent of diversity and inclusiveness, along with mental health awareness. In this capacity, she works closely with LGBTIQ community members to amplify their voices. She has also spoken at TEDxBangalorewomen. Apart from these, she enjoys writing and has published articles on platforms like The Newsminute and Infinumgrowth. She loves travelling and exploring cultures, cuisines and people.
Varsha Udayabhanu
My advice is that you will be most effective when you know your audience. Don't give up your integrity but understand that you're not a square peg in a round hole. It's easy for others to make assumptions about you, so don't let those preconceived notions dictate communication. This is key both on the regional level and on the individual level. Certain cultures and geographies have certain communication, work and management styles, and you'll be most effective when you fully understand these regional nuances and proceed accordingly. Similarly, different individuals have different work preferences, communication styles, etc. The key is to always know your audience and to ensure you're communicating with your audience in a way that best suits them and you.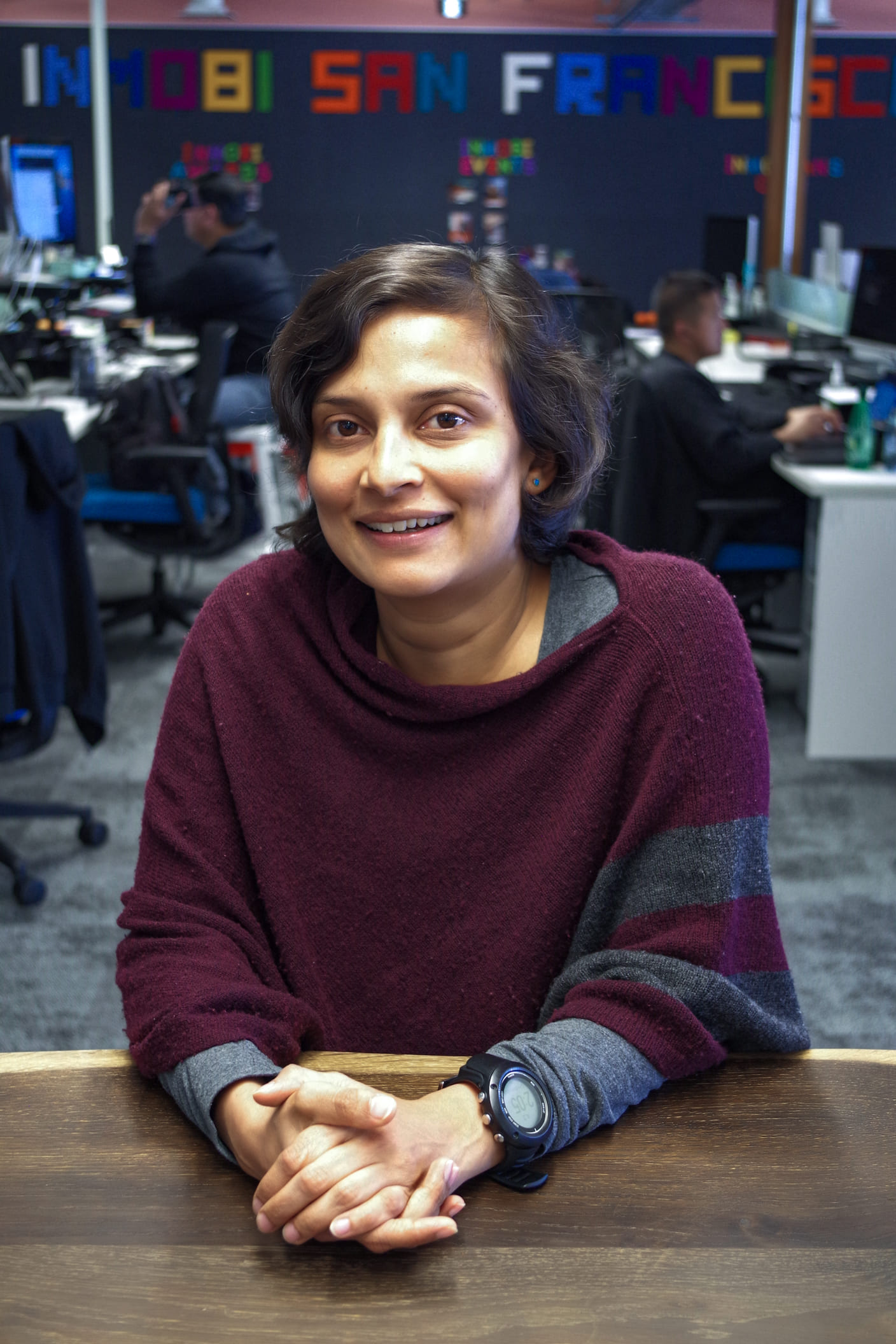 As VP of Corporate Development and Investor Relations, Varsha manages the global team responsible for all mergers, acquisitions, investments and capital raising at InMobi. Varsha has been a key leader at InMobi for close to seven years and has over 10 years of global experience in the financial services space.
---
Chartering New Functional Legacies
A majority of employees believe they personally have equal opportunity to grow and advance, but they are less convinced the system is fair for everyone. Fewer than half of women and men think the best opportunities go to the most deserving employees, and fewer than a quarter say that only the most qualified candidates are promoted to manager. On both fronts, women are less optimistic than men.
Q. You are leading functions which currently continue to have a limited representation of women across industries and countries. What is a significant barrier that can help overcome bias and drive inclusion?  
Pujarini Maulik
Assessment and growth wholly and solely are based on merits devoid of presumptions. For example, it is often presumed that a working mother would be indisposed due to her parental duties, and hence cannot be trusted with high-pressure jobs or jobs requiring long hours. This is hardly ever true. A professional individual knows how to maintain work-life balance. Organizations need to step away from stereotypical presumptions. From my experience, InMobi truly walks the talk in this regard and one's status is never a stumbling block for one's growth here.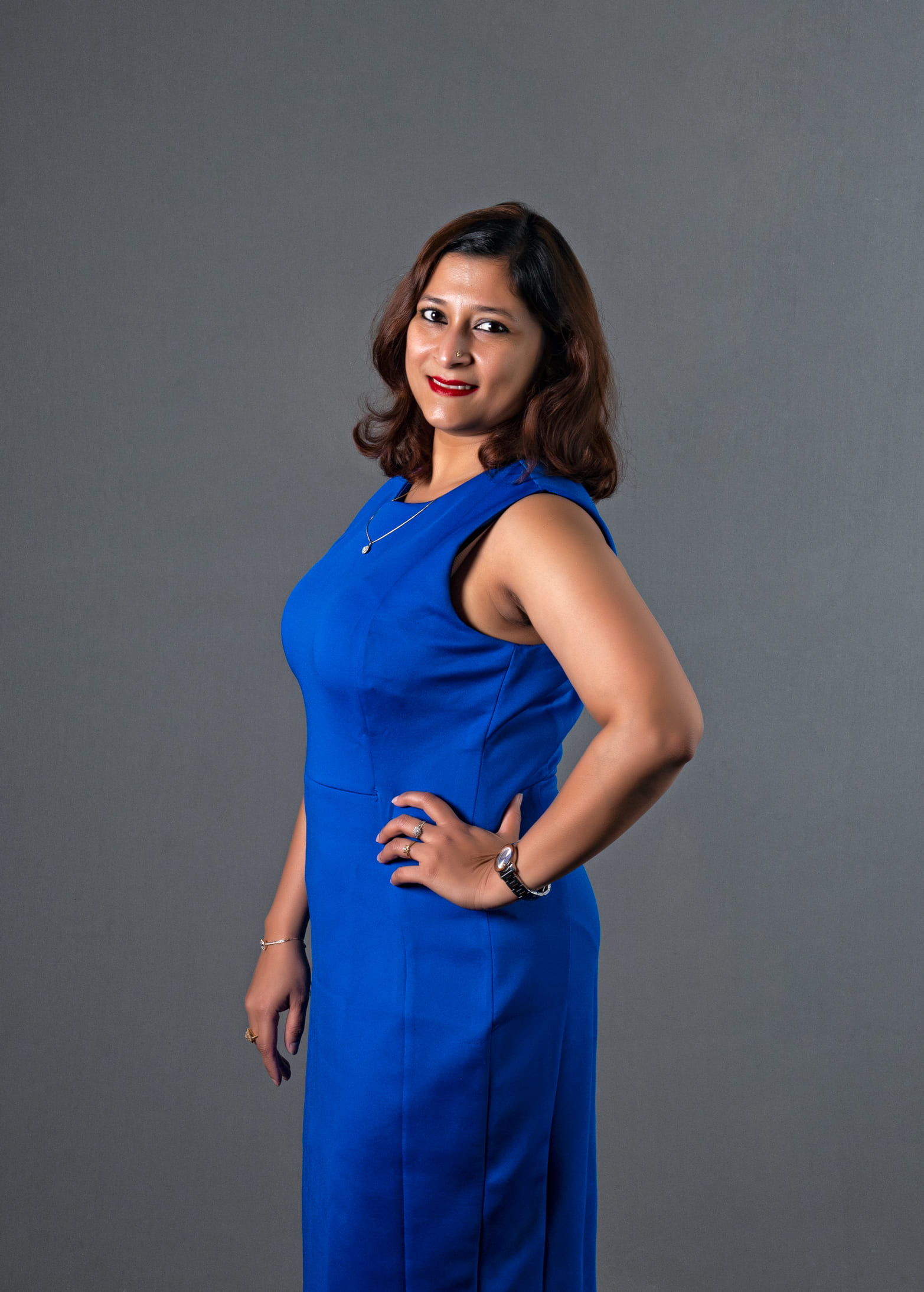 With about 15 years of experience as an in-house counsel for large MNCs, Pujarini has worked across healthcare, outsourcing, Ad-tech and digital media industries with expertise in deal structuring, privacy, M&A and employment matters. Alumni of Symbiosis Law College, Pune, is currently heading a team of 10 at InMobi Group as V.P. Legal and also presides over the privacy committee of the organization. She has been honored to be a part of the General Counsel Power list (India) as per Legal 500 in 2016 and 2018, respectively, alongside distinguished members of the fraternity. She has also been featured in Top 100 women in law within the country on many occasions and specifically honored by the Legal Era Women in Law Awards in 2019.
Varsha Udayabhanu
Women (and really people more generally) don't always want to enter the fields where they know they will be underrepresented and where work-life balance may not be supportive. This is particularly true with women working in finance. But, in my experience, once you've established yourself, you can develop schedules and workflows that work for you. It is important to stand your ground and achieve all that you have to so that companies have the right reasons to choose you for the role, irrespective of the gender bias.
---
Shaping an #EachForEqual World
"A truly gender-inclusive work culture ensures that all employees, regardless of gender and other differences, are equally treated, respected and valued. At InMobi Group, all employees are equal and this Women's Day we celebrate all that our women leaders and the women at InMobi have accomplished."
- Sahil Mathur, Vice President - Global HR and Culture
#EachforEqual #WomensDay2020 #WomensDay
---
References
https://wiw-report.s3.amazonaws.com/Women_in_the_Workplace_2019.pdf