Apple officially introduced iOS 14.5 on April 26 – or over two months ago at this stage. Of course, this was no ordinary operating system update. With iOS 14.5, Apple began enforcing its AppTrackingTransparency (ATT) framework, requiring apps to display standard messaging that would have users opt in to information being shared about them in the form of a device-level identifier (IDFA).
On May 24, less than a month after releasing iOS 14.5, Apple launched iOS 14.6. Now that even iOS 14.6 has been live for a month at this stage, what does the mobile ecosystem look like? Let's take a look.
Overview of Adoption Rates
According to InMobi data, half of all iOS devices were on iOS 14.5 or higher by the week of June 13, with 46% on iOS 14.6 alone. This is a significant shift, as by the week of June 6 only 20% of iOS devices were at this level.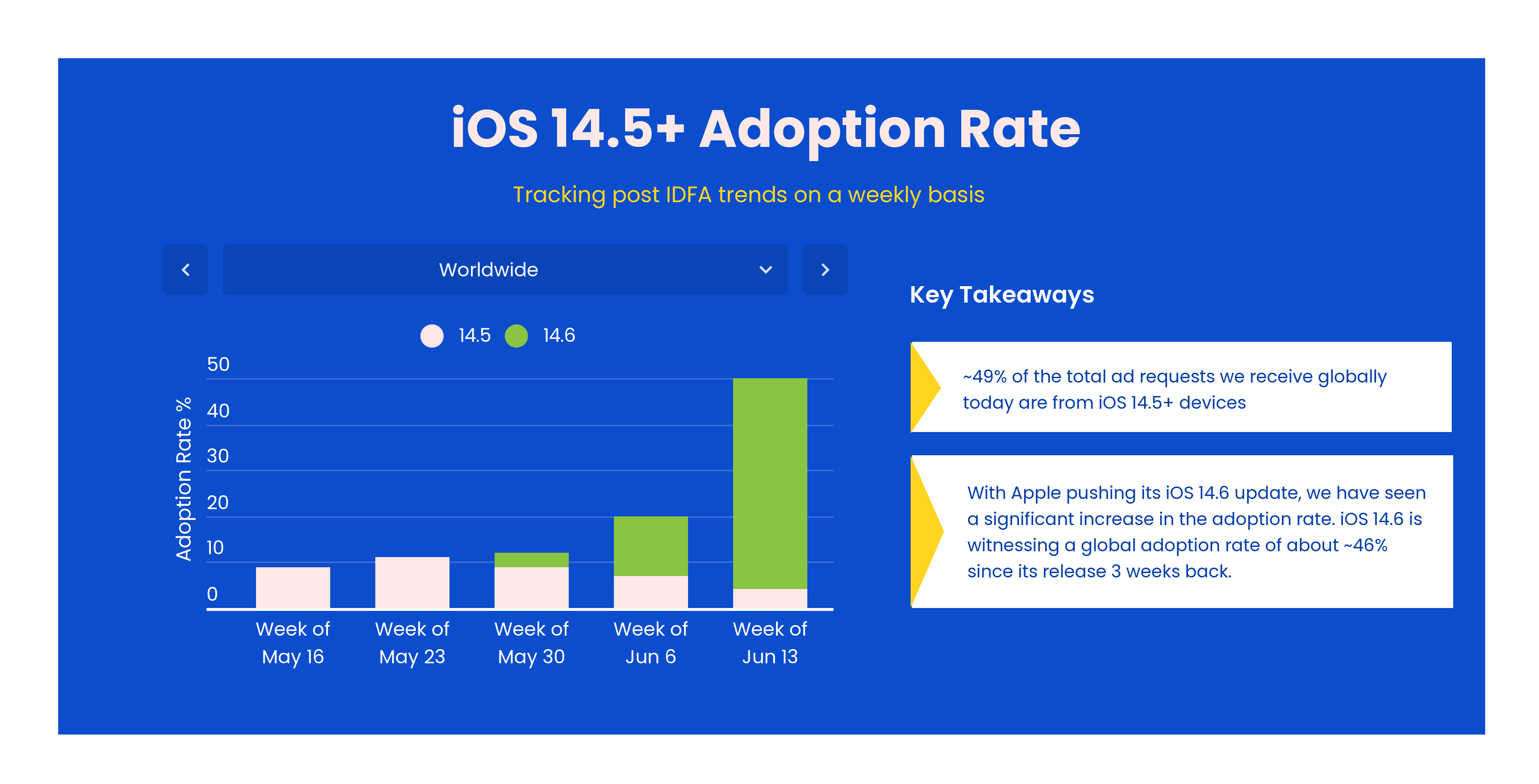 According to LifeStreet, iOS 14.5+ device adoption is at 75% of total iOS 14 bid requests. And as the graph below shows, there has been a lot of fluctuation between April, May and June.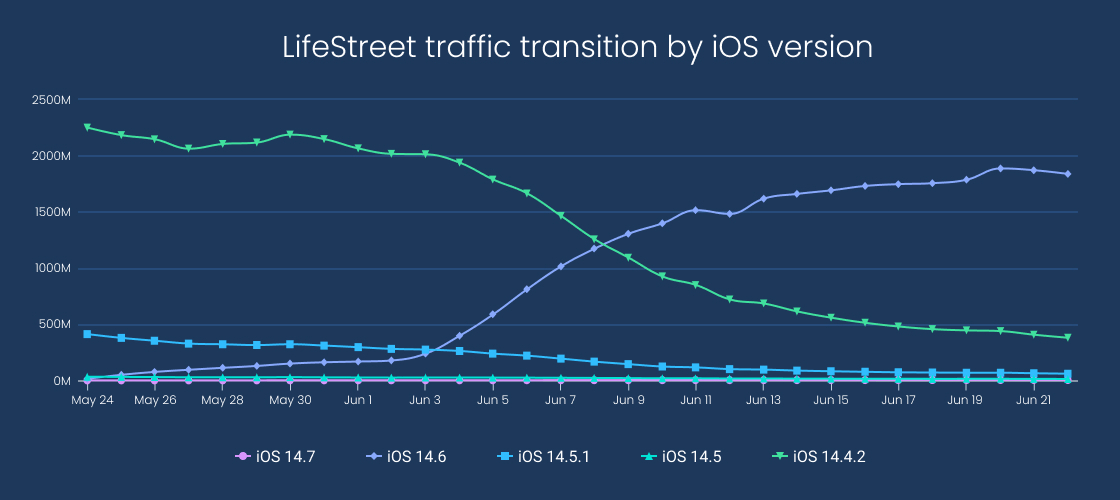 Of course, Apple made the iOS 14.6 update automatically downloaded to users' devices, which is why the adoption is getting such traction. This is in comparison to the iOS 14.5 release, which was purposefully made slower by Apple to observe any potential issue with the ATT framework.
As a result, we can begin to get a sense of how iOS users are beginning to react to the ATT opt-in prompts. As of June 13, the overall opt-in rate we're observing is 25.73%. Considering that before iOS 14.5 we expected overall opt-in rates to be around 20%, this is a healthier opt-in rate than we might have anticipated.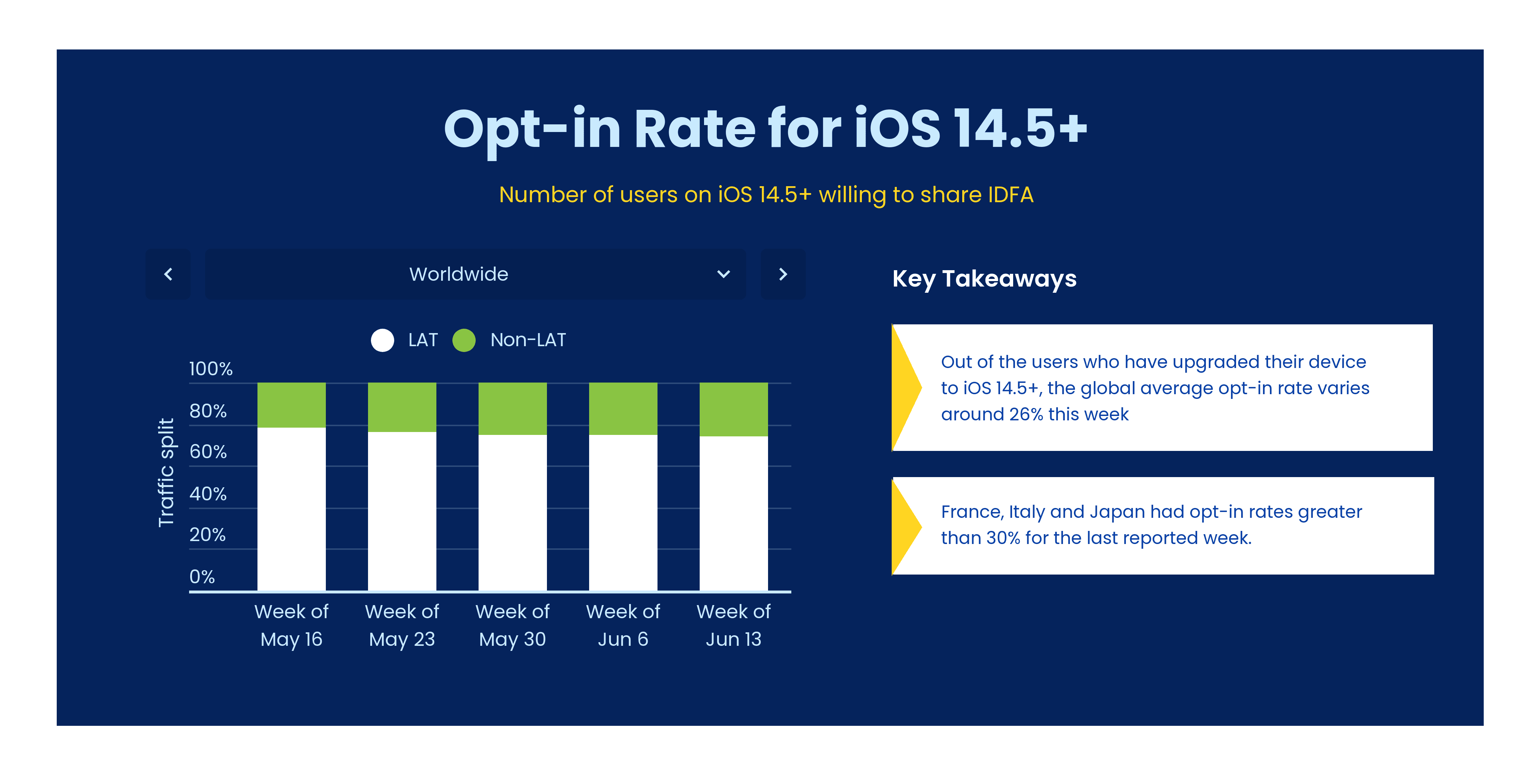 Of course, we do need to caveat these figures a bit. For one, only half of all Apple mobile device owners are using an OS version that would contain a prompt. And, many apps have yet to display the Limit Ad Tracking (LAT) prompt even for those app users using iOS 14.5 or 14.6.
LifeStreet is observing similar trends. According to their observations, ATT opt-in rates are at roughly 20% among those shown the ATT prompt. But opt-in rates vary significantly by geography, with the U.S. and Canada at the low end at 18% and Japan (32%) and France (40%) at the high end.
Opt-In Rates By Country and App Type
By the week of June 13, overall LAT rates were over 80% across much of the Western English-speaking world, including 81% in the U.K., 84% in Canada and 87% in Australia. On the lower ends are France (62% LAT opt-in rate), Japan (68%) and Italy (69%). It's important to note that these figures cover the total addressable audience, including Apple device users using OS versions below iOS 14.5 still, so expect these figures to decrease in the coming weeks.
In terms of app category, by June 13, 21% of gaming app users had opted in while 27% of non-gaming app users had done the same. The mobile gaming space plays an outsized role in mobile advertising, so it will be important to keep a close eye on opt-in rates for gaming apps in the near future.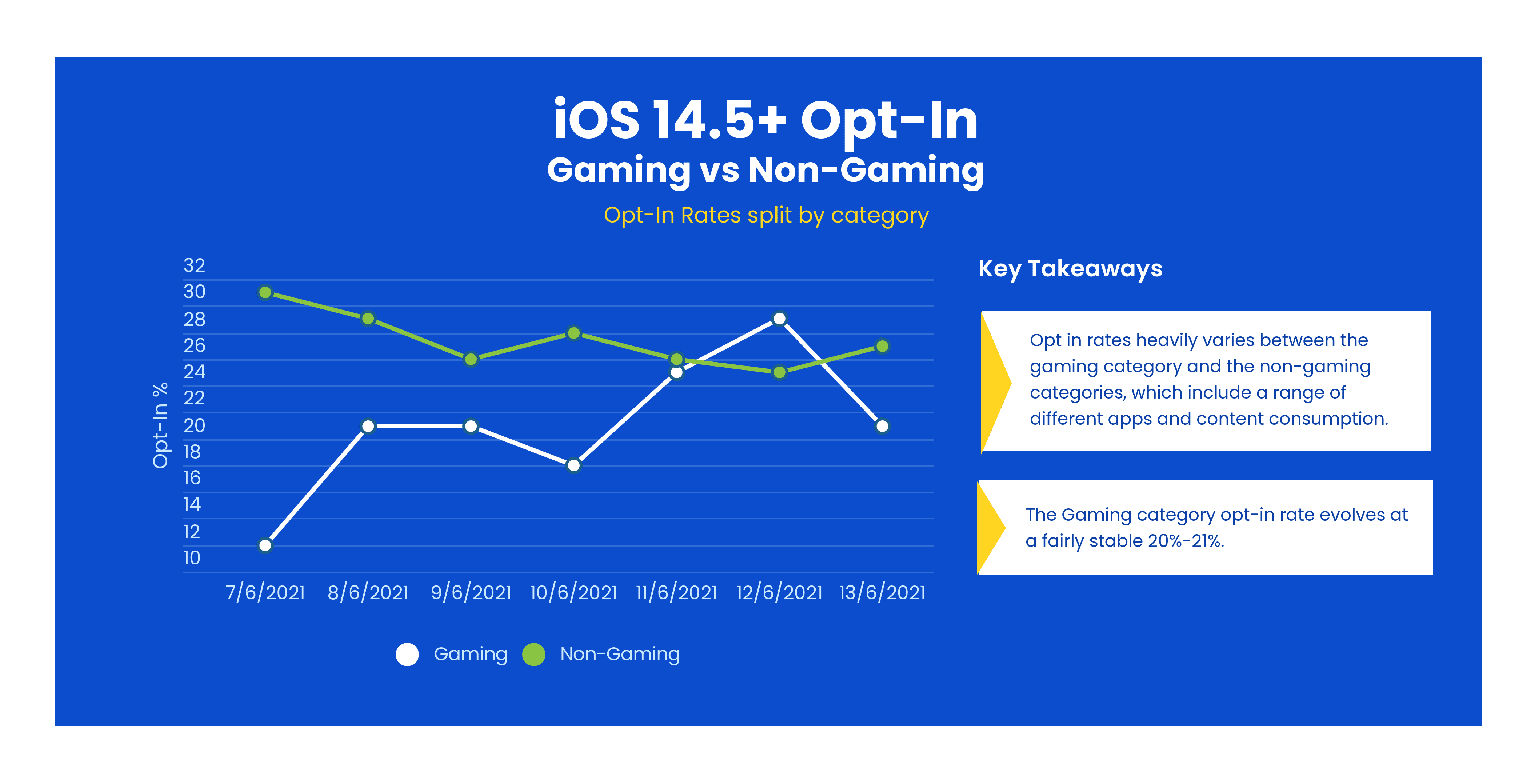 Overview of SKAN Adoption Rates
Advertisers, especially those running user acquisition or app install ad campaigns, now have to rely on SKAdNetwork (SKAN) to some extent to measure ad campaign performance. Introduced by Apple before iOS 14.5 was ever launched, SKAN is now the main way to track key performance ad campaign metrics for users who have selected to limit ad tracking on select apps or across their mobile device.
As of June 13, 82% of traffic on InMobi Exchange is measurable by SKAN. This means that, by and large, advertisers can effectively use SKAN when running campaigns on InMobi supply. According to LifeStreet data, 91% of bid requests are SKAN eligible.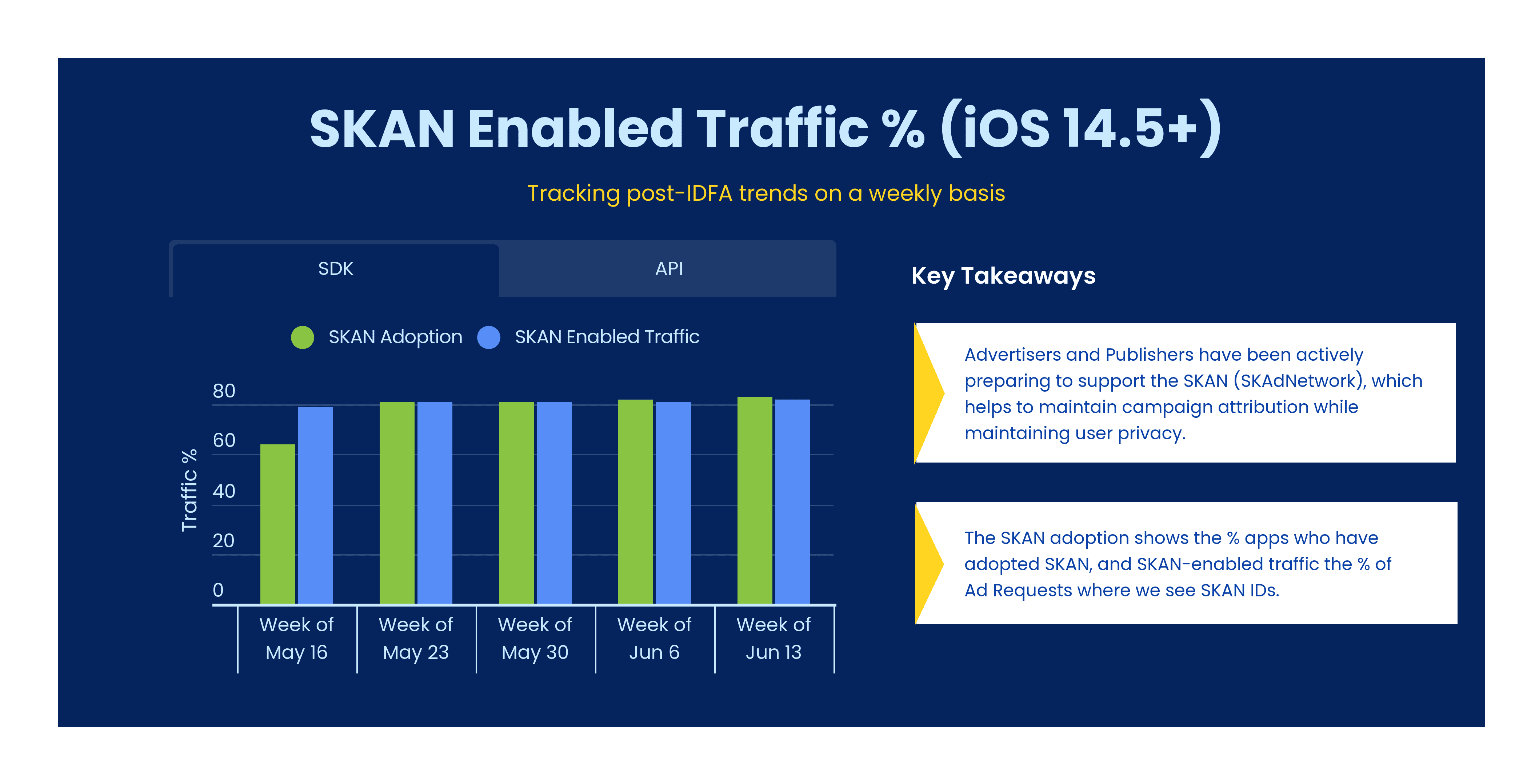 What's Next on the Horizon?
In the coming weeks, what will the iOS ecosystem look like? Here's what we're predicting:
By July and August, we should have a clearer picture of what the overall opt-in rate will be, as by that time most Apple mobile devices will be running on at least iOS 14.6. Overall opt-in rates by that time should be closer to 20%, but it's still too early to know for sure.
By the latter half of 2021, iOS eCPMs should begin to level off. Even though advertisers may be shunning iOS right now, it's too valuable to ignore forever. Towards the end of the year, expect brand dollars to steadily trickle back into the iOS ecosystem.
By August, SKAN adoption rates will be well over 90% – and probably over 95% too. This means that by the time most Apple mobile devices are running iOS 15 or above, advertisers will be able to successfully use SKAN for measuring UA campaigns – and this should definitely be the case once SKAN 3.0 is officially released by Apple.
Have any questions about what ATT means for mobile advertising? Reach out today to speak with one of our experts.