Early June sees the convergence of two major events: Father's Day and high school and college graduation ceremonies. For retailers, what will "Dads and Grads" shopping look like in 2021? That's what we wanted to find out.
To better understand retail spending habits during this period, we engaged in a two-pronged research approach. First, we surveyed 1,500 people across the U.S. using InMobi Pulse, InMobi's mobile market research solution, to see what their stated plans were for this period.
Then, we looked at app ownership trends for mobile apps that we anticipated would see increased adoption and use. For Father's Day, the apps overviewed include Best Buy, Amazon, The Home Depot, Lowe's, Bed, Bath & Beyond, Target and Fanatics. For grads, we reviewed Best Buy, Amazon, Bed, Bath & Beyond, Kindle, Audible, Nook, DoorDash, Uber Eats, Venmo and Cash App.
Here's what our research revealed.
Top Takeaways
Over 52% said they will largely buy in person, while over 66% said they will deliver gifts in person.
43% of those buying something for Father's Day will do their shopping through a mobile device.
47% of those buying gifts for college graduates this year will spend over $100.
InMobi Pulse Summary of Findings
How do Americans decide what to buy for Dads and Grads this year? Consumers largely go off of recommendations from friends and family.
For those not going off of recommendations, how do they determine what to get? According to our research, mobile plays a major role in discover.
Those shopping for Father's Day (45%) or college graduation (36%) are significantly more likely to browse online for gifts compared to high school graduation (17%) shoppers. Those shopping for college graduation (19%) are significantly more likely to browse for gifts via mobile ads compared to Father's Day (9%) or high school graduation (5%) shoppers.
When it comes to buying items for Dads and Grads, it turns out a lot of this shopping will happen in person this year. Over 52% said they will largely buy in person, while over 66% said they will deliver gifts in person.
Of course, not everyone is opting for in-person options just yet. Father's Day shoppers are most likely to buy using a mobile device (43%), while those shopping for college graduation are most likely to use a delivery service (26%).
When will these transactions happen? College graduation shoppers are most likely to buy in advance, with 68% of them purchasing two or more weeks before graduation. Only 6% of consumers have already purchased for Father's Day.
What will adults in the U.S. buy for Dads and Grads this year? A third of Father's Day shoppers said they were planning on buying clothing and accessories. College grads are the hardest to shop for apparently, as 32% of college grad gift shoppers said they were unsure of what to get them. Interestingly, high school grads are more likely to get gift cards than college grads.
Almost half (46%) of graduation gift purchasers will spend over $100, with 79% spending $50 or more. Among Father's Day gift purchasers, however, 41% of consumers will spend between $20 and $49, with 94% of consumers saying that they will spend the same or more money on Father's Day purchases this year as compared to last year.
Dads and Grads App Insights
We also wanted to look at who had apps on their mobile devices that would appear most to Dads and recent graduates, to see how app ownership trends could illuminate upcoming Dads and Grads shopping. Who are using these apps?
Apps for dads, unsurprisingly skews older, while apps for grads tend to skew younger. This is not surprising, although it does highlight that we selected an accurate cohort of apps to review.
Apps for grads have fairly diverse ownership, with apps for dads having more representation from Latinx consumers while apps for grads over-index among Black consumers. Further, apps for grads skew more female, while apps for dads tend to be downloaded by a more affluent ownership audience. Both Grad and Dad app owners are likely to have finance apps and apps related to food and drink on their mobile devices, while Dad app owners are also likely to have other shopping apps.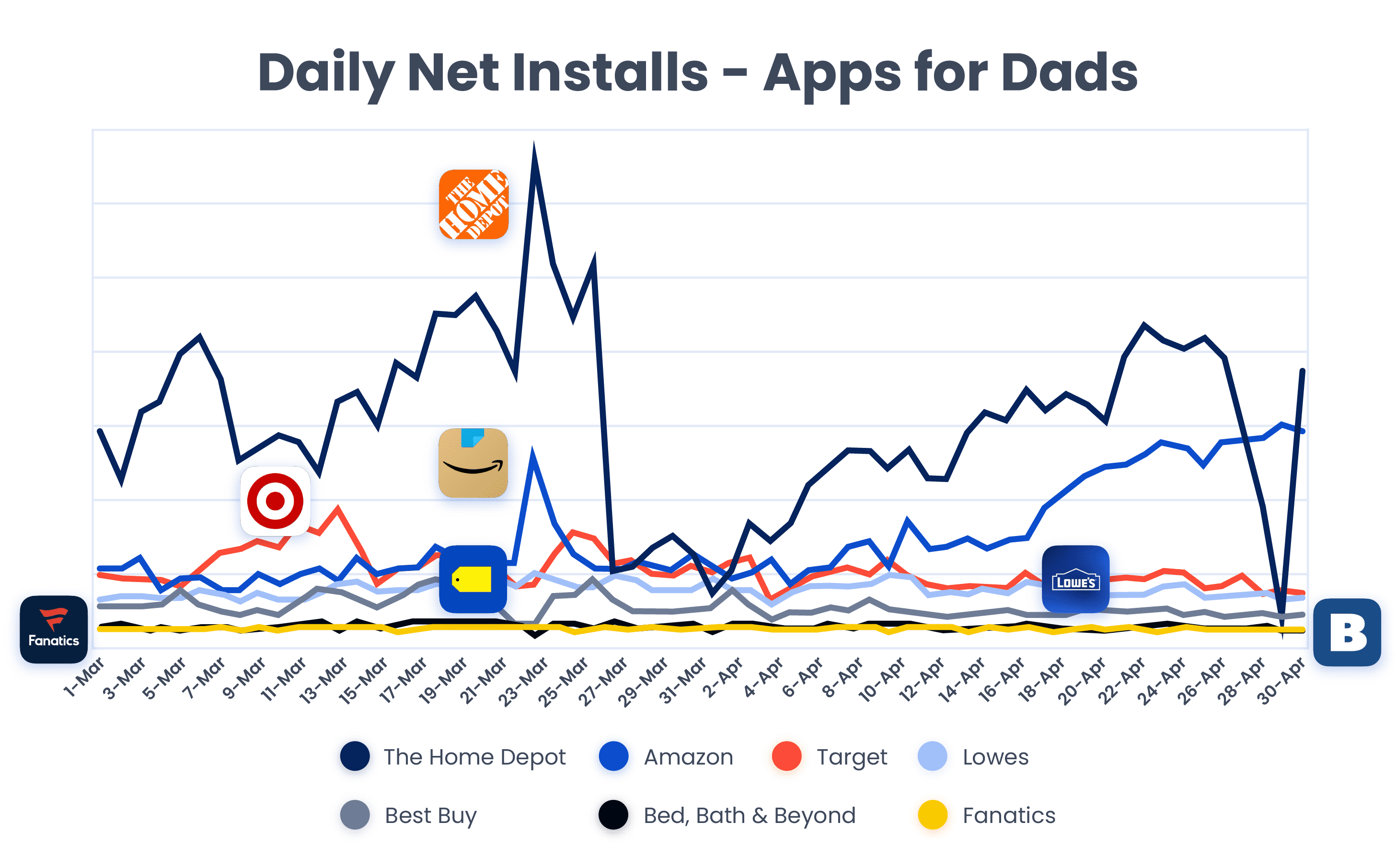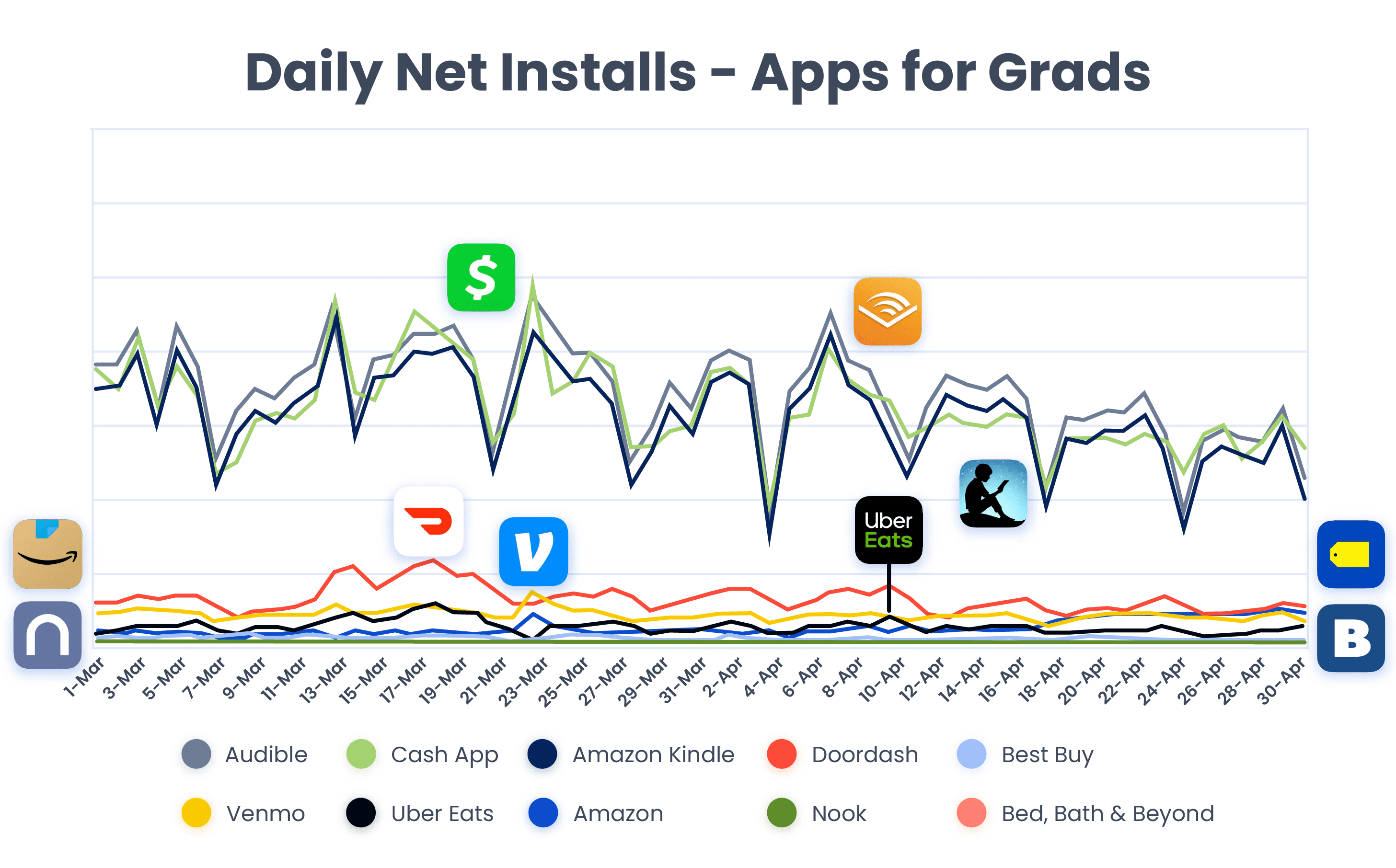 Top Tips for Brands
When it comes to shopping for Dads and Grads, what do advertisers need to do in order to prepare? For this holiday season, we recommend heeding the following advice:
Use Mobile for Product Discovery: As our research highlights, digital channels like mobile are a key way for consumers to learn about and browse for items to purchase for Dads and Grads. For retailers, it's a good idea to advertise in apps and utilize all available mobile marketing channels to get the word out while consumers are still in research mode. Aim to run these campaigns at least two weeks before Father's Day and graduation season, as most shoppers buy gifts around two weeks beforehand.
Embrace Tactics that Drive In-Store Footfall: Perhaps surprisingly, our research showed that many Dads and Grads purchases will happen in a physical store. Considering that so much shopping has happened virtually over the last 12 months, this is a significant shift. As such, retailers should be sure to embrace tactics that are proven to drive people to physical stores, like in-app advertising that includes dynamic maps based off GPS data.
Audience Targeting is Key: Of course, not everyone may be buying for Dads or Grads during this time of the year. As such, it's imperative that retailers only show their messaging to people who are receptive and who have plans to buy for Dads and/Grads. According to our research, Mobile Spenders are among one of the best audiences to target.
What are your thoughts on this data? What do you think Father's Day and graduation shopping will actually look like in 2021? Let us know your thoughts on social media! You can reach us directly on Facebook, Twitter, Instagram or LinkedIn.