Many quick-service restaurants (QSRs) have their own dedicated mobile apps, but who specifically is using these QSR apps today? When consumers use mobile devices to order their favorite food, which brands are they turning to now? That's what we wanted to find out.
The COVID-19 pandemic has dramatically impacted every industry, although the restaurant space as a whole has been hit especially hard. Still, in looking at both our first-party telco data and insights from mobile surveys we conducted in March and April, we found that some brands are doing better than others at weathering the storm by prioritizing mobile orders and focusing on app-first customer experiences.
Understanding the Preferences of QSR Mobile Customers Today
With most of the country under some kind of shelter-in-place order throughout the majority of March and April, people are far less likely to venture out of the house – even for allowed activities like picking up orders for takeout. In the surveys we conducted in March and April, consumers have said they are not embracing this kind of dining right now.
Among the more than 1,500 Americans we surveyed in April, a third said they have reduced their visits to restaurants or stopped eating out altogether. This is hardly surprising, as the bulk of restaurants across the nation were closed during this time anyway.
That's not to say that there isn't hope on the horizon. The share of survey respondents who said they have reduced their visits to restaurants or stopped eating out altogether did decline from March to April. This all may mean that Americans are itching to get back to their routines, including getting meals cooked from their favorite restaurants.
How Different Brands are Faring in This Brave New Digital World
In the QSR space, there are very different business models, and these key differences have impacted how brands have fared during the pandemic in the U.S. In particular, fast casual brands have seen different trends from those with delivery options or scheduling apps that let people schedule ahead for curbside pickup.
For example, consider coffee apps from brands like Starbucks or Dunkin Donuts. Many people would turn to these brands in the past to get coffee and treats before and during the workday. But, with many white collar workers no longer going into the office, there's less of a desire to install these kinds of apps.
A similar trend has been observed with the apps of brands that focus heavily on in-person dining or more impulsive buying. In particular, while Subway and Chick-Fil-A saw increases in app installs in February and early March, by later March average daily installs began to decline.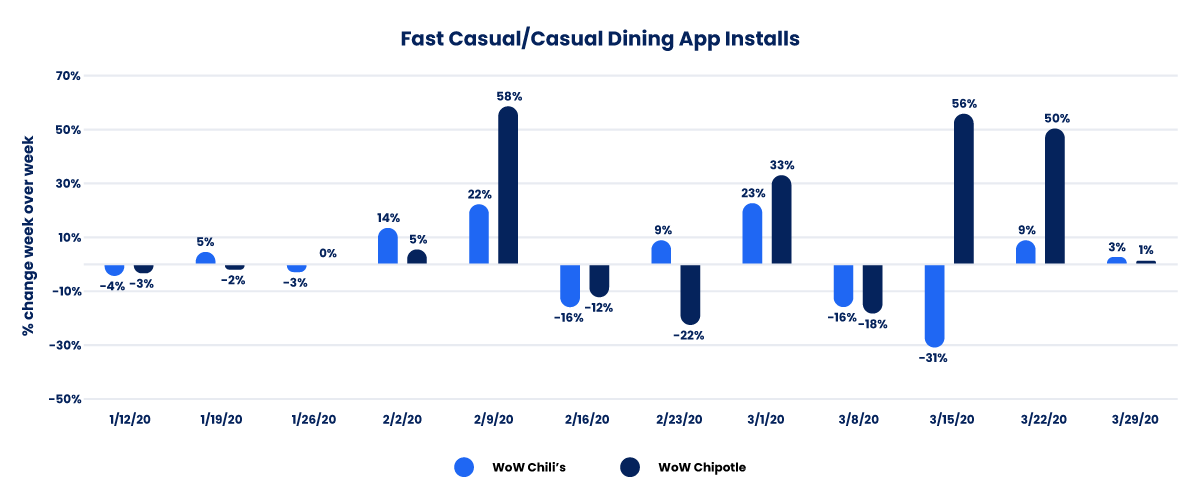 But, some brands have seen a jump in new app installs. Chipotle and Taco Bell have seen an increase, as has Sonic. It makes sense that brands that have highly portable food options that work well for takeout or delivery would do better than expected right now. Plus, the drive-in nature of Sonic may have helped them as well, since it's easier to socially distance if you never leave your car.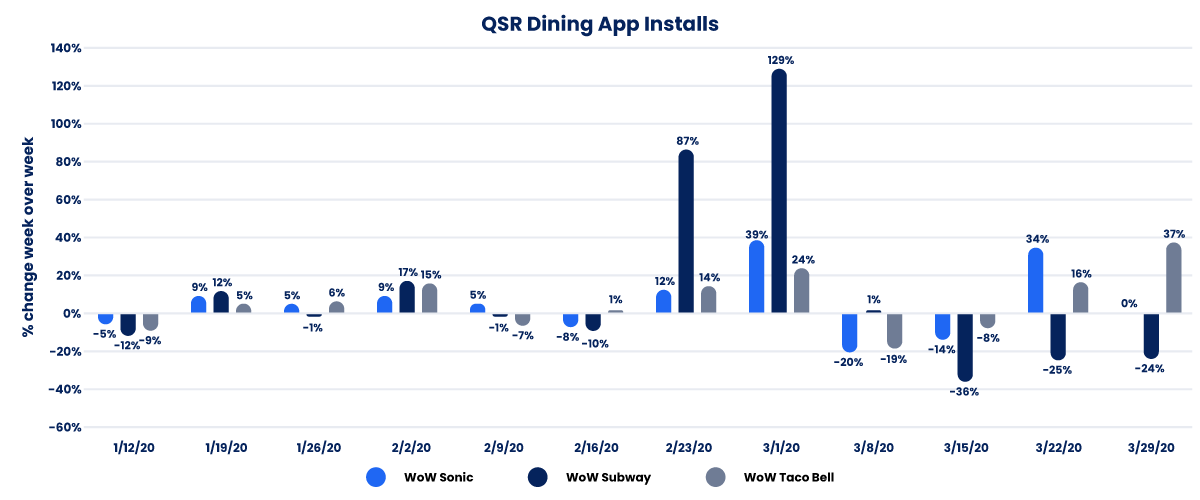 One interesting outlier from the data is Burger King, which saw a notable rise in new app installs in late March. Unlike some others in this space, Burger King continued to advertise and market itself during the month, and that effort helped them realize notable gains.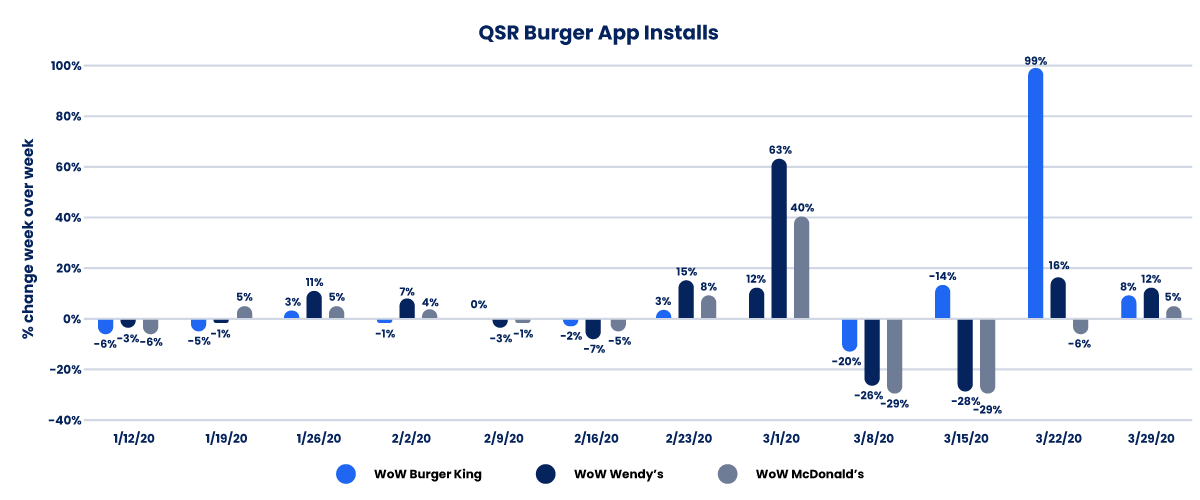 Who Is Using QSR Apps Today?
As we've noted in our QSR app research from 2019, the average app owner in this space is a White male between the ages of 25 and 44 who makes $50,000 to $75,000 annually, although it can vary by brand. But has this changed at all of late? Are the people downloading QSR apps now different than those that were turning to these apps in the past?
In some ways, we're seeing a further entrenchment of the key QSR audience. Compared to pre-COVID app installs, the people downloading these apps are even more likely to be male and White. But, users between the ages of 36 and 55 are increasing during the Shelter-in-place mandate, as are users with income levels between $35,000-$125,000 annually.
How to Identify the Right Customers for Your App
For QSR brands, getting more app users now can help ensure continued profitability in the present moment and the future once the pandemic is truly over. As a result, it's critical to target the right audiences in all advertising and marketing efforts.
Basic demographic information like age and gender is a good place to start. Brands can go further by targeting mobile-first audiences on interest and on their propensity to visit or travel near select locations.
Learn more about how custom mobile-first audience segments can be combined with mobile messaging to boost brand performance today. Reach out now for more information and to get started.