Now that internet connectivity is found in everything from cars to thermostats and refrigerators, what does the connected consumer experience actually look like today? Are these cloud-based appliances dramatically impacting how brands interact with their newly connected customers, or has the customer journey largely remained unchanged?
On the eve of CES 2021, we wanted to revisit our past insights, which you can download here. To learn more, we turned to InMobi Pulse.
The InMobi Pulse team reviewed new user trends for each category and several brand-specific products within each. For those specific brands, we also looked at the frequency of user engagement and app install/uninstall activity from January through November 2019. The InMobi Pulse team also performed market research to understand why connected device users are engaging with brands as well as their attitudes for future adoption.
Our theory was that not only is the number of connected consumers increasing, but they are engaging with more products (connected home, wearables, cars, security systems, appliances, etc.) as well.
Top Three Consumer Insights:
Not only is the number of connected consumers increasing steadily, the growth is happening across all categories; Connected Home, Car and Personal Wearables.

The top five months of growth with categories

March - Car + Home Assistant
January - Wearables + Electronics
May - Wearables + Home
September - Car + Appliances + Home Electronics
July - Home


More than 78% of the connected consumer growth in 2019 was in the Connected Home category with only 1.02% coming from Connected Appliance users.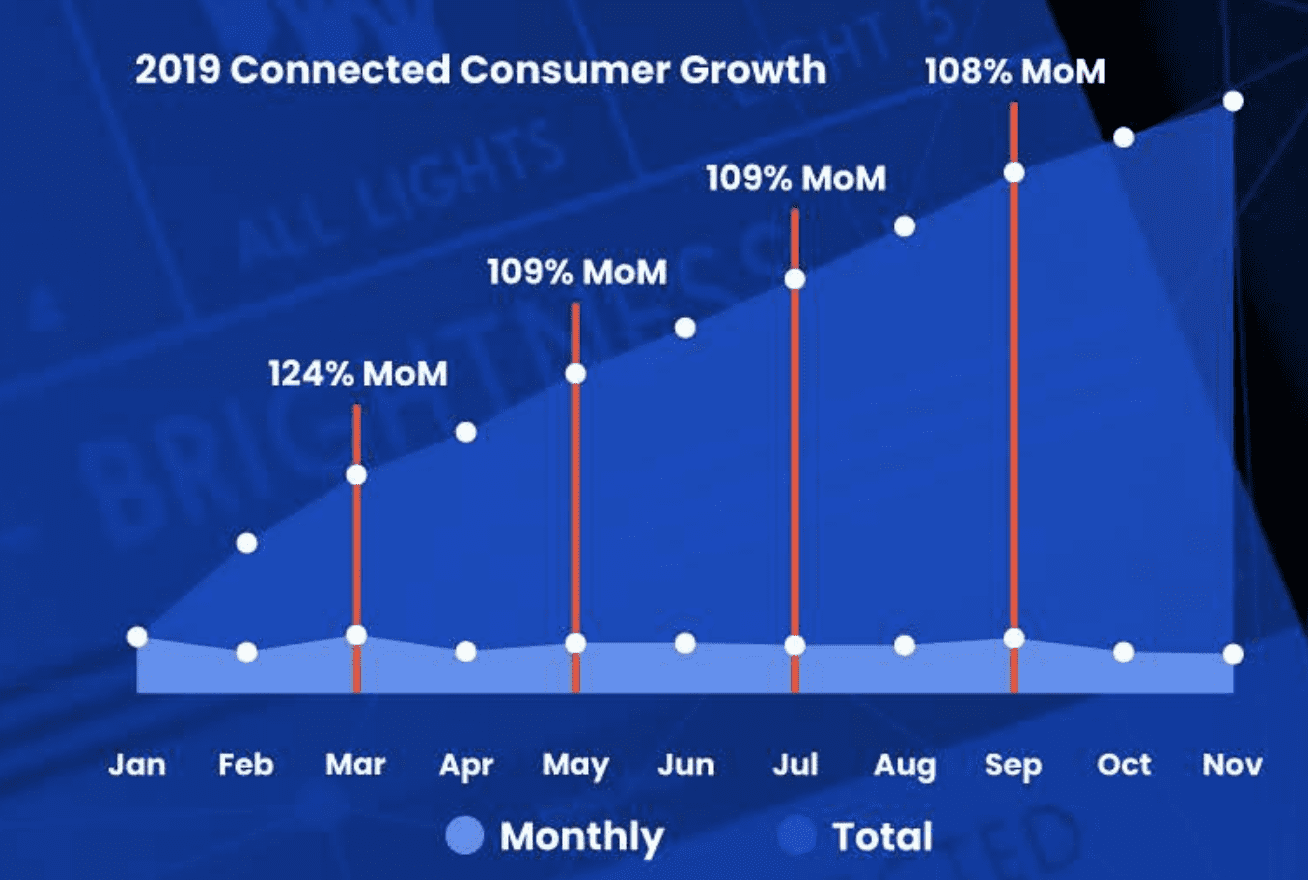 Top Three Market Research Insights:
Usage and future consideration are highest for connected home devices. Overall, consideration is highest for these brands: Ring, Samsung WEAR, Android Auto.
There is still a large share of untapped usage across connected home, car and wearable devices.
Barriers differ across connected tech. There is no overarching concern of privacy, price, etc.
Homing in on the Connected Home
Today's consumer is increasingly embracing and easily accessing the benefits of widespread connectivity right at home. Thanks to the rise of brands and offerings like Nest and Amazon Alexa, the connected home is a burgeoning space. In fact, between January and November 2019, month-over-month new users of connected home apps varied between 80% and 132%.
When are sales and service requests the highest? Connected home consumer app engagement follows the Spring and Summer home buyer trends: peak in March, then steady until late August. January is also a strong month for new users, which are most likely those receiving connected devices during the holiday season.
Let's break down the connected home by category:
Security: Home security users increase consistently month over month. Ring leads the category with 6x that of ADT and more than 20x than that of SimpliSafe. Arlo Security Systems was new to the market in 2019 and quickly became the second most installed app to Ring for home security.
Electronics: Each of the apps included in our analysis of the connected consumer home electronics space shows a similar pattern with significant lift from September through January. The most downloaded app in the category is from Bose, with nearly 2x as much as the other brands combined. Sonos was the second most installed app until Samsung TV more than doubled their monthly net users starting in September.
Appliances: Philips Hue for automated lighting was the second most installed app in the category. Whirlpool and GE have similar trends in the general home appliance category with Maytag a distant third. Downloads of the MyQ app spiked in April.
How does this app data compare to our survey results? Amazon Alexa boasts the highest awareness and usage. Google Home has significantly higher awareness and usage among those 18-24 years old, while Samsung Family Hub has significantly higher awareness among those 45-54.
Ring, followed by Nest, has the highest future consideration among those aware of those brands, while SimpliSafe and My Solar City have the lowest. Overall though, there is a large share of untapped usage, especially among those aged 45-54.
What is the actual customer experience like in this space? Consumers largely use connected home devices to monitor safety and security and because it makes their life easier. A directionally higher proportion of women find the products easy to set up and use. Those that do not use a connected device for their home cite privacy concerns and price as barriers to adoption.
For more insights, be sure to download your copy of the InMobi Connected Consumer Report 2020 today!
Interested in seeing how app usage in the connected car arena compared to auto app usage overall? Check out this blog post for more information.
Interested in learning more about InMobi Pulse and about how to glean key insights for your business? Be sure to head to inmobi.com/pulse for more information.
What do you think the future holds for the connected consumer? Let us know on social media! We'd love to hear your thoughts on LinkedIn or Twitter.