In our State of Mobile Video Advertising 2018 Report, we highlighted how advertisers and publishers alike all around the world have increasingly embraced in-app video advertising over the past two plus years. But what will the space look like for the rest of 2018 and going forward? How will everything look in 2019, 2020 and beyond?
We've gazed into the crystal ball to see what the future holds. Based on trends from the recent past, here's what we see happening in the coming months and years:
1) Short, In-Your-Face Video Ads Will be the Norm
While the amount of time people are spending on their phones is rising, users don't want their time interrupted by too much advertising. Increasingly, shorter video ads are the best option for advertisers. On Facebook, video ads between 16 and 20 seconds long have the best conversion rates, while one YouTube ad experiment found that a 15-second version of an ad was more likely to be recalled later on than a 30-second or 120-second version of that same ad.
With limited time, advertisers are utilizing more visually distinctive advertising to effectively reach people. During the first half of 2017, our data showed that 76 percent of all video ad spend went to full-screen spots. Over half - 58 percent - of all video ad inventory during that time period was fullscreen. Short video ads displayed in an immersive manner will become increasingly more common coming up.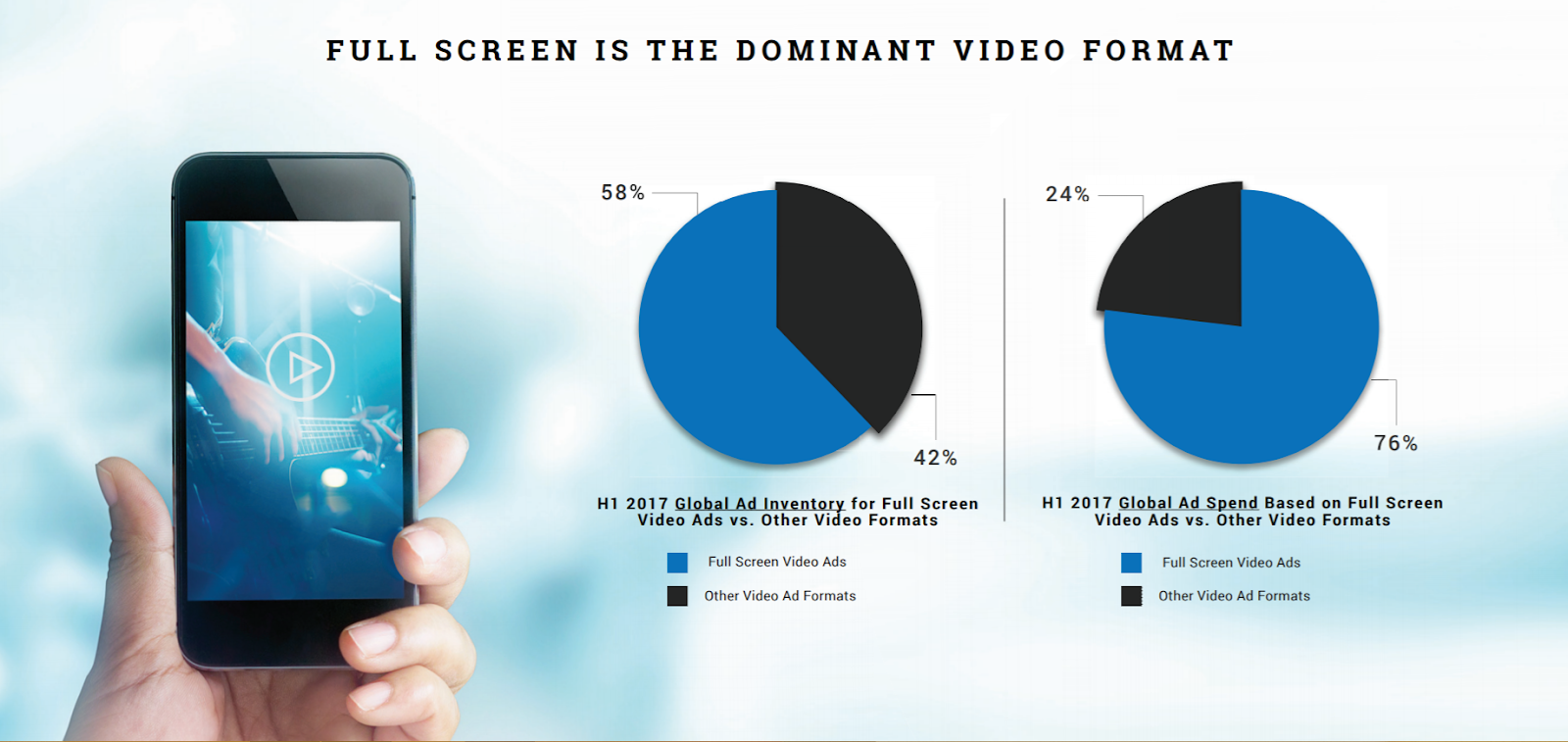 2) Current Breakdown in Who's Buying Video Ads Will Remain Intact
When in-app video advertising initially became available, digital-native brands with firm metrics underpinning their ad campaigns (think downloads, sign-ups, etc.) were first to embrace these kinds of ads. But, as in-app video advertising has gone from a relative unknown to a trusted, known entity, advertisers looking primarily for brand awareness and impressions have become the most common buyers of video ads.
Between 2016 and the first three months of 2018, these brand awareness campaigns have gone from accounting for 43 percent of all global video ad spend to 70 percent. In the foreseeable future, the ratio seen in the first quarter of 2018 will very likely remain intact (70 percent brand advertisers, 30 percent hard KPI campaigns).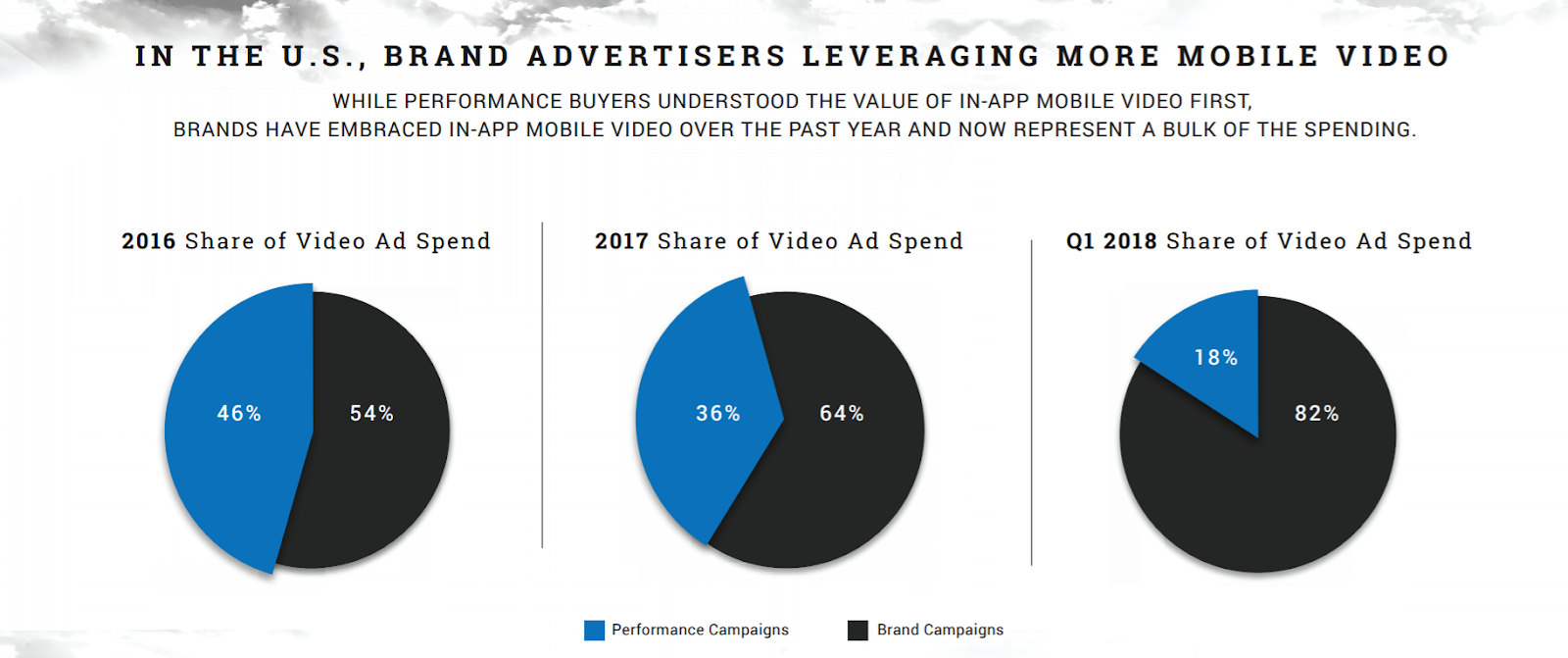 3) Expect A Lot More In-App Video Ad Inventory in the Future
Both video ad spend and video ad inventory have grown considerably since 2016, although ad spend has thus far outpaced inventory worldwide. For example, between 2016 and 2017, while global ad spend grew 109 percent, global in-app video ad inventory only increased 31 percent.
But, these ratios are unlikely to last for long. In the next few months and years, expect a lot more in-app video ad inventory to come online. Indeed, this is already happening in the U.S. Between the first quarter of 2018 versus the same period in 2017, in-app video ad spend rose 75 percent while inventory rose 414 percent. Soon enough, the world will catch up to the U.S. in this regard.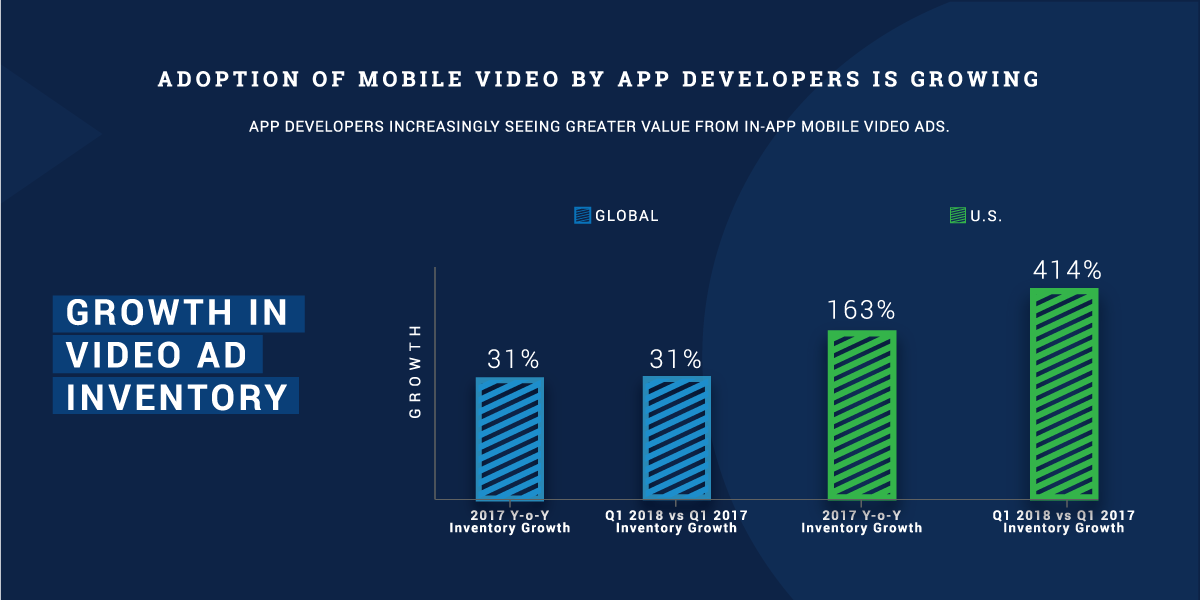 4) We're Nowhere Close to Peak Programmatic
More and more, expect advertisers and demand-side platforms to utilize automated methods for buying in-app video ad placements. Programmatic buying has already been rising rapidly, but this may be only the tip of the proverbial iceberg.
Between 2016 and 2017, programmatic mobile video ad spend grew 128 percent in the U.S. and 136 percent globally. But, comparing Q1 2018 to Q1 2017, programmatic buying rose 220 percent in the U.S. and 238 percent worldwide.
5) The World Will Catch Up to the U.S.
Nowhere else in the world has embraced in-app video advertising the way that American advertisers have. During the first three months of this year, 53 percent of all spend devoted to in-app video ads came from the U.S.
But, don't expect the U.S. to reign supreme to quite this extent for too long. In-app video ad spend is growing rapidly in just about every corner of the world. In particular, video ad spending in China rose a whopping 470 percent between Q1 2017 and Q1 2018.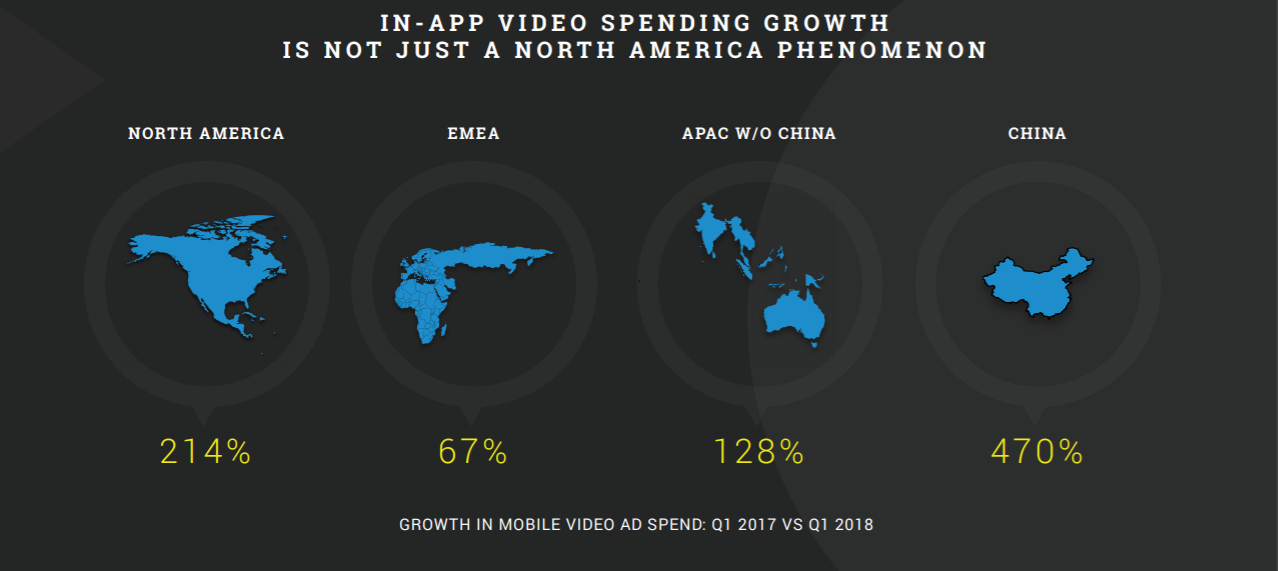 Of course, like many other past predictions, these may end up falling spectacularly flat. New technologies may emerge that will dramatically upend the status quo. But, based on the numbers from our recent report, we think the odds are good that all of the above predictions will come true in the near future.
For more insights on in-app video advertising today and how it's progressed, be sure to download the complete guide today.