The Changing Face of the Indian Mobile User
Presented by Team InMobi
Thursday February 21, 2019 at 11 AM
India is inching closer to becoming a trillion dollar digital economy with rapidly expanding digital infrastructure and greater accessibility to technology. With 90% of India set to own a mobile phone by 2022, it comes as no surprise that mobile is the primary driver of this transformation.
The face of the Indian mobile user is changing and how! Bharat - comprising of Tier II and III cities and rural India, is bringing an ever-increasing number of first-time internet user online. In addition, mobile adoption is growing across all demographics. Indian consumers are moving away from traditional means of content consumption to more convenient, one-to-one interactions enabled by mobile. Be it gaming, video-viewing or shopping, mobile is now the primary screen for users.
For the marketer, therefore, it becomes extremely crucial to gauge the depths and dynamics of the Indian mobile user. This report provides a repository of information that taps into these learnings.

Join this webinar to learn about:
The evolving Indian mobile user

An overview of the 2019 advertising industry
Key challenges for marketers in 2019
Top 5 Trends to look out for in mobile marketing
In case you cannot join the session, do sign-up and we will send you a recording of the webinar.
Presenter: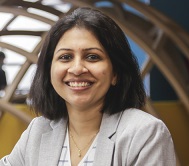 Vasuta Agarwal
Vasuta Agarwal, is the VP and General Manager for the India & South Asia business at InMobi and manages the P&L, revenue, strategic partnerships and business functions for these markets. She has been with InMobi for 6+ years and has worn many hats in her time there from Founders strategy team to product manager to business roles.
Download Now