Home to 1 out of 10 gamers worldwide, India is the 5th largest mobile gaming market globally. This boom has been catapulted by access to affordable smartphones, the cheapest network data tariffs in the world and improving mobile internet speeds. Gaming has now achieved escape velocity in India, competing with other popular entertainment categories such as short-form video, streaming services, and social networks for user attention.

A critical question now emerges, are brands ready to tap into this massive opportunity? The 2021 Mobile Gaming Report, India talks about the gaming revolution beyond the pandemic and helps marketers understand their audience's gaming behavior. This report is based on a detailed analysis of a survey conducted in India between Feb 9 to Feb 16 2021 on the InMobi Pulse Platform along with data from the InMobi Advertising and Audiences Platform where we analyzed data from Jan 2020 to Jan 2021 (over 1.7 trillion auctions). It highlights gaming personas, advertiser insights, and the performance of different ad experiences in the gaming category.
The Rise of Mobile Gaming in India
Ditch the notion that gaming is only popular among Gen Z men. Breaking away from stereotypes, mobile gaming is enjoyed by people of all ages, generations, and genders across India. As brands continue to traverse different stages of digital marketing maturity, leveraging gaming has become paramount for brands to meet the consumers where they are and continue to stay relevant.
Women have entered the arena
Women constitute 43% of the mobile gaming audience in India, of which 12% are in the age group of 25-44, and 28% are over 45 years. Contrary to the popular notion, women today are highly committed gamers, with 77% of them playing at least once a day, if not more, to relax and stay connected with family and friends.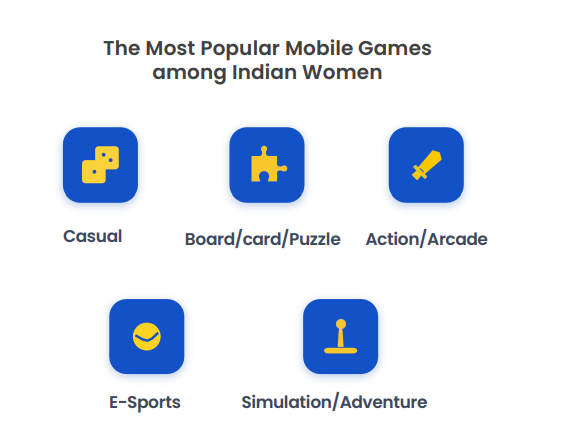 Understanding India's Mobile Gamers
Based on the gamer's frequency of playing a game, they are classified into three categories: Committed gamers, Regular gamers, and Occasional gamers. The report states that even the most committed gamers don't limit themselves to games but keep various other online and offline interests, cementing the belief that gaming is not a niche passion of a select few. These people can be found all over the internet, be it on social media platforms, video, music streaming apps, or retail outlets. Today, the probability of mobile gamers being the target audience of any business is exceptionally high, which means one can effectively engage with these user groups to market their brands.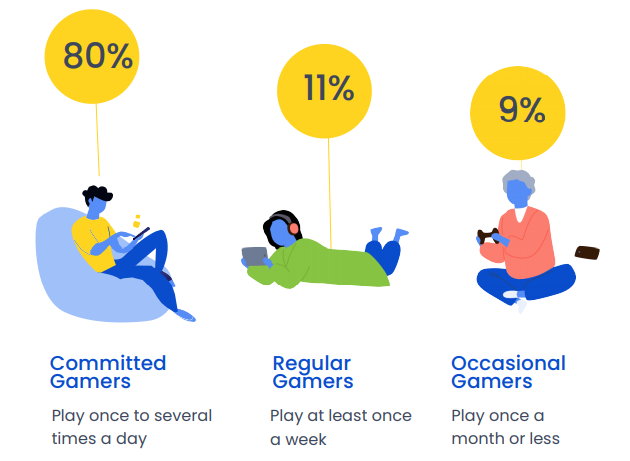 Gaming and Video Occupy the Major Consumer Mindshare
While many brands have long-doubted the attention span and interests of gamers, it's compelling to note that 74% of Indian gamers prefer to watch ads over in-app purchases when looking to progress in a game. They also boast of a high ad recall, with 60% being able to recall an ad seen in or during the game.
Indians interact 2.6x times more with video ads shown in Gaming apps than with those shown in other apps. Video advertisements in gaming apps are among the most popular and deliver 31% higher completion rates for publishers (over the MOAT benchmark) on the InMobi Advertising Platform.
"Gaming is one of the most scalable channels for brands to reach diverse target audiences. Be it women, millennials, sports enthusiasts, or OTT viewers, everyone is gaming among us. Moreover, mobile gamers are receptive to advertising, with 3 in 4 consumers preferring to see an ad and 60% of them being able to recall the ads they see. Gaming is the biggest opportunity for brands to maximize impact with video and other engaging formats in 2021."

- Vasuta Agarwal, Managing Director, APAC, InMobi
Gaming: An Unmissable Advertising Opportunity
The onset of the pandemic and the subsequent lockdown resulted in a significant shift in mobile usage and has been a catalyst in boosting mobile gaming in India. This shift also resulted in a spike in the amount of time spent on mobile gaming, and the number of apps Indians experimented with. Yet, what was first foreseen as an emerging trend has led to a lasting impact with Indians continuing to play on their smartphones throughout the lockdown. Mobile Gaming has grown to become synonymous with a medium of relaxation and entertainment which gives marketers an immense opportunity to understand, identify, engage, and acquire their consumers.

To know more on how Indian brands can leverage the advertising opportunity through mobile gaming, download our 2021 Mobile Gaming Report, India.