We share the latest Ramadan consumer insights from our 2021 report: Gearing up for Ramadan, 2021
The holy month of Ramadan marks a period where observers fast from dawn to dusk, spend time on spirituality, partake in charity, and celebrate with their loved ones. While digital has paved new avenues for observers to celebrate Ramadan virtually, especially during the lockdown, marketers are left facing an inevitable question, "Will digital mediums forge a new path for observers to commemorate the festival, or will the legacy of traditional in-person celebrations and associated activities return?"
With the help of InMobi Pulse, we try to understand how consumers' daily lives will change this Ramadan and its impact on their shopping behavior. By understanding the purchase motivations, we present the best ways brands can win over Ramadan observers in Indonesia.
To deep dive into understanding the Indonesian consumer, read our report, Gearing up for Ramadan, 2021.

Decoding the Connected Indonesian Consumer
As per our survey, which saw over 1000 participants, we learned that despite reduced incomes caused due to the pandemic, the idea of giving back to the community remains deeply rooted in the spirit of Ramadan. Additionally, this Ramadan will all be about family, with 74% of Indonesians making purchases for their family this year. There is hope for normalcy to return with Mudik travelers looking forward to going back home; women are excited to visit the Ramadan Bazaars. Men, on the other hand, are looking forward to socializing at Iftar parties.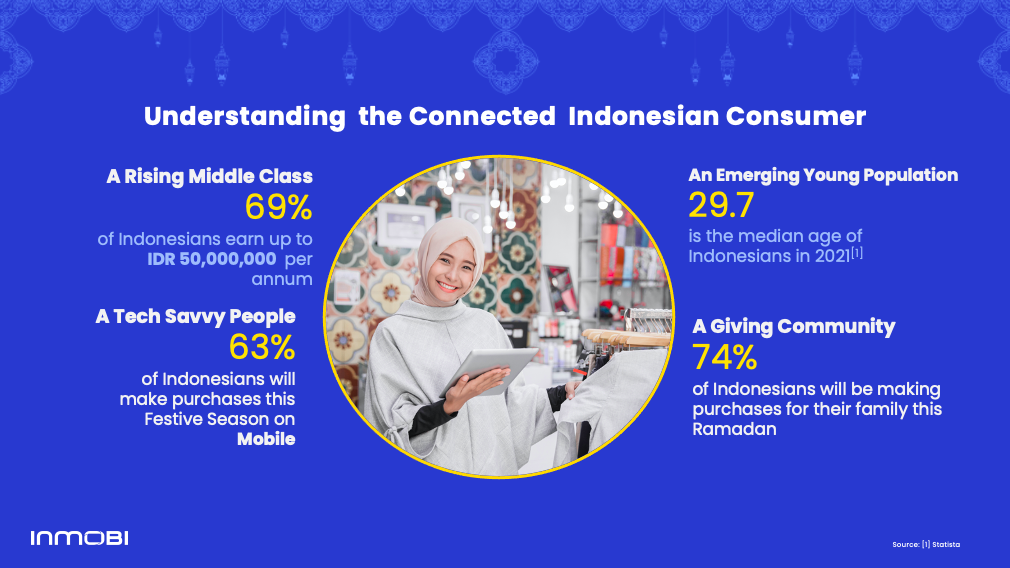 1. Consumer Spending makes a stronger comeback
According to our survey, this year, 43% of Indonesians will spend on clothes, 38% on groceries, and 15% on gift packages. Mobile will be the enabler of shopping, with a majority (53%) of Indonesians planning to shop on the always-on device.
2. Videos+Games = Entertainment While Fasting
It is interesting to note that 32% of Indonesians love to spend their time on mobile phones watching their favorite content on OTT platforms, while 25% of Indonesians would indulge in their favorite games. Watching movies remains the favorite activity for consumers between the age of 14 to 44 years, while consumers between the age of 45 to 54 years love to read the news.
3. The Surge in the Mobile App Usage
Shopping apps see a surge in usage right from the first week of March, while food recipes and dining apps see a spike in use from the fourth week of March. Fashion and beauty apps see increased use from the first week of April. In 2020, shopping apps saw about an 82% surge in usage, entertainment apps by 67%, gaming by 45%, and lifestyle apps by 69%, and these numbers are expected to only grow higher in 2021.
Insights for Marketers to Winning this Ramadan
While this year marks extreme changes in the way consumers celebrate Ramadan, here's the holy grail checklist for marketers to win consumers this festive season.
1. Mobile Advertising is the Way Ahead
Mobile stands as a dominant device in shaping the consumer journey in Indonesia. While 61% of women and 58% of families with children use mobile to discover products and services, a mammoth 84% of Indonesian explore products on their smartphones. 71% ​of millennials look at smartphones as the medium to fulfill all their buying needs this Ramadan. 53% of Indonesians consider shopping on mobile. Through these numbers, mobile stands as the preferred device to learn, explore and buy products.
2. Reach Consumers from Where They Are
With the OTT platforms and gaming apps becoming mainstream entertainment for Indonesians, brands must leverage these apps to stay connected with their consumers from where they are.
3. Resilience is the Key to Staying Relevant
According to our survey, 82% of women are unplanned and indulge in impulsive purchases, while 57% of Indonesians haven't planned the categories of products for shopping. Only 17% of scheduled shoppers decide their purchases based on offers and discounts. This uncertainty opens new avenues for brands to pitch in their advertising strategies right and influence the open-minded consumers to drive purchases.
To deep dive into an understanding of the Indonesian consumer, read our report, Gearing up for Ramadan, 2021.


*survey conducted on 1000+ smartphone users in Indonesia in January 2021.