These days, more and more grocery shoppers are online grocery shoppers. And, a lot of this grocery ordering during the present pandemic is happening through apps.
It's not hard to see why these grocery delivery services are replacing the in-person trip to the grocery store for everyone from big city dwellers in New York City and Washington D.C. to suburbanites and small town residents. After all, why bother waiting in crowded lines both outside and inside the store when you can get your groceries online and then have home delivery? It's easy to see the appeal of online grocery shopping today.
Of course, online orders for fresh produce, gluten-free snacks, paper goods and more are nothing new. But, thanks to COVID-19 and a host of other factors, digital grocery shopping has never been hotter.
To see just how the space was changing and evolving in March and April 2020, we looked at the data. Specifically, InMobi's Intelligence Solutions build a holistic understanding of consumers across data sources ranging from InMobi Exchange, which reaches 1.6 billion users globally, to first-party telco data to stated feedback directly from the customers.
Charting the Growing Popularity of Online Grocery Shopping
Despite everything happening in the world, Americans report spending more money – and more money online – on groceries. In surveys InMobi ran in both March and April, this was a clear trend.
In particular, when we polled more than 1,500 adults in the U.S. in early April, 40% of them said they were spending more on groceries. And, between March and April, the percent of survey respondents who said they are buying groceries online jumped up by five percentage points.
Charting The Growth of Third-Party Food and Grocery Delivery Apps
This type of grocery shopping has been especially popular of late, led by strong brand recognition for top players alongside the brand-agnostic nature of shopping it provides. With leading apps like Shipt (which is owned by Target but works for a variety of stores) and Instacart, consumers get full-service personal shoppers to pick up items across a variety of stores and drop off during dedicated delivery times. For example, even people who aren't Amazon Prime members could still get coffee from Whole Foods through Postmates.
In this space, Instacart remains the top performer. Not only does it have more installs than similar apps like Shipt, but the number of new Instacart app installs increased 49% just in the first three weeks of March as well.
Of course, Instacart wasn't the only grocery app to see growth during this time period. The number of new Shipt app installs increased 37% in the first three weeks of March, and the number of new app installs for the alcoholic beverage delivery brand Drizly increased 39% in March.
Postmates is an interesting outlier to highlight here as well. While technically not a grocery delivery app like Shipt or Instacart, it is possible to have groceries delivered through the app. This helps to explain why Postmates saw greater growth in March compared to apps like Uber Eats, DoorDash and GrubHub that just focus on delivering already-prepared food.
Charting The Growth of Supermarket Brand Apps
Not to be outdone, many major supermarket chains have begun developing and promoting their own apps. These services have a number of advantages, including free shipping and in-store pickup at set time slots, along with delivery options. Many consumers are already loyal to particular brands as well, and may prefer to work directly with their grocery store of choice. And, these apps can offer inventory that isn't necessarily just on store shelves.
Thanks in part to all of these reasons, these direct store apps have seen major growth throughout March and April. In particular, Walmart Grocery, Aldi and Publix saw strong week-over-week install trends throughout much of March.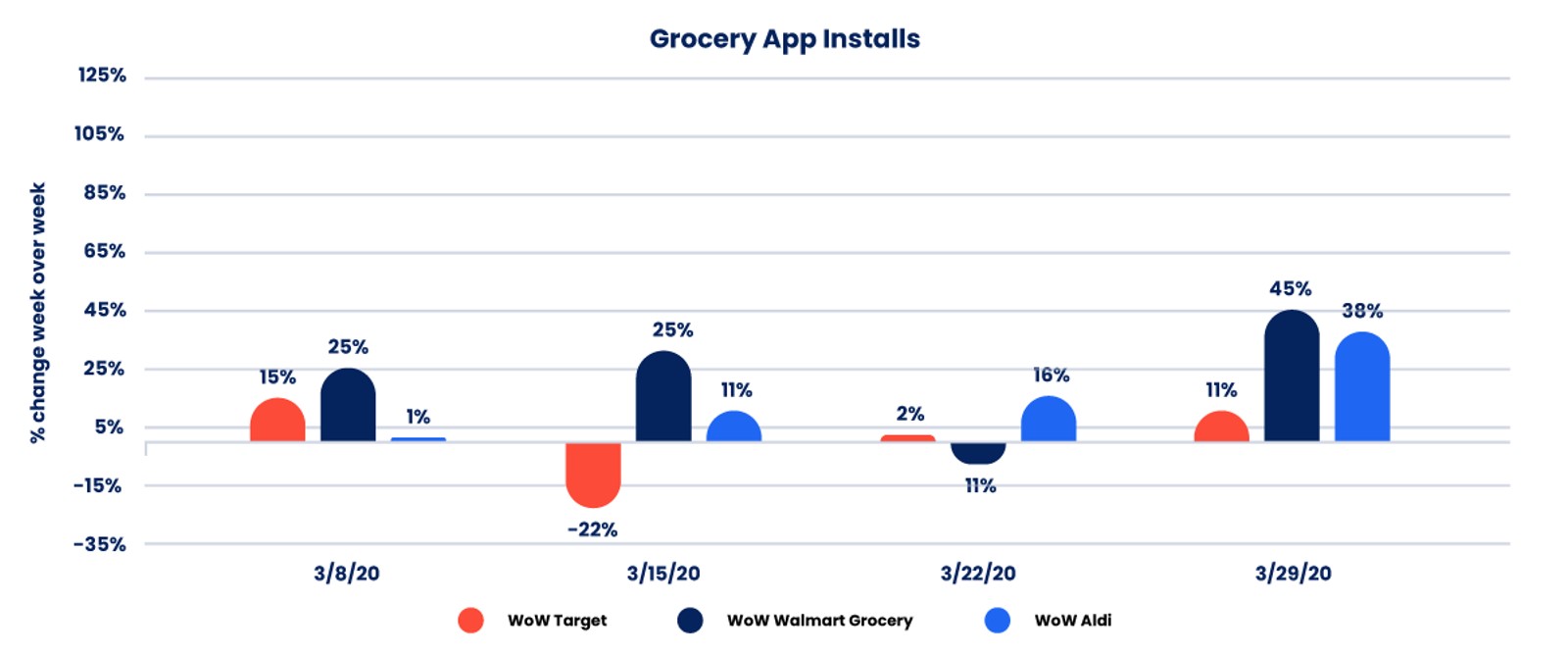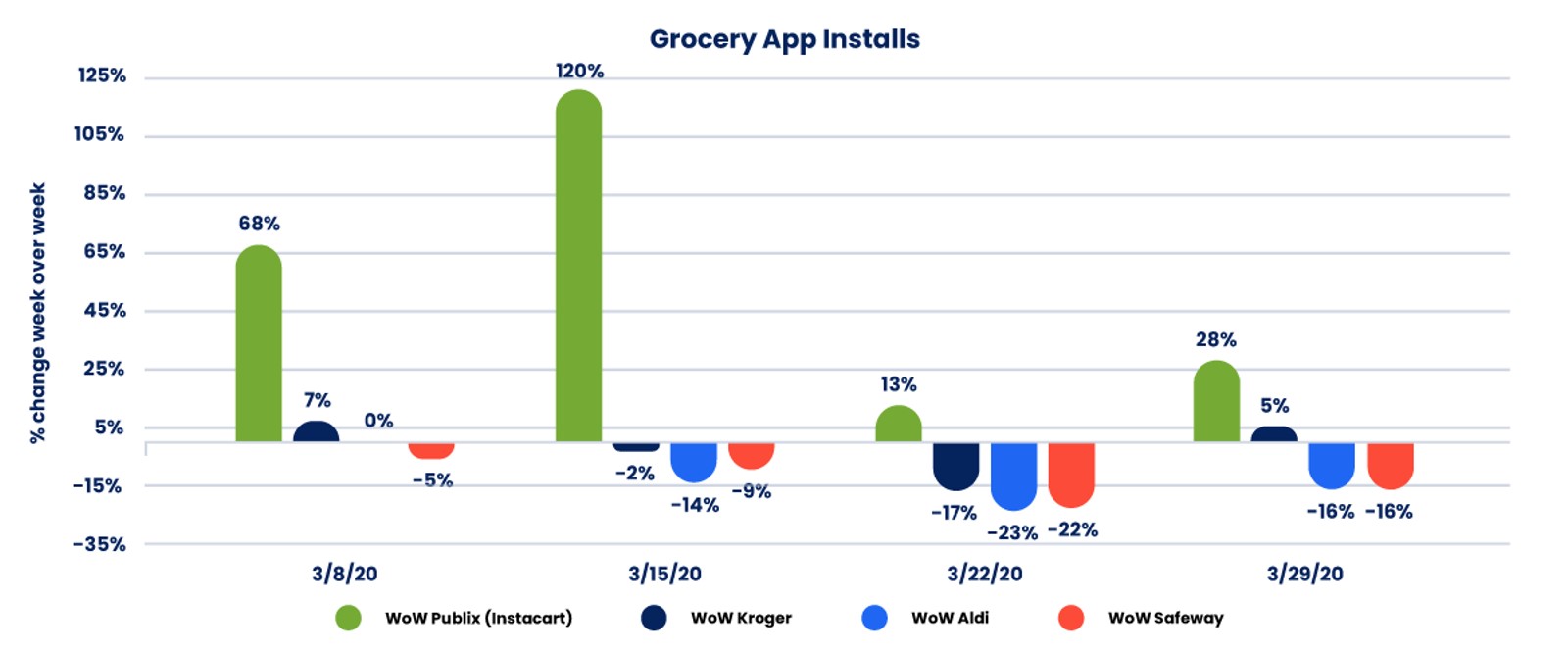 Who is Downloading These Apps Now?
As we noted previously, online grocery delivery has been around for many years now. Shelter-in-place orders have certainly helped to propel this space forward.
But, who specifically are downloading these apps now, and how do they differ from the audience that downloaded these apps previously? That's what we wanted to find out.
For starters, the post-COVID audience is more likely to be female. In fact, the percentage of female app installers rose by over one and a half percentage points in March compared to the first two months of the year.
In addition, post-COVID app installers are more likely to be over the age of 35. They're also more likely to make $75,000 or more a year on average.
This audience is less diverse than it was beforehand too. During the first two months of 2020, around 43% of all app owners in this space were White. But, in March, well over 52% of app owners were White.
Understanding Grocery Shoppers Today
As the data shows, shoppers are adjusting their grocery buying habits in light of COVID-19. And, as many consumers grow accustomed to the ease and convenience of grocery shopping through an app, it's likely that many of them will continue using these outlets even once the threat of the virus dissipates.
For marketers, this may mean a profound shift in how they reach and engage their target audience. For supermarket brands, these trends highlight a need to push app installs in addition to or instead of driving just footfall to their physical storefronts. And for many consumer packaged goods brands, this highlights how it will become more important soon to have products in someone's virtual shopping cart as opposed to a physical one.
To reach today's grocery consumer, it's best to have direct lines of communication through apps. This is where InMobi can help. Our custom audiences can help brands determine the myriad apps that former grocery store visitors, grocery app users, parents, etc. use, so you can craft ideal custom messages for all target segments.
Let us show you how this can work. Reach out today to learn more.