Amazon Prime Day, Amazon's annual shopping and deals-focused retail sales event, will occur on June 21 and 22, Amazon recently announced, earlier than it's been held in the past. Amazon Prime Day has become a can't-miss retail sales event not only because of how much sales volume Amazon processes during these days, but also because many other retailers hold sales events around the same time; in fact, in the days immediately following Amazon's announcement in 2021, Target and Walmart both said they would be holding similar sales events around the same time.
All of this goes to show that Amazon Prime Day has become a major shopping day that all retailers and consumer brands need to circle on their calendars, on par with Black Friday or Cyber Monday.
But are consumers feeling the Amazon Prime Day hype already? Do Americans consider this to be a major shopping event?
To find out, we turned to InMobi Pulse, InMobi's mobile market research solution, and surveyed over 1,300 adults in the U.S. Here's what we found.
Top Takeaways
Consumers that shop Cyber Monday are highly likely to shop Amazon Prime Day as well.
People are most likely to buy consumer electronics and home goods during Amazon Prime Day.
During Amazon Prime Day, consumers will take advantage of competing sales from at least two other retailers.
Understanding Amazon Prime Day Shopping Habits in 2021
A quarter (25%) of shoppers plan on buying something during Amazon Prime Day this year. This is more than who said they would be buying something during Cyber Monday (20%) but less than those who said they would buy something during Black Friday.
So does this mean that Black Friday is the most popular single shopping day of the year? Not necessarily – our survey was fielded in late May and early June, before the official Amazon Prime Day dates were announced, so it's possible that an even greater number of Americans will buy something from retailers during June 21 and 22.
Of course, when it comes to shopping, it's not an either/or proposition for consumers. According to our research, many said they would be buying something during two or more shopping holidays throughout 2021.

What will people likely buy during Amazon Prime Day this year? Top answers included home goods (40%), consumer electronics (37%), clothing and accessories (35%), books and games (22%) and toys (14%). Close to two in five Amazon Prime Day shoppers said they were unsure of what they would buy; many consumers wait to see what specifically is being discounted before committing to a purchase during Amazon Prime Day.
Interestingly, a lot of this shopping won't just happen with Amazon. Half said they would also be taking advantage of competitive offers from Target during Amazon Prime Day, while 56% said they would do the same thing with Walmart.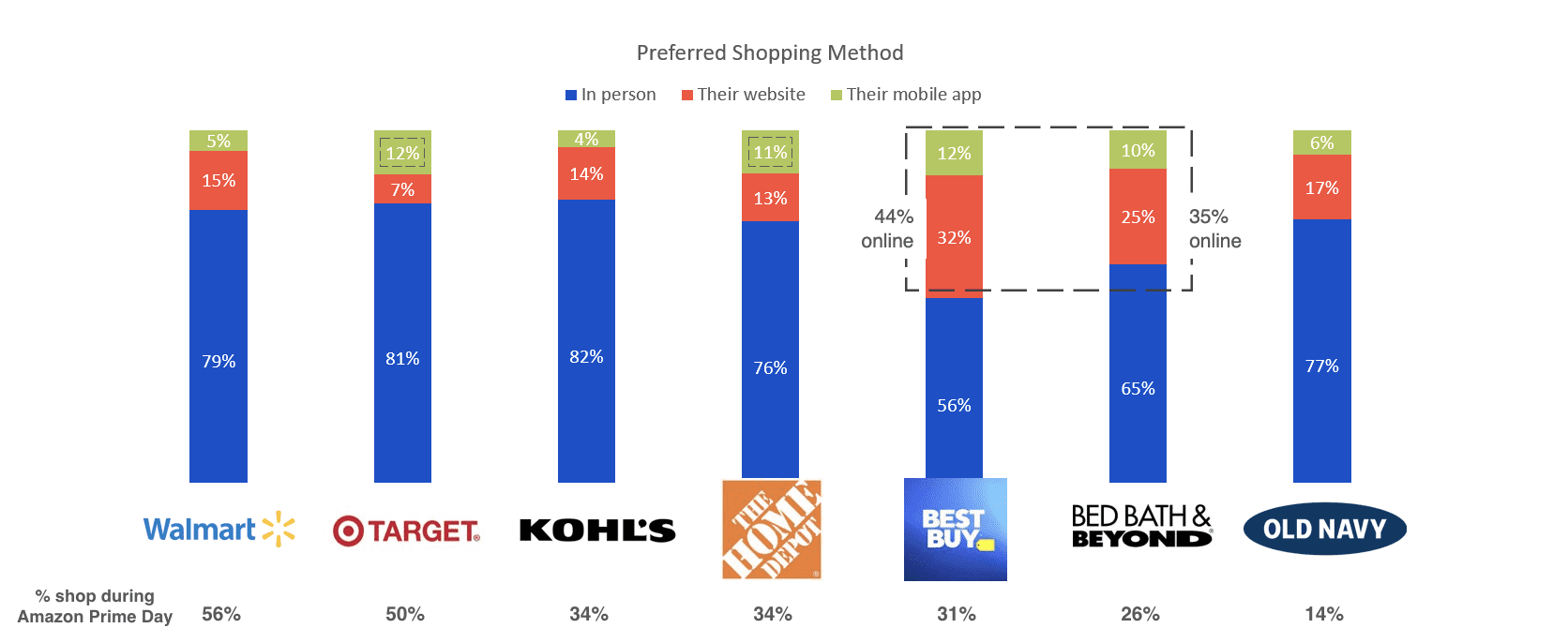 Understanding Amazon Prime Day Shoppers
Who specifically will be shopping during Amazon Prime Day? Overall, 29% of those between 18 and 25 years old said they would be buying something during Amazon Prime Day, while 30% of those between 35 and 54 said the same thing. In comparison, just 17% of those over the age of 55 will likely take advantage of Amazon Prime Day deals.
Of course, what people are likely to specifically get during Amazon Prime Day differs based on age and gender. For example, while men are more likely than women to buy consumer electronics (46% vs. 26%), women are more likely to purchase clothing and accessories (42% vs. 30%).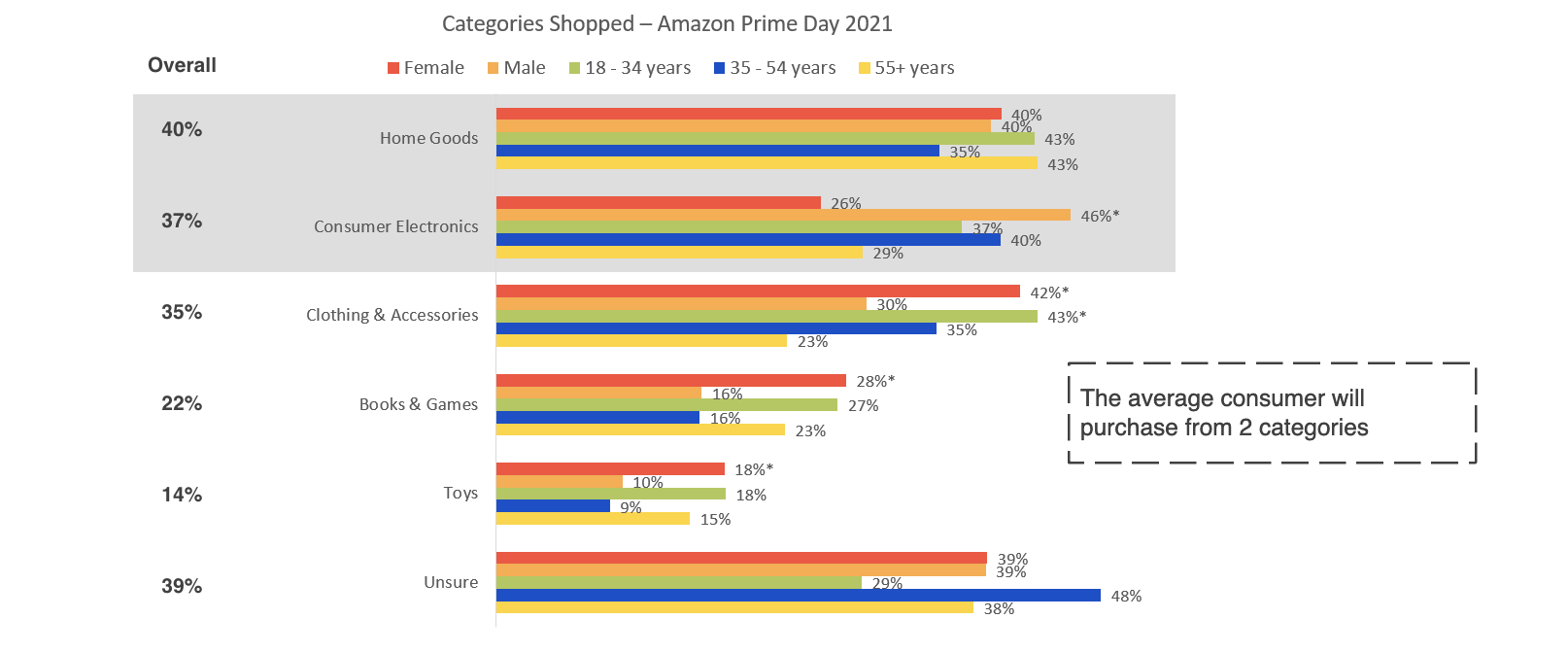 Our Top Tips and Best Practices for Amazon Prime Day
With Amazon Prime Day fast approaching, what should brands do to get ready? Here are our top four tips:
Ramp up mobile advertising to reach consumers ready to shop – especially those ready to shop online. As our research shows, Amazon Prime Day is poised to be a big deal with consumers this year. This means that all retailers and anyone else dependent on retailers for sales should take advantage of Amazon Prime Day shopping to get the word out about their products and any special deals.
Target deal chasers and other specific audiences that will be most receptive to learning about upcoming deals and specials.
Not only should creative focus on savings, but they should also be tailored to specific audiences. For instance, as our data shows, younger women are much more receptive to learning about deals for books and games than older men are leading up to Amazon Prime Day.
Don't limit outreach just to Amazon, as Amazon Prime Day is now about much more than Amazon. During June 21 and 22, many consumers will be buying from multiple retail outlets.
What are your thoughts on this data? What do you think Amazon Prime Day shopping will actually look like in 2021? Let us know your thoughts on social media! You can reach us directly on Facebook, Twitter, Instagram or LinkedIn.