If this holiday season is anything like last year, then the largest consumer electronics retailers in the U.S. are bound to be busy. Wireless headphones, e-readers, fitness trackers and smart speakers were among the most popular holiday gifts of 2019, and it's reasonable to expect similar items to be on the top of wish lists in 2020.
And, this holiday shopping season is expected to still be significant despite the current state of the world. According to Deloitte, retail sales are expected to grow year-over-year and will likely top $1 trillion – and it's reasonable to expect e-commerce and consumer electronics to lead this charge.
The point on e-commerce is key, as we anticipate more m-commerce amid a larger desire for no- or limited contact transactions due to the pandemic. After all, e-commerce was growing even before 2020, and it's likely to be even more prevalent this year.
But who specifically are buying online from electronics stores? For a look at what this sector will look like this holiday season, we looked at three of the top 100 mobile apps for buying consumer electronics online: Amazon, Best Buy and Newegg.
In particular, we wanted to look at who has these apps on device now. Armed with these insights, we can gain a deeper understanding of who will be driving m-commerce transactions in this space during the 2020 holiday shopping season.
Consumer Insights for Consumer Electronics Retail Apps
Perhaps not surprisingly, this is a very male-oriented category. While app ownership overall is more prevalent with men over women, this trend is especially the case in the consumer electronics world. All three apps have majority app owners, but the trend is especially prevalent with Best Buy and Newegg. Over 70% of Best Buy app owners are men, while a whopping 90% of Newegg app owners are male.
Newegg has a relatively young audience, as over 40% of their app owners are under the age of 36. In comparison, 45% of Best Buy app owners are between 36 and 45 years old. More than 60% of Amazon app owners are over the age of 45, but this is likely a reflection of the fact that Amazon sells much more than consumer electronics.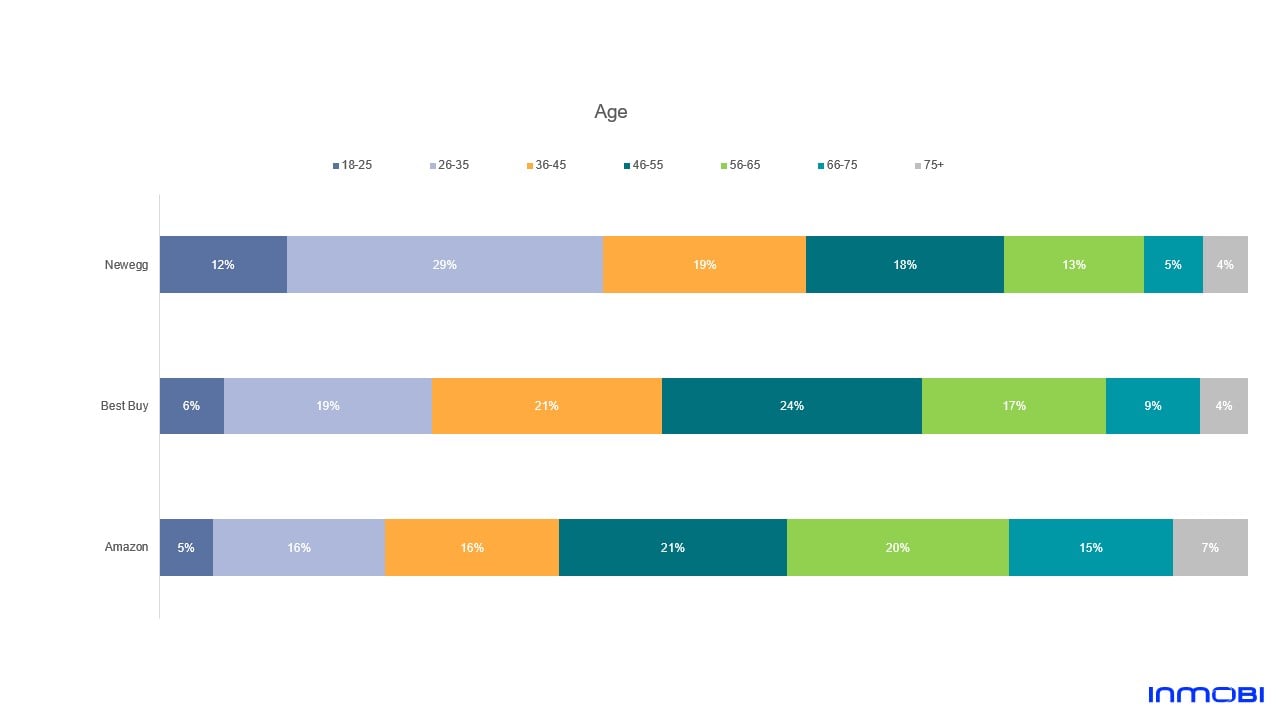 All three apps have a fairly affluent audience. For example, around half (49%) of all Newegg app owners make $75,000 or more a year on average. The bulk of app owners in the category are White, with only Best Buy having majority non-White app ownership.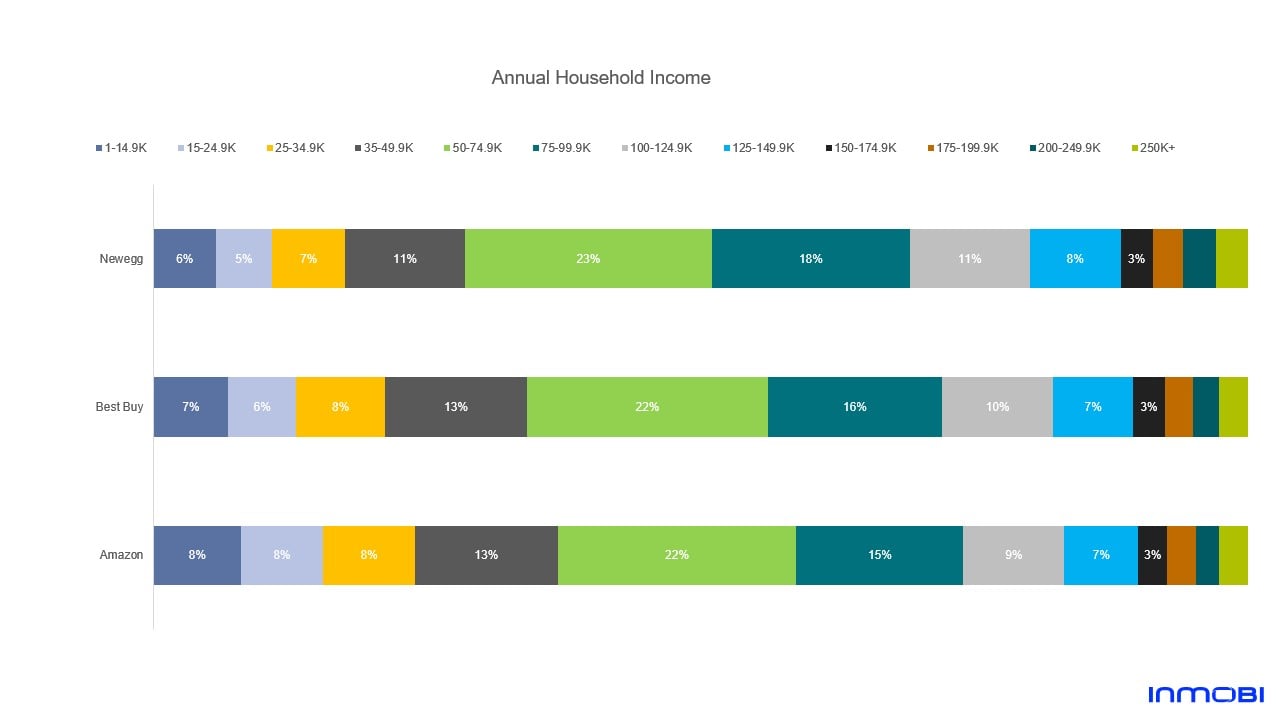 Interestingly, many Newegg app owners also have the Best Buy app on their mobile devices, and vice versa. These individuals are also likely to have downloaded car-related apps and home improvement retail apps.
How to Make These Audience Insights Actionable
This holiday season, these consumer electronics retail apps will want to drive app usage. With consumers likely to spend millions of dollars on these gadgets this holiday shopping season, it's imperative for these apps to drive installs and adoption now so they can capitalize on these spending patterns in November and December.
An ideal strategy would be to now drive app installs through a targeted user acquisition campaign. Armed with these insights on what their ideal audience looks like and what they're interested in, these retailers can run in-app advertising campaigns to the individuals most likely to both download their app and use it to make purchases.
Interested in learning more about InMobi's performance advertising capabilities and services? Reach out today to learn more.