When it comes to customer loyalty, CPG brands are feeling the heat. Inflation, loyalty, supply chain issues and private label growth are all impacting national CPG brands success. These are all key issues in the vertical, but we wanted to go deeper on loyalty and private label motivations specifically.
As eMarketer has reported, over 80% of consumers bought a different brand than their usual choice between July and September 2021. Issues relating to the supply chain and inflation were impacting the customer experience then, and these concerns have not yet abated so far this year.
In light of these trends, what can consumer packaged goods (CPG) companies do to better meet changing consumer expectations today for both prospective and existing customers? What does a quality CPG marketing strategy look like in 2022? That's what we wanted to find out.
At the beginning of 2022, we surveyed over 2,800 CPG consumers across the U.S. using InMobi Pulse, InMobi's mobile market research solution. Looking at a broad array of consumers, we ultimately wanted to answer the following questions:
How are different consumers reacting to available loyalty programs?
How does advertising impact loyalty, and how should marketing fit into a brand's overall loyalty strategy?
What kinds of loyalty and rewards programs most entice consumers?
Here's what we uncovered.
Key Findings:
Private label product loyalty is not far behind national brand loyalty. If a branded player loses a shopper to a private label, our data shows they may never get them back as private label loyalty is neck and neck with branded items.
Product and retailer loyalty varies across CPG categories. Pet products and retailers have the strongest loyalty, while baby item shoppers are the most product and retailer fluid based on convenience during a time precious life-stage.
Future consideration for loyalty programs is strongest among ages 18-34. Drivers to sign up vary based on the type of loyalty program. Loyalty program involvement is linked to stronger product loyalty.
Online shoppers for food and household skew significantly younger. Consumers ages 18-34 like personalized ads, while those 55+ like to see availability.
Overall, consumers love CPG ads that make them aware of new products or products they haven't tried.
How Loyalty Varies Across Products, Manufacturers and Retailers
Interestingly, consumers are most loyal to brands and retailers when it comes to pet care products, while they're least loyal when it comes to baby items. As Jeff Williams, Vertical Strategy Lead for CPG and Pharma, has quipped, "Americans are more loyal to their fur babies than they are to their actual babies."
Brand preference skews toward national brand products, though not overwhelmingly so. And while consumers prefer national brands due to quality perception, private label shoppers are driven by various motivators. Interestingly, although national brand products drive stronger loyalty, private label product loyalty is not far behind.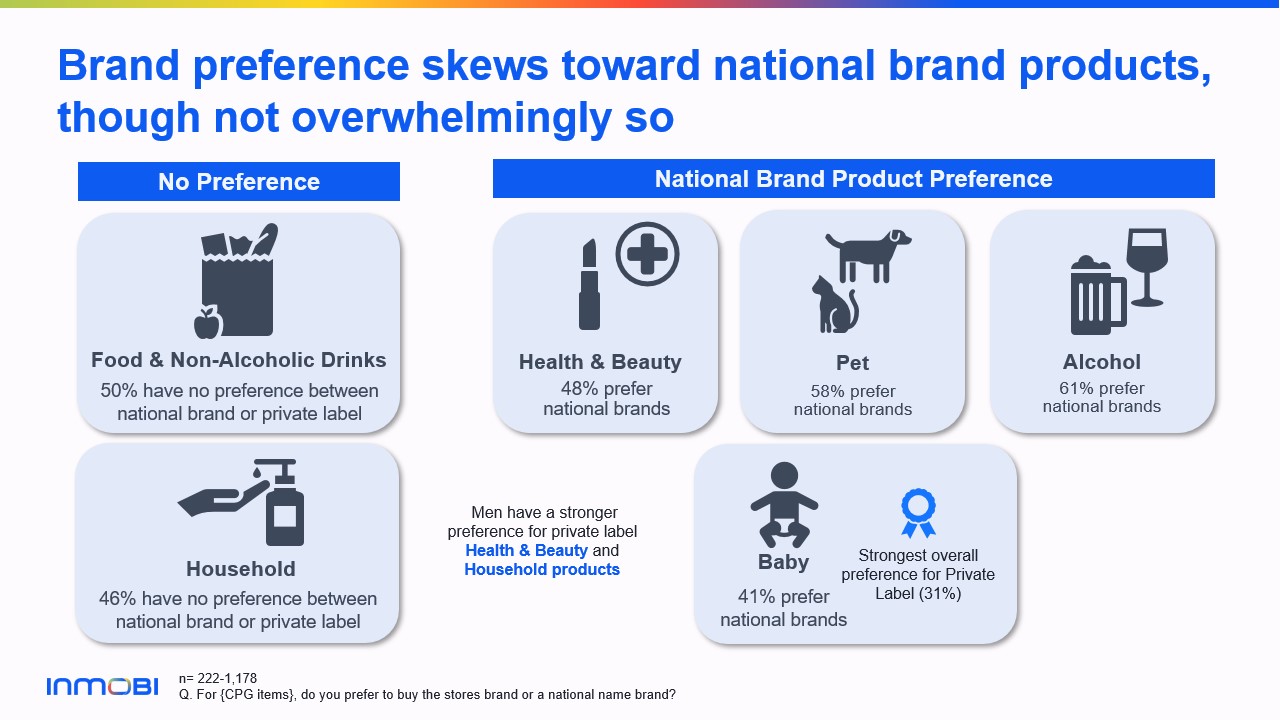 And more specifically, food and beverage brands and household items have virtually no loyalty overall in preference to private label vs. national brands.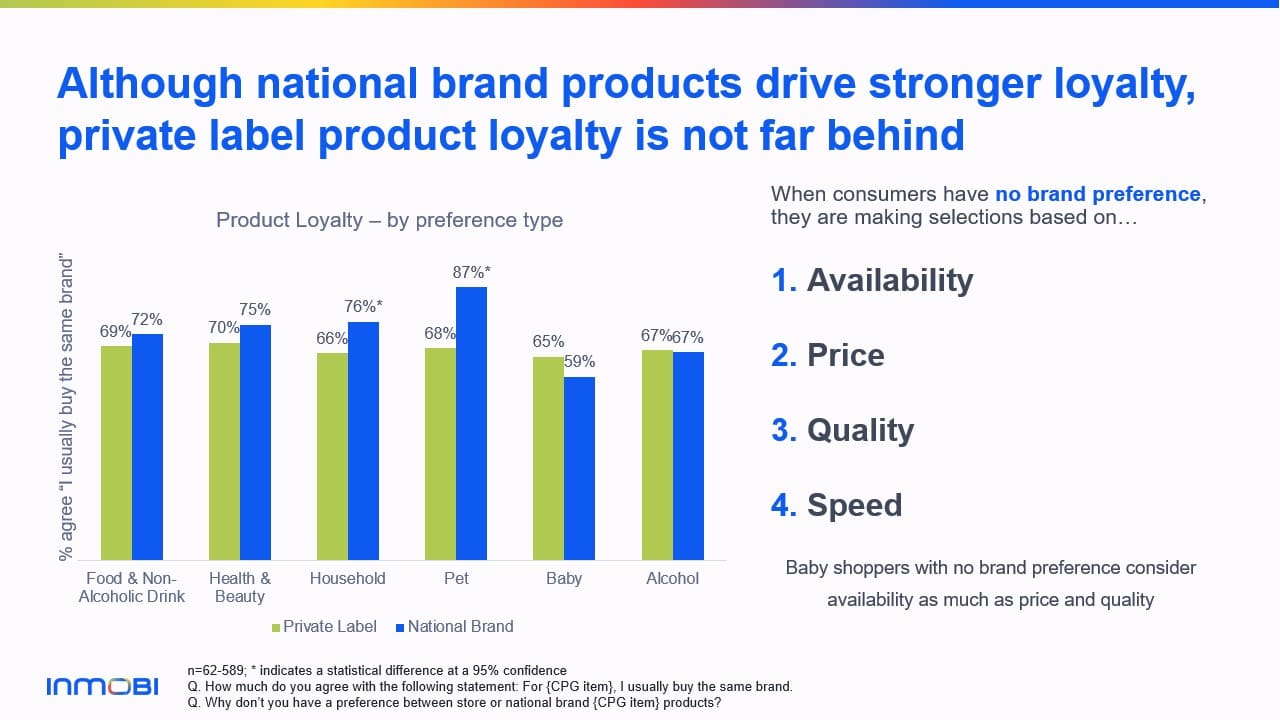 We observed similar trends on the retail side, with retailer loyalty primarily being driven by convenience. In this space too, consumers prefer national brand products because of quality.
How CPG Loyalty Programs Can Impact The Bottom Line
Historically, the brand experience that CPG companies provide has hindered their ability to offer loyalty programs direct to consumers. After all, outside of direct-to-consumer (DTC) businesses, most CPG brands are reliant on retailers for their sales.
The way CPG consumers have been able to address this gap is by partnering directly with retailers on their loyalty programs. While still relatively nascent, the data shows that loyalty program involvement is linked to stronger product loyalty.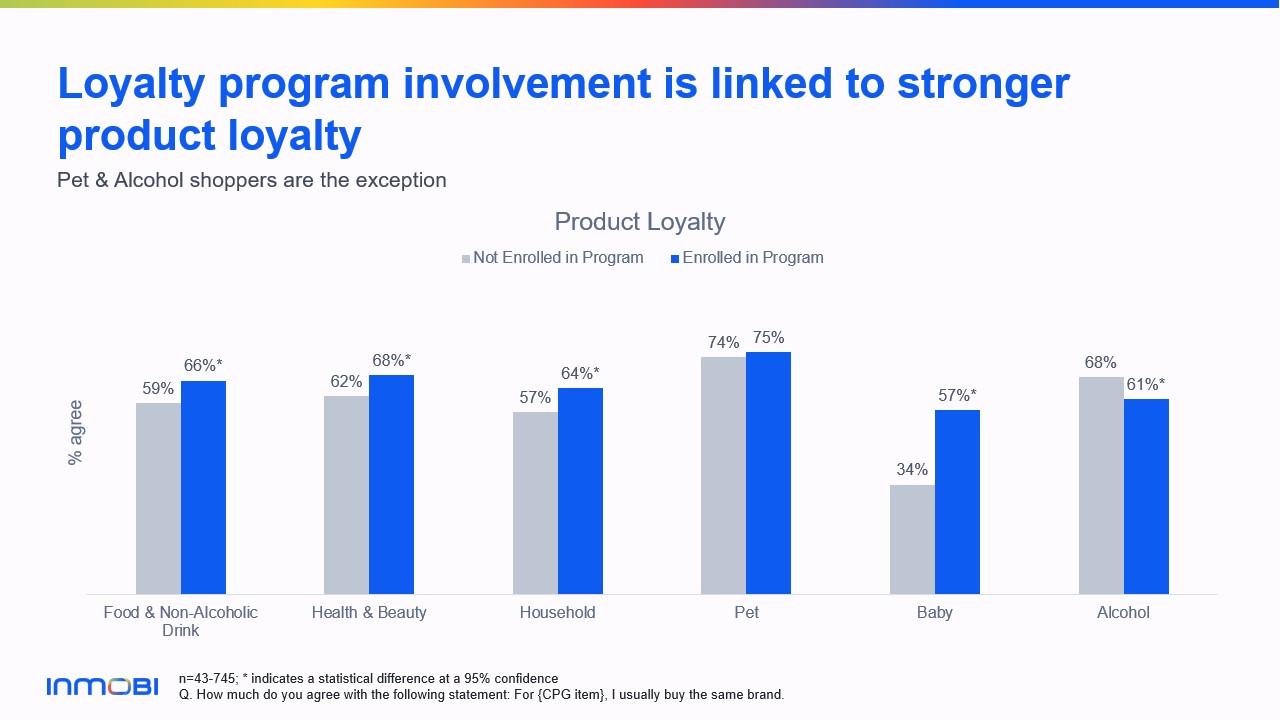 This is a significant development, as in the past CPG brands have had a relative lack of first-party data. Thanks in part to loyalty programs, CPG companies are able to have their own customer data sets to leverage.
What kinds of loyalty programs most entice customers? That all depends on the category.
In grocery, consumers are most interested in rewards-based loyalty programs. In comparison, loyalty programs directly offered by CPG brands themselves will generate the most interest if they offer participants free delivery.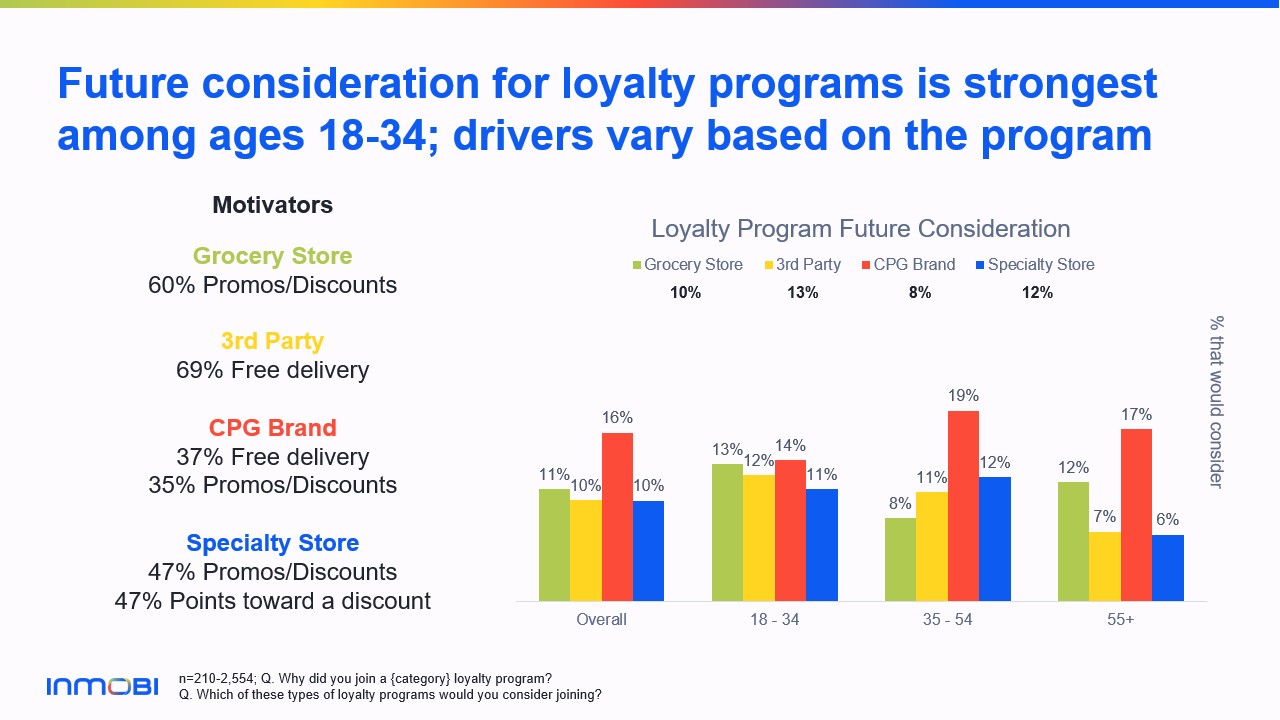 CPG Advertising Best Practices
What can CPG brands do to get the word out about their loyalty programs and other offerings? As past InMobi research has shown, mobile advertising is especially effective.
Awareness and discoverability are the keys to national CPG brands winning in today's environment. Awareness leads to trust and perceived quality.
Brands can win by increasing their share of voice in the industry during tumultuous times. That is why P&G has weathered difficult economic times, by winning share and investing when times get tough.
Consumers love CPG advertisements that make them aware of new products or products they haven't tried. In addition, one in four said that ads for CPG products encourage them to try new products.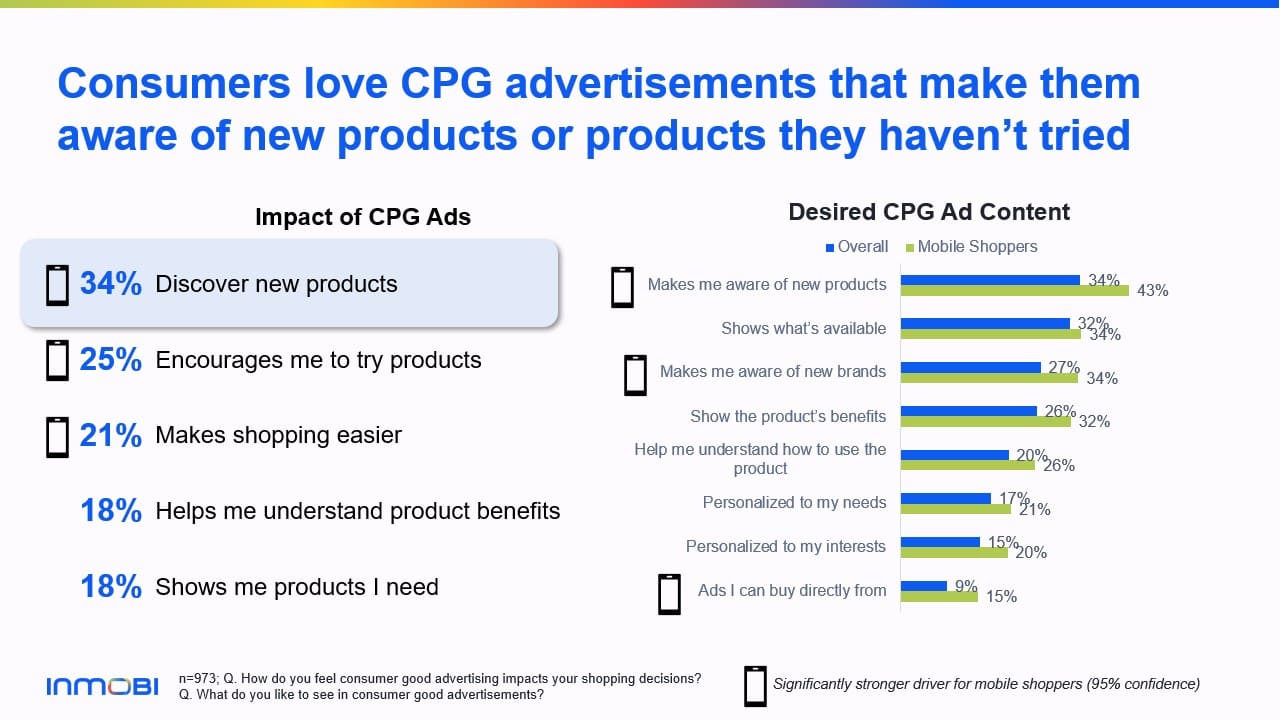 What kinds of ads do consumers like to see? Our research found that answers vary on age. Younger consumers tend to prefer personalized messaging, while older shoppers want ads to focus on product availability.
What are your thoughts on this data? Do any of these findings surprise you? Let us know on social media! Send us your thoughts on Twitter or LinkedIn.