On 27 July, Google announced new ads guidelines for full screen interstitial ads to ensure high quality ad experiences for users whey they are using apps installed through Google Play Store.
This is applicable to:
Full screen static and video interstitial ads that show unexpectedly, as users expect to begin a game, engage in content, or before the app's loading screen.
Full screen static and video interstitial ads that are not closable after 15 seconds and interrupt users in their actions.
Inspired by the Better Ads Standards – Mobile App Experiences, this new policy will be effective starting 30 September 2022 and will only affect Interstitial ad units. This does not affect rewarded ads, since they are opted-in by users, and overall ad units that don't interfere with the app usage or game play.
About the Better Ads Standards
The Better Ads Standards were developed by the Coalition for Betters Ads, which gathers leading international trade associations like the IAB and companies from the digital advertising industry. The Better Ads Standards were created using extensive consumer research and aim to identify ad experiences - across desktop, video, mobile web and mobile app – that are below the threshold of consumer's expectations.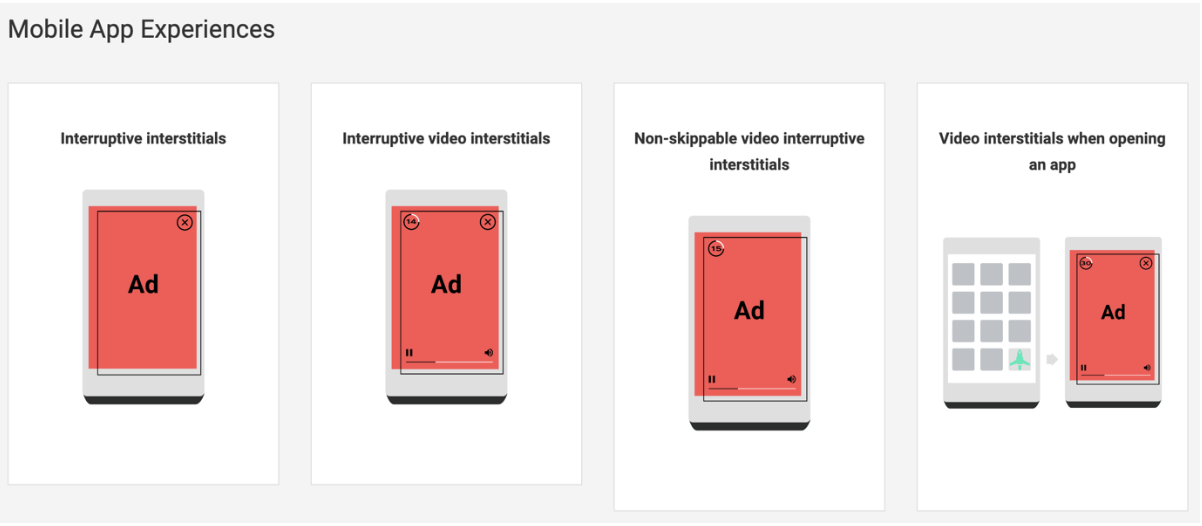 What does the new Play policy mean for app developers and advertisers?
App developers on the Google Play Console are required to comply with the Better Ads Experiences policy and to implement changes on their interstitial ad inventory by 30 September 2022.
We anticipate that app developers who have not yet adhered to better ads standards, will see a decline in scale and revenue across their interstitial ad units. Most of our top publishers have confirmed that they already adhere to these best practices, so the impact is expected to be minimum. We should expect higher turnaround time on new app releases or SDK updates as Google will start enforcing stringent checks going forward. This policy is also an opportunity for developers to adopt opted-in ad formats such as high yielding rewarded ad units and experiment with other ad formats that blend seamlessly with the user experience, such as native ads or in-game ads.
Advertisers might see a slight decline in available interstitial ad inventory. As an ad exchange focused on both gaming and non-gaming inventory, InMobi will remain in a good position to provide alternative inventory to interstitial ads for advertisers to reach their goals.
That said, the ecosystem is awaiting some clarity on the language shared by Google on the policy around ads showing "unexpectedly", so that there is absolutely no doubt on the requirements.
How does this impact InMobi?
At InMobi, we are highly invested in ad quality and in creating ad experiences that put users first.
The Google Play Betters Ads Experience policy aims to positively preserve the experience of consumers exposed to advertising by implementing guidelines that will promote quality and safe ads.
Standards like the Coalition for Better Ads are important for our ecosystem as they prevent advertising practices that have an effect on a publisher's reputation, an advertiser's reputation, and most importantly the user experience, to continue.
Ad unit placements are created and controlled by the publishers. This is an opportunity for publishers to create more trust with their users by providing ad experiences that are seamless and non-intrusive.
We will work with our publisher customers to optimize their yield and with our advertiser partners to keep reaching their KPIs through alternative high impact ad formats.