Use Actionable Insights from InMobi Pulse to Make Smarter In-App Advertising Decisions.
Your Captain Obvious insight for the day: People love to stream video. There's a reason big streaming video properties like Netflix, Hulu, Amazon Prime Video are household names in the U.S. today.
But here's what you might not realize: A lot of people use their smartphones to watch video. The screen may only be a few inches wide, but it's what many of us turn to for streaming TV and movies - despite Steven Spielberg's misgivings.
In fact, here's a look at net installs of OTT apps over the past 12 months: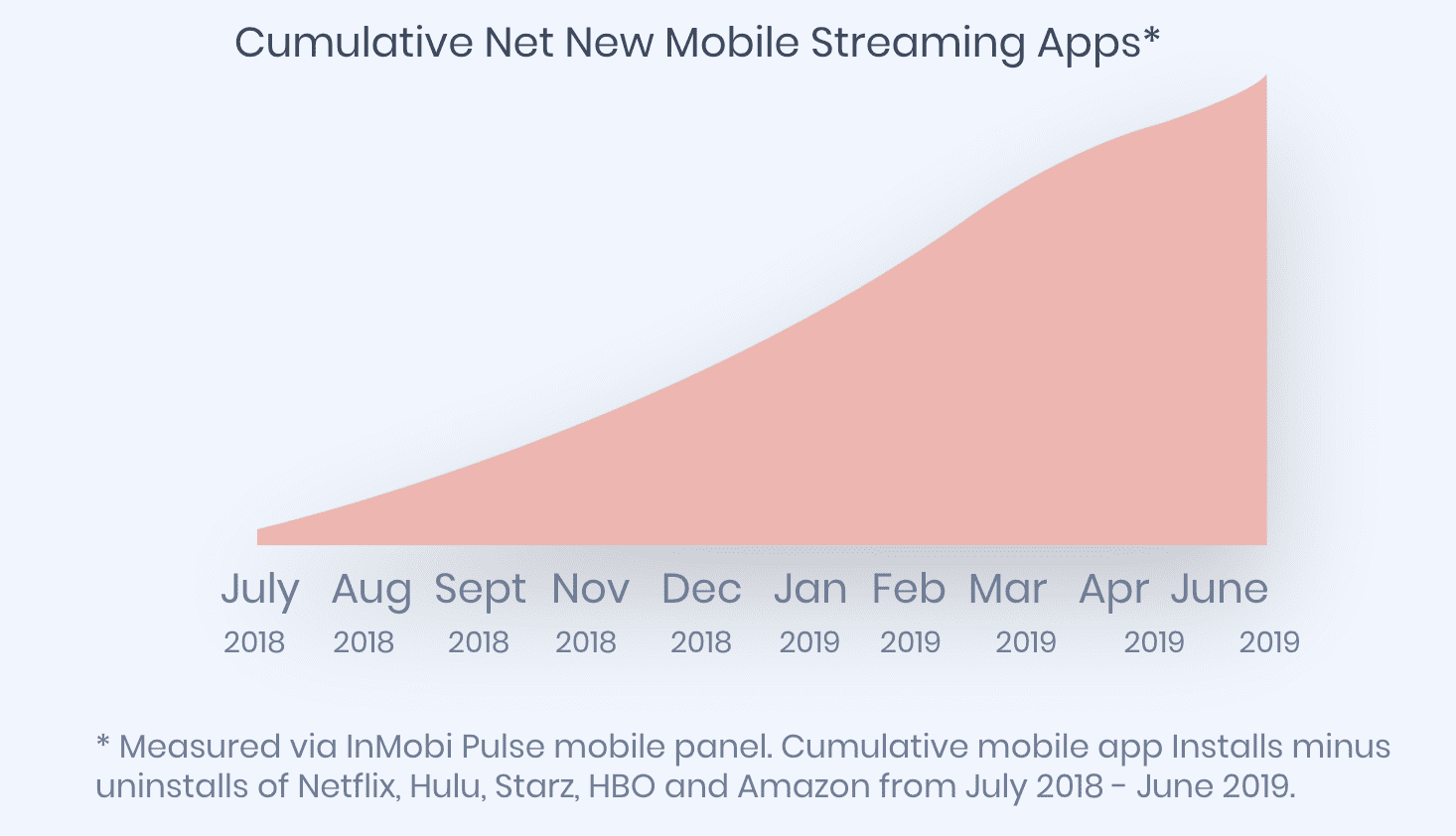 In the last 12 months, net new installs of these top five OTT video streaming apps (Amazon Prime Video, HBO, Hulu, Netflix and Starz) increased over 400%. Between July 2017 and September 2019, these apps have been downloaded a combined 224 million times, according to Apptopia. Even with their small screens, mobile devices are a go-to source of video entertainment content.
And people aren't just downloading these apps and forgetting them. Users in the U.S. watch a lot of video content on their mobile devices:
In August 2019, Netflix users, on average, watched over five hours of streaming content.
People with the Hulu app on their phone have viewed more than four hours of video content from their mobile device in August.
Some other stats to consider:
The average American spends close to three hours a day with his/her smartphone, with 90% of that time devoted to apps, according to eMarketer.
In 2019, for the first time, people in the U.S. will look at and engage with their smartphones more than they will watch TV.
This year, adults in the U.S. will spend over 30 minutes a day watching videos through smartphone apps.
Between 2017 and 2021, time spent watching video through apps is expected to rise 27%.
A recent survey found that more than 40% of respondents stream video on their mobile devices daily, while over 25% said they do so at least weekly.
To find out even more about streaming video consumers, we analyzed the websites and mobile apps of the three biggest streaming video providers in the U.S.: Netflix, Hulu and Amazon Prime Video. Using our first-party carrier data, accessible via InMobi Pulse, we can see what makes their customers tick.
Who is Watching Streaming Video Content on their Phones?
One of the biggest insights revealed by InMobi Pulse here is that just about everyone uses their phone to watching streaming video content. Mobile video is huge with everyone, not just Gen Z and tech-savvy millennials. No matter someone's age, gender, location, household income, etc., chances are they are streaming.
Gender:
No matter what someone's gender is, they are watching streaming video content on their mobile devices. But, there is a gender breakdown when it comes to whether or not a user is downloading a streaming video app on their device.
Across all three brands, the majority of those with these apps on their phones are male. It's a different story on usage/engagement across web and app, however. There, the data reveals a more even split between male and female.
This breakdown is not unique to the streaming video space. Mobile app owners overall tend to skew male, while overall mobile streaming users are more likely to be female. This is a general trend that we see across brands; app usage is higher among males, whereas the web browsing behavior is exhibited more by females.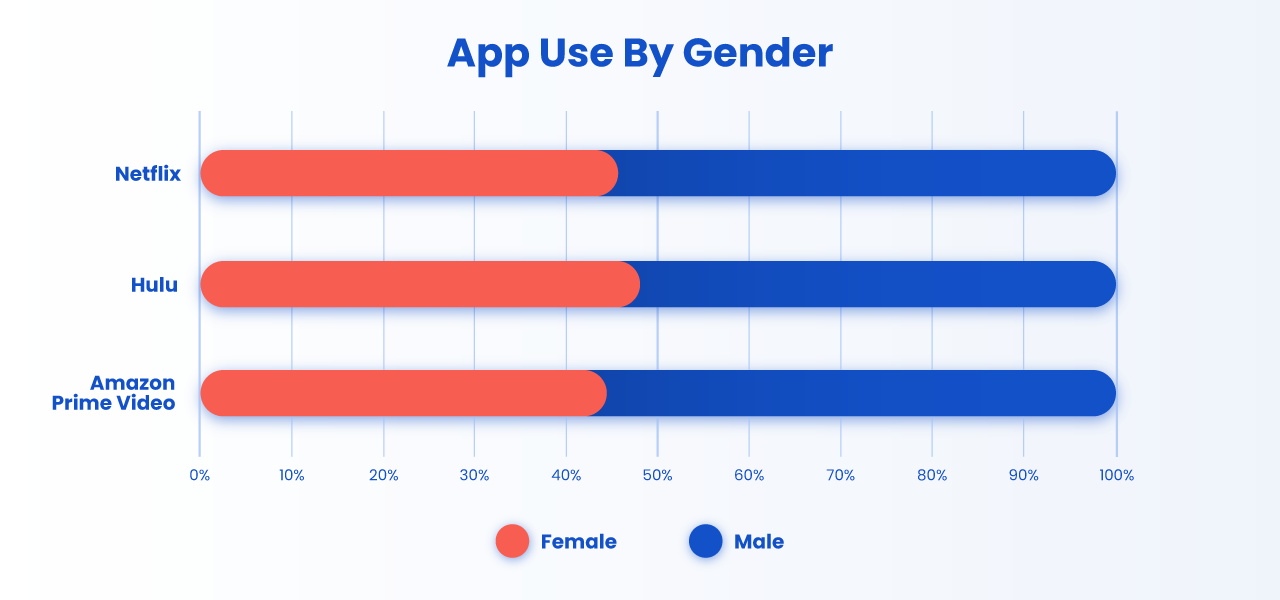 Age:
How old are the people who are watching streaming video on their phones? Millennials may make up the largest percentage of viewers for all three properties, although people of all ages are watching streaming video content on their phones.
While these OTT video viewers on mobile tend to skew younger, Amazon Prime Video is more likely than the other two properties to have an older audience. The distribution for age range differs notably from the age of app owners as well.
Household Income:
Regardless of income, adults in the U.S. are watching streaming video content on their phones. But, individuals at various income levels are more likely to be customers of certain brands over others.
The majority of both Netflix's and Amazon Prime Video's app owners have yearly household incomes between $35,000 and $99,999.
Hulu's app owners are also found at the same average range, although they have more web users at the very top ($175,000 and more) and the very bottom (less than $35,000) of the household income range.
Amazon Prime Video may take the cake when it comes to pulling in wealthy consumers. Close to 40% of everyone who watches Amazon Prime Video on their mobile devices is making at least $100,000 a year.
But that doesn't mean individuals earning much less are eschewing streaming video. Far from it, in fact. For all three brands, a significant portion of their mobile video consumers make under $50,000 annually (which includes retirees and stay-at-home parents).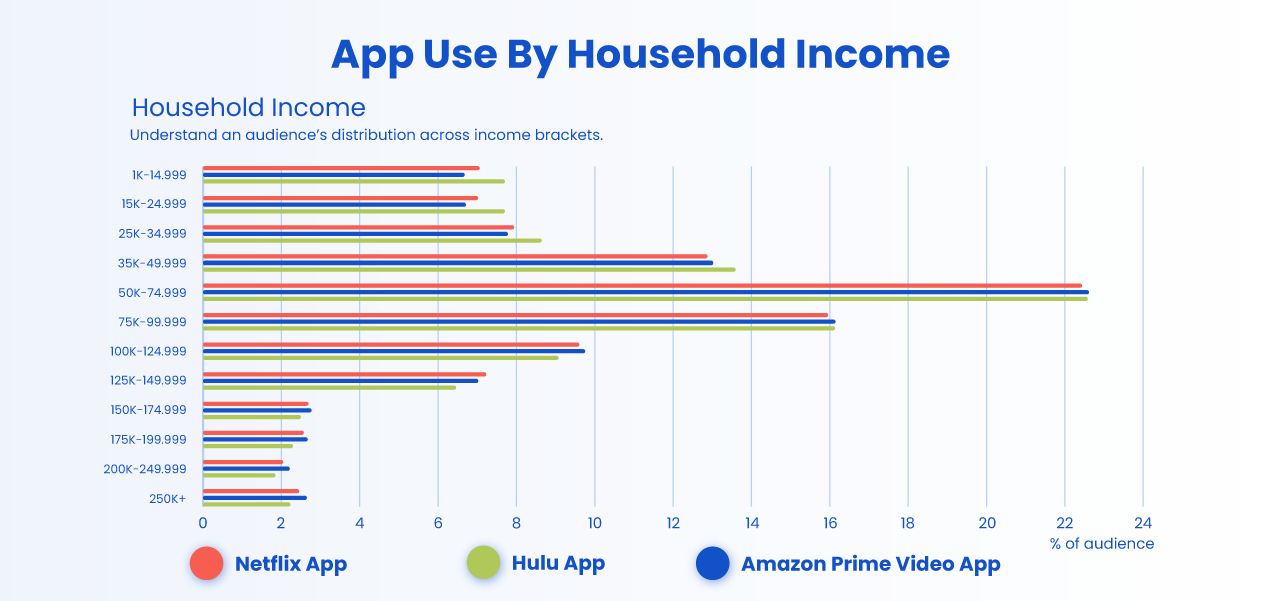 A wide variety of people are watching streaming video on their mobile devices. Regardless of interest or station in life, individuals use their smartphones to stream TV shows, movies and similar content.
Demographics:
Overall, OTT consumers are more likely to be married, college-educated homeowners than the rest of the population. Between 60% and 80% of users are married and homeowners, over 30% have at least a Bachelor's degree.
Amazon Prime Video and Hulu app users are slightly more likely than their website visitors to be married, own a home and have at least one child. Both Amazon Prime Video and Netflix app users are commonly employed in clerical/office jobs and have a high school diploma as their highest achieved education level.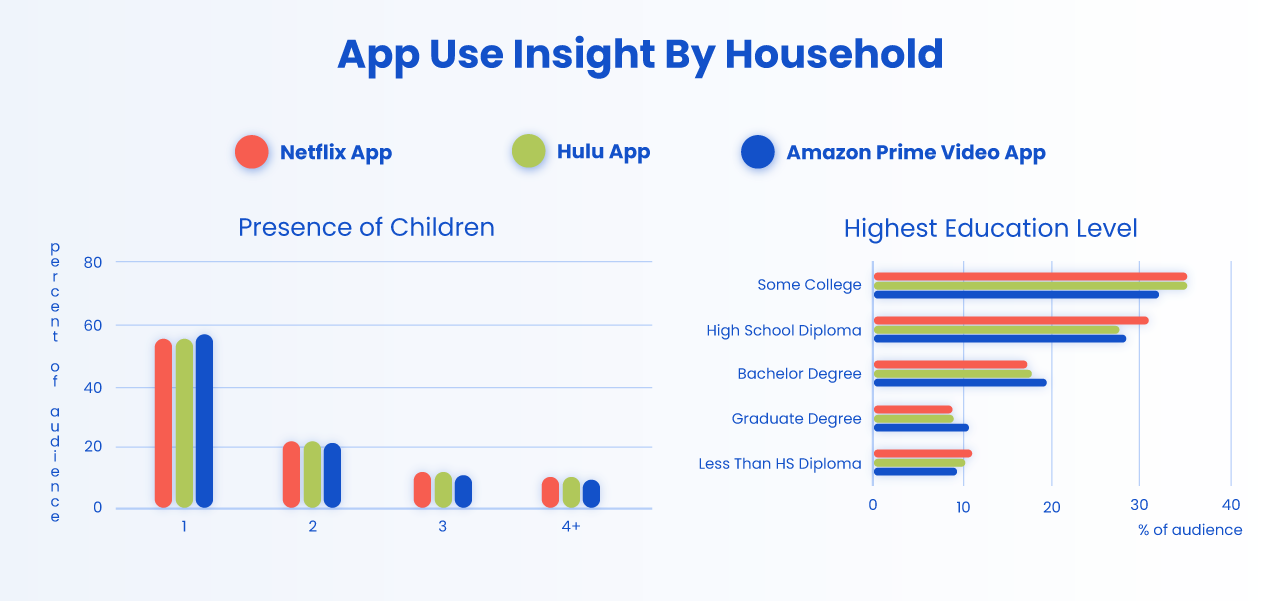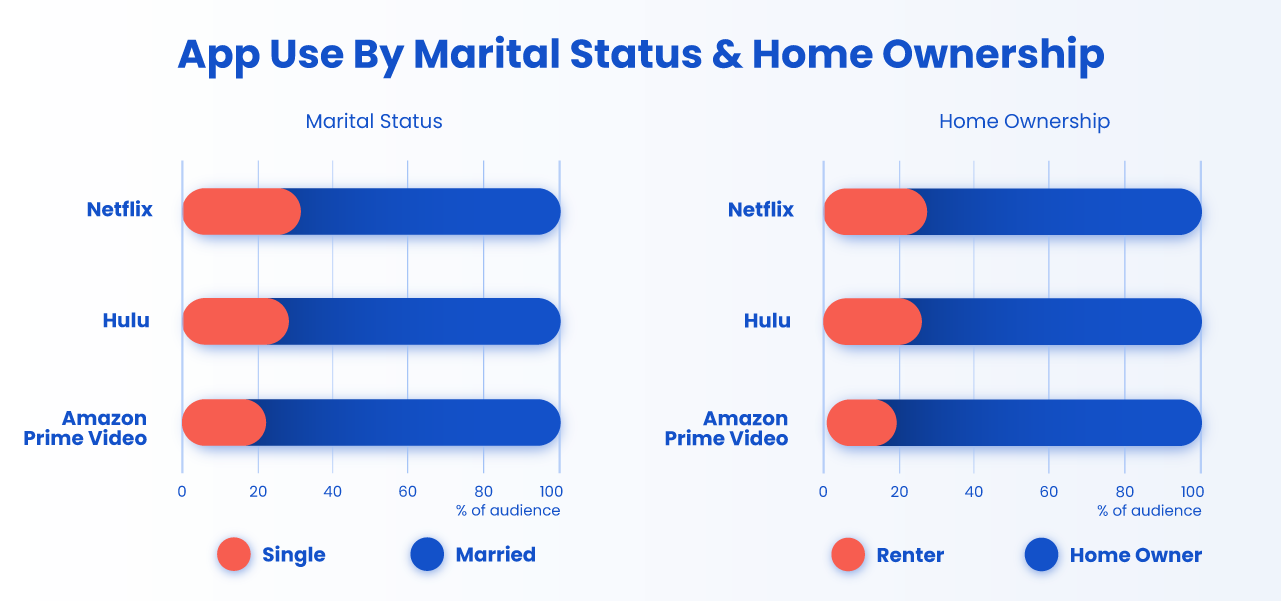 But, as the above charts show, a lot of people outside these demographics use mobile video streaming services too.
Close to 40% of Hulu's mobile web traffic is from single people, and almost a third of them are renters.
Among everyone with the Hulu app on their phone, around 30% of them don't have a college degree yet; the same goes for Amazon Prime Video app owners.
Close to 38% of everyone who watches Amazon Prime Video on their mobile devices has at least a Bachelor's degree.
Location:
Where are streaming video viewers located? In short, basically everywhere.
Amazon Prime Video's app is popular in Las Vegas and New York City, but also in smaller cities like Omaha and Cincinnati.
Hulu's app is popular in Midwestern cities like St. Louis, Omaha, Cincinnati and Minneapolis.
Netflix's app is well used in Las Vegas, Denver, Omaha and Atlanta.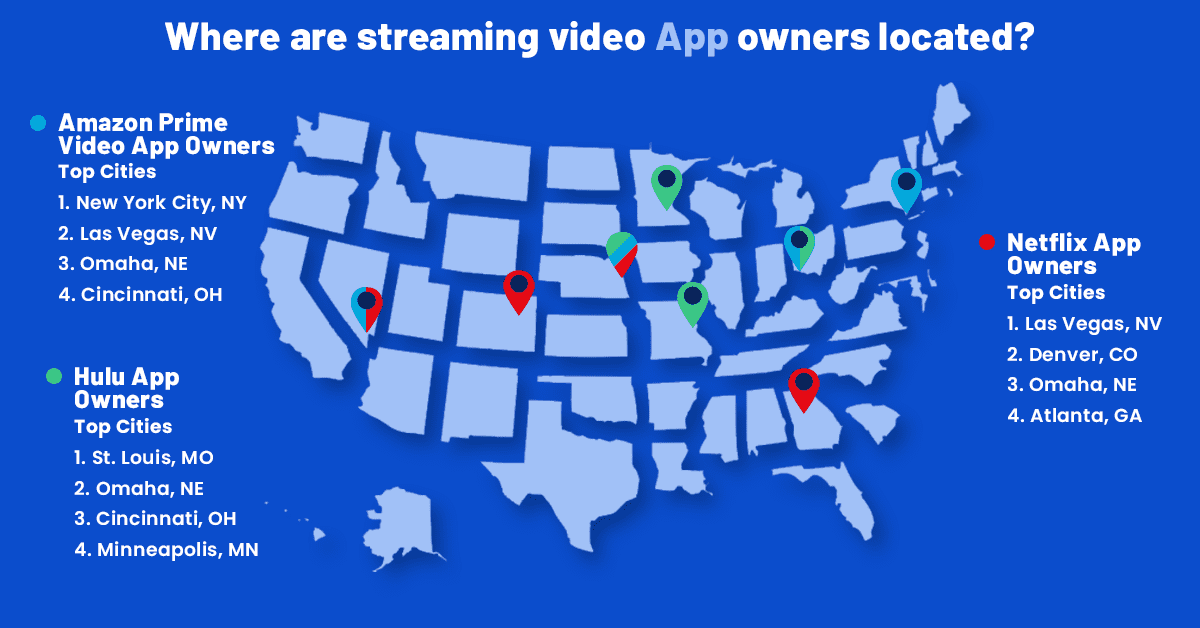 How to Use This Data To Inform Your Mobile Ad Campaigns
These insights are interesting, but how can all of this information from InMobi Pulse be used to more intelligently allocate in-app and mobile ad spend?
Perhaps the biggest takeaway here for advertisers is the huge appetite for video among just about everyone in the U.S., even on devices with smaller screens. Not only should brands aim to reach their target consumers through mobile video streaming services, but they should aim for maximum impact by running video ads when possible too.
From a user acquisition perspective, it's critical to consider the differences between app owners and website visitors. In this segment, app owners tend to be male, older, in the Midwest and have an average annual income between $35,000 and $100,000. It's critical to consider these kinds of characteristics when running a user acquisition or retargeting/remarketing campaign. Web and app require their own thinking, tactics and strategies, since their audiences can sometimes be very different.
This kind of data can also help inform creatives as well. When running campaigns in apps versus on websites, advertisers may want to make sure that their ads feature people that look like their target audience and are featuring individuals doing activities that their users engage in too.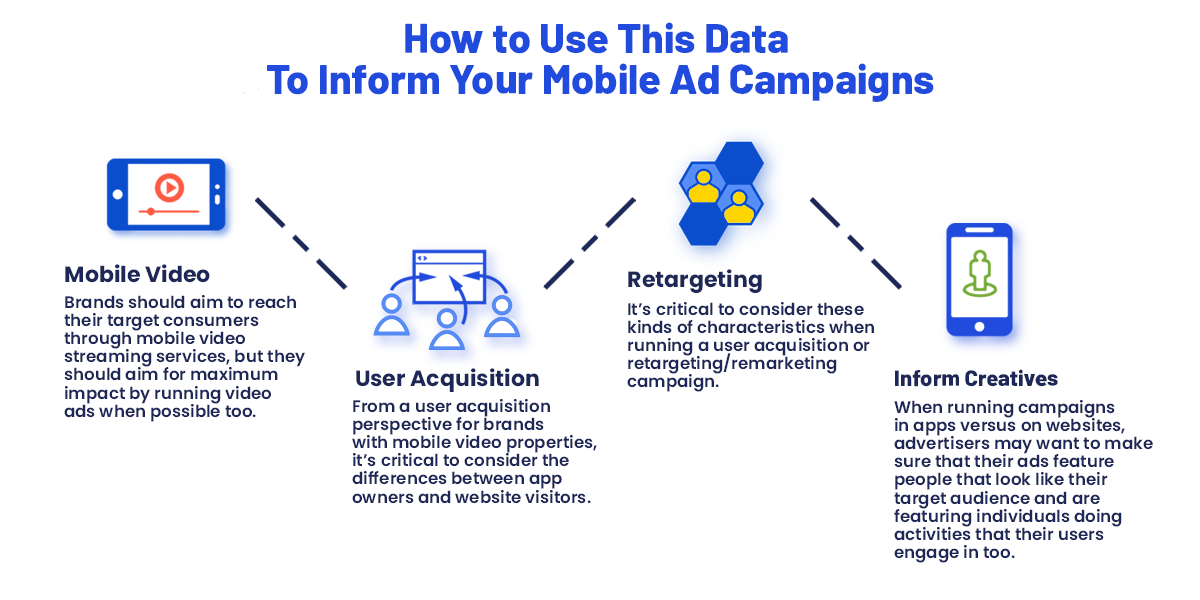 Curious to see more insights on the streaming video space or any other industry segment? Reach out today to learn more about InMobi Pulse.
Our Commitment to Data Privacy: What You Need to Know About This Data
InMobi takes user privacy extremely seriously. We meet the most rigorous governance, compliance, and security standards. We have collaborated with consumer advocacy groups and incorporate guidelines from multiple federal government agencies to define industry-leading practices for data governance in the U.S.
Users retain complete control over the data they provide, have a choice in whether they participate and have transparency as to how their data is utilized. Subscribers have constant access to their privacy elections through multiple telco touchpoints. The patented anonymization platform ensures data sets are 100% secure, and are refreshed to ensure all data are anonymized.