Unlike the other festive seasons, this year sees an incredible rise in online sales. What does that mean for marketers? How are the Filipinos gearing up for the much-awaited Christmas?
InMobi brings forth all the nitty-gritty details of the consumer sentiment, shopping trends, and the best ways for marketers to leverage the festive season sales in the post-COVID world in the Gearing Up for the Festive Season Report.

The Key Highlights of the Report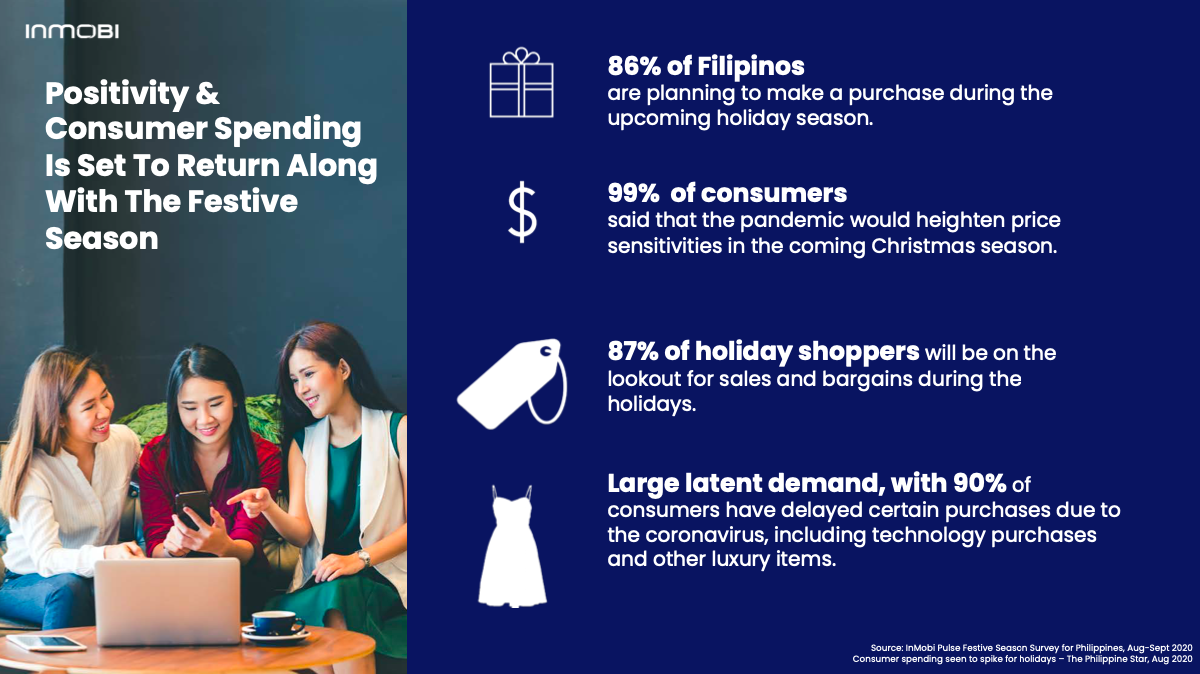 Along with the holiday season, festive cheer and consumer spending are set to return to the Philippines. 86% of Filipinos are planning to shop this festive season.
There is a latent demand with 90% of consumers having delayed certain purchases due to the pandemic giving a massive opportunity for marketers to utilize the festive season demand.
Consumers are going to depend on the digital world for their festive cheer, be it shopping, socializing, or leisure. With people staying at home, entertainment, and shopping shifts to digital, predominantly on mobile. As a result of staying indoors, there's a sharp increase in mobile content consumption.
Household Targeting: Roles within the household are changing and to cater to diverse audience personas, household targeting is the key to identify multiple devices at home and reach out to decision-makers and purchase influencers.
Mobile Engagement: Gaming and Entertainment are driving high usage and marketers can leverage the momentum to drive the incremental sales with InMobi's in-app advertising platforms.
Shoppable Media: This festive season, marketers can engage users through shoppable ads that enable them to check the prices, compare and shop, and provide an interactive shopping experience. With personalization being the key to engage users, brands can customize the creative experience by recreating festive themes.