Harbolnas: The Massive Indonesian Sale Season
Brought on by the rising popularity and usage of online retail, eCommerce shopping dates have become a major cultural phenomenon worldwide and an integral part of consumers' shopping calendars. The Indonesian online sale season popularly known as 'Harbolnas' is known for overwhelming offers and purchases, presenting brands with a massive opportunity to acquire and engage customers.
InMobi's Harbolnas Indonesia: Gearing Up for the Sale Season Report shares insights on the trends and shopping behavior of consumers, the scope of mobile advertising with the increase in usage of apps, and the way ahead for marketers to drive conversions.

Key findings from the report:
Online shopping sees a spike post-COVID-19. People prefer to stay at home, and hence the mobile consumption has seen a significant rise, especially video content.
87% of Indonesians are mobile shoppers. Mobile is going to spearhead the shopping sale this year.
Indonesians are becoming more mindful of how they spend their money, leading them to adopt new habits. ​Indonesians will choose price over brand loyalty and discounts will be the top priority for the upcoming Harbolnas.
With 92% of consumers exhibiting new shopping behavior influenced by word-of-mouth and online ads, brands have a high opportunity to bag conversions. Brands can leverage mobile to drive awareness, consideration to conversions.
Data-driven Marketing: Marketers must choose measurement at multiple stages of the purchase journey; be it online to online conversions with mobile-first shopping pages, footfall uplift using geo-targeted polygons at stores, third-party loyalty data to understand purchases, or household targeting through cross-identity device graphs.
Household Targeting: Marketers must leverage household targeting to reach out to multiple personas based on visitation, appographic, and location attributes and send personalized communication based on user interests.
The In-app Advantage: The increased usage of Gaming and Entertainment apps is opening doors for advertisers who are looking to reach the audiences that will future-proof their media strategies. In-app is highly compliant with the brand safety regulations, viewable, verified by IAS and MOAT SDK integrations​, and each app is reviewed and approved by App Store / Play Store bringing standardization in ad formats ensures marketers a 'fraud-free' approach to reach their target audiences.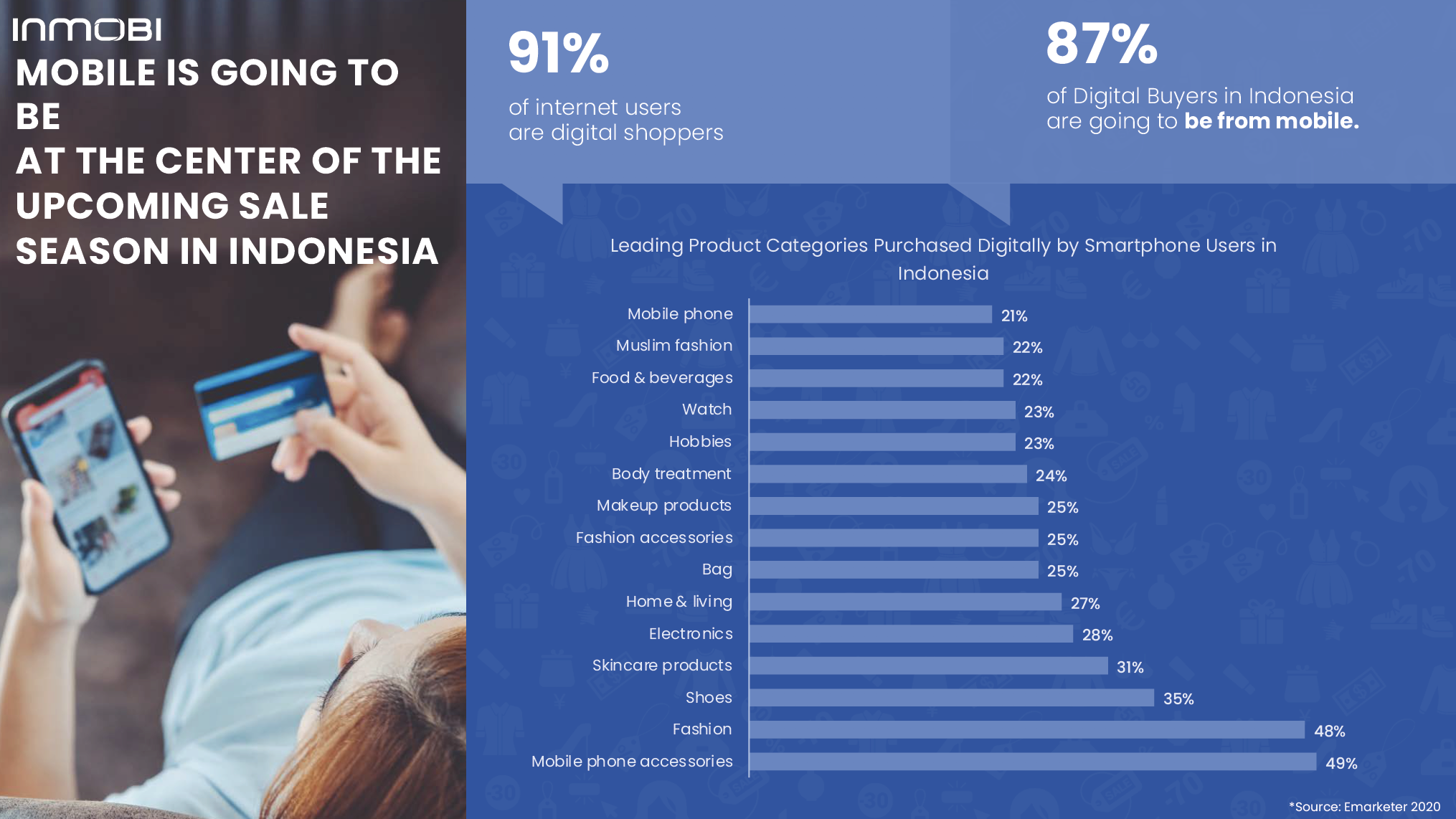 Growth Marketing: Integrated Performance Platforms can enable brands to create a media strategy in a way that preserves the measurability and immediacy of mobile, both on programmatic and non-programmatic channels without compromising on transparency and safety.
Leveraging Retargeting: Retargeting can activate dormant users and avoid uninstalls, minimize cart abandonment, and lost revenue. The three-step rule of activation, retargeting and re-engagement turns your one-time visitors into long-term consumers.
Mobile Creative Best Practices: Creative that turn the mobile-first game into mobile-only opportunities are the need of the hour for marketers. InMobi's ground-breaking creative with visually rich, contextually aware brand narratives, and carefully crafted storytelling videos enable your brand's voice to be heard by the right audiences. Voice ads and gamified ads are here to rule the sale season. Learn how marketers must explore them to widen their reach and strengthen their impact.