Day 1 of The Indian Brand Conclave panel discussion witnessed various expert panelists sharing their insights on the potential of search engine advertising, and the future of voice and vernacular search.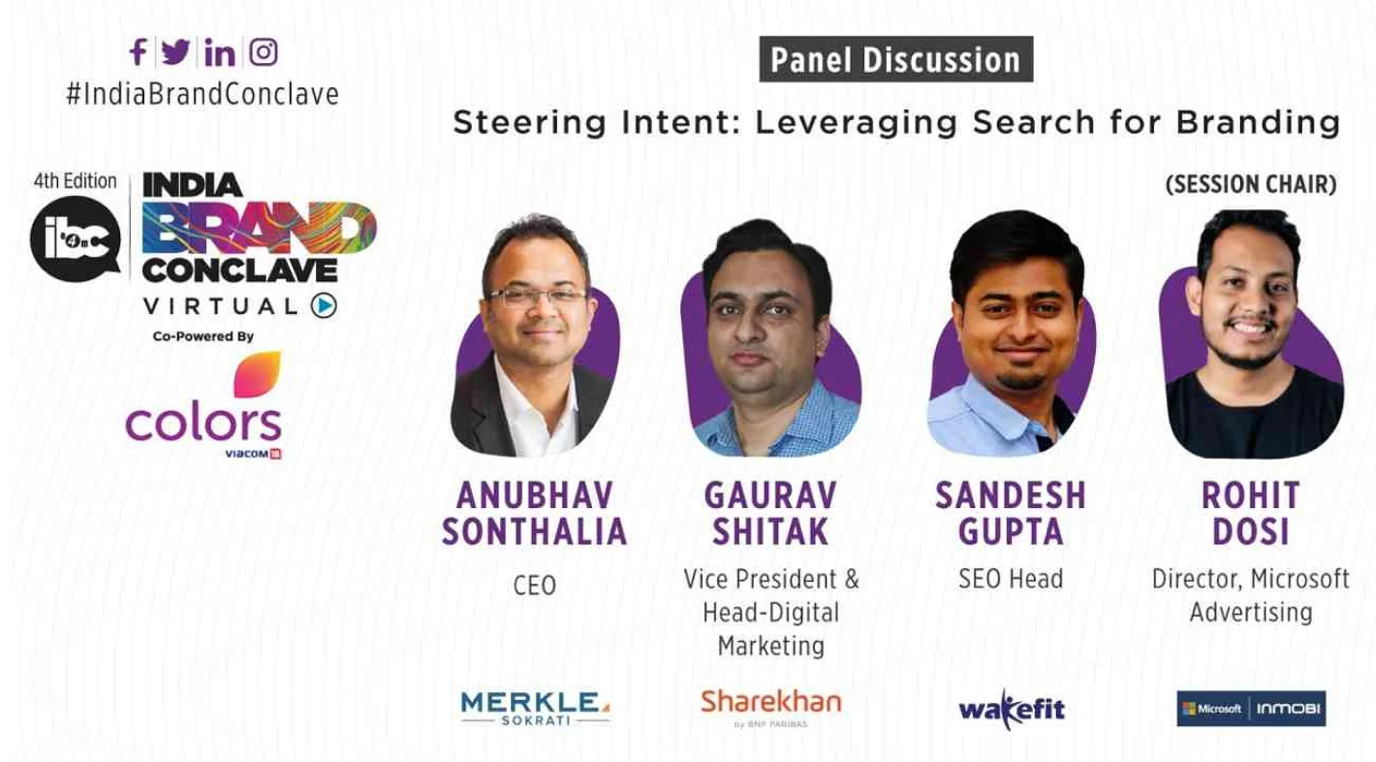 To help marketers across India understand the need of incorporating Search as a key pillar in their branding strategy, a panel discussion was conducted on the topic 'Steering Intent: Leveraging Search for Branding' with panel members, Anubhav Sonthalia, CEO, Merkle Sokrati; Gaurav Shitak, Vice President & Head- Digital Marketing, Sharekhan; Sandesh Gupta, SEO Head, Wakefit.co. The session was moderated by Rohit Dosi, Director, Microsoft Advertising, InMobi.

Intent: The Holy Grail in Search Marketing
Opening the panel with how brands have been leveraging search advertising tools, Shitak said "Search is a very important, high intent-based marketing to ensure that brands reach their target audience. Search has also evolved a lot over time. Based on the industry, or the business objective, search as a tool is very important and useful to marketers."
Search Advertising has gone beyond conversions, as new-age Search Advertising focuses on driving the purchase intent of the consumer at every step of the shopping journey. Engaging consumers based on their search queries for brand awareness is a new trend in making among marketers.
Illustrating how Wakefit has embraced this strategy, Gupta shared, "With Microsoft search advertising, we use keywords with the right intent. It's not very straightforward when you are using search for branding. It was a success in terms of getting traffic in non-branded products. The key learning has been to use the right messaging and the right planning process."
Search Advertising: Experimentation is Key
With everchanging audience interests, marketers must constantly lookout for emerging trends, a concept quite popularly phrased as 'trend jacking'. While the audience's interests and wants change, trend jacking enables marketers to capture in-the-moment interest and reimagine their marketing efforts accordingly.
Addressing the new phenomenon of trend jacking or moment marketing in search advertising, Sonthalia said, "Trend based search advertising is a very interesting phenomenon. It is important for people who have fundamentally leveraged search to constantly lookout for the at-the-moment search queries to drive the best results." Shitak had a slightly different outlook towards trend jacking, he shared, "It should essentially be 'test & learn' rather than taking something from someone. For some trends, you have to even create content around them at a rapid pace. If one's target group is talking about a specific trend, then one should leverage search marketing to reach out to audiences with that trend."
While a bunch of trends emerges, some remain 'high-value' over a period of time. It is the marketer's call to adapt and to 'test and trial' methods to find strategies that lead to maximum visibility. This is only possible with an open mindset to experiment on the emerging trends and keeping up to date with the search game.
To dive into more insights into the details of the discussion, glance at the video.