InMobi partners with iQIYI International, the leading on-demand video streaming app from Asia, to monetize its ad revenues and further its global footprint. Through InMobi Exchange, the leading mobile exchange, advertisers can reach out to audiences from a wide range of over 30,000 global apps with 90% SDK direct inventory. With the brand safety and fraud mitigation measures in place from MOAT, IAS and DoubleVerify, advertisers can confidently leverage the Exchange platform to reach out to their audiences. With IAS tech lab standards such as ads.txt, sellers.json, and Schain object, brands can get a 360-degree transparent view of the ad ecosystem and operate in a fraud-free environment.
iQIYI International has leveraged InMobi Exchange in monetizing its ad revenues in key countries such as Indonesia, the Philippines, Thailand, India, and Vietnam. With the platform's best-in-class platform capabilities and a wide portfolio of top-class global advertisers, the publisher has seen 2X growth in ad revenues in just six months, and 83% fill rates on banner ads and 90% on interstitial ads.
iQIYI International can be accessed programmatically on the InMobi Exchange through various DSPs, including direct access via DV360.
Sudhanshu Saxena, Director, Supply and DSP Partnerships, SEA, InMobi, adds, "iQiyi International has a diverse consumer base comprising of a wide range of female users, of which a majority are young audiences aged between 18 to 35. With 12X increase in daily user growth in 2020 and their wide range of in-app ad inventory, the app is growing at an unmatched pace and provides visually delightful ad experiences for the OTT app users".
Ranked in the top 10 apps in the entertainment category on the Play Store, iQIYI International is Asia's leading on-demand video streaming platform with record consumption of 3.5 billion monthly video minutes and 265 million monthly video views and is a perfect advertising platform for brands to reach out to their audiences".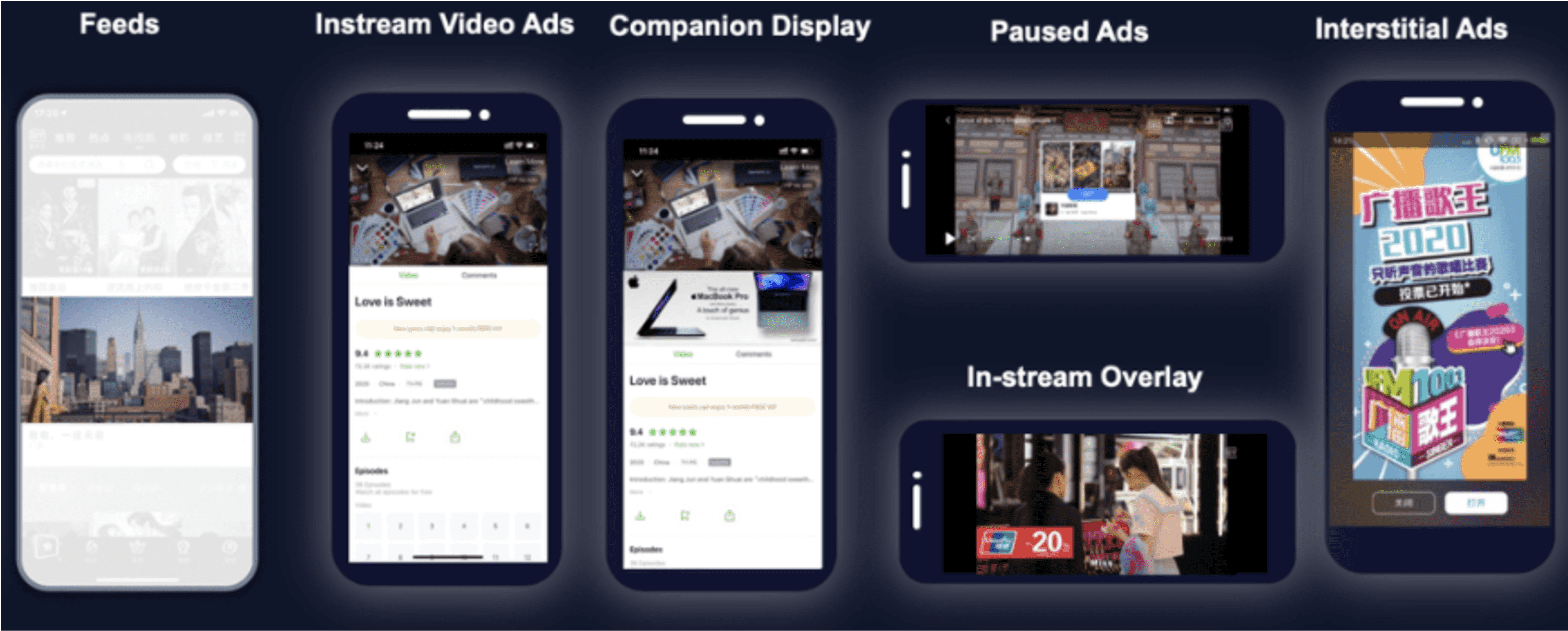 Speaking of the phenomenal growth of the app, Rishi Bedi, VP, SEA, Japan & Korea, InMobi, says, "iQIYI International stands apart with its original Asian content, UI that support multiple languages, and globalized content produced with localized teams. With a strong presence in about ten countries across Asia, iQIYI International recorded the highest new content downloads, app opening frequency per day on Play Store. Adhering to brand safety, the app comes with a non-UGC safety promise, making it a strong publisher platform for advertisers to reach out to their audiences."
Top 3 Reasons to Partner with InMobi for Monetization
Global Demand Portfolio: Exclusive access to 120+ DSPs and over 5,000 programmatic buyers representing top brands from around the world.
Brand Safety: With strong brand-safe practices and the certification from TAG consecutively for the fourth time, InMobi provides a risk-free and brand-safe platform for brands to reach out to their consumers.
Non-intrusive Ad Experience: Access in-app monetization opportunities that strike the right balance between revenue and user experience with our comprehensive suite of ad formats including rich media, video, and customizable native ad units.
To know more about InMobi monetization services, visit our Programmatic Monetization Platform Page.