Apple rolled out iOS 14.5 on April 26. This OS version included a major update for user privacy: AppTrackingTransparency (ATT), where apps were required to display a prompt for users to opt in or out to sharing their information in the form of an IDFA (Apple's device-level identifier for advertisers).
Since then, Apple has pushed live iOS 14.6 and 14.7 in the last few months, resulting in more people updating their OS and choosing to opt-in/out of IDFA collection. By July, 55% of all traffic InMobi DSP was bidding on did not have an IDFA.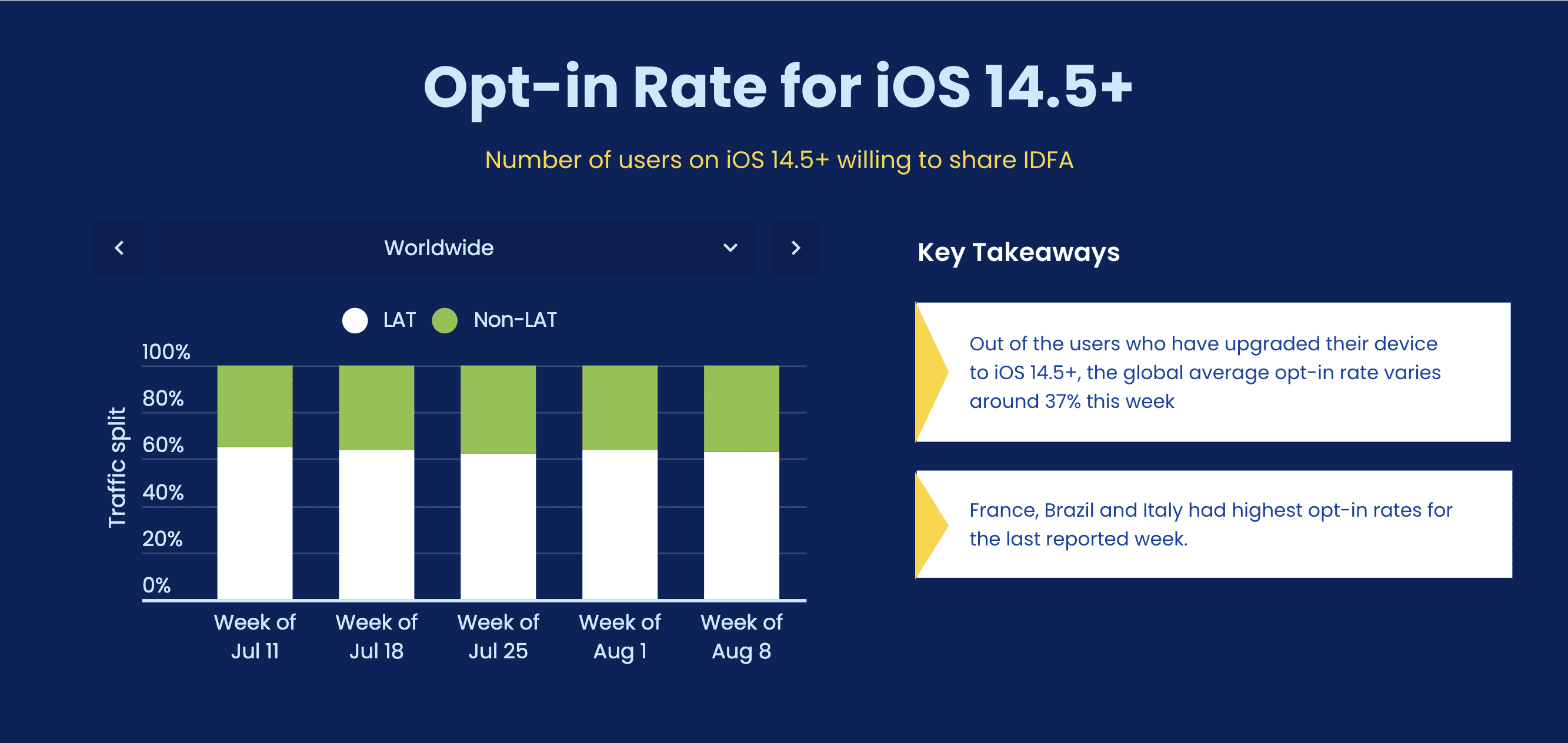 Advertisers have known for a while that without IDFAs, standard models for measurement and attribution won't work. As a result, they have started relying on SKAdNetwork (SKAN), Apple's attribution solution that works on a privacy-safe attribution mechanism. SKAN works for all users, but its granularity is limited and InMobi has been working with our ecosystem partners to make the transition to SKAN as smooth as possible!
But how widespread is SKAN at this stage? In July, SKAN-compatible bid requests were above 85%. This is the share of SKAN-ready supply that InMobi DSP receives from its supply-side partners.
SKAN Key Results and Metrics
InMobi DSP provides all the support advertisers require in scaling up campaigns on SKAN.
Even using SKAN and not using IDFAs, we were able to help 36 of our advertiser partners across geographies see a combined 52x growth in app installs in July 2021.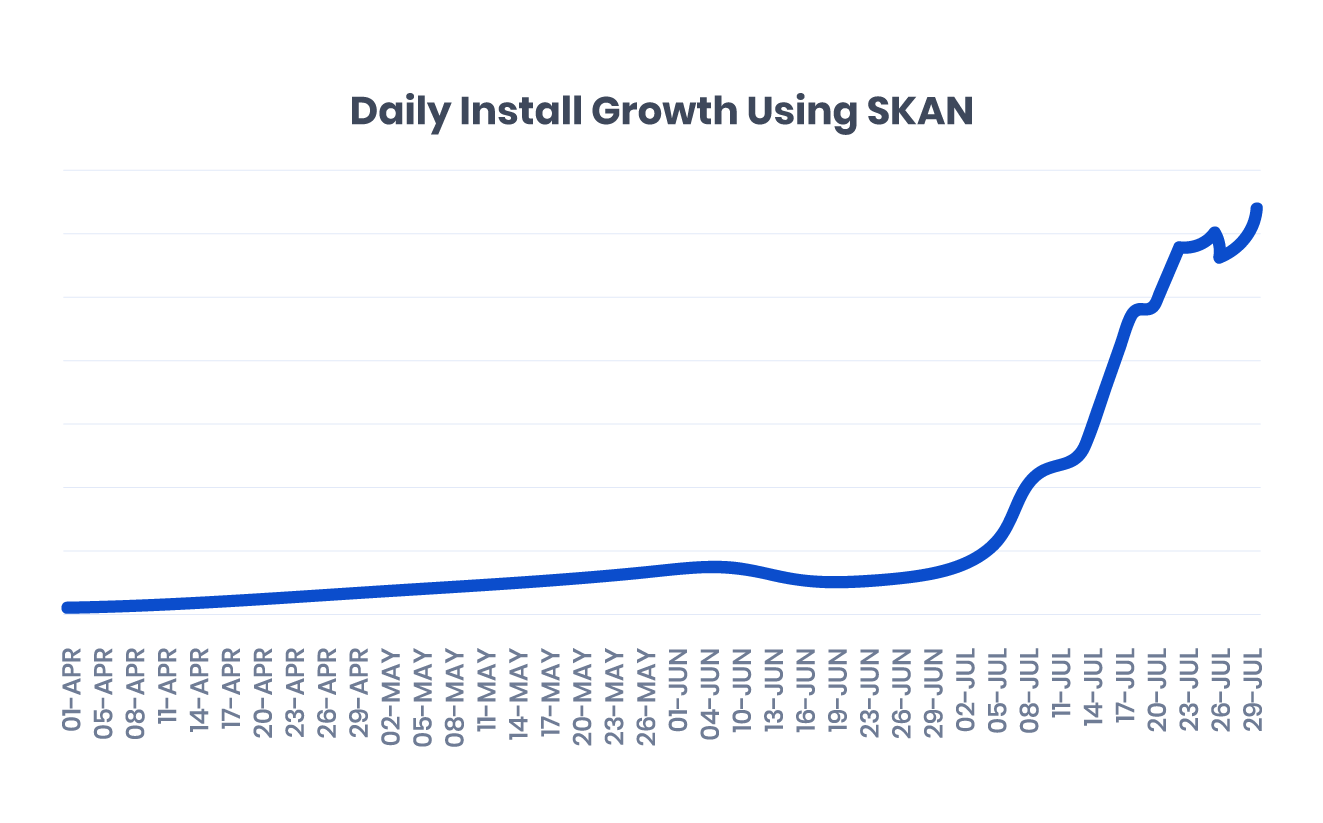 InMobi DSP has been SKAN ready throughout its various versions, and we have been able to provide our advertisers with the right solutions to scale up campaigns. For more information, check out this case study to see how we helped a leading video-based social media platform see 6x daily app install growth on Apple devices post iOS 14.5. And here's how InMobi helped another leading social media platform see 13x daily app install growth on Apple devices following the rollout of ATT.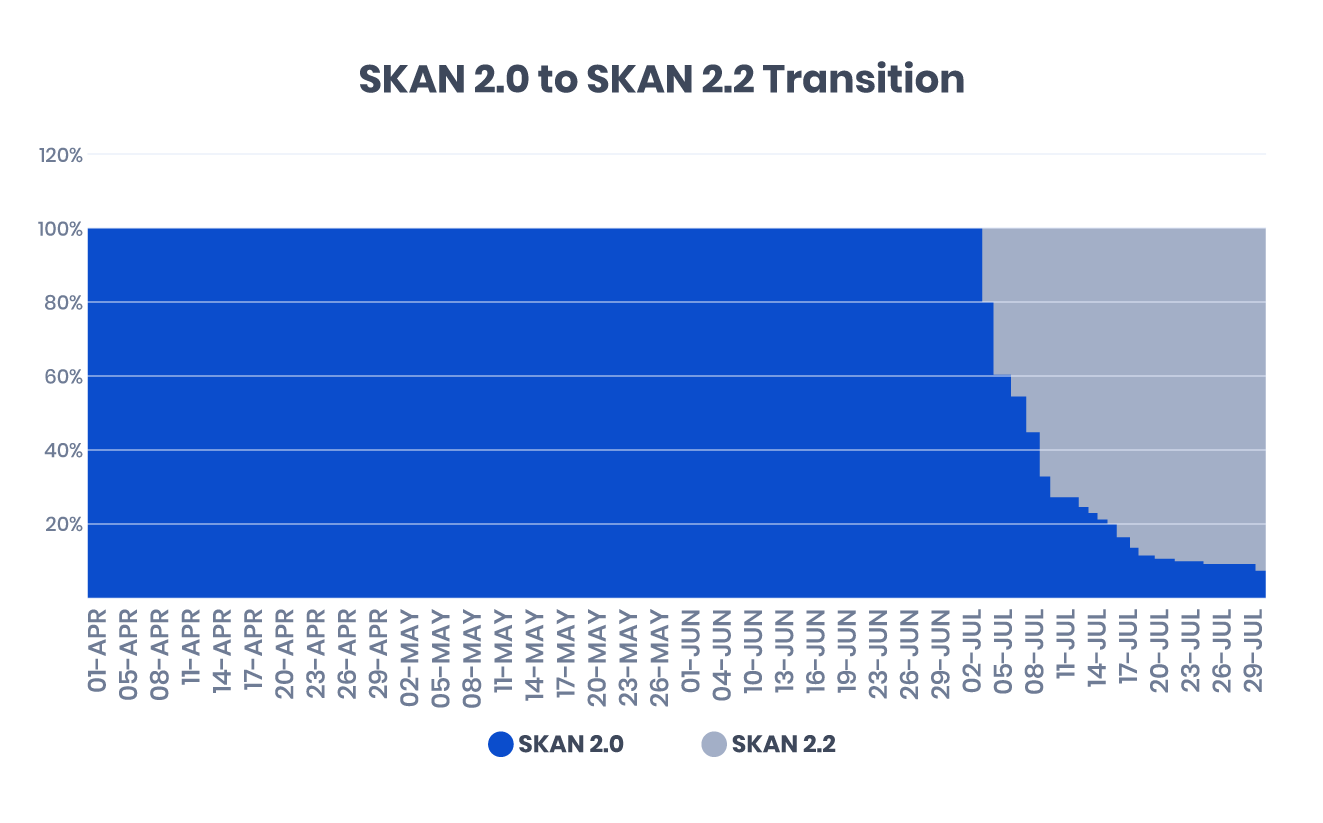 Why has InMobi DSP been more successful at driving app installs with SKAN version 2.2 versus 2.0? It mostly comes down to view-through attribution, which Apple finally included with SKAN 2.2.
CPI and IPM Trends
How can InMobi DSP meet advertiser goals around metrics like CPI (cost per installs) and IPM (installs per thousand impressions) even with SKAN providing less user-level data and optimization granularity than was previously available from the mobile measurement platforms (MMPs)? These are some of the latest numbers that we have been able to achieve across regions as well as various verticals for reference.
Note: The numbers may seem higher for certain advertisers – this is subject to the scale and duration of campaigns being tested over time. InMobi will continue to observe trends over time and update on results.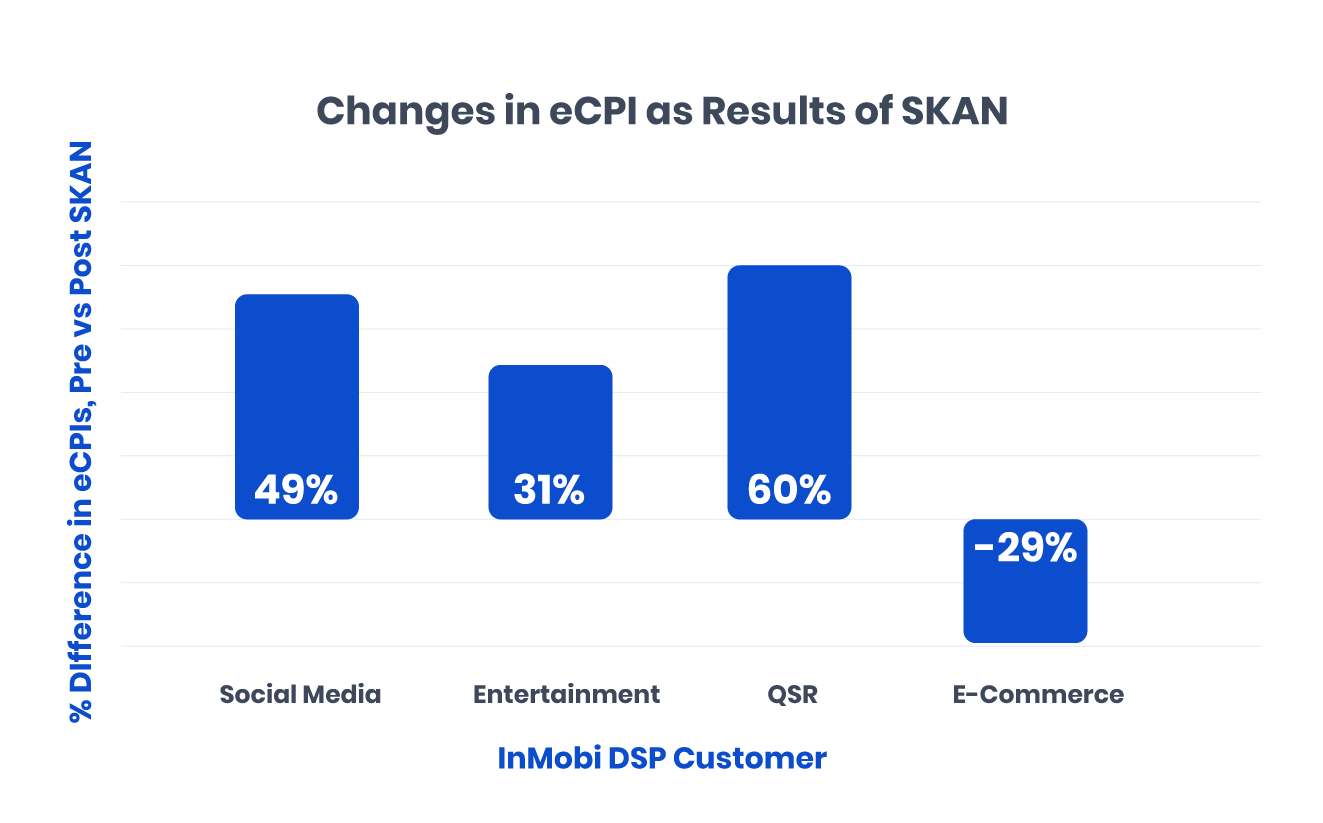 Why are we seeing CPI increases for the most part? This is all due to the lack of real-time targeting and attribution information. Without an ability to optimize at the user level, many UA advertisers thus need to display more ads to a greater number of people in order to achieve their desired end result, which often means that CPIs rise.
The outlier here is the one e-commerce client. For this partner, our campaign ran only in specific regions. We observed significantly better performance for them due to the popularity of the target app alongside good SKAN traffic availability.
Still, as InMobi DSP and others run more campaigns using SKAN, we are improving our capabilities, such as using campaign ID for optimizations, and we expect IPMs and CPIs to return to pre-SKAN levels soon. And as our earlier data highlighted, we are still driving installs at scale on iOS.
Interested in learning more about how InMobi DSP is dealing with Apple's changes and how we're helping our advertiser partners meet their user acquisition goals in a post-IDFA landscape? Reach out today to chat with one of our mobile marketing experts.