As an Indian-owned company, InMobi is strongly committed to Diversity, Equity and Inclusion (DEI). DEI is part of our core values, and as a truly global company, we want to help the mobile advertising ecosystem to be more inclusive.
In June 2021 we launched a survey asking our publishers to self-identify if their business is owned by a member of a diverse community. We are now taking a step further by releasing a self-identification feature in our Publisher Customer Interface aimed to easily enable our publishers to self-declare if they are diverse-owned and opt-in to our "InMobi for Everyone" program.
InMobi for Everyone is InMobi's Diversity, Equity and Inclusion initiative; our inclusive inventory program is part of and aims to support our publisher and advertiser partners.
We are now inviting app and mobile site owners who identify as one of the following to indicate as such in their InMobi account:
Asian owned
Black owned
Disabled owned
Hispanic/Latinx owned
LGBTQ+ owned
Women owned
This will help diverse publishers to increase the awareness of their app and tap into demand that is highly interested in discovering and supporting such inventory.
To opt in for InMobi for Everyone, just follow these four steps:
Log on to the InMobi Publisher Customer Interface.
Navigate to the My Account tab.
On the Settings sub-tab, click on 'Opt-in to InMobi for Everyone program.
Select from the available options. Publishers can select more than one.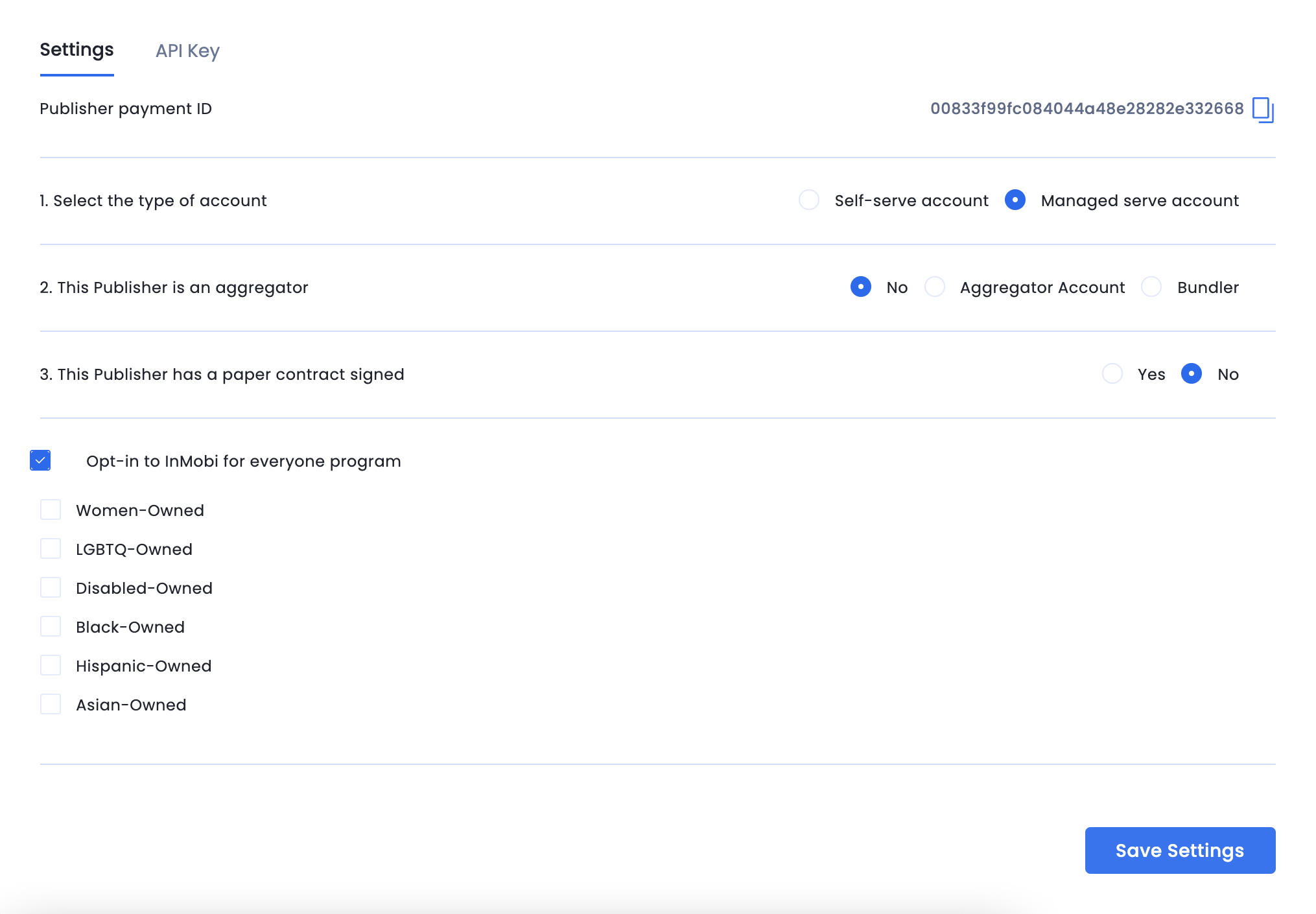 Publisher partners can opt in to InMobi for Everyone today so we can include their inventory in our forthcoming DEI curated marketplace, which will be shared with our advertiser partners through this initiative. Many brands and agencies that we work with are similarly committed to increasing their engagement with diverse media, and we are committed to taking action to ensure that our inventory matches our intentions.
Have any questions or concerns about InMobi for Everyone? Don't hesitate to reach our to your dedicated InMobi Customer Success Manager or send us a note at ssp@inmobi.com.