A lot has happened between now and the last time we here at InMobi talked about the top video streaming apps back in mid July. Here's just a brief snapshot of some of the top stories since that time:
NBCUniversal officially launched Peacock, its own video streaming app. And in September, Peacock was finally available on Connected Television platform Roku.
Disney released the movie Mulan in the U.S. exclusively through Disney+ for an additional $30, racking up record profits and app downloads as a result.
Apple released a new bundle package for Apple TV, Apple One, in order to capture more subscribers.
Cable television channels like Discovery and BET announced that they would be launching their own video streaming services.
Rumors swirled that Quibi, which launched earlier in 2020 as one of the most hyped streaming platforms for mobile devices, was looking to sell itself.
HBO, Disney+, Amazon Prime Video and Quibi all garnered multiple awards at the 2020 Emmy Awards.
Considering everything that has happened in this space over the past few months, we thought it would make sense to take a renewed look at the top video streaming apps for Android (through the Google Play store) and iOS. In particular, we looked at these movie and TV apps:
Amazon Prime Video
Disney+
HBO Max
Hulu
Netflix
Peacock
Pluto TV
Quibi
Tubi
And as long as this list is, this doesn't even scratch the surface of the entire video streaming space since it largely excludes live streaming apps. This analysis looked at video on demand apps as opposed live streaming services like Sling TV, Twitch and Periscope (and its Super Hearts). It also excludes services that offer live broadcasts and other real-time live video streaming options like YouTube and social networks such as Facebook and Twitter.
Of the mobile apps we did look at, what trends are we seeing? Which apps are gaining users and who are downloading these video streaming services onto their mobile devices? Here's what we found out.
Install Trends of The Top Video Streaming Mobile Apps
Even with so many options to choose from, consumers in the U.S. continue to turn to these apps for entertainment. In fact, from June through August, only one of the apps didn't have a net gain in new users – and even then that drop was followed by a quick rebound. Even though obtaining some of these services can cost consumers $20 per month or more, the user-friendly nature of the apps and the overall appetite for entertainment keeps driving demand.
Throughout this period, Netflix was largely the leader in daily app installs. The only other property to log more at any particular stretch in this three-month period was Pluto TV at the beginning of July, following their 31 marathons in 31 days promotion. Indeed, the apps that had some of the biggest week-over-week growth in this period included Pluto, Quibi, Tubi, Disney+ and Amazon Prime Video.
Who Uses The Top Video Streaming Mobile Apps Today?
In addition to looking at overall app install trends, we wanted to understand who recently installed these streaming services on their mobile devices. For this exercise, we specifically looked at Disney+, HBO MAX, Hulu, Peacock, Pluto TV and Quibi.
For the most part, recent app installers in this category are men; this aligns overall with what we generally see for mobile app ownership. Only the installers for Disney+ are majority female, while HBO MAX has the most male-aligned user base in the space (60%).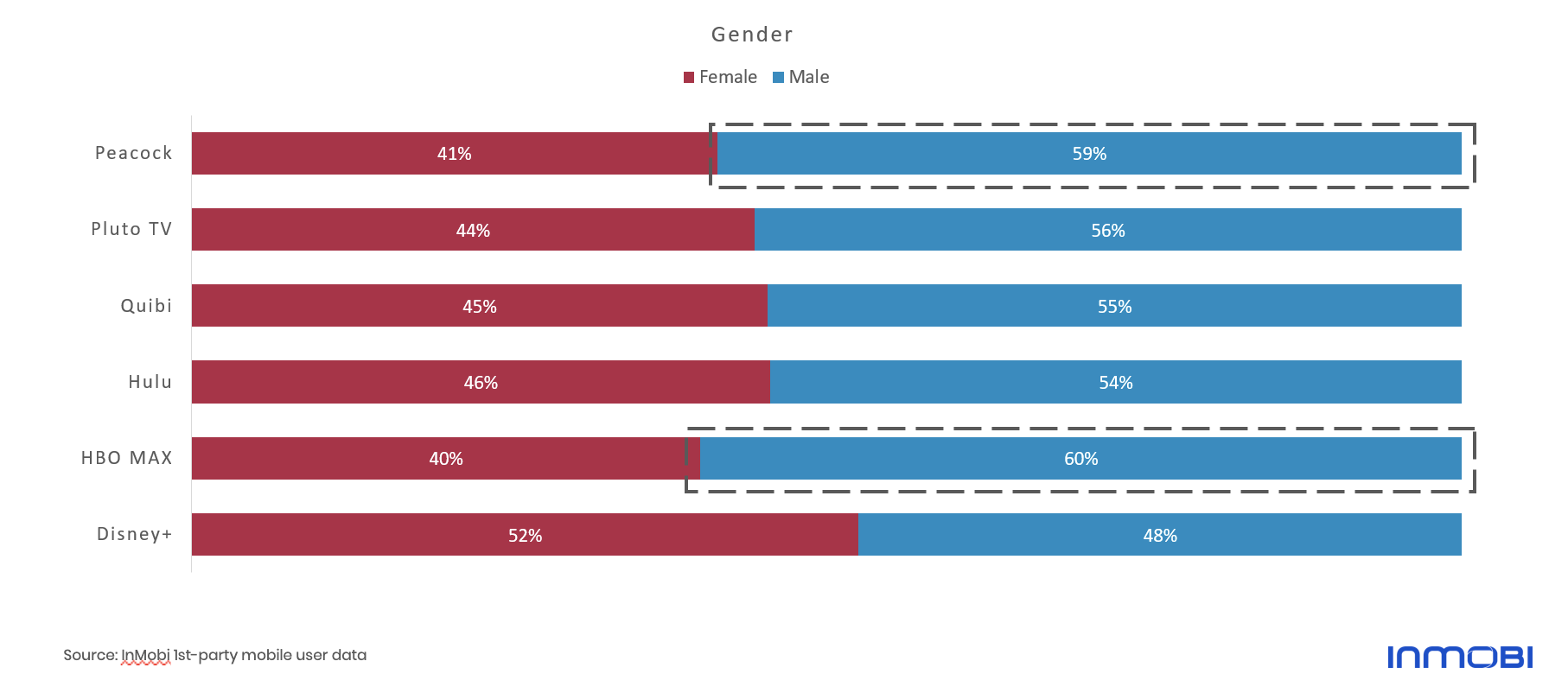 The age of app installers in the space does vary quite a bit. For both HBO MAX and Disney+, just under a third of all app installers are under the age of 26. On the other hand, a quarter of Quibi's app installers are between 46 and 55 years old, while 23% of Peacock app owners fall into this age range.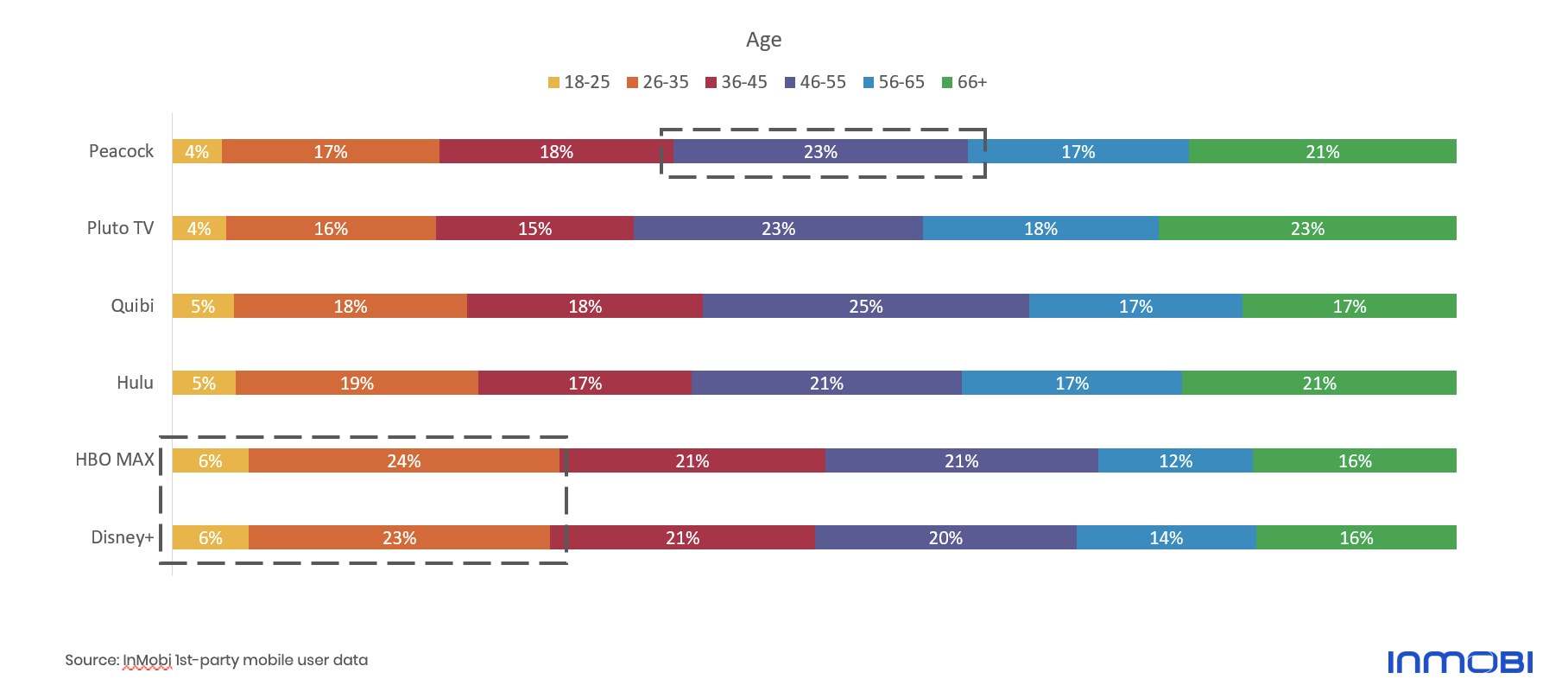 This audience is majority White, although around a third of Quibi's recent app installers are Black and 16% of HBO MAX app owners are Latinx. On the income front, paid apps like Disney+ and HBO MAX have a higher percentage of installers making over $75,000 a year, while free apps like Quibi and Pluto TV do better at the lower income brackets.
It's also important to note that there is a fair amount of overlap in app ownership, with many Americans having two or more video streaming apps on device. For example, 38% of HBO MAX recent installers and 36% of Peacock app installers also have Disney+. In addition, at least one in five Peacock, Disney+, HBO MAX, Pluto TV and Quibi installers also have Hulu.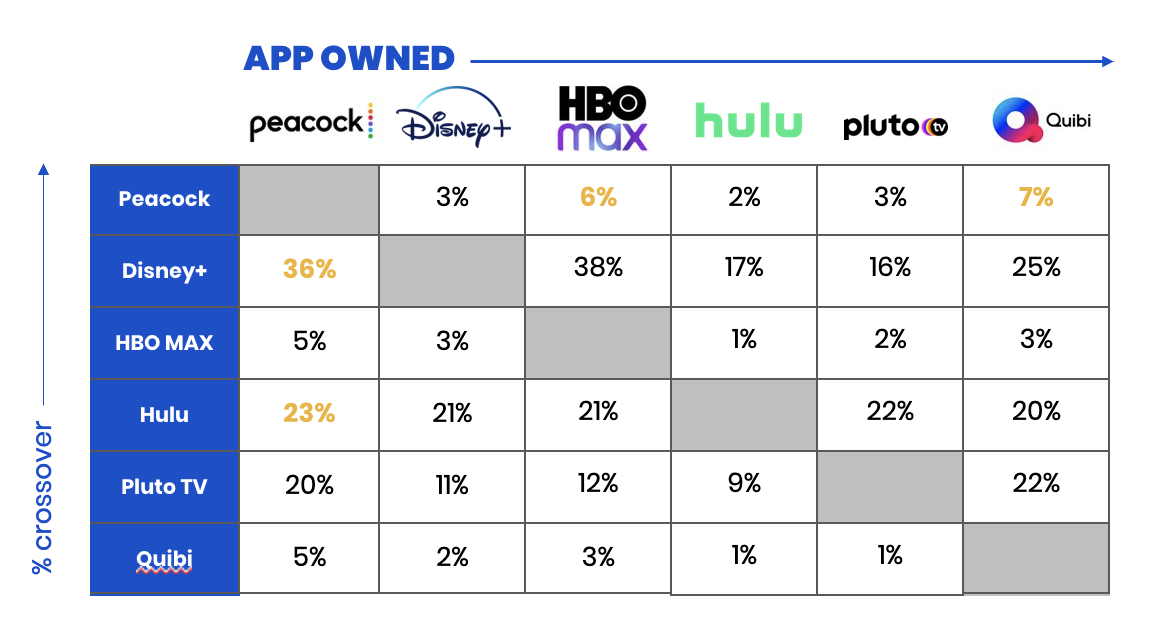 People are watching these apps beyond just their mobile devices too. According to separate research InMobi conducted in 2020, many Americans use these apps on their connected television devices. In particular, we found that over 40% of those with a smart TV set and a third of those with a streaming device like an Amazon Fire Stick watch content using three or more apps. And, between 29% and 53% of app owners said they use their favorite apps on multiple devices.
How to Apply This Data and Make It Actionable: What You Need to Know
If You're In The Video Streaming App Business: Even though this space became much more crowded over just the last few months, it has not reached its peak. Americans are still seeking out new entertainment options on their mobile devices and connected TV offerings. Through shrewd and thoughtful marketing and advertising, you can acquire loyal new users.
If You're A Marketer: As our data shows, ad-supported video streaming apps like Pluto TV, Quibi, Tubi and Hulu, among others, are popular with a wide array of Americans – on both mobile devices and connected TV. Advertising on these channels is a great way to boost brand awareness and acquire new customers.
What are your thoughts on this analysis? What data surprised you here? Let us know on social media! We'd love to hear from you on Facebook, Twitter and/or LinkedIn.