Even when everyone is largely staying at home and not traveling much, it's both possible and beneficial to use location data in advertising and marketing campaigns. The key is in thoughtfully using location intelligence to reach the right set of users.
Using Location Information to Find and Reach the Best Target Audiences
Although many Americans are limiting or avoiding in-person errands like shopping in grocery stores or dining out at restaurants, that's not to say that we're solely staying at home and totally shunning the physical world. Rather, many are simply adopting different shopping tactics. In particular, there has been a growth in popularity in shopping options like touch-free pickup and BOPIS (buy online, pick up in store). Foot traffic and dwell time at many stores and restaurants may be down from what brands and retailers were seeing 12 months ago, but physical real estate is still a key part of the current shopping journey for many.
What this means for companies of all stripes is that location data is still valuable in the real world. For brands that are seeing a measurable uptick in order pickups and BOPIS, it still makes sense to target people based on where they live and how far they are from stores.
As an example of what we mean, InMobi conducted an experiment in September 2020. For this effort, he used data collected from InMobi's mobile-first location technology to highlight all McDonald's and Wendy's locations that were within walking distance of a Burger King, that were within a 10-minute drive of a Burger King and were more than a 10-minute drive away from a Burger King.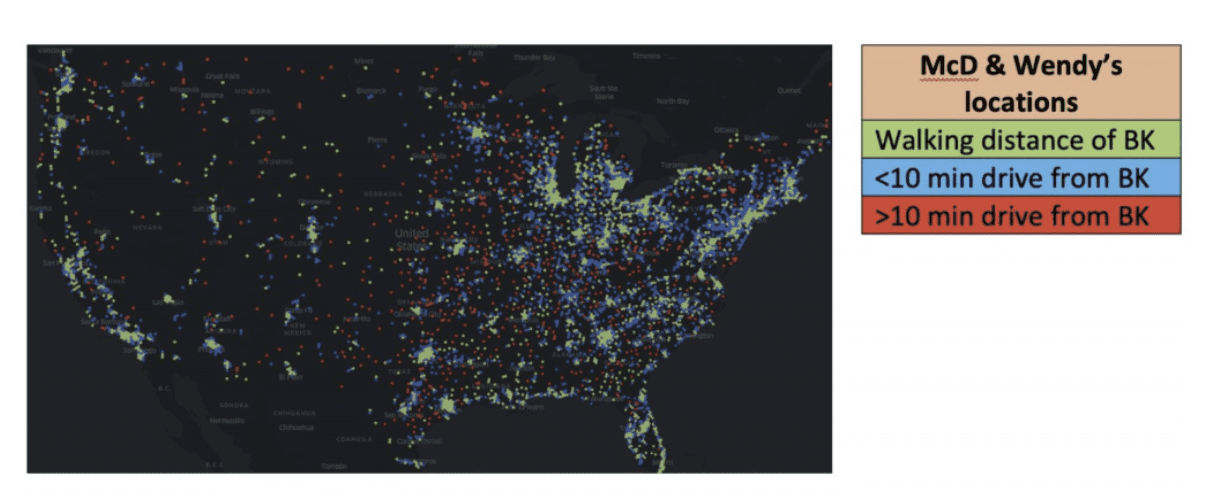 So what does this mobile location data analysis signify? In short, everyone in the green or blue areas has the option to dine at Burger King, while everyone in the red area is unlikely to consider Burger King as a readily available option since it's probably too far away from home.
Benefits of Collecting Location Data for Targeted Advertising Campaigns
In the above example, it's easy to see how a brand like Burger King could use this data around key points of interest to inform their advertising efforts. Why bother advertising to someone if they live too far from one of your locations to likely dine with you? In fact, in the above example, 17% of those we looked at were a more than 10-minute drive from a Burger King location.
While the above example focuses on the QSR (quick-service restaurant) space, it's not hard to see the value of this kind of location data analysis provides in other industries. Everyone from retailers to car dealerships and banks can still benefit from excluding audiences that live far away from their locations – even today.
Case Study: McDonald's
McDonald's, in one of their campaigns with InMobi, expertly leveraged location data to really help boost sales. In order to promote its new line of breakfast deals and boost sales among Millennials, McDonald's and their mobile advertising team ran ads in popular mobile apps during breakfast time Monday to Friday and all day on weekends.
Based on the user's location, they were shown a map that highlighted the route to the nearest McDonald's restaurant. To ensure geotargeting happened effectively, the campaign leveraged location polygons, in which geographic boundaries are narrowly defined, over traditional circular mapping technology or custom bases to prevent spillover and ensure fine-tuned accuracy in location targeting. And, in order to effectively connect its mobile in-app advertising efforts with in-store visits and sales, footfall attribution technology was used.
For this campaign, McDonald's saw a 23% increase in store visits and a 4% increase in overall sales. The campaign was a huge success, and really highlighted for them the benefits of location data in advertising.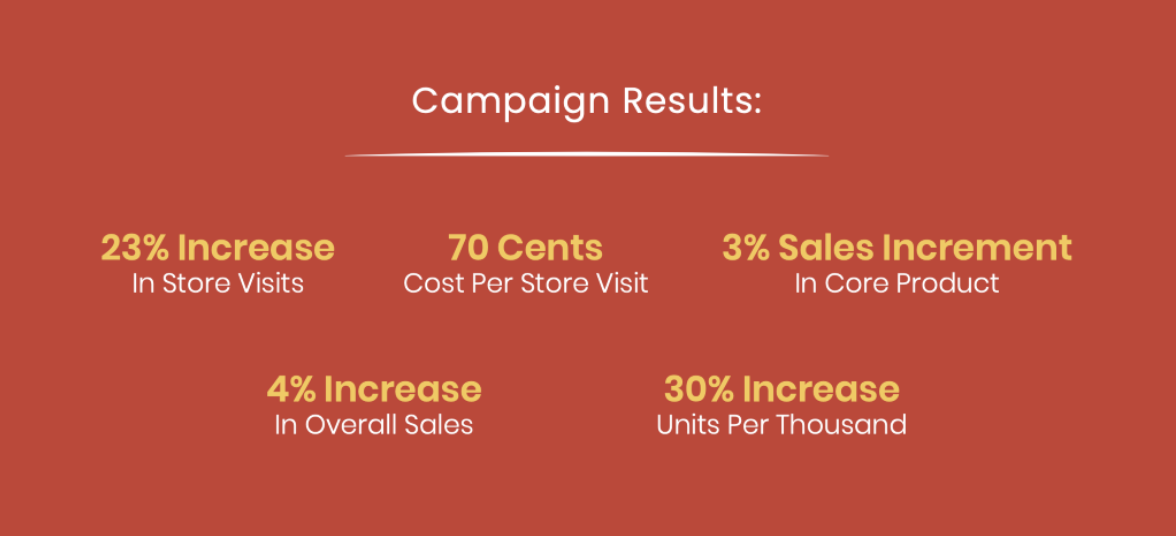 Benefits of Leveraging Historic Location Data
Of course, this is all looking at and using current location data. But even older, historical data can be valuable.
For example, let's consider a movie studio looking to advertise its latest horror movie, set to be released on major streaming networks in February 2021. In the past, the studio would have aimed to drive people to see the movie in theaters. Instead, for this latest release, the studio can see who were visiting movie theaters in January and February 2020, and then making sure these individuals are targeted in advertising and marketing efforts.
This use of historical data can be a great way of determining the best marketing channels to use for current advertising efforts. For instance, if the movie studio also saw that the people visiting movie theaters frequently in early 2020 are now using mobile devices for hours a day on average, then they would be wise to invest heavily in mobile in-app advertising to promote their latest movie.
How InMobi Can Help You Leverage Best-in-Class Mobile Location Intelligence
Yes, Americans are staying at home much more now than they were in the past. But that doesn't mean that location data isn't valuable. By using location intelligence thoughtfully and strategically, brands can ensure they are reaching and activating their best audience in 2020, 2021 and beyond.
Interested in leveraging InMobi's location data and mobile expertise with your next advertising campaign? Reach out today to learn more.