For most of the last century, department stores such as Sears and big box retail outlets like Target and Walmart have dominated the retail store landscape in the United States. Big box stores, often with physical footprints of 50,000 square feet or more per location, have dominated shopping centers and towns big and small.
But the dominance that department stores and big box retailers have long had over smaller retail businesses like mom and pop stores and other more local businesses is starting to fade, as discount stores and e-commerce grow in the U.S.
To adapt to these potential category killers, department stores and big box retailers have had to pivot, whether by embracing different buying channels, rethinking their current real estate or expanding their selection – or through all three. And often as these retailers shift their short-term and long-term strategies, mobile ends up playing a more central role in how they connect with and enable consumers.
To get a better sense of how these brands are managing this pivot and enabling mobile-first consumers, we turned to the data. Specifically, we wanted to see who had these kinds of retail apps on their mobile devices, and whether there was room for improvement.
For our analysis, we looked at app ownership trends in the department store category by reviewing data on the Kohl's, Macy's and Nordstrom apps. And for what we would term big box, our analysis will include Walmart, Target, Costco and Sam's Club.
Overview of Net App Install Trends
In this space, Walmart's app occupies a large percentage of all app installs. This was the case before the pandemic, and it remains true today. As compared to other retailers, Walmart has significant investments in its online offerings, including through the launch of Walmart+ in the second half of 2020, as it looks to retain its traditional brick-and-mortar business and offer more e-commerce shopping opportunities to compete with Amazon.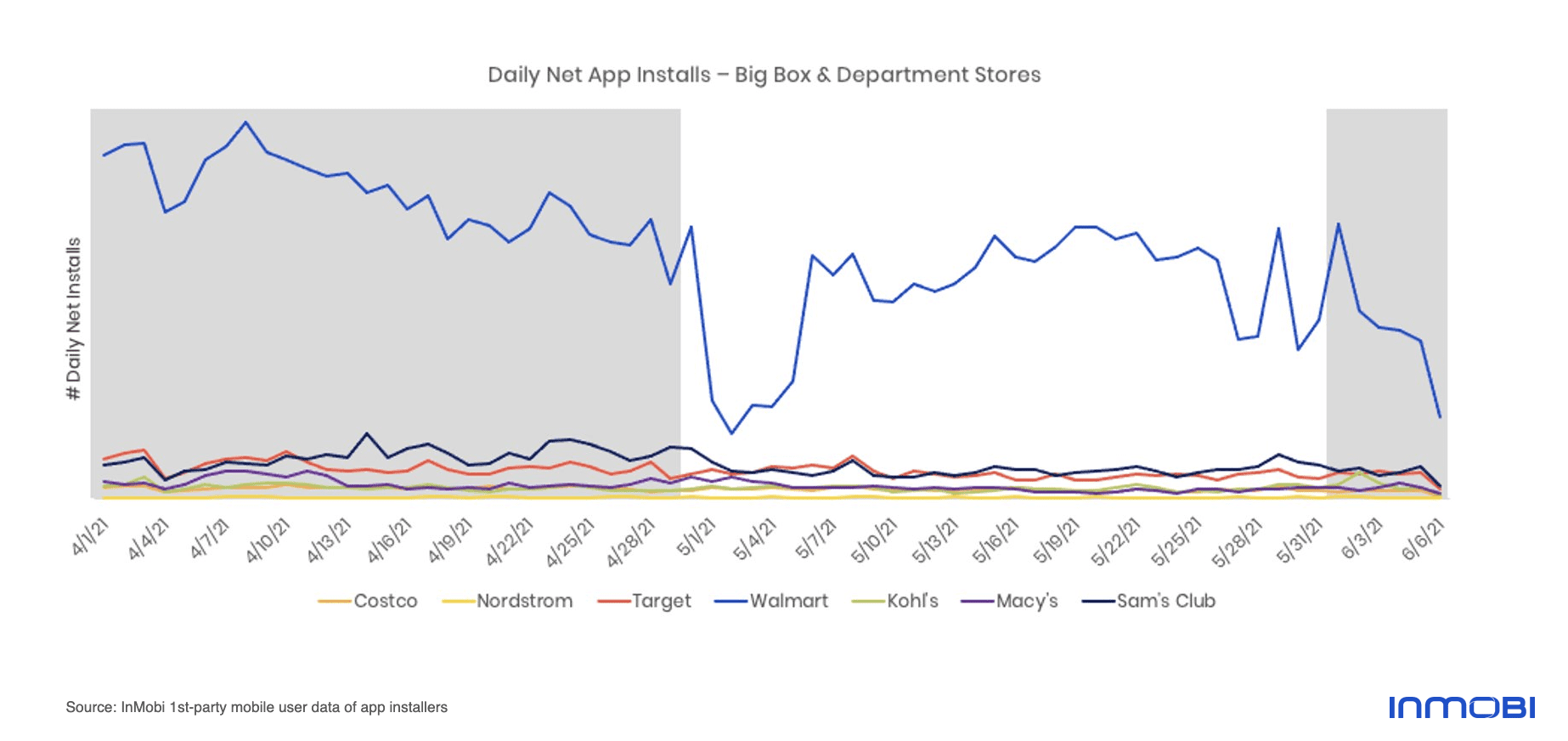 The landscape is more competitive, however, if you remove Walmart from the picture. Among the remaining six brands, Target and Sam's Club have the most net app installs between April and June 2021.
Both brands have invested heavily in their apps and online shopping overall in the past months and years, and these efforts are beginning to pay off. For example, the Sam's Club app allows consumers to scan an item in store to pay for it in the moment, as opposed to waiting to check out.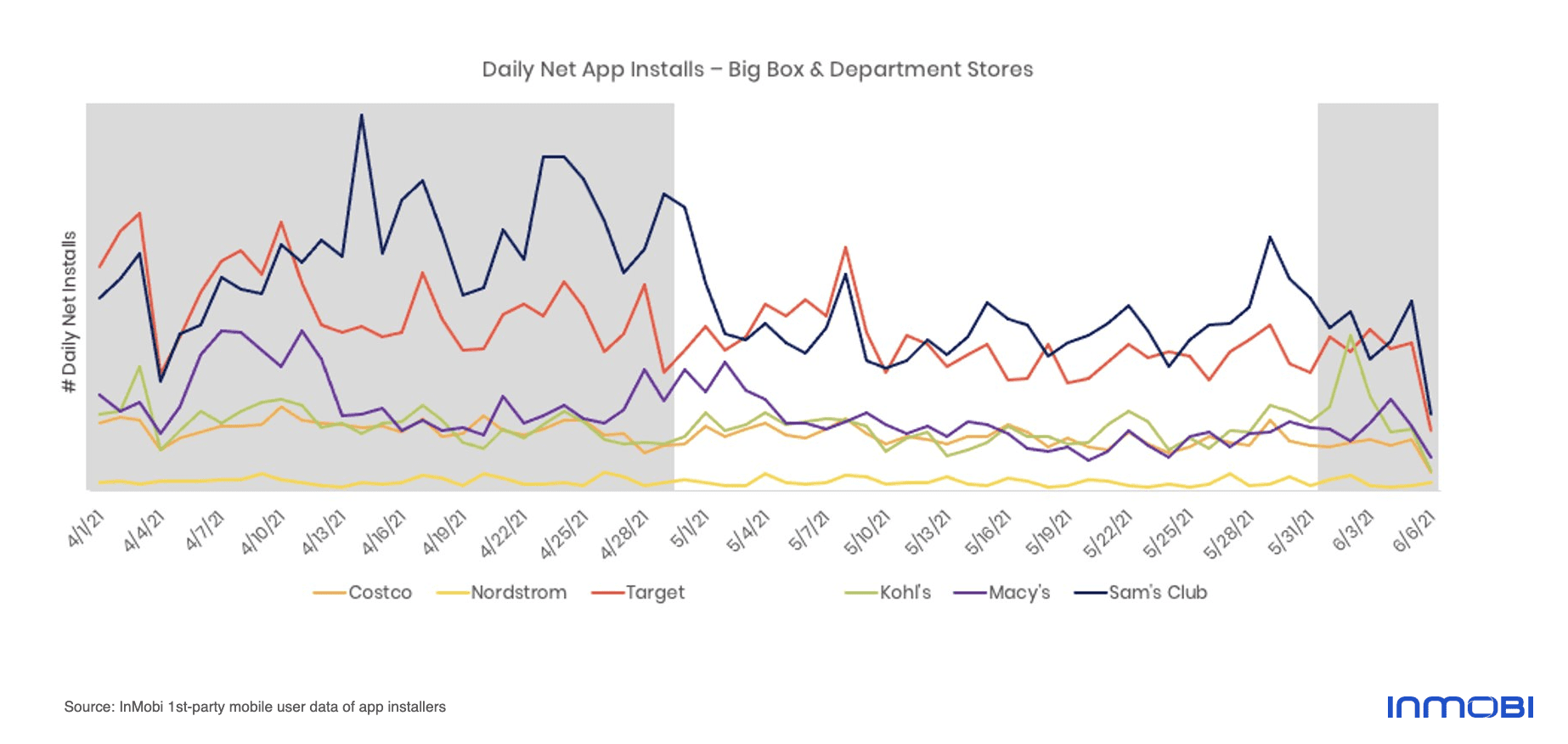 But perhaps the biggest driver of app growth in this category has been BOPIS – buy online, pick up in store. Instead of having to come into a physical store to make a purchase, consumers can order online first and then have the item dropped off in parking lots or right in front of stores. This buying method proved especially popular during the pandemic, with consumers hesitant to shop physically inside stores and with supply chain disruptions delaying e-commerce deliveries.
It will be interesting to see, however, if department stores and big box retailers can maintain their app growth trajectory now that consumers are shopping in person again. According to research conducted through InMobi Pulse, InMobi's mobile market research solution, big box retailers and department stores are expected to have the largest increase in both foot traffic and online e-commerce business in the next few months coming up, although a combination of brick-and-mortar sales and the use of third-party online shopping platforms like Amazon and Etsy could lead to a decrease in app installs in the category – only time will tell.
Overview of Big Box and Department Store Brand Engagers
We also wanted to dive deeper into the overall customer profile of big box retailers and department stores. Who has their apps on device, and who is visiting their physical store locations today?
In terms of gender, this category is predominantly female. While 52% of all physical visitors were women, 60% of app owners are female – considering that many app categories are predominantly male, this is significant.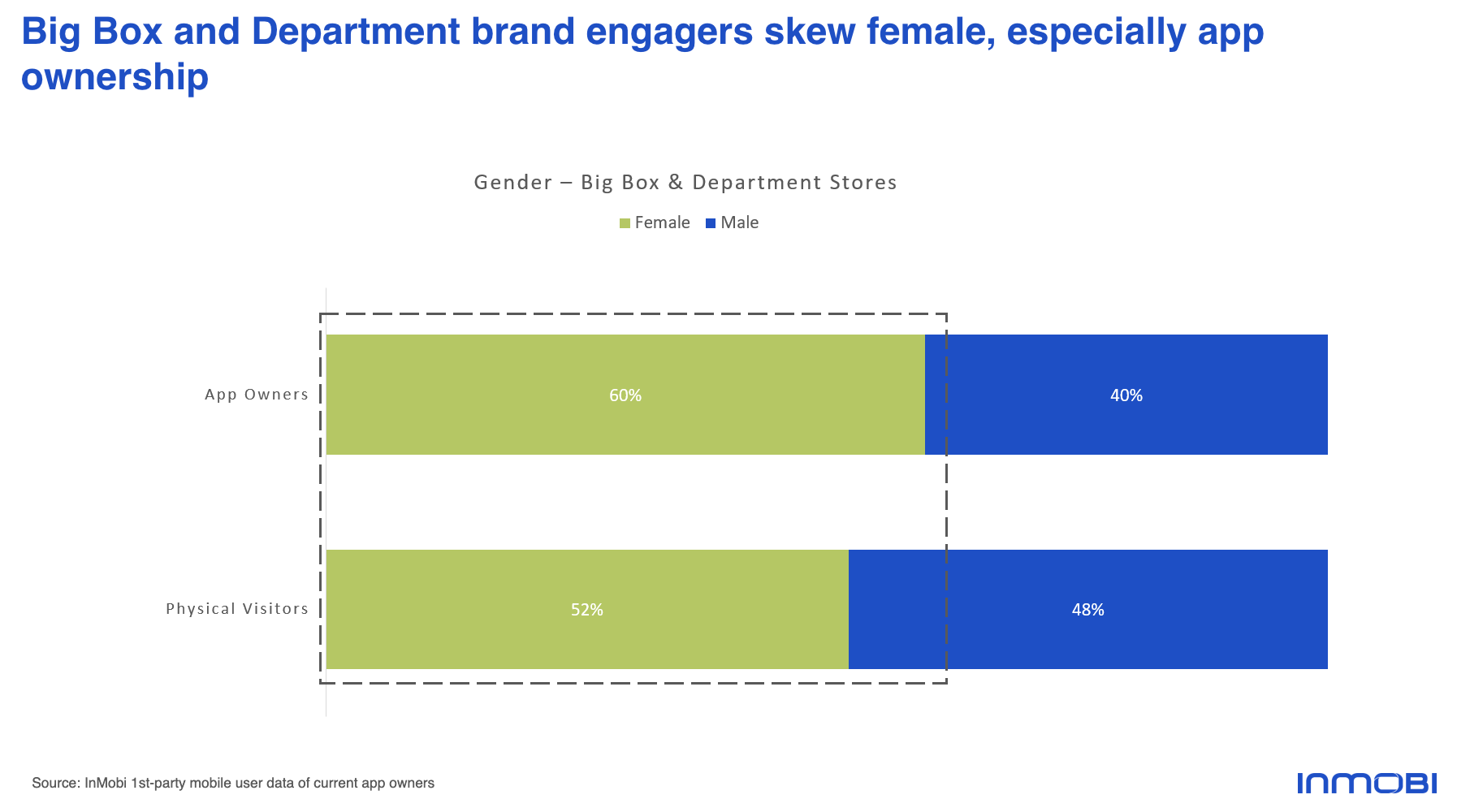 The top age bracket for this segment is between 46 and 55 years old, with 21% of app owners and 22% of physical visitors being in this age range. Our InMobi Pulse research found that women between 18 and 34 would be the biggest drivers of future growth for big box retail and department store shopping, although 26% of app owners and 21% of physical visitors were in this age range.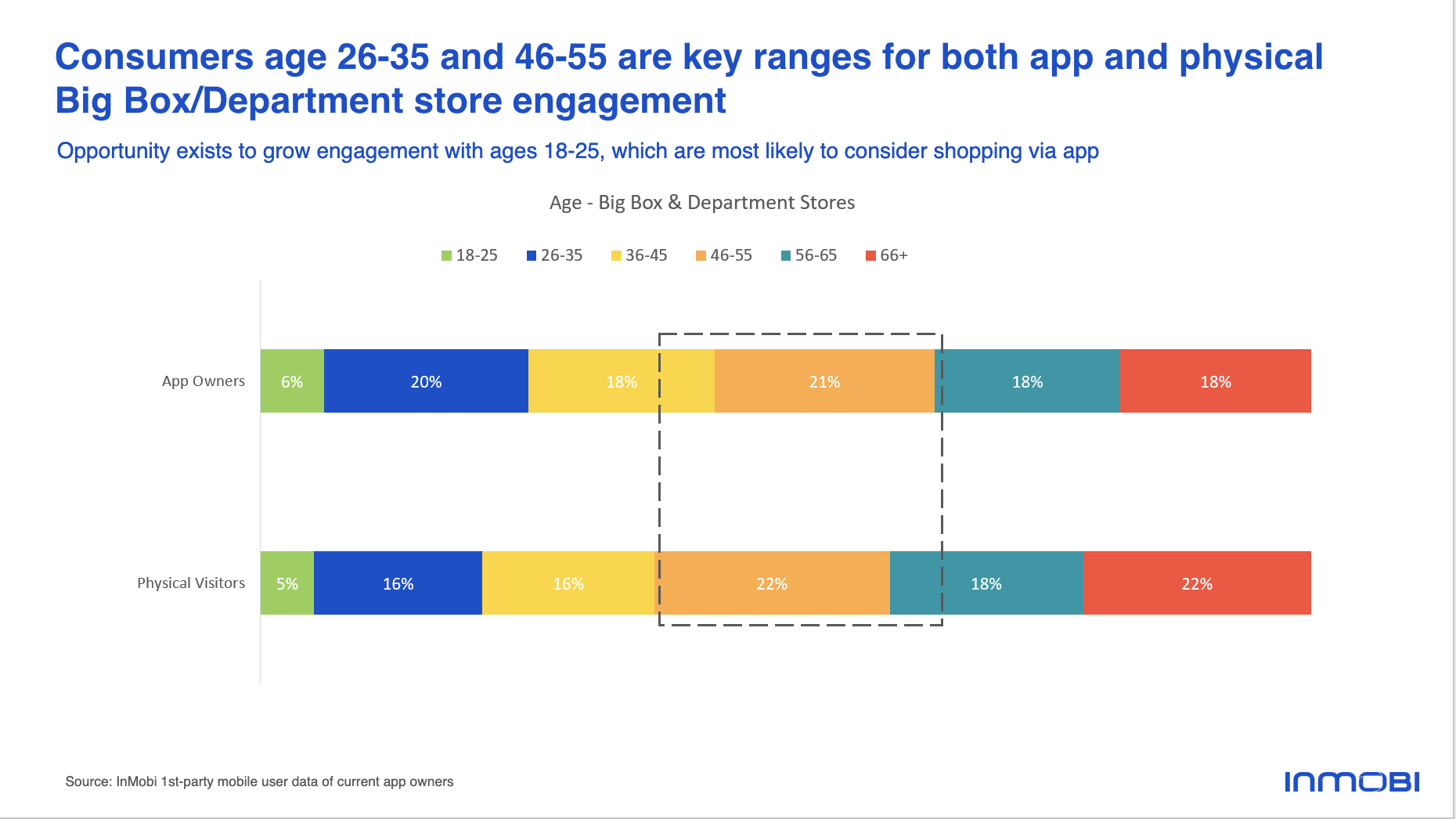 Big Box Retail and Department Store App Ownership Overlap
We also wanted to look at app ownership overlap. Do consumers have multiple kinds of retail apps on their mobile devices or are they loyal to specific brands?
In this realm, it should come as no surprise that Walmart has a large and loyal app customer base. Among all the apps we looked at, Walmart app owners have the smallest crossover with other big box and department store retailers.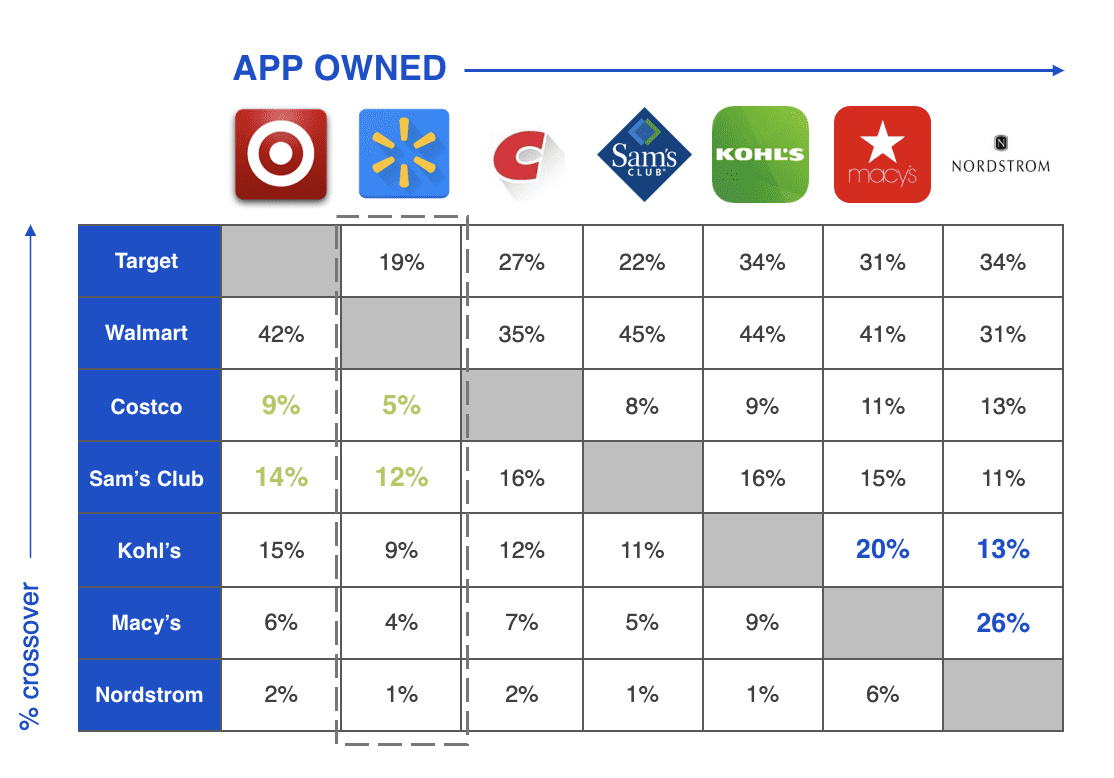 How Big Box and Department Store Brands Can Boost App Ownership
Even as consumers in the U.S. are largely ready to shop and buy in person again, retailers should still continue to invest in their app and grow their mobile-direct audiences. Through apps, brands can have a direct relationship with consumers, through which they can keep audiences engaged and buying by offering special tailored deals.
Plus, app owners are more loyal than non-app owners. According to InMobi research, someone with a brand's app on their mobile device is 15% more likely to visit that brand's brick-and-mortar locations compared to those without the app.
And even though in-person shopping is on the rise, e-commerce (and m-commerce, or mobile commerce) is very much here to stay, especially among younger consumers and city dwellers. Retailers can offer a more seamless, on-brand shopping experience when they facilitate transactions from their own app, as opposed to being at the mercy of a third-party marketplace.
So what can these kinds of retailers do to boost app adoption and drive more sales? Based on our research, we recommend the following tactics:
Utilize mobile advertising. Not only is mobile now the most popular media source for Americans, but it's always-on nature makes it ideal for reaching consumers no matter where they are or what they're doing.
Target the consumers that are both the most likely to download and use your app and/or shop at one of your physical stores. For most brands in this category, women and people between 46 and 55 are among the most loyal audience segments – but don't limit audience targeting to just people in this age range.
Competitive conquesting can be especially advantageous in this space, as there is not a lot of overlap between app owners. For example, just 9% of Kohl's app owners also have the Costco app on their mobile device, while only 5% of Sam's Club have the Macy's app. If someone has one or only a few big box retail or department store app, they may be interested in more.
Be sure to stay tuned to the blog, as coming up we will be covering more specialty retailers like The Home Depot, Sephora, Petco and more major national brands. And if you have questions or if you want to know more, be sure to reach out to speak with one of our mobile experts.
About the Author
Matthew Kaplan has over a decade of digital marketing experience, working to support the content goals of the world's biggest B2B and B2C brands. He is a passionate app user and evangelist, working to support diverse marketing campaigns across devices.