New research from InMobi reveals 41% growth in gaming during 2020 with 85% using smartphones
July 15, 2021 – Australia: Australian brands are responding to the gaming boom, with FMCG, automotive, travel, and government chasing the high engagement and superior brand safety opportunities offered by mobile gaming according to a new research report released today by InMobi, the world's leading independent marketing cloud.
The "Everyone's Gaming Among Us" report found that Australians took to gaming with great enthusiasm during 2020, with a significant increase in both the numbers of users playing online games as well as usage. While 23% of all gamers started playing for the first time during lock down last year, the growth has been sustained over the full year, with 29% growth in unique users and 41% growth in usage into 2021.
According to the report, the need to relax and be entertained emerged as the most critical factor for smartphone users turning to games since the onset of the pandemic. The Report also found that smartphones have become the most popular device by far, with 85% of gamers playing on their smartphones, overtaking both consoles (28%) and PCs (30%). This has led to the emergence of the committed mobile gamer as 87% play at least once or more in a day.
Gamers expressed an overwhelming preference to watch ads (94%) rather than pay money (6%) when looking to progress in-game or in exchange for a benefit. Ad recall was also found to be very high amongst Australian gamers when the ad was engaging and interactive with over half (52%) of mobile gamers able to recall an ad.
Dispelling preconceptions that gaming is predominantly a male activity, Women make up 56% of mobile gamers in Australia, and they span all age groups from Gen-Z through to Gen X.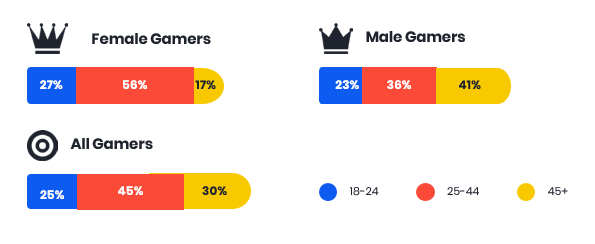 "With COVID related stay-at-home notices and shifts in the attitudes to flexible working hours, Australians of all ages have embraced mobile gaming as a way to relax, entertain themselves, and virtually connect with friends and family," said Richard O'Sullivan, InMobi VP and GM for ANZ. "We believe this was habit forming and now offers Australian brands considerable opportunity to build immersive experiences and connect with an engaged audience of both genders and from all age groups in a completely brand safe environment. What is even more exciting is that all of this can be enabled at scale via programmatic platforms such as the InMobi Exchange. Our recent launch of blended in-game advertising is another step in helping brands make the most of the gaming wave being democratized by mobile."
Other key findings include:
Women make up 58% of mobile gamers in Australia
Gamers span all age groups from Gen-Z through to GenX (see illustration)
87% of all mobile gamers are "Committed Gamers" who play at least once or more in a day
40% of gamers play for more than 30 minutes per session
Gaming usage is peaking at different times of the day, including one at 11 AM where users are taking a break mid-morning, resuming after 2 PM and running through until 8PM
The "Everyone's Gaming Among Us" report is based on a detailed analysis of a survey conducted in Australia between 6th June – 14th June 2021 on the InMobi Pulse Platform along with data from the InMobi Advertising and Audiences Platform based on data from Jan 2020 to Jan 2021 (over 1.7 trillion programmatic ad auctions).
A copy of the report is available to download https://go.inmobi.com/gaming-report-2021-australia/.
For more information about InMobi Pulse, please visit https://www.inmobi.com/pulse
About InMobi
InMobi drives real connections between brands and consumers by leveraging its technology platforms and exclusive access to mobile intelligence. Its Marketing Cloud creates new paths for brands to understand, identify, engage and acquire connected consumers. As a leading technology company, InMobi has been recognized on both the 2018 and 2019 CNBC Disruptor 50 lists and as one of Fast Company's 2018 World's Most Innovative Companies. For more information, visit inmobi.com.