Ramadan, one of the most significant months for Southeast Asians, is a time for connecting with friends, family, and faith. Since 2020, the region has experienced this festive season under lockdowns, social distancing, and a more measured outlook. While these setbacks may have changed the way Southeast Asian consumers live, the spirit of resilience and positivity is stronger than ever before.
Despite consumers facing the possibility of observing their third Ramadan virtually, they continue to plan to shop this year and have made choices on the categories, brands, and products that they plan to purchase.
Undeniably, the lockdowns have caused a shift in average consumer behavior – be it connecting with friends virtually, making purchases on mobile, or moving budgets to different channels. Marketers who are willing to consistently enable fulfilling consumer interactions through meaningful data exchanges on mobile will thrive in the 2022 Ramadan season.
Our 2022 Getting Ramadan Rush Ready report will help brands better understand the shopping sentiments of Southeast Asian consumers this Ramadan, thereby allowing marketers crucial insights to fine-tune their mobile marketing strategies.

Key Trends from the Report

Understanding the Indonesian Connected Consumers
A Reassured Ramadan: This year, after a muted 2021, the willingness to spend has increased amongst Indonesian shoppers. A significant rise can be observed amongst those who plan to spend between IDR 2 million and IDR 3 million.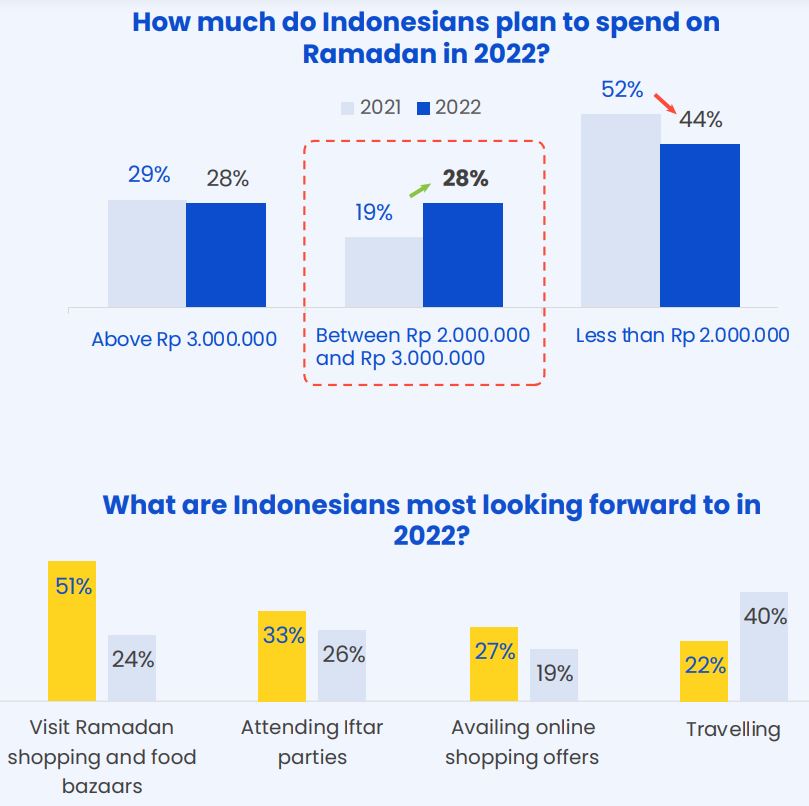 Indonesia's Expectations: In-Store vs Mobile: When it comes to shopping in-store, Indonesian consumers are most concerned about safety measures that stores have put in place. In contrast, as home to one of the most advanced in-app shopping markets across the globe, Indonesia's shoppers have a whole slew of reasons for preferring mobile experiences.

Indonesia's Mobile-first Gen-Z Shoppers: Contradicting popular notions on their relaxed outlook, 58% of Southeast Asia's tech-savvy Gen-Z plans to beat the Ramadan rush and shop at the beginning of the season. This year, Gen-Z plans to whole-heartedly embrace mobile-first shopping, thereby making them key players for brands to connect with.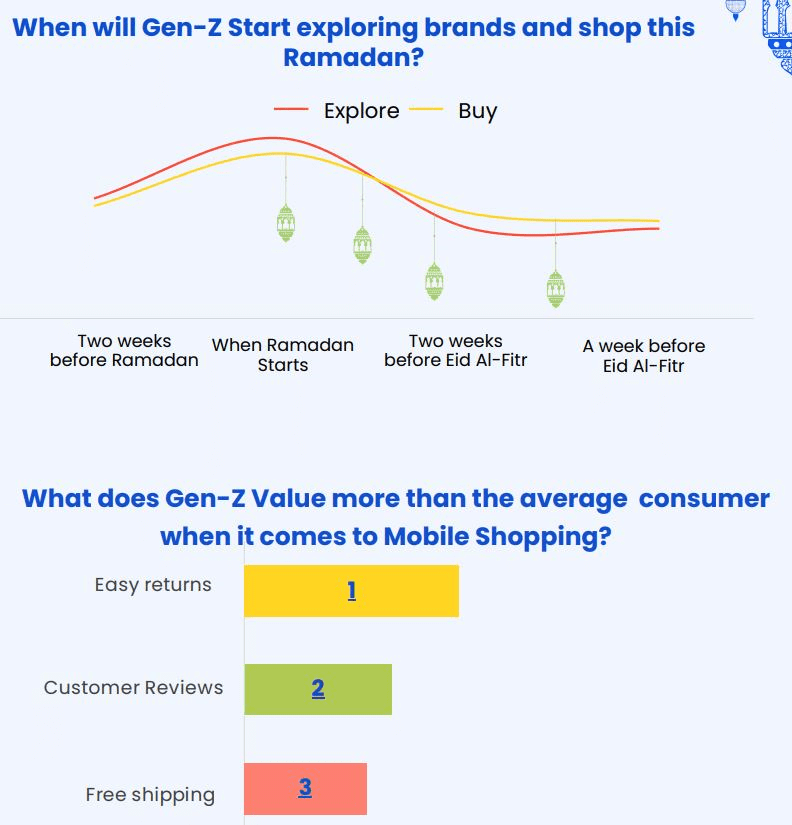 Download the 2022 Getting Ramadan Rush Ready, Indonesia report now.

Understanding the Malaysian Connected Consumer
Ramadan Retail Looks Up: Malaysian shoppers are all set to immerse themselves in festivities this Ramadan, with 47% of them planning to spend over RM 600. Malaysians plan to purchase a variety of products and services ranging from groceries to gift packs, and much more in between.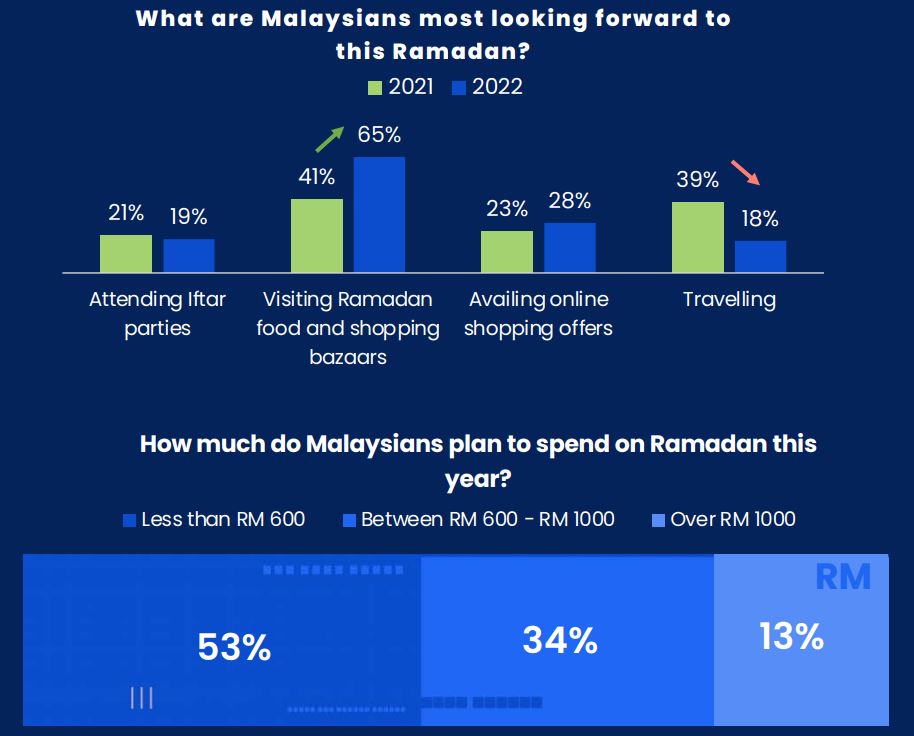 Malaysia's Expectations: In-Store vs Mobile: This year, Malaysian consumers are well-balanced in their approach to shopping, showcasing a strong preference for both in-store and mobile experiences. However, there is a clear upswing in online shopping budgets and a marked reduction in offline ones.

Malaysia's Mobile-first Mother Shoppers: As primary purchase influencers across households, Malaysian mothers are more generous with their budgets compared to the average Malaysian this Ramadan, with close to 1 out of 4 mothers planning to spend more than RM 1000.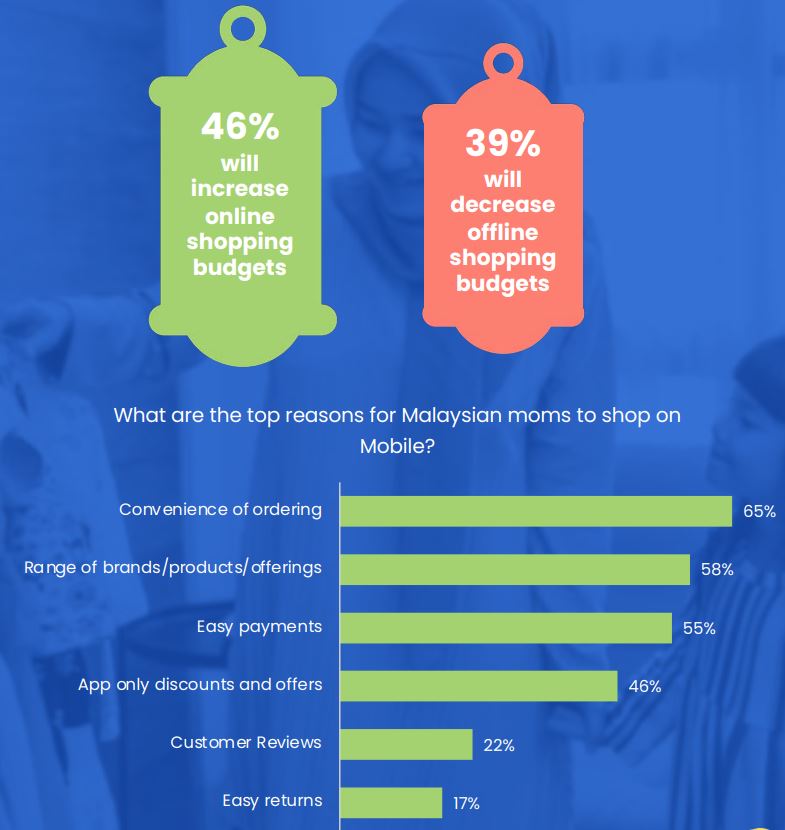 Download the 2022 Getting Ramadan Rush Ready, Malaysia report now.

Top Tips to Getting Ramadan Rush Ready
This Ramadan, brands can truly win over Southeast Asian consumers with the 3Cs -Context, Creativity, and Commerce.
Resilient brands will:
Leverage consumer context through deterministic audiences to drive personalization experiences at scale.
Inspire with immersive creatives to tease, launch, and retarget.
Drive commerce with shoppable in-app and online-to-offline ad experiences that capture action.
To deep dive into Ramadan trends that will rule this year's mobile advertising game in Southeast Asia, download our 2022 Getting Ramadan Rush Ready report.
Get in touch with us on mobilemarketing@inmobi.com to help your brand stay ahead of the curve and connect meaningfully with consumers in 2022.