The onset of the pandemic has changed consumer behavior across the globe, and further accelerated the adoption of a mobile-first economy in Indonesia. This change is evidently seen during Indonesia's most celebrated festival – Ramadan. While lockdowns and social distancing have previously posed setbacks to the Indonesian shopper, the spirit of resilience and positivity emerges stronger than ever before. Further, Indonesia is predicted to be one of the top five smartphone superpower nations in the next five years.
With this in mind, what does this year's Ramadan hold in store for Indonesians? What should brands and advertisers focus on to forge a true connection with their consumers? In association with MMA, InMobi Indonesia hosted a virtual summit that brought together key players across the ecosystem to help answer these questions and more.
The summit, Building Resilient Brands: Getting Ramadan Rush Ready, featured industry leaders Rajan Vishwadeep, Principal, Partner, Data- Tech & Performance Marketing, Mindshare, and Rangga Gandina, GM Data Solutions Business & Partnership, Telkomsel, and was hosted and moderated by Shanti Tolani, Country Head & Board Member, MMA Indonesia, and Narayan Murthy Ivanturi, Director - Native & Performance SEA, InMobi, respectively.



Ramadan in the New Normal
Narayan kicked-off the session with the summit's purpose. He shared, "Building brands has always been difficult, and today, in the times we are living in, there is no playbook or framework for what is right and what is wrong," he said, opening up the floor for the speakers to discuss how celebrating festivals like Ramadan has changed over the last two years.
Rangga exclaimed that brands and marketers have stopped viewing the new normal as a hurdle rather than an opportunity to provide frictionless shopping experiences for consumers. He shared how a part of the Ramadan culture in Indonesia has evolved to suit the new normal: "People can no longer break their fasts together, in-person, so they send food and gifts online. Also, spiritual activities previously held in mosques have now become virtual – everyone now jumps to google meet or zoom, and even grandparents living in rural areas have learned to use these technologies."
The Role of Big Data and Personalization this Ramadan
A huge portion of the Indonesian population is becoming digital native, and with digital on the brink of overtaking offline in terms of spends and time spent, brands and advertisers will have to do more to break through the clutter. Rajan claimed that by partnering with technology providers who deliver personalization at scale, brands can create lasting impressions in the minds of their consumers. He further emphasized the power of first-party data, saying: "This approach gives rich dividends not just in the short term, but also future-proofs the brands – in the short term you see both engagement rates and efficiency improve and in the long term, you get prepared for the world without third-party cookies and other mobile identifiers."
Sharing how first-party data comes into play during Ramadan, Rajan shared: "By capturing first-party data all year round at every opportunity, and especially during Ramadan, marketers can help convert consumers who have shown keen interest in their brands on the highest priority. This will help prevent media investments from being spread thin across the funnel and will instead help double down on and nurture the audiences who are most likely to purchase.
Rangga went on to discuss a crucial aspect for marketers to keep in mind while planning their Ramadan campaigns: "It is important to understand your audience as a subject, rather than as just an object or a number. We need to understand the micro-moments that matter along the consumer journey and reach out to the audience in these moments with better context and richer insights."
The duo then delved into the data modeling efforts that Telkomsel and Mindshare dapples in. Rangga emphasized the importance of long-term, life-time value (LTV) metrics over short-term, return-on-investment (ROI) metrics, even leading up to festive seasons, such as Ramadan, while Ranjan shed light on the role played by big data across campaign management – including attribution modeling, dynamic creatives, contextual targeting, and cross-platform analytics.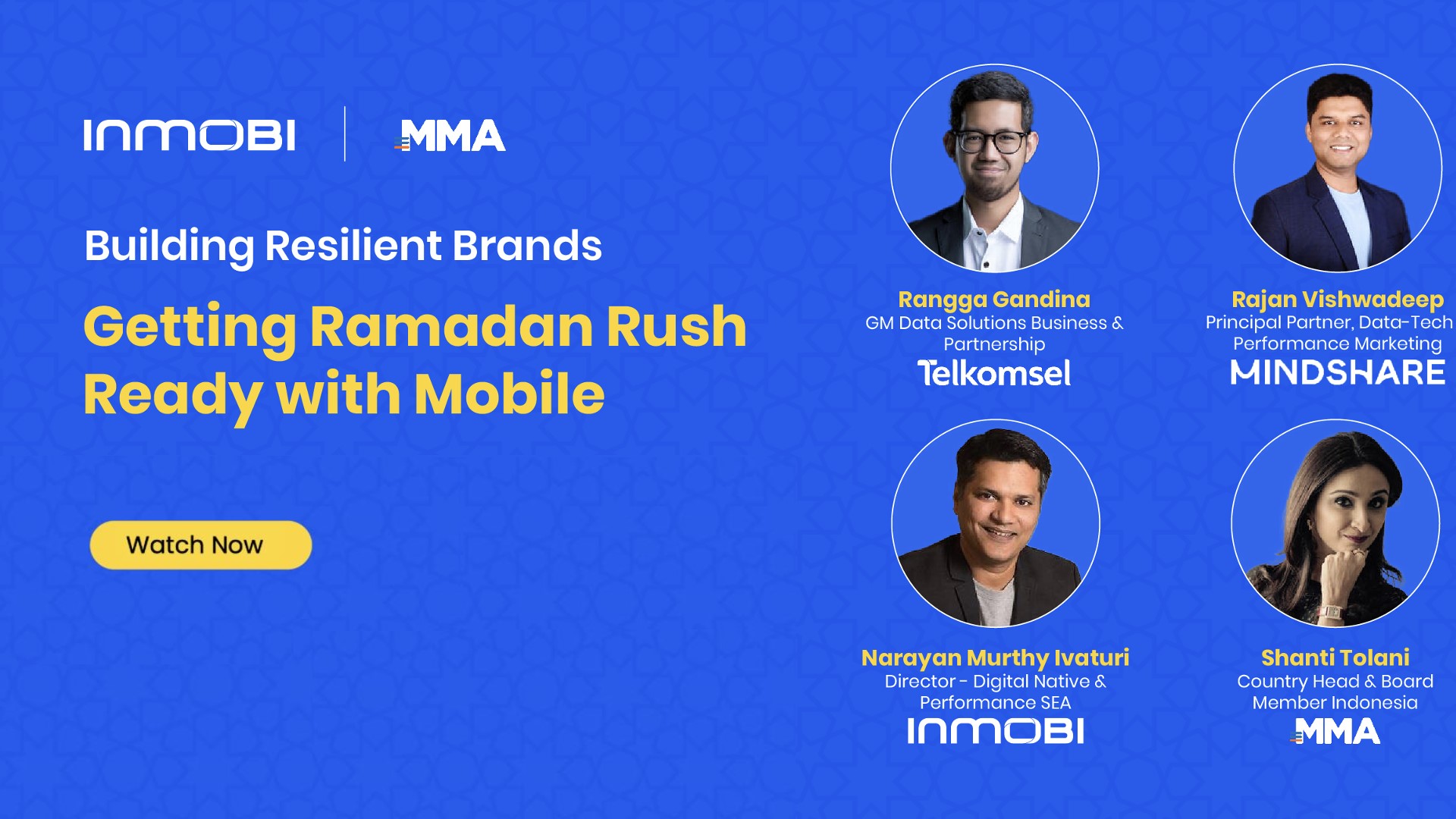 Concluding Thoughts
Wrapping up the summit, Narayan shared his three tenets for the Ramadan season: "Identifying audiences in the moment, engaging them with big-data-based technologies, and providing them with a logical exit point to convert their year-long interest into a purchase during Ramadan."
As Rajan and Rangga rightly articulated: campaigns need to be built up throughout the year, and then be allowed to ripple through the festive season. This Ramadan, it is crucial for brands and advertisers to focus on converting demand, rather than generating it.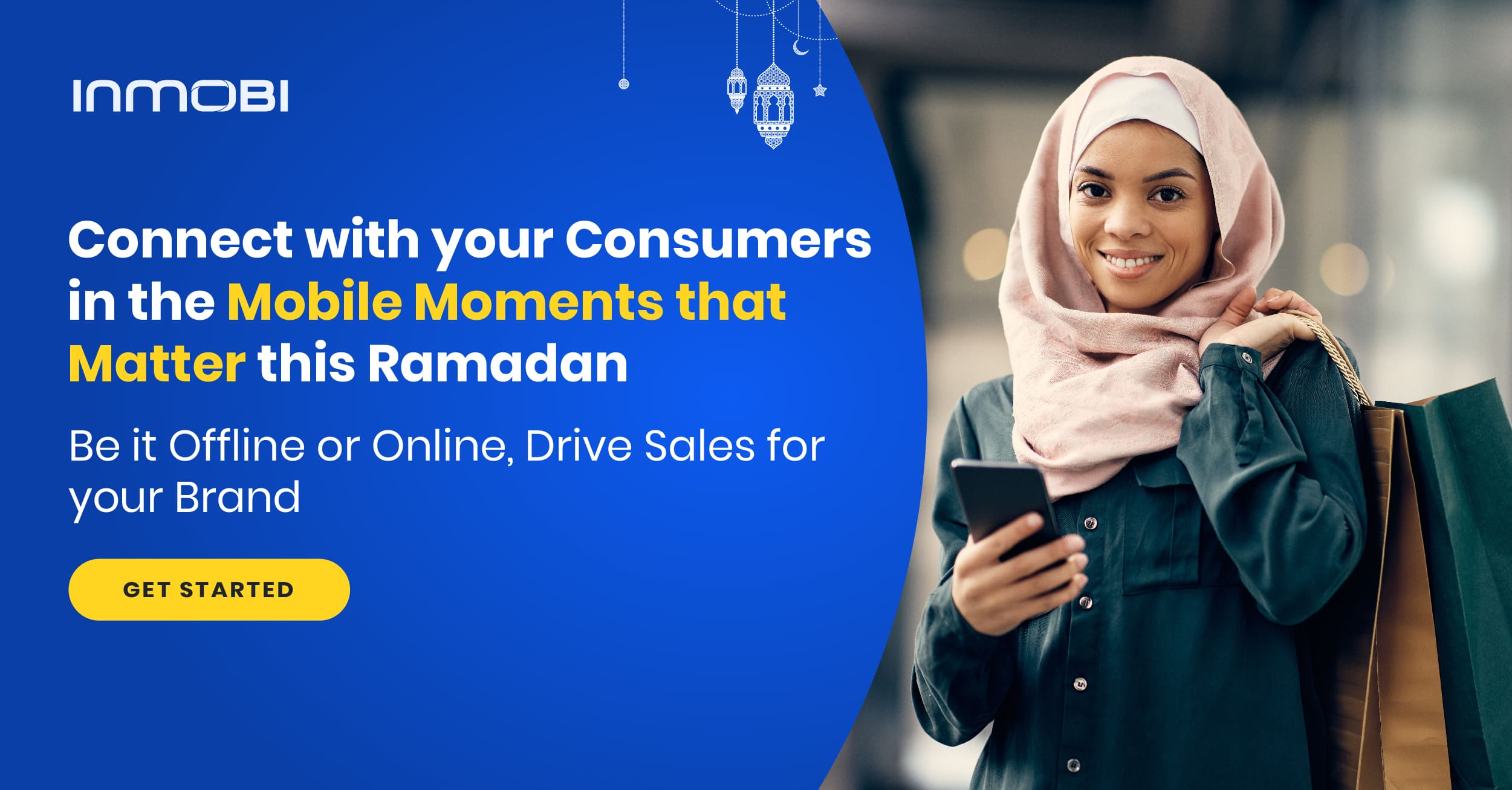 Delve deep into the shopping sentiments of consumers across Indonesia and learn the best recommendations for brands to plan their strategies this Ramadan on mobile. Download our report 2022 Getting Ramadan Rush Ready with Mobile to learn more.
Fastrack your mobile marketing strategies and get ahead of competition by contacting us on mobilemarketing@inmobi.com.