To watch video content including movies and TV shows on their favorite video on demand apps like Netflix and Hulu, consumers have lots of different hardware options. These streaming services can be accessed through set top boxes, smart TVs, mobile devices, dedicated streaming devices like Roku and Apple TV and even gaming consoles.
But of these options, which ones do American consumers prefer? Ultimately, how are the top video on demand services used across devices? That's what we wanted to find out.
In July 2020, we surveyed close to 1,900 adults in the U.S. using InMobi Pulse, InMobi's mobile market research solution. In particular, we wanted to know how many video streaming service apps they had on their favorite devices.
In terms of video player hardware, we looked specifically at Android and iOS mobile devices, computers (including laptops), media streaming devices like Chromecast, smart television sets, set top boxes like the Xfinity X1 TV box and gaming consoles like Xbox. On the streaming content side, the apps included in our reporting included popular options like HBO's suite of apps, Disney+, Netflix, Hulu and Amazon Prime Video, alongside ad supported streaming content options like Pluto and Tubi.
Here's what we uncovered
Video Streaming Services Use on Different Devices
First, we wanted to see how many of these video streaming/movie/TV apps people had downloaded on each device. While the averages depend on the hardware in question, most consumers have just one to two of these apps per device, on average.
On the high end were smart TVs and streaming devices, while set top boxes and mobile devices were on the low end. In fact, among those who watch video streaming content on their smartphones and/or tablets, over a third of them have just one mobile app for these purposes.

And which apps were most likely to be found and used on multiple devices? Netflix, perhaps unsurprisingly, tops the list, with over half of Netflix users using the service on two or more devices.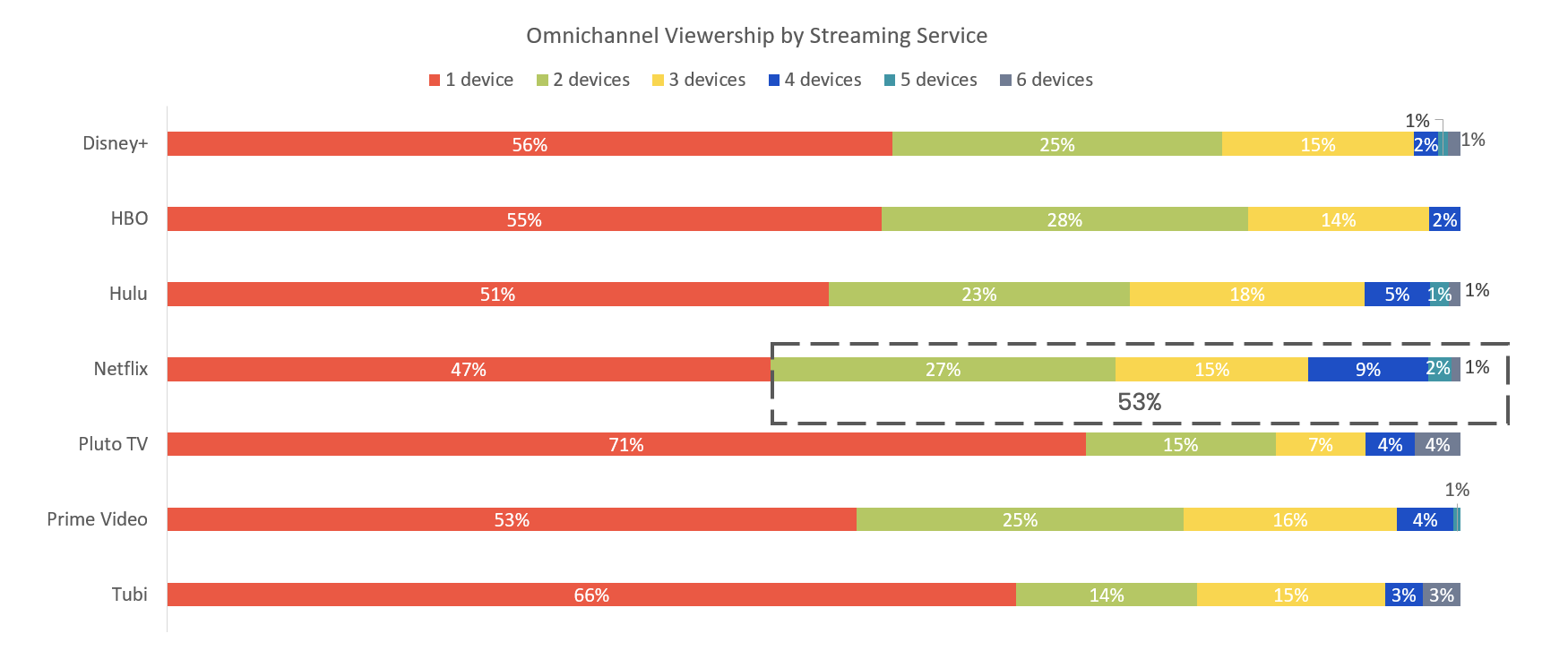 This aligns with what we found when we asked about the most popular apps per device. Across all types of hardware, Netflix tops the list. But, beyond that, the order differed notably across devices. Interestingly, the two apps we found to be most popular with Millennial and Gen Z consumers (Disney+ and HBO) were unlikely to be a top three app used on any of the devices we studied.

We also wanted to look at engagement, to see how the device used to watch video on demand apps impacted time spent with top apps. While Netflix sees a lot of usage on desktops and laptops, Hulu sees the most viewing happen on mobile devices while Amazon Prime Video has a lot of engagement through gaming consoles.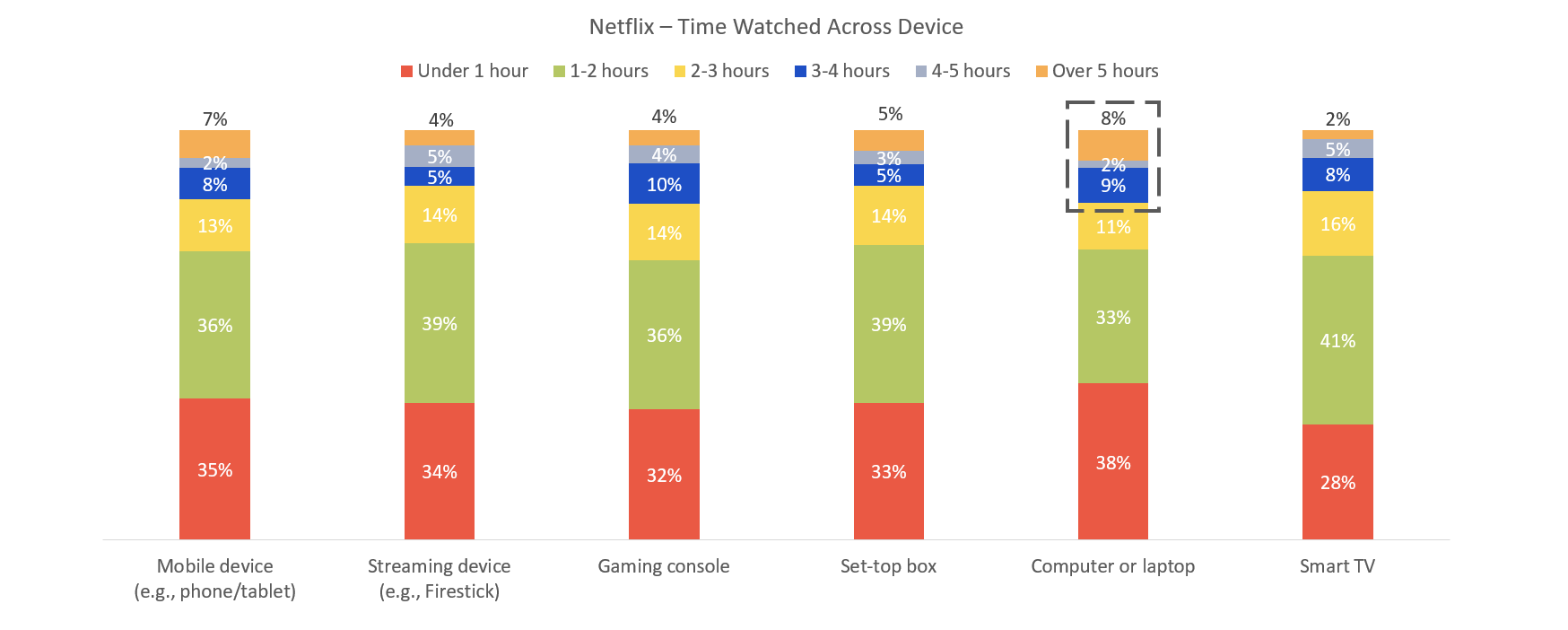 Which app owners are most likely to have other video streaming apps? Who are the biggest fans of different streaming services? Disney+ mobile app owners are streaming fanatics, with the most app crossover observed on mobile devices. All streaming services have high crossover with Amazon Prime Video, although Amazon Prime Video and Netflix app users have the smallest crossover with other streaming apps.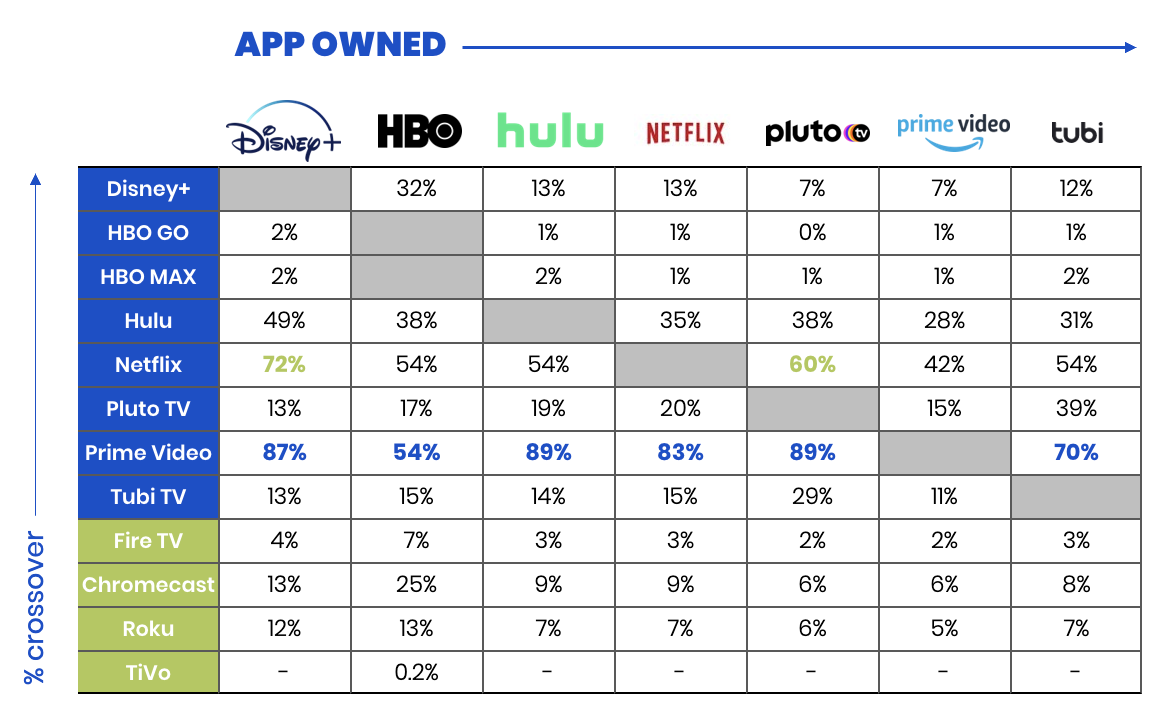 How Marketers Can Use These Insights
As the amount of time spent watching live TV declines, video on demand apps have become the premier entertainment destination for adults in the U.S. After all, our data found that many Americans spend hours a day using these apps. For marketers, this shift represents an opportunity – so long as they understand what this evolution in media consumption actually entails.
For starters, while paid subscription services are the reigning champs in this space, there is growing usage of ad-supported video on demand services too. No matter the device used, well over half of both Pluto and Tubi app users spend an hour or more each day watching content through these services.
We expect usage of ad-supported, free entertainment apps to rise in the coming months and years too. This makes these kinds of apps an especially appealing way for marketers and advertisers to reach and engage with their target audiences.
Of course, it's important to note the omnichannel nature of this audience. As our data shows, there is no one preferred option for streaming video. Brands that want to run advertising within these kinds of environments thus need to be prepared to have their ads appear on a wide variety of screens, including laptops, smartphones and television sets.
The TV side of the streaming coin will be an especially interesting part of the equation to watch. The connected television (CTV) space has been growing by leaps and bounds of late, but our research shows that it is still quite fragmented. If you're interested in learning more about CTV, be sure to download a copy of InMobi's Connected TV and OTT Viewership in 2020 report today.
These insights should be especially valuable for marketers in the media entertainment space. For marketers that work for a streaming service or media and entertainment company, how can this data be most valuable?
In particular, the biggest takeaway here is the fragmented nature of video consumption today. As the so-called "streaming wars" heat up, streaming services looking to acquire new users need to run user acquisition campaigns across devices.
The same is true for television networks and movie studios. As streaming services emerge as the preferred way to watch TV shows and films, these companies need to meet their target end users where they are and provide a viewing experience that meets their needs.
Interested in engaging your best audiences through their favorite apps? Reach out today to learn more about how InMobi can help you win.
About the Author
Matthew Kaplan has over a decade of digital marketing experience, working to support the content goals of the world's biggest B2B and B2C brands. He is a passionate app user and evangelist, working to support diverse marketing campaigns across devices.