One of the main highlights of Google I/O 2022, Google's annual developer conference, is the launch of the Google Play SDK Index, a public directory of the most popular SDKs used by apps on Google Play. We are pleased to announce that the InMobi SDK is one of the top SDKs listed in the "Advertising and Monetization" category.  
The index allows you to search for SDKs across categories and it provides insights on each SDK based on its usage data from Google Play to ensure you choose a reliable and safe-to-use SDK for your apps. Below is what you can find: 
Details about the latest SDK versions 
SDK adoption and retention metrics  
Android app permissions requested by the SDK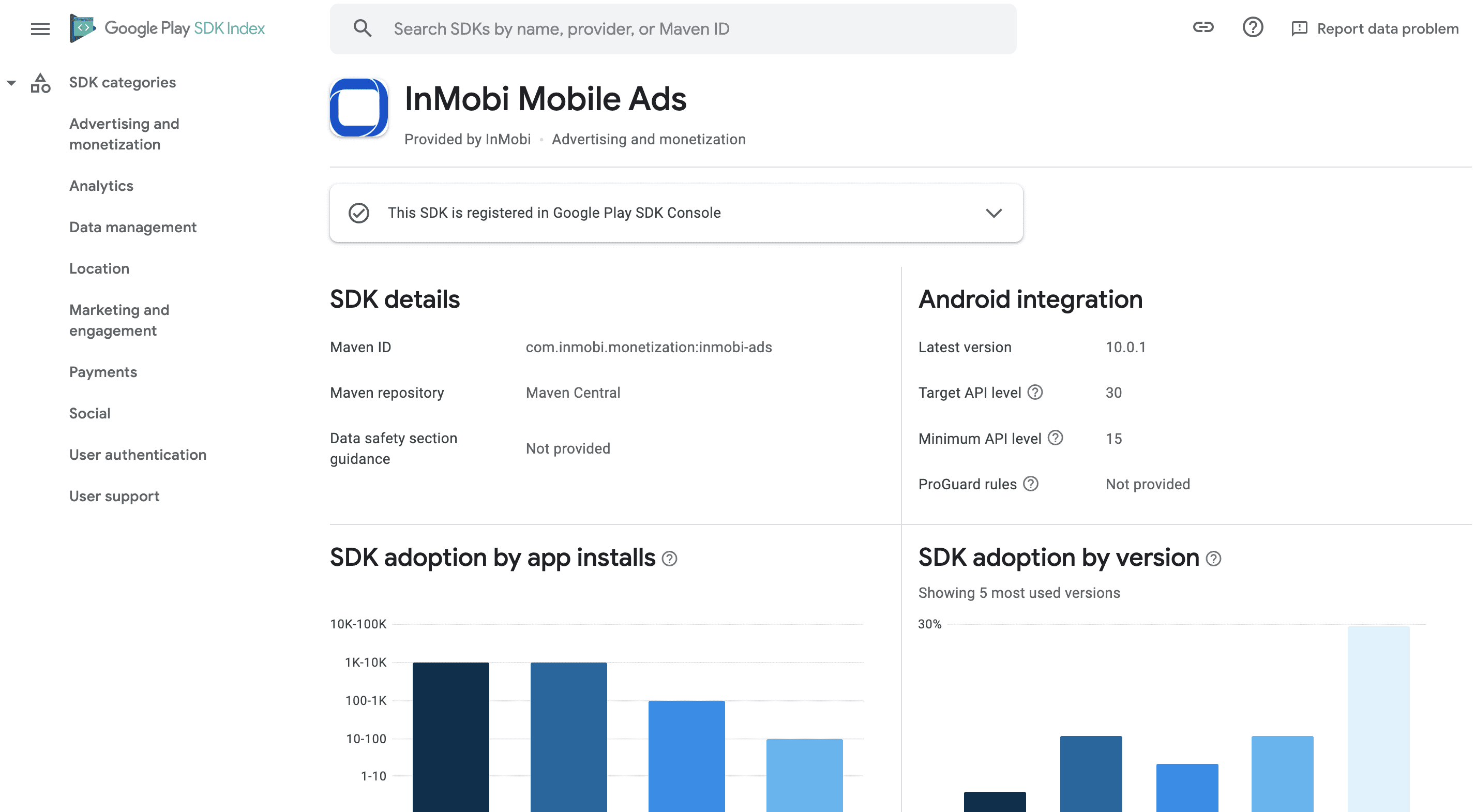 We are also pleased to share that we have registered on the Google Play SDK Console, the counterpart of the index for SDK providers. It allows us to maintain the SDK details on the index and share information about SDK crashes and issues with app developers.

Saurav Dutta, VP Product Marketing, InMobi Publisher Platforms, said, "The Google Play SDK Index is a great initiative by Google to provide transparency about the Android SDK landscape and app developers are going to find it super useful for their various needs ranging from monetization to user support. This transparency is in line with our philosophy and we believe that the index will strengthen the belief that premium app developers have on InMobi SDK for their monetization strategy, and provide more transparency about the functioning and performance of the SDK."   
Besides offering improved monetization results, the InMobi SDK provides additional value to publishers through advanced ad formats and addressability solutions such as UnifID. This industry-first in-app identity management solution from InMobi empowers you to implement multiple identity vendors like LiveRamp, ID5, Epsilon and LiveIntent from one single point of integration. We are also continuing to equip our SDK with more capabilities that can enable publishers to grow their business beyond ad monetization.
If you are evaluating the InMobi SDK for your app, we recommend going through this guide to understand its features and benefits. Visit the InMobi Support Portal for more information.