When evaluating retail media platforms, advertisers are looking for the most effective ways to reach their target audience and achieve their advertising goals. While some advertisers might have the time and resources to manually select keywords and optimize campaigns daily, why would you want to?
With InMobi Commerce's self-service, AI-powered optimization platform, advertisers can effectively "set and forget" their retail media campaigns and trust they'll hit their advertising goals.
Develop Your Strategy Using Automatic, AI-Powered Campaigns
Because most advertisers know the initial list of SKUs they want to promote and have an established ROI goal, we recommend starting with an Automatic campaign. Advertisers can allocate a percentage of their overall campaign budget to test and learn with an Automatic, AI-Powered campaign.
This method helps advertisers better understand the list of relevant/top-performing keywords, category pages, and product pages for each SKU and the optimal bid value compared with competitors. This ultimately helps limit any potential overspending throughout the campaign. While an advertiser is testing with an Automatic campaign, they can also accept the automatic optimization suggestions provided by InMobi Commerce's DSP to fine-tune their ROI and impression goals.
After testing with InMobi's Automatic campaign tool, advertisers can apply those insights – optimal keywords, category pages, product pages, bid values and expected impressions – and run a Manual campaign aligned perfectly to their business goals. With Manual campaigns, advertisers can blend their learnings from Automatic campaigns with additional self-selected targeting options to reach their campaign goals.
While running a Manual campaign, if there is a change in a competitor's bidding strategy or customer behavior that begins to affect the campaign's performance, the advertiser can switch back to an Automatic campaign to gather additional learnings and continue optimizing toward their business goal.
Here's How the Process Works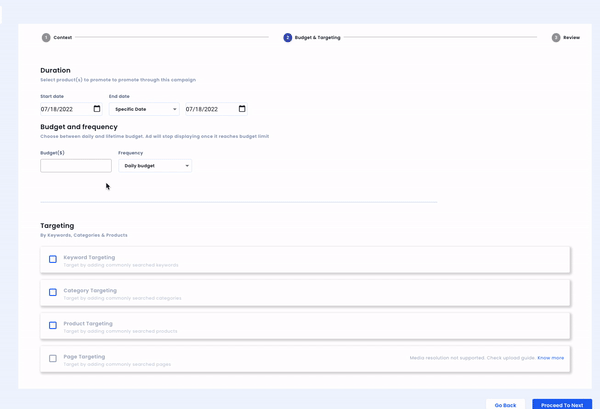 Campaign Set-Up & Testing
There is a new shoe brand, called Spike, looking to drive sales on ShoeLaLa.com. Spike's brand manager, who is handling multiple components of the brand's launch, is looking for an effective solution to better understand the right keywords and bid values for their online launch.
Spike's brand manager chooses to start promoting their new shoe online using an Automatic campaign. They start with a daily budget of $100 and run the campaign for a week.
Over the course of the week, the initial Automatic campaign is live, Spike's brand manager understands the list of keywords that will deliver the expected ROI within their campaign's budget. Before increasing their daily budget, Spike's brand manager runs a few more tests using an Automatic campaign to understand which keywords will deliver their 2.5X ROAS goal without losing out on impressions to a competitive brand.
Post-Testing & Campaign Optimization
After testing, Spike's brand manager creates a Manual campaign with a shortlist of keywords that will deliver over a 2.5X ROAS and have enough traffic to win at least 1K impressions per day.
Over the next few months, Spike's campaigns are hitting their ROAS goals and delivering more sales than initially predicted. To build on that success, Spike increased their daily advertising spending, but they noticed some of their competitors had started outbidding them.
To gain additional learnings on the changing competitive ad bidding space, Spike's brand manager invested a portion of their ad budget into an Automatic campaign. The Automatic campaign helped Spike identify the new optimal bid values that can help them reach the ROI they were previously getting.
Want to test InMobi Commerce's self-service, ai-powered optimization platform? Contact us today to set up a demo!