Maximizing mobile monetization is a fundamental need for app developers, yet the tools at their disposal are often lacking, and mediation solutions have been no exception.
Indeed, more than 100 mobile app developers recently shared their perspectives in a survey conducted by Advertiser Perceptions and the results were clear: Monetization teams need ad mediation that can be trusted with their users and data. They need to grow with scalable tech and flexible tools — while still providing meaningful revenue.
For anyone involved in mobile ad monetization, these themes aren't surprising. App developers deserve better, and that's really the genesis of Meson.
Meson is a new, innovative mediation platform that provides app developers with a "Mediation-as-a-Service" solution. If you're an app developer considering in-house mediation without the typical development and maintenance overages, or you're just looking for mediation technology that gives you control over your monetization strategy, Meson has been built for you. Meson's philosophy is a confluence of six key pillars: transparency, control, flexibility, scalability, neutrality, and demand diversity.
Let's double click on each of these pillars:
Transparency:
Demand transparency – As an app developer, you need to have access to the full funnel of your inventory bid landscape, at a very granular level, to not only know who is winning/losing but also why and how they are winning/losing. This can give you greater visibility into your demand portfolio for a more thorough understanding of auction dynamics that you can then use to enhance your monetization strategy. For example, assume a scenario in which you're using Mediation X and you have 20+ demand partners enabled but you have access to detailed data that says the exchange that belongs to X is winning 90%+ of the auctions – this is a possible case of preferential bidding that needs further investigation. Meson gives complete access to the raw logs of every bid and provides this kind of data through a summarized dashboard, a downloadable customized report builder, and a streaming data feed dump (into an S3 bucket), all to ensure getting app developers the revenue they deserve. You can find all the details here.

Cost transparency – In traditional mediation, you as an app developer don't have clarity into how much the mediation platform is charging as the cost might be removed from the bid before you even see it. In Meson, you get the invoice based on the agreed-upon contractual model, and you have full visibility into how much you are paying and why.

Data transparency – Meson sets data sharing to off by default in order to allow the app developers to choose where to share user data and to which downstream demand partners. Until the app developer provides permission or explicit consent, data doesn't flow as-is downstream from Meson to demand partners. This is also true for the InMobi Exchange, which runs on Azure, while Meson runs on AWS. This separation is not true for some of the leading mediation + exchange platforms.
Control:
Meson's Open Auction puts app developers in the driver's seat and provides the controls to manage competition across the waterfall and between ad lines (for example, placements or orders, etc.) and different types of networks. There are no preset rules on how ad lines will participate, and there are no biases for any network. You set the rules for the open auction either by format or by ad unit, or both. For example, you can decide that in cases where you don't get a second bid whether the current bid should be higher than the next waterfall's top CPM or the current waterfall's lowest CPM to win the auction. There's much more that can be done, and you can learn more here.

Meson's Segments help you group users based on demographics, context, custom parameters (think basis learnings from experiments), and behavior (think cohorts, see the next point) and you can apply different monetization strategies to segments and provide users with customized ad experiences to maximize LTV. Monetization strategies for a segment include customizing open auctions and controls for ad exposure, such as frequency capping, traffic exposure, rewards, timeouts, and other creative controls (coming soon). For example, you might find out that your younger users have higher tolerance for seeing the same ad multiple times of the day versus your older users, and based on that, you can decide to have a differential frequency cap based on specific age groups to maximize your LTV and revenue. You can find more details here.

A cohort is a group of users that perform a certain sequence of ad events within a specific timeframe. For example, a cohort can be a set of users who have played > N rewarded ads in the last M days from a certain creative ID. Meson's cohorts can be used for analyzing the impact of ad engagement on LTV and retention, and it can also be added to a segment definition to control ad exposure and manage LTV. You can find more details here.
Another aspect of control (and flexibility) is the ability to run experiments to test your hypothesis. You can use A/B testing to validate any hypothesis by adding ad units, segments (definition/behavior), ad networks, bidding vs. waterfall, open auction optimizations, timeouts, etc. For example, you can run an experiment to validate the hypothesis that your younger users have a higher tolerance for seeing the same ad multiple times of the day versus your older users, and based on that, you can decide to have a differential frequency cap to maximize your revenue.
Neutrality and Flexibility:
Neutrality: Unlike traditional mediation platforms, Meson has an unbiased fee structure that's agreed upon during the contract phase. This also means that Meson has no incentives to increase the significance of any demand partner by tactics, mechanics, or privileged access to data. We simply provide an environment to facilitate monetization.
Flexibility: We partner with app developers to fully accommodate their needs and preferences in terms of mediation solutions moving in-house. They can choose which demand partners they work with or which vendors (think ad quality, consent management, etc.) they subscribe to and utilize (coming soon). White labeling is one of the routes they can select when working with Meson. Additionally, app developers can develop their own SDK/adapters to connect demand sources of their choice.
Demand diversity and Scalability:
Meson provides an opportunity to connect with any demand partner of the app developer's choice, either via API (Meson Wrap) or SDK (Meson Prime). Below is the current set of demand partners live on Meson. We are big proponents of supporting the expansion of integration to guarantee freedom of choice for app developers.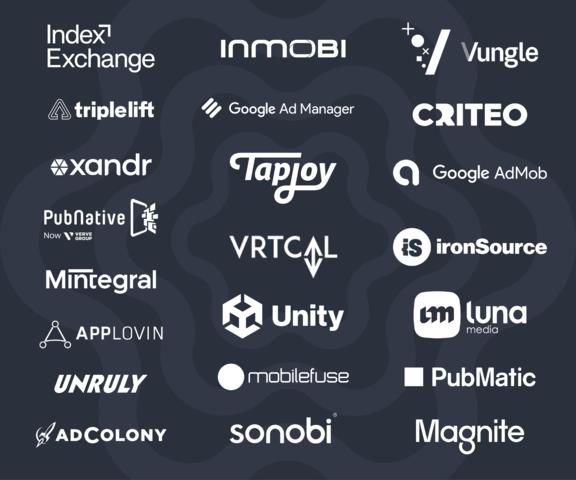 Since Meson is powered by AWS data center, it is empowered to support multi- country scale
Meson's capabilities are innumerous, outside of the ones mentioned above, and the best way to learn about them is to set up a demo. Please reach out to DARREN.DEVITT@MESON.AI to learn more.