We can learn a lot about what the future of retail media holds by looking at the evolution of programmatic media. As the programmatic advertising industry became increasingly complex, ad mediation emerged as a hugely beneficial option for publishers. Mediation provided publishers with the ability to connect multiple ad networks and allowed them to maximize fill rates and increase revenue.
In retail media, there is going to be a shift from retailers working with a single supply-side platform to integrating with any number of retail media networks, solution providers and/or retail DSPs (demand-side platforms) to fully maximize the demand for retail ad inventory and customer access.
InMobi Commerce has created an industry-first, open-source mediation software that allows retailers to increase ad competition, fill rates and ad inventory but also remain in control of their data and consumer privacy.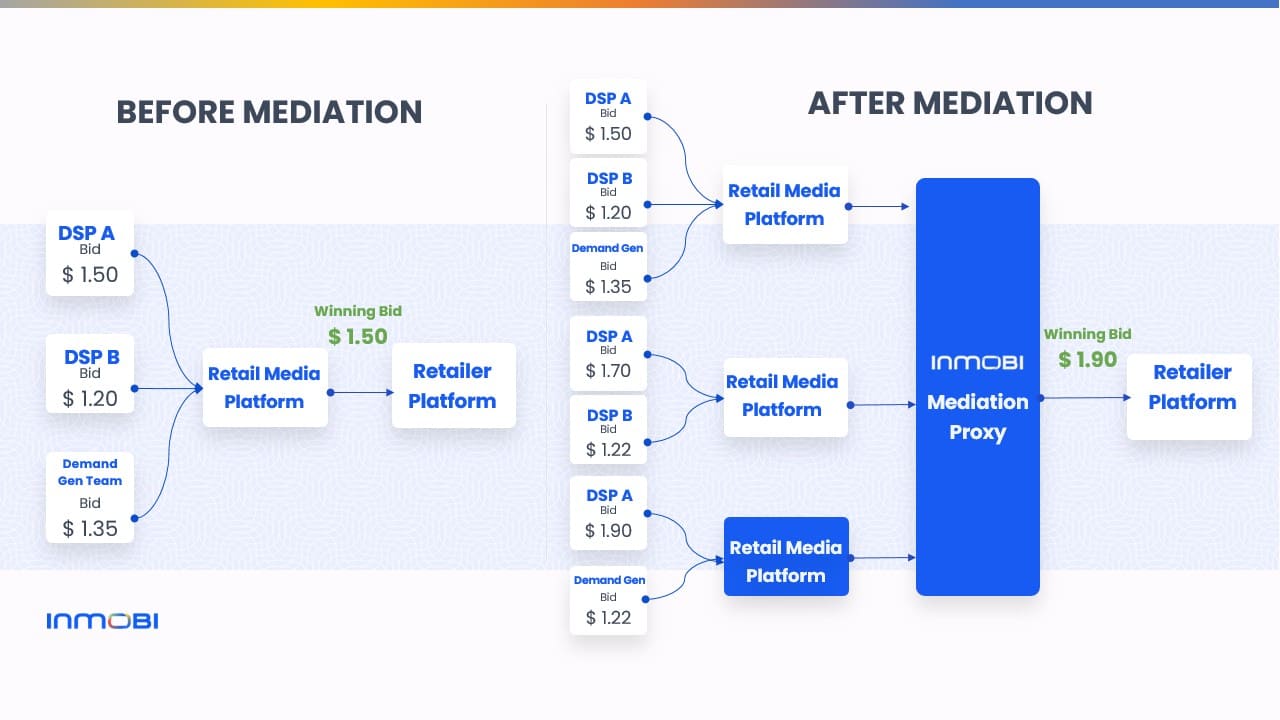 Our mediation solution delivers the following benefits to retailers: 
Increase Demand – Retailers are missing out on revenue-generating demand opportunities because working with one vendor limits the access advertisers have to your network. When retailers integrate with multiple solution providers or retail DSPs, they can increase the demand, number of ad formats offered and fill rates for their media placements.

Why is this important: It is difficult to find one vendor that can fully meet all of a retailer's demand needs. This often means there are large categories where a retailer is seeing little demand and waning fill rates. When retailers open access to more demand sources, they can drive sustained ad growth year-over-year by increasing competition and unlocking new revenue sources.


Retake  Control – Implementing a mediation solution gives control back to retailers. Not only does mediation increase demand for a retailer's ad placements and consumer access, but InMobi's mediation solution give retailers full transparency for all integrated demand sources. This allows them to be certain they are maximizing bid prices and placements and, in turn, revenue.

Why is this important: Today, when retailers work with a single supply-side platform, those platforms typically control the ad pricing and aren't always set up to provide the greatest margin to the retailer. Mediation, because of the transparency it provides, gives this power back to the retailer. 


Open Source – We provide retailers with an open source, no-code needed mediation solution. Retailers can take InMobi's code and integrate it directly into their retail media tech stack without a cumbersome implementation process. And, because the mediation code is open –source, retailers can also choose to build proprietary customizations within their own platform.

Why is this important: Our open source code enables speed to market, allowing retailers to start maximizing demand and increasing revenue sooner.


Privacy and Data Compliance – Retail data is a powerful tool. Because InMobi's code is open source, retailers retain complete control of their data alleviating fears around consumer data security and privacy.

Why is this important: Data security and privacy is a growing concern for consumers, and retail data is valuable.

Interested in learning more? Head to https://www.inmobi.com/company/contact to speak with someone from the InMobi Commerce team.