As political advertising becomes more digital than ever before this election cycle, how can these political advertisers get the best results from their online advertising political campaigns? To find out, we turned to the voters.
Using InMobi Pulse, InMobi's mobile market research solution, we polled 4,200 Americans in August and September. Questions ranged from how they would vote and how they learn about candidates and the issues, among many other topics. Through this data, we can see how adults in the United States are thinking about the 2020 presidential election (along with down-ballot campaigns at the state and local level) and how political digital advertising can be most effective between now and election day on November 3.
Based on the data, here are our top three tips:
1) Target Voters on Mobile
Overall, 44% said mobile advertising helps them learn about both presidential and local candidates. Only television ads were cited by more Americans as being helpful.
But with younger Americans, mobile advertising was even more popular than TV ads. Among those under the age of 26, while two-thirds said TV ads helped them learn about candidates, even more (71%) said mobile ads were helpful. In addition, among those between 26 and 35, 73% said mobile ads helped them learn.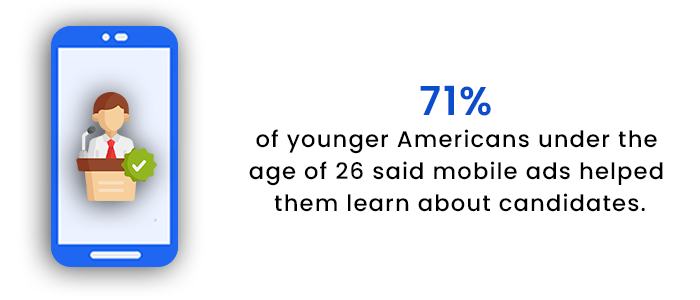 As mobile becomes more popular, it makes sense that mobile advertising becomes an even more effective way to reach potential voters. After all, Americans have been spending more time using mobile devices than they do watching television since 2019. And, close to 90% of all time spent on mobile is devoted to apps.
In addition, a lot of this app usage occurs outside of properties owned by Facebook and Google. In fact, around half of all time spent using apps is devoted to non-Walled Garden properties. With social media advertising overall and Facebook advertising in particular becoming less amenable to target political campaigning and related ad spending, this makes mobile marketing and advertising an even bigger opportunity for political campaigns.
2) Ad Campaigns Should Focus on Issues and on Educating Voters
When asked about what types of ad content would encourage them to vote in the 2020 Presidential Election, 34% said issue education and 31% said issue specific ads while 32% said candidate education. Education-specific ads were most popular among Democrats and Independents, while issue-specific ads were most popular with Republicans.
Candidate education in particular should be especially key for down-ballot races (i.e. those not running for president). Over half (57%) said they will choose a candidate for local races in the final month of the election. In comparison, 70% said they will decide who to vote for among the two major presidential candidates at least a few months out. While most people know that President Trump is running for re-election against former Vice President Biden and have opinions on those candidates, local elections have by and large received much less fanfare.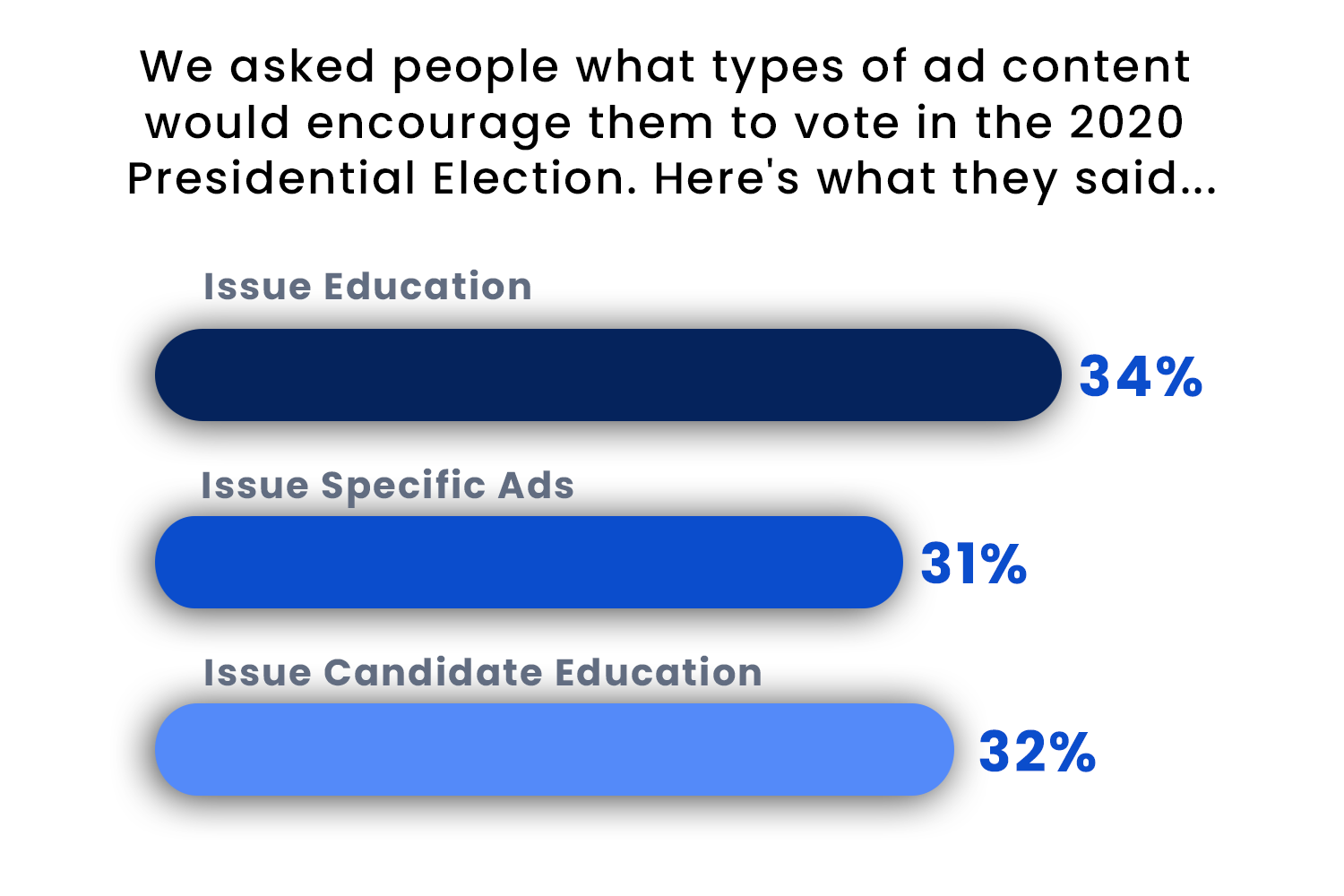 Interestingly, only 22% said ads about deadline reminders would get them to vote, while only 16% said the same thing about ads pertaining to how to vote. Among those who say they won't vote this year or are unsure whether they will or not, 32% said they were leaning this way because they were not registered. This figure was even as high as 40% for those between the ages of 36 and 45. While political advertisers may rightly be tempted to reach these undecided voters with advertising pushing them to register, our polling indicates that such a move would be unlikely to go over well.
Mobile advertising can be hugely impactful for reaching undecided voters. For starters, a quarter said they were Independents while 22% didn't say. In addition, 55% of those between 18 and 25 and close to half (48%) of those between 36 and 45 said they only sometimes, rarely or never voted for the same political party. These young, unaffiliated voters are also the ones most likely to prefer mobile political advertising.
3) For Optimal Political Ad Spending, Timing and Audience Targeting are Everything
As a result of COVID-19, many Americans will be voting from home. Among Democrats, 44% said they would be voting via a mail-in ballot or absentee ballot this year, while 37% of Independents saying the same thing. For campaigns looking to target these voters, it will be critical to reach them well before November, as they may be voting in October or even September in some instances.
Among Independents, close to half (49%) said they would determine who to vote for in local elections on a few weeks before they cast their ballot. In addition, 52% of those under the age of 26 said the same thing. For political advertisers focused on down-ballot races and causes, now is a critical time to get the word out.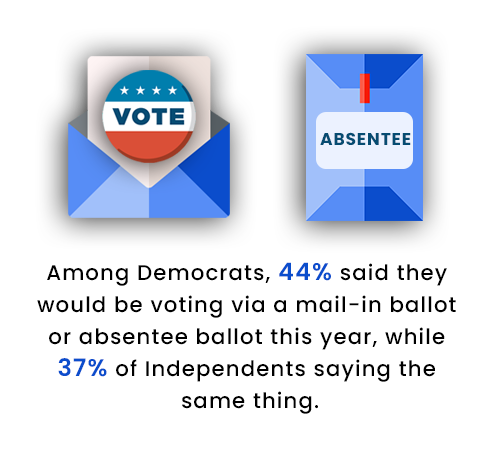 The data around how people expect to vote this year also points to why political advertisers need to be laser focused with their messaging. In an increasingly polarized political environment, advertisers have to make sure they are only talking to specific audiences. It doesn't make sense to run an ad campaign on mail-in voting when significant chunks of the population have no desire to vote that way, after all. In 2020, the key to success in political advertising will center around reaching specific audience segments with tailored messaging.
The Voter Journey Needs to Inform Political Digital Advertising Efforts
As might be expected considering the polarizing nature of the candidates on top of the ticket, turnout may be quite high in this year's election. Overall, 82% said they would be voting this year. In comparison, 63% of eligible American adults voted in 2016.
Whether they need to get out the vote among their supporters or convince undecided voters to choose them, political campaigns need to reach Americans through mobile. As app usage continues to rise, it's becoming an ideal way to educate and advertise.
Interested in launching an app-first mobile advertising campaign? Reach out today to get started with InMobi.
About the Author
Matthew Kaplan has over a decade of digital marketing experience, working to support the content goals of the world's biggest B2B and B2C brands. He is a passionate app user and evangelist, working to support diverse marketing campaigns across devices. He also previously covered politics and government for the Daily News Tribune.