Here's Your Complete Guide on All Things Mobile Video Advertising
Interested in learning more about in-app mobile video advertising? Then this guide is for you.
Why Include Video Content in Your Mobile Advertising and Marketing Strategy?

In-app video advertising is an ideal way to engage and acquire mobile users and provide them with a positive user experience. It's been proven effective, and is now one of the best mobile marketing tactics to leverage. Some food for thought from InMobi's 2019 Mobile Programmatic Advertising Trends report:
In the U.S. in Q1 2019, click-through rates (CTRs) for video ads were over 2x greater than native CTRs and over 10x greater than CTRs for banners on average.
In Q1 2019, the average CTR for a video ad in the U.S. was 3.16%. In comparison, the Interactive Advertising Bureau (IAB) had previously reported that back in the first three months of 2018, the average CTR of a video ad was 0.26%.

Video ads are also highly viewable as well, making them great for top-funnel and mid-funnel campaigns. In Q2 2019, we saw, on average, video completion rates of around 80% and viewability of 91% via private marketplace deals. In fact, during this period, InMobi's average video viewability rates were 50% higher than Moat's nationwide benchmarks and 59% than what Integral Ad Science (IAS) reported as the average rate.
For a good example of just how viewable in-app video ads can be, consider fast food chain Wendy's. They have seen in-app video ad completion rates between 80-90%, well over 25% better than their initial expectations.
2019 Mobile Video Ad Spending Figures

The effectiveness of video ads within mobile apps helps to explain while it's now one of the most popular digital marketing tactics being leveraged by advertising and marketers today.
Between 2017 and 2018, programmatic video ad spending grew 47% in the U.S. In Q1 2019, video ad spending in the U.S. was up 181% compared to Q1 2018.
These figures correspond to what eMarketer has found as well. In 2019, they predict mobile video ad spending will reach almost $16 billion by the end of 2019 and almost $25 billion by 2022 in the U.S. alone. Over 17% of all media budgets devoted to mobile devices now goes to video.
Mobile Video Consumption and App Usage Trends 2019
This growth in mobile video advertising corresponds to larger trends in video consumption on mobile devices overall. Increasingly, people have no problem at all viewing video content on a smaller screen.
Using our carrier-verified, high-quality data, we found that between June 2018 and July 2019, net new installs of the five biggest paid streaming video apps (Amazon Prime Video, HBO, Hulu, Netflix and Starz) increased by over 400%. By 2019, close to 188 million Americans will watch video on their smartphones, eMarketer has predicted.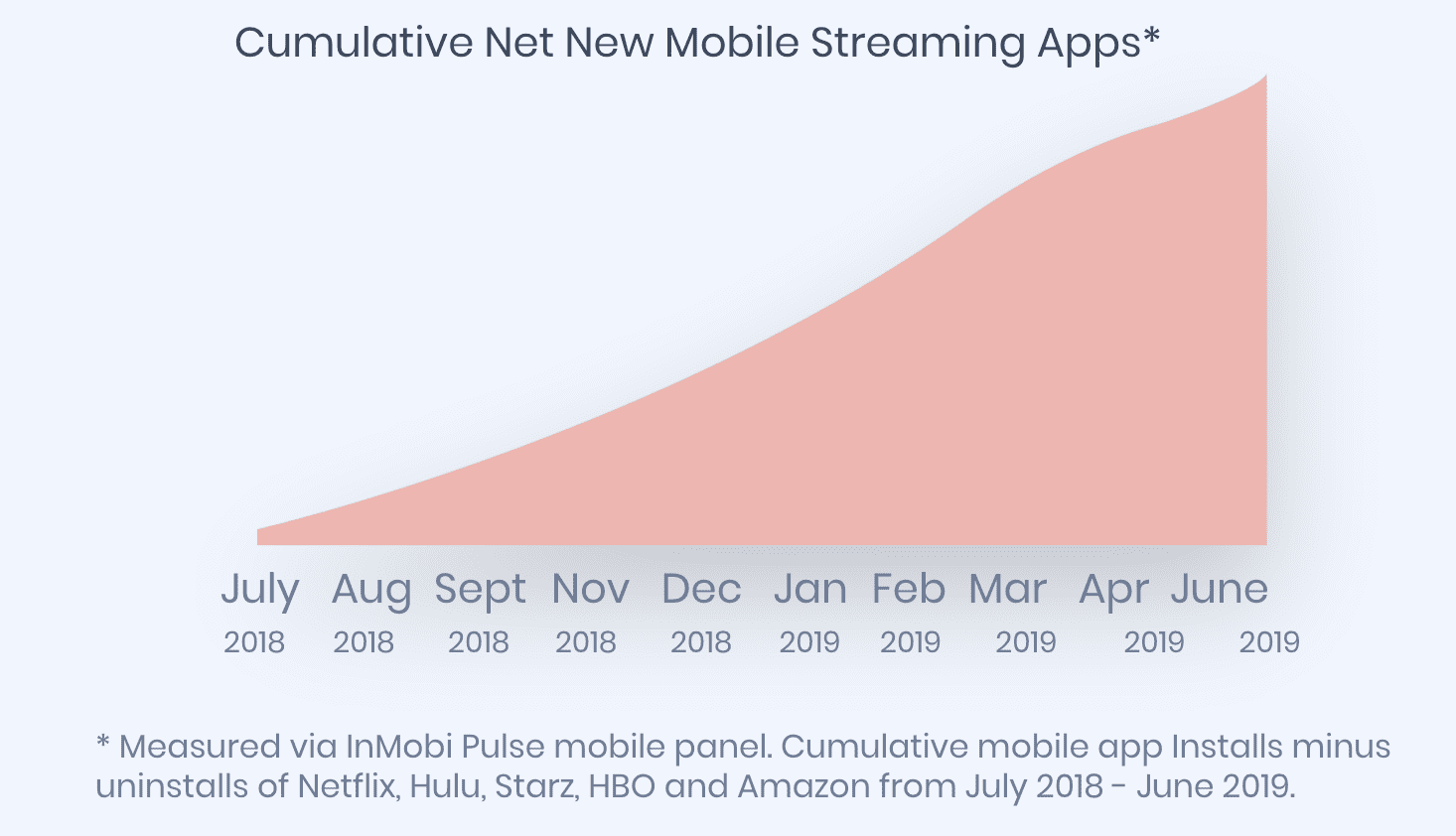 Parallel to the growth of video viewing on mobile is the increase in app usage overall. According to eMarketer, U.S. adults will spend close to three hours a day using mobile devices this year, with around 87% of that time devoted to apps.
In-App Video Ad Formats to Consider
Mobile video advertising may be uniformly effective and popular, but not all in-app video ad formats are the same. Here's what you need to know about formats and creatives:
Whenever possible, opt for vertical video. While it can be tempting to take the horizontally-oriented ads being used for television and just port them over to mobile, that doesn't always provide an ideal user experience. According to a study conducted by UX/UI expert Tristan Denyer, 60% of people typically hold their phones vertically, while only 11% often hold it horizontally.
Consider using fullscreen creatives when available. Since they provide 100% share of voice, they're highly memorable and can help you avoid brand safety issues.
Keep video ads for mobile as short as possible. Attention spans are shorter on mobile than they are with TV, so it's critical to keep creatives short and sweet. This is why 70% of served video ad impressions in the U.S. via InMobi Exchange are 20 seconds or less.
To follow up on the above point, consider trying out six-second ads. While these are commonly associated with pre-roll and post-roll ads on YouTube and social media, they're useful beyond that as well. Around 10% of video ads served by InMobi Exchange are six seconds or less today, although that will likely significantly grow in 2020.
Add interactivity and mobile-first capabilities to your video ad creatives. In particular, adding rich media end cards can be highly effective at driving someone to a form fill page or a mobile website where they can make a purchase. Also, many advertisers feature interactive maps at the end of a video ad that shows someone where the closest store or other high-interest physical location is to them at that moment.
Use VAST instead of VPAID. Not only is VAST now the industry-accepted standard for mobile video advertising, but it provides an improved user experience by pre-loading video creatives. This ensures that the video doesn't need to buffer and can just seamlessly play as soon as the end user is ready.
Finding the Right Video Partners
When running mobile video ad campaigns, make sure you have the right team in place for support. Lots of demand-side platforms, ad networks, attribution partners and so forth may claim to be video experts, but don't take them at their word. Be sure to do your due diligence and figure out who precisely has the expertise, experience and technical acumen you need to make the most out of mobile video advertising.
Interested in learning more about mobile video advertising? Check out these blog posts for further insights: