With mobile becoming the most preferred, consumed, and adopted medium for users worldwide, marketers took huge strides in connecting, reaching, engaging, and acquiring consumers on smartphones. Honoring mobile excellence for the ninth time this year, MOB-EX rewarded the most innovative and forward-thinking mobile marketers across Southeast Asia, South Asia, and Oceania. While it was a tremendous opportunity to revisit the impact mobile has driven this year, we at InMobi are truly privileged to have won the category - ''MOB-EX Best of the show" alongside our partners Mindshare and Unilever. InMobi's work has struck a chord, winning awards across eleven different categories as we proudly brought them home.
Success Story #1 Lifebuoy
Campaign: Lifebuoy arms Indonesians against COVID with the power of real-time data
Soap handwashing has never been more important than during the pandemic. When Lifebuoy identified that 2 out of 3 Indonesians washed hands with water and no soap, the brand decided to pitch in to launch an awareness campaign. Lifebuoy ran a survey on InMobi Pulse across six regions in Indonesia to understand the evolving behaviour of consumers and precautionary measures they take week-on-week. Apart from this claimed behaviour by Indonesians, the brand also considered observed behaviour by working with InMobi's Audience Intelligence Platform to evaluate footfall in leisure destinations across each province.
By combining these sources of truth, Lifebuoy arrived at the C.A.R.E Preparedness Score based on active surveys which helped understand individual habits, and passive date which helped understand group behaviour to form insights that are uniquely available only on InMobi's platforms.
Based on the C.A.R.E score, Lifebuoy evaluated the user behavior to tailor video communication on social distancing, handwashing, and overall COVID preparedness. This Personalized Service Announcement influenced Indonesians to make COVID-preventive measures second nature in their daily lives. As a result, the brand reached 6.8 million users with 72 different ad creatives and recorded 14.1 million video views

To get a glimpse of this award-winning campaign, click here.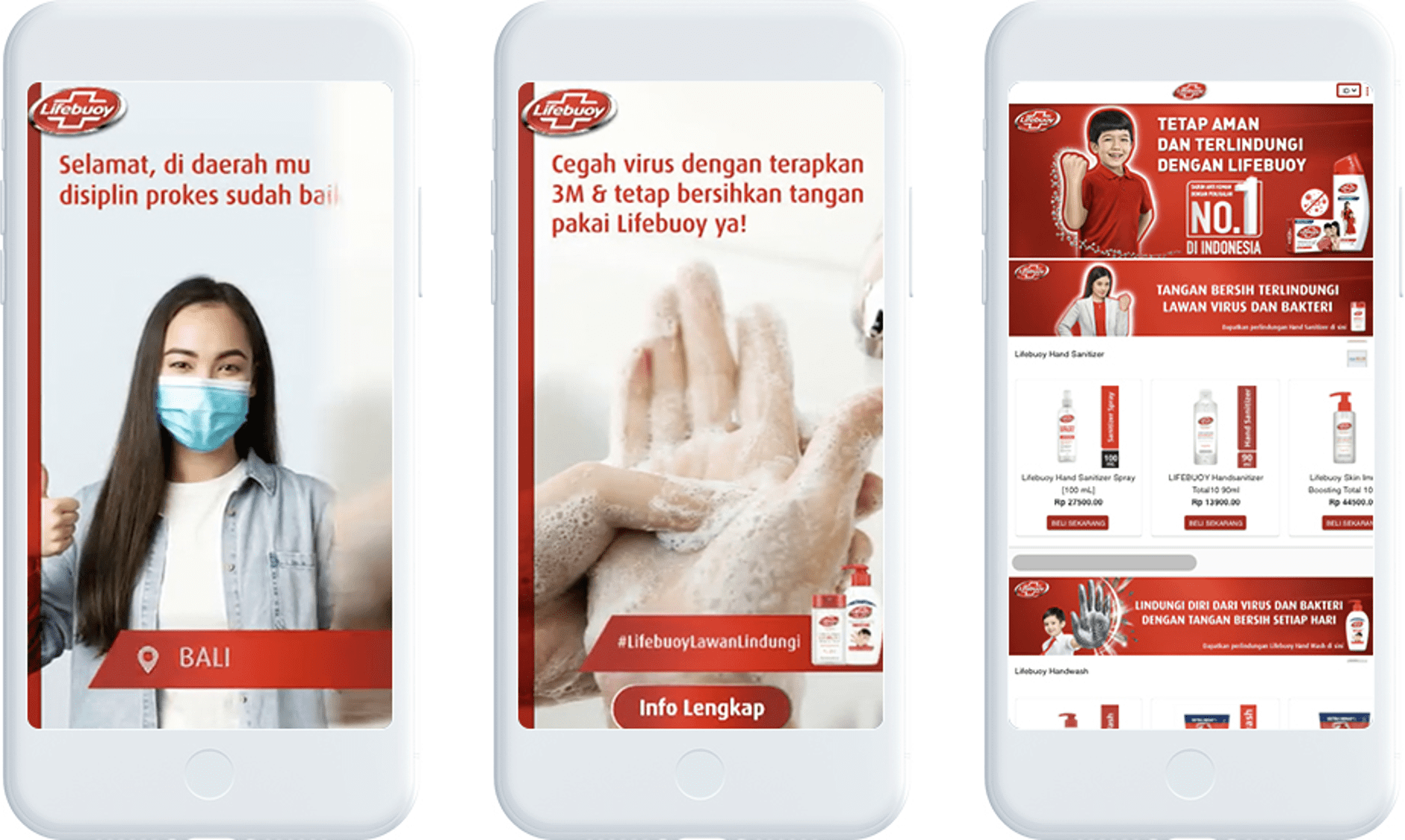 Lifebuoy Wins
Category 1: Best Direct to Consumer Campaign, Gold
Category 2: Best Insights Driven Mobile Campaign, Gold
Category 3: Best Location-based Marketing, Gold
Category 4: Best Results Driven Mobile Campaign, Gold
Category 5: Best COVID-19 Response, Silver
Category 6: Most Innovative Use of Mobile Technology, Bronze

Success Story # 2 L'Oréal
Campaign: L'Oreal helps Indonesians #StandUp against Street Harassment with Mobile
L'Oréal Paris launched the #StandUp campaign in partnership with Hollaback Jakarta. The objective was to increase awareness about street harassment in Indonesia and help victims and witnesses combat the problem by educating them with an effective campaign. L'Oréal created a thought-provoking, interactive ad unit with video ads encouraging victims to #StandUp and bystanders to act and encouraging them to enroll in the training program. As a result, the brand reached 1.9 million unique users, driving 10,000 sign-ups for the training program.

To get a glimpse of this award-winning campaign, click here.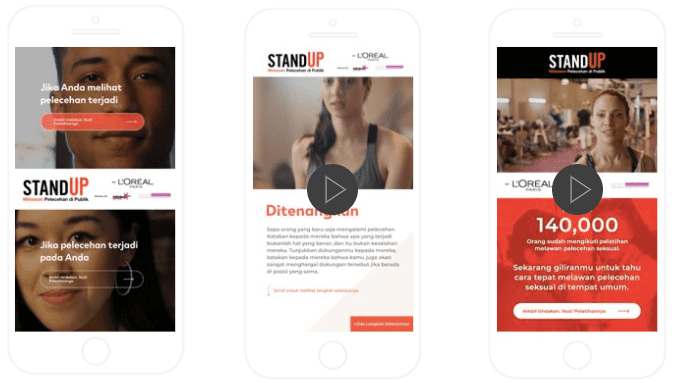 L'Oreal Wins

Category 1: Best Use of Mobile Integration, Gold
Category 2: Best Use of Video, Gold

Success Story #3 Pepsodent
Campaign: Pepsodent: Bringing Offline Dental Care to Users on Mobile
Pepsodent helps raise awareness about oral hygiene through a series of events such as School Programs, World Oral Health Day, National Oral Health Month, and many others. Amidst the wake of the pandemic, in accordance with the NOHM and PDGI guidelines, the offline event had to be scaled online, as consumers feared the spread of the virus with oral consultation. With the growing mobile consumption in SEA, Pepsodent scaled the campaign offline to online by identifying moms in Indonesia and delivering 17 different video ads in 17 different cities. The brand then launched an interactive ad unit with a questionnaire that understood the dental concerns of the ad viewers to recommend the most suited toothpaste. As a result, the brand reached 3.5 million users in Indonesia, driving 2.7X higher engagement in just a month.
To get a glimpse of this award-winning campaign, click here.

Pepsodent Win
Category: Best Campaign Pivot, Bronze
To view the complete list of 2021 winners, visit the MOB-EX Awards 2021 page, click here.