This is a guest post brought to you by InMobi in collaboration with MoEngage

In 2020, over 40 million people in six countries across Southeast Asia - Indonesia, Singapore, Malaysia, the Philippines, Thailand, and Vietnam, came online for the first time. This trend led to Southeast Asia becoming one of the world's fastest-growing internet markets containing, arguably, the largest number of digitally engaged users.
The Covid-19 pandemic was the biggest driver of rapid digital adoption by consumers across Southeast Asia, much of which is here to stay. Observing this trend, businesses across industries like E-commerce, Retail, Banking, Financial Services, Digital Entertainment (OTT), and Gaming have placed customer-centricity at the forefront of their business communication for the year 2021.
In this article, you'll get the latest Customer Engagement benchmarks and trends from Southeast Asia, and learn how your business communication can be more customer-centric.
Banking and Fintech adoption is on the rise
In Southeast Asia, the number of Daily Active Users of Online Banking, Fintech, P2P lending, Insurance, and Crypto brands has increased by 54.29% from January 2021. There's been an increase of 50.07% in DAUs on Android devices and a 48.16% increase in DAUs on iOS devices.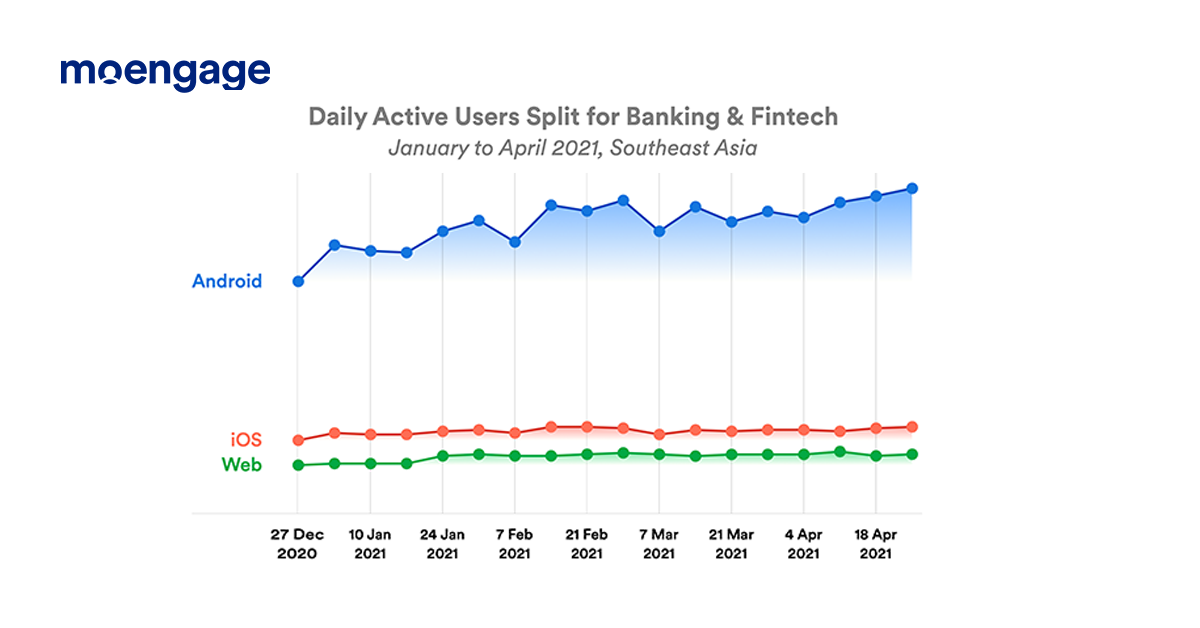 Banking and Fintech customers react positively and find value in in-app communication from brands. In-app messages get more than 23% click-through rates (CTRs) on Android and iOS devices and conversion rates as high as 27%.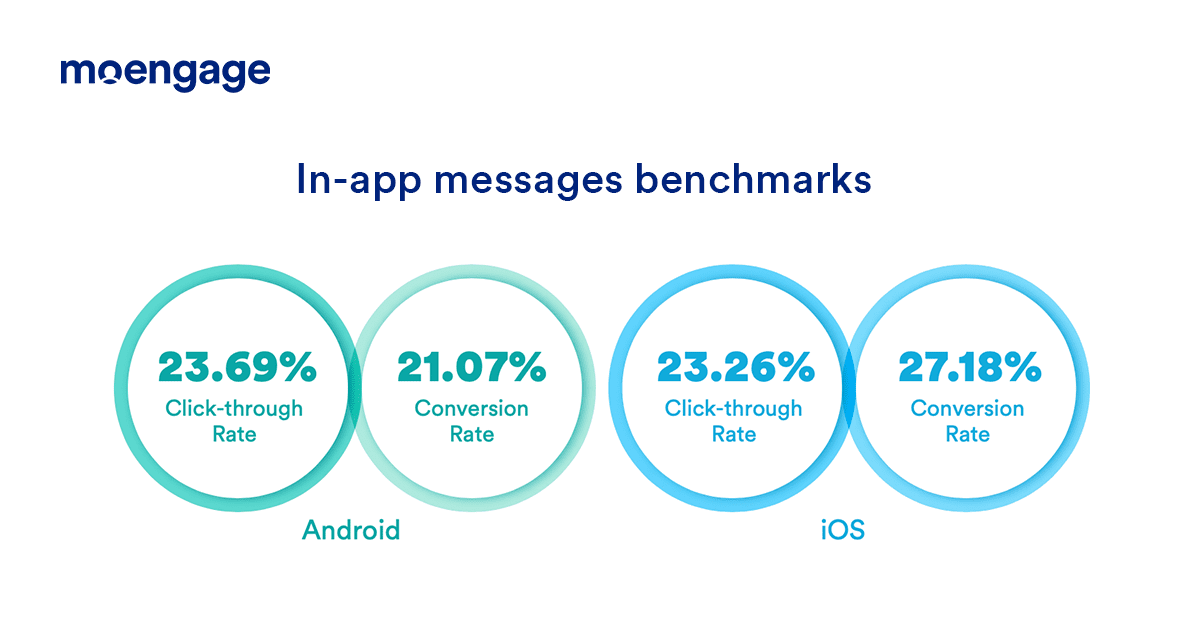 When it comes to in-app communication, a behavior-based approach has been shown to improve both CTRs and conversion rates for brands in this vertical. CTRs on Android devices go up to 25.30% and up to 32.24% on iOS devices, and similarly, conversions on Android devices reach as high as 21.36% and 34.52% on iOS devices.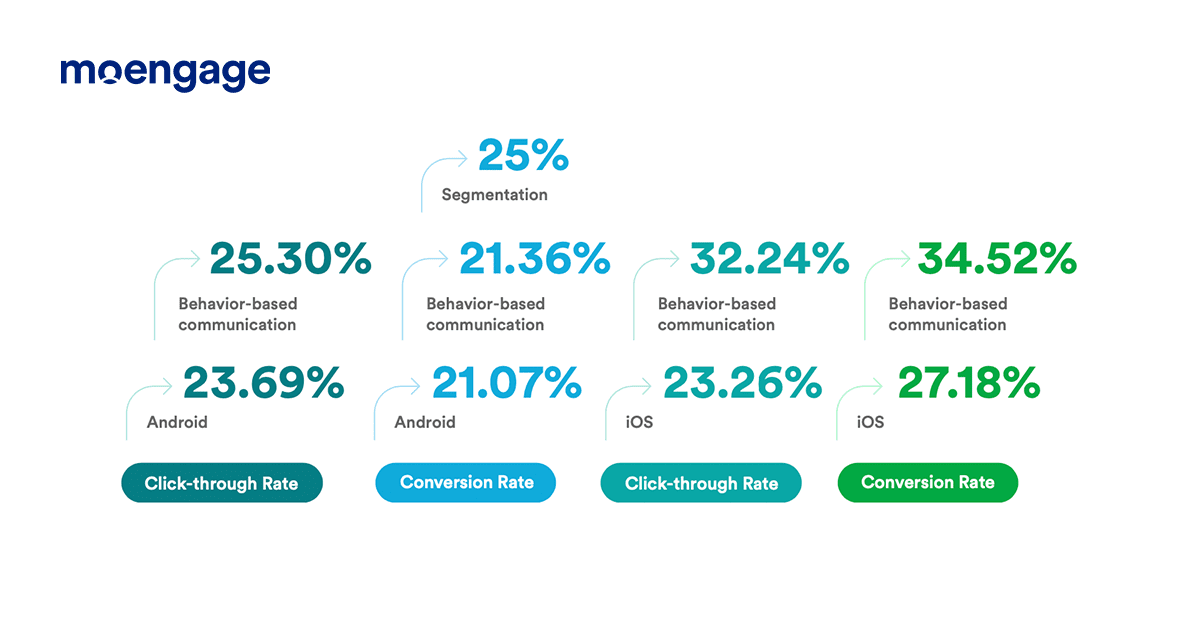 Clearly, Banking and Fintech customers are more responsive to having relevant information displayed to them when browsing your mobile apps.
Digital Entertainment is leaning towards Mobile Apps
The Monthly Active Users of Audio streaming, Video streaming, Gaming, Sports, and News brands saw an overall increase of 80.55% in Southeast Asia in 2021. Android devices saw an increase of 26.15% in MAUs while there was an increase of 14.15% in MAUs on iOS devices in the Media & Entertainment vertical.
Mobile users engage highly with in-app communications. The CTRs on in-app interstitials and conversion rates have reached as high as 34.59% and 20.89% respectively on Android devices.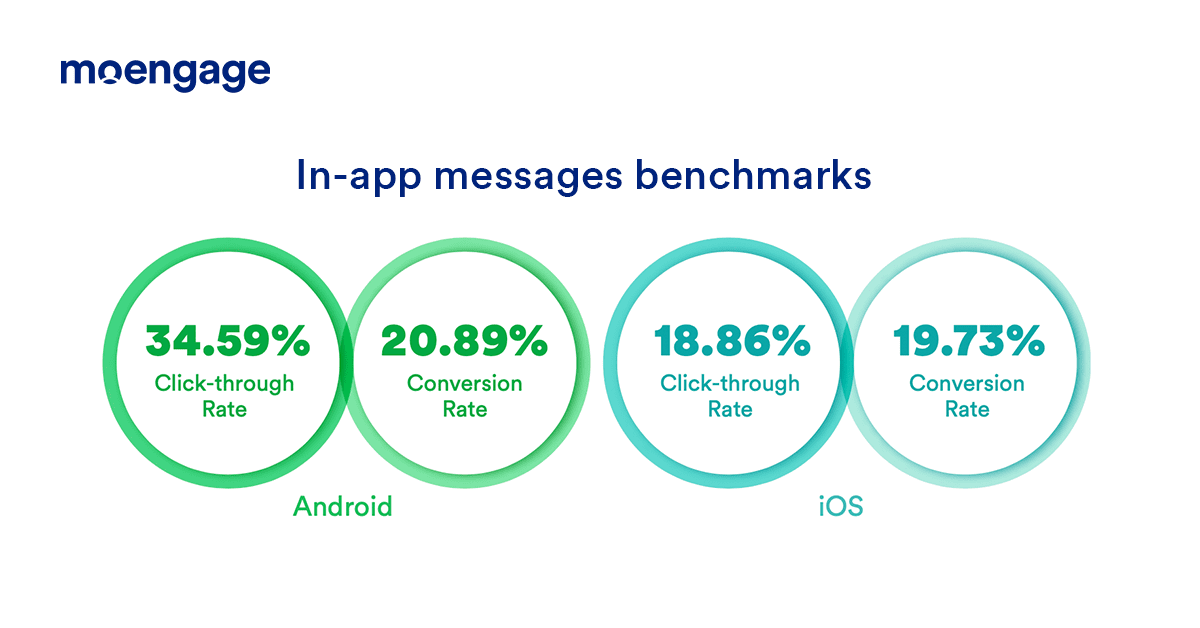 When brands in this vertical customized in-app messages based on user behavior, they witnessed CTRs on Android devices increase to 56% and on iOS devices go up to 29.41%! Even the conversion rates of in-app engagement sent based on user behavior improved to 21.81% on Android and 28.16% on iOS devices.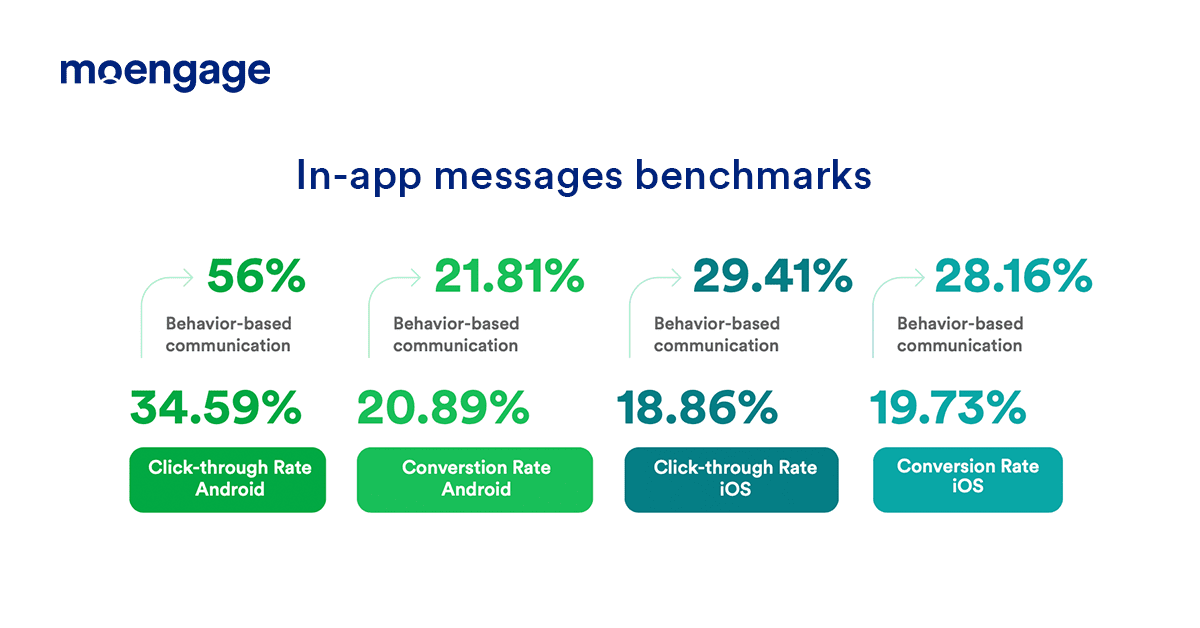 Online shoppers expect more personalized engagement from brands
In Southeast Asia, the number of Daily Active Users of E-commerce, Retail, and D2C brands has increased by 13.36% from January 2021. There's been an increase of 24.98% in website DAUs, a 19.59% increase in DAUs on iOS devices, and a 6.45% increase in DAUs on Android devices.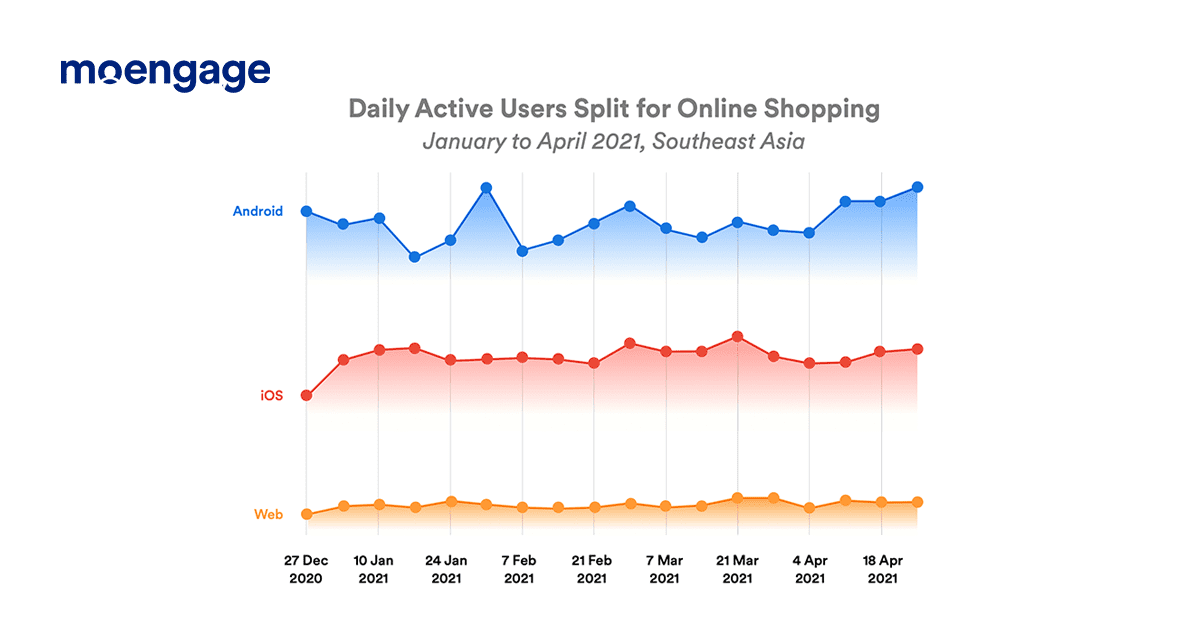 Mobile plays a big role in the modern shopping journey. Online shoppers continue to interact with personalized communications and rely on brands to send them relevant product recommendations.
Push notifications sent to shoppers by brands in this vertical have seen a 62.38% Delivery Rate%, 4.67% CTR, and 22.27% Conversion Rate on average. However, when shopping brands added layers of personalization in their communication strategy, the deliverability shot up to 85.67% and CTR reached as high as 7.03%!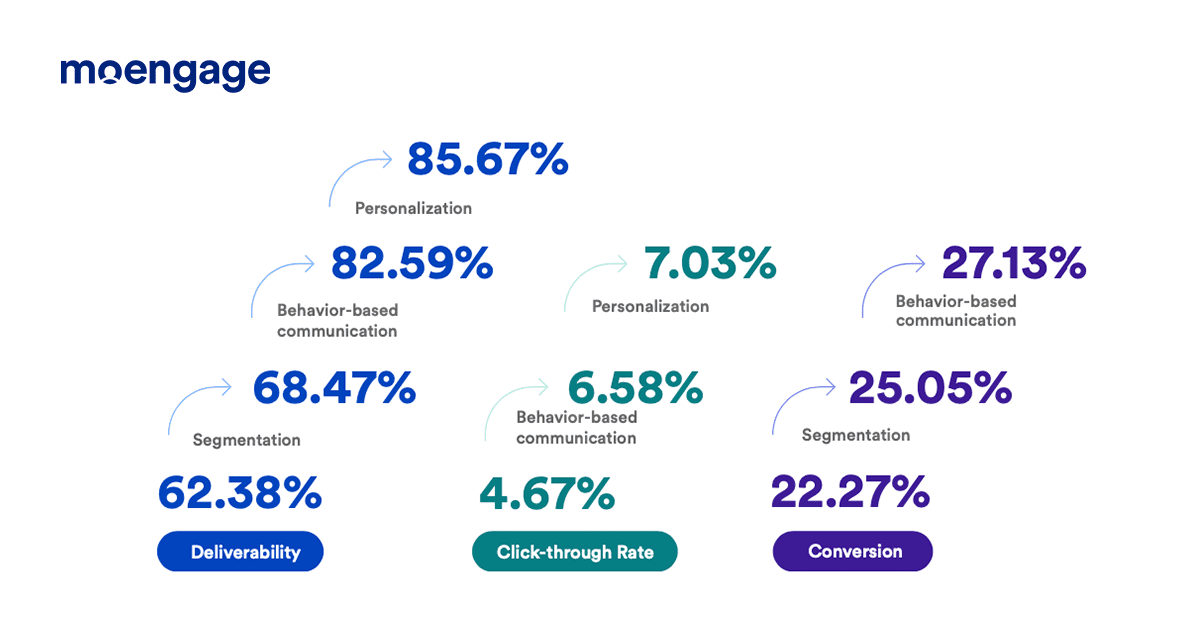 Moreover, when shoppers received personalized communications based on attributes such as location and first name, the conversions reached an all-time high – 39.73% on Android devices and 30.17% on iOS devices!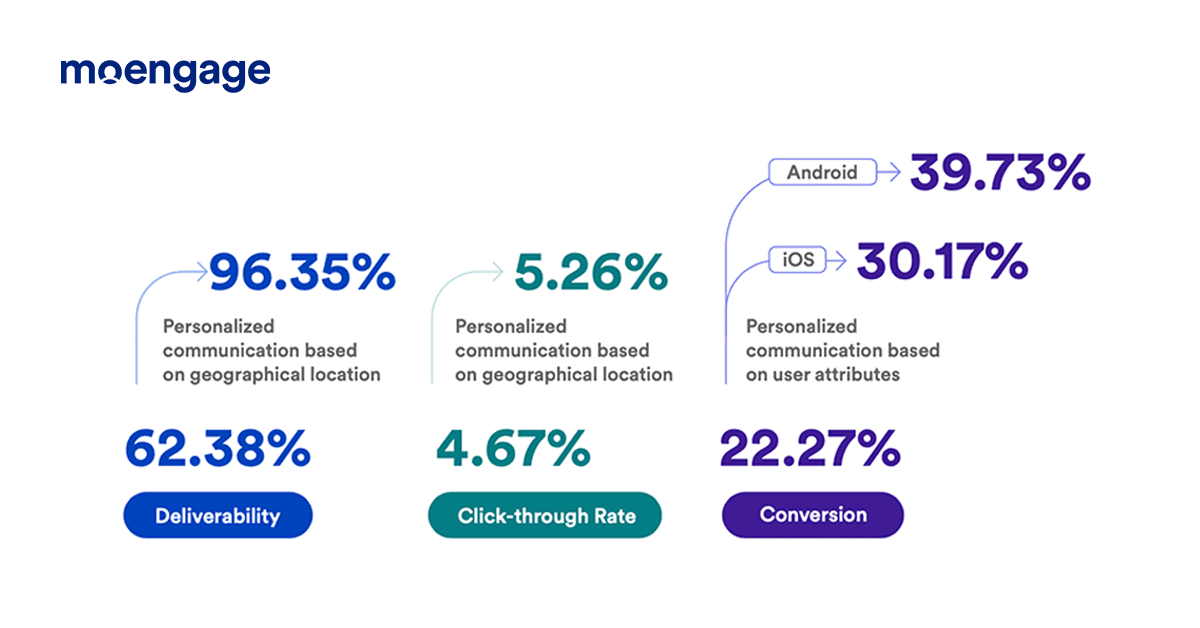 What is the primary takeaway for consumer brands?
The latest customer engagement benchmarks show that the only way your brand can move forward in 2021 is by cracking customer-centricity. The key to unlocking the true state of customer-centricity lies in personalized communication that adds value to your customers. The data in this article proves that behavior-based communication is relevant to digital consumers as they find it valuable and less spammy.
More and more digital consumers in Southeast Asia expect brands to deliver relevant recommendations, timely reminders, and valuable offers right to their fingertips. Unlike 'spray and pray,' an insights-led approach to Customer Engagement meets these expectations and accelerates growth in key business areas like Retention and Monetization.
Guest Blog by Pulkit Jain, MoEngage

Pulkit drives growth through content at MoEngage. His experience as a B2B marketer comes fueled with a passion for user-centricity, affinity for data, and a love for technology, movies, comics, and gaming.