With the 2020 U.S. election largely now in the books (barring recounts, runoffs and court cases, of course), what role did mobile and apps play in how consumers following the news, coped with stress and stayed on top of current events before and after Election Day? That's what we wanted to find out. By taking a look at mobile app habits and install trends around November 3, 2020, we can see what Americans were doing during this momentous period.
Using Apps to Follow Election Results
Perhaps unsurprisingly, Americans were increasingly downloading news apps during the first four days of November, with a notable spike across the board on Election Day itself. This is hardly surprising, as many people wanted to make sure they had all of the right data and analysis ready once initial results were being reported on and after November 3.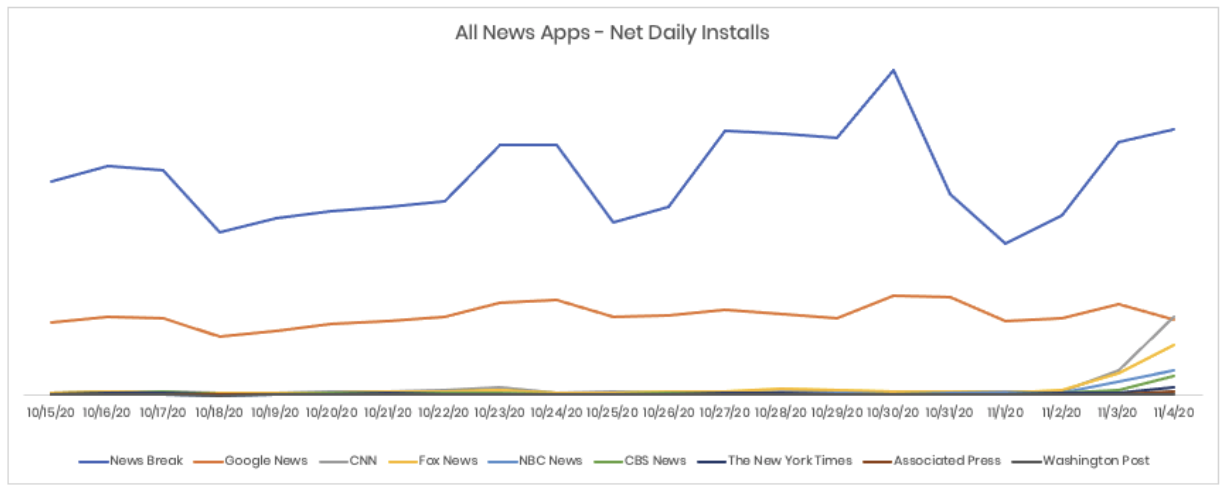 The news apps that saw the biggest spikes on Election Day were owned by the major television news networks: NBC News, CNN, Fox News and CBS News. In fact, net installs of the NBC News app were over 610% greater on November 3 compared to November 2.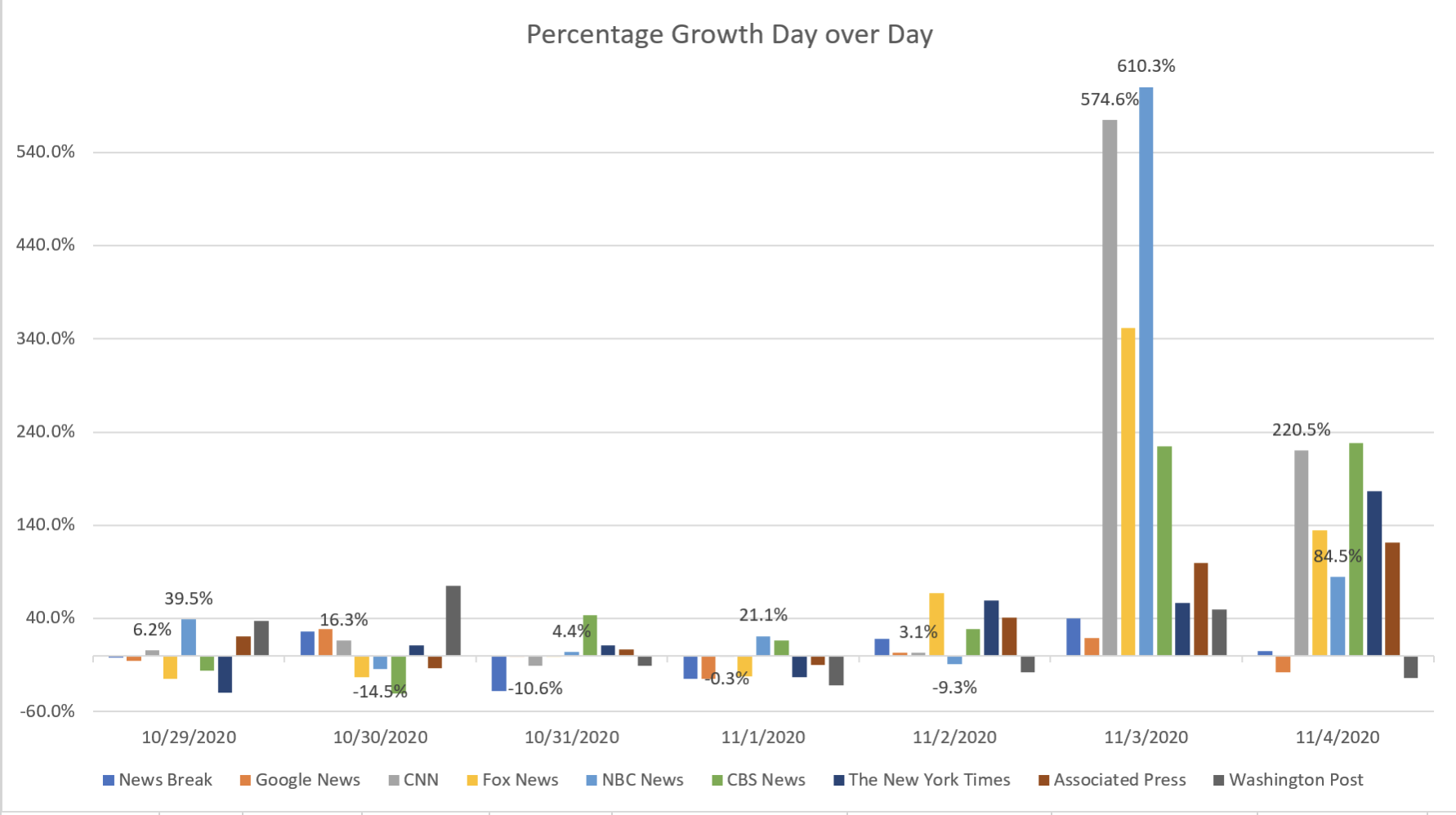 We also wanted to see if Americans were turning to meditation and mindfulness apps during and after Election Day to cope with stress around the election. But, between Calm, Headspace and Insight Timer, only Calm saw significant growth in net daily app installs during the first few days of November. Day-over-day net installs of the Calm app were up over 36% on November 3 and up over 37% on November 4, likely as a result of their co-sponsorship of CNN's election coverage.

Perhaps somewhat surprisingly, daily net installs of alcohol delivery app Drizly were mostly flat around Election Day. Many rideshare and delivery apps, however, did see a small uptick in net daily app installs, although this growth could be either because Proposition 22 passed in California or due to the promotions that Uber and Lyft were providing around rides to polling places.

So-called "free speech" social media apps that cater to Right-leaning audiences, however, did see a lot of growth immediately following Election Day. Between November 3 and November 4, net installs of the NewsMax app climbed 802%, while daily installs of the app Parler jumped up over 350% between November 5 and November 6.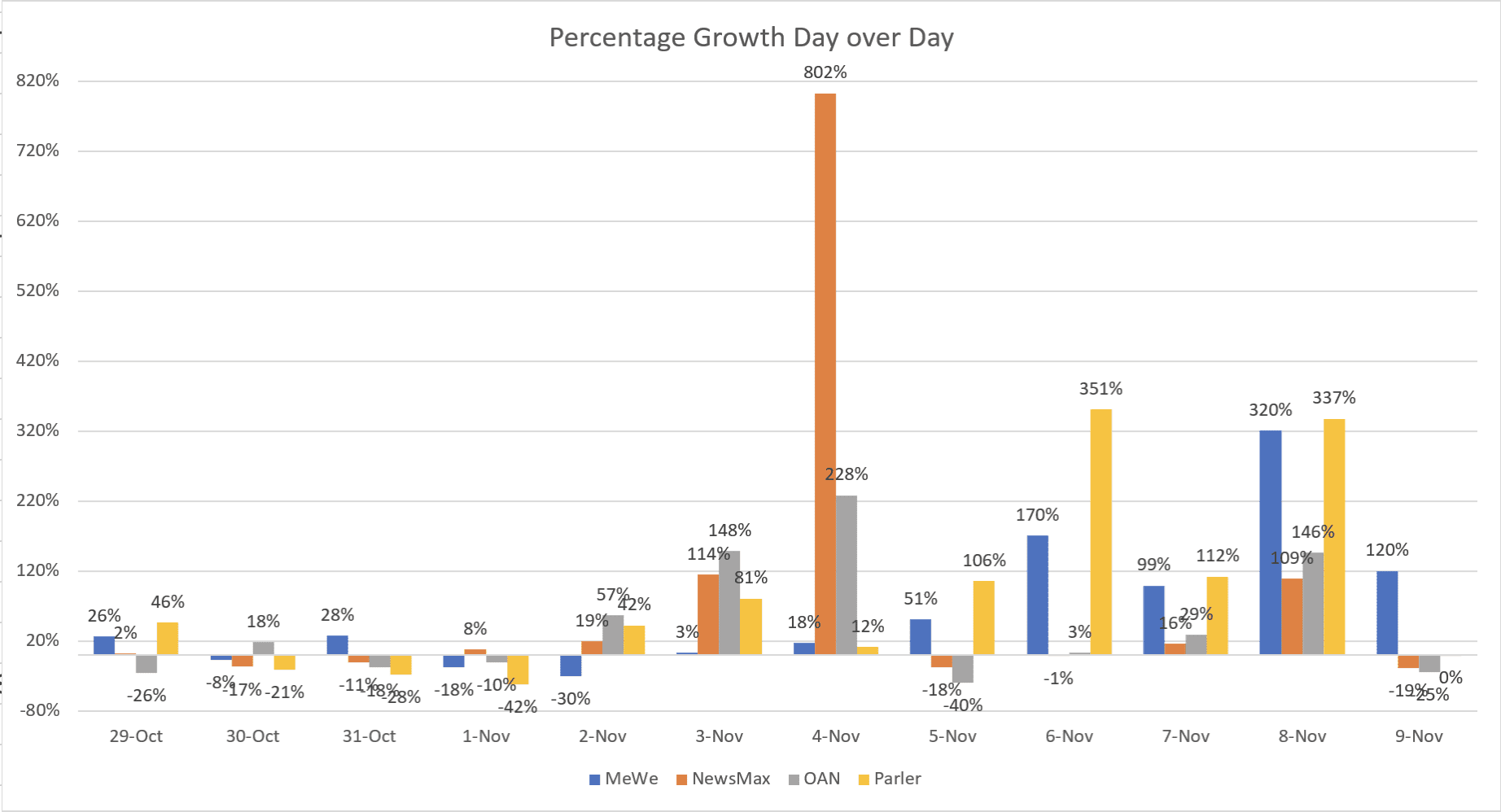 In comparison, more established social media platform saw either more muted growth or a decrease in net daily app installs immediately following Election Day. For example, between November 3 and November 4, while daily installs of Twitter's app were up 43%, net daily app installs for Instagram were down 6%.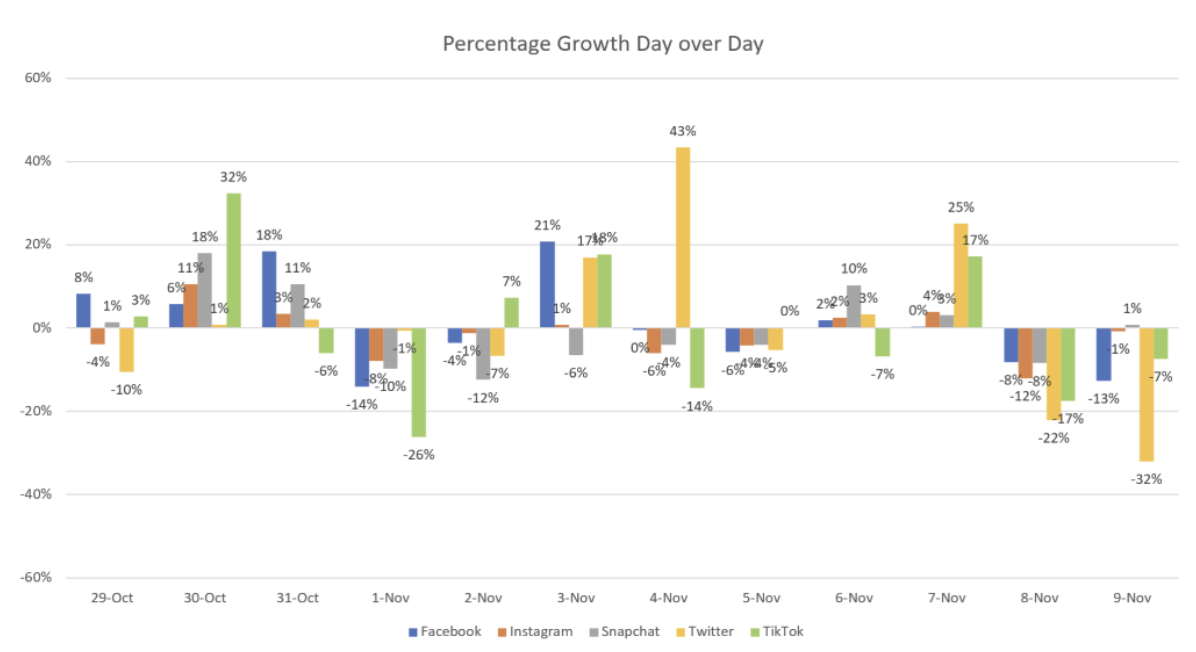 While the growth figures for the more mainstream social media apps are lower overall, net daily installs is higher for the most part. During and after Election Day, only Parler notched more net daily installs than apps like Instagram and TikTok.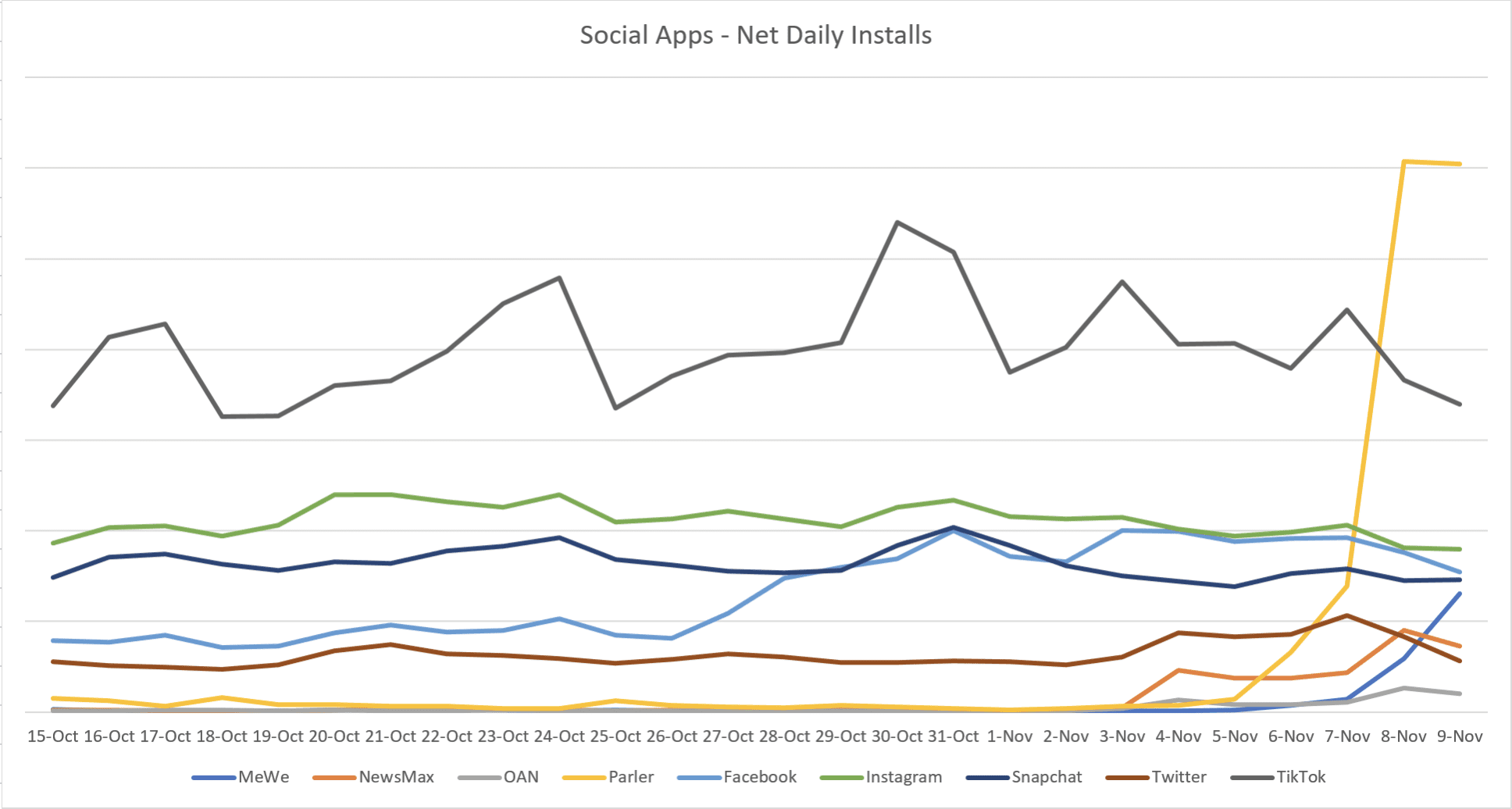 Using Apps to Reach Potential Voters
Even in the leadup to Election Day, mobile apps played a key role in informing voters about the issues and candidates. InMobi's work with Local Voices in 2020 is a great example of this.
Starting in October, Local Voices, a small super PAC dedicated to increasing voter turnout and promoting the concerns of citizens across the country, began partnering with InMobi to run an innovative vertical video advertising campaign featuring leading TikTok creators during the 2020 presidential election.
Local Voices wanted to reach younger men and women between the ages of 18 and 40 who lived in targeted states like Georgia, Pennsylvania, Texas, Florida, Iowa, North Carolina, Wisconsin, Michigan and Ohio. The goal of the campaign was to encourage target individuals to vote and to advocate for specific causes. InMobi helped Local Voices to reach their target audiences through the apps they use the most, primarily mobile gaming apps.
During the first few days of their campaign, the average video ad completion rate was over 97% - a figure far higher than what Local Voices saw from the major social media networks they worked with. Between Oct. 15 and Oct. 20, their vertical video ads garnered over 630,000 impressions and were viewed to completion over 610,000 times. In addition, the ads generated over 3,600 ad clicks during the same period.
Did App Usage Predict Voting Patterns?
Back in August, InMobi reviewed the most common mobile apps in both big swing states and in major cities across the U.S. We wanted to see if the apps used in a particular city or state could predict how those locations would vote in the 2020 presidential election. So how did we do?
In terms of swing states, we were 100% correct. Back in August, we predicted that Florida would vote Republican while Arizona, Michigan, Pennsylvania and Wisconsin would vote Democratic. While the results are being contested in just about all of these places, the first official tallies align with these predictions.
About the Author
Matthew Kaplan has over a decade of digital marketing experience, working to support the content goals of the world's biggest B2B and B2C brands. He is a passionate app user and evangelist, working to support diverse marketing campaigns across devices. He also previously covered politics and government for the Daily News Tribune.