Dharak embarked on his InMobi journey in 2017 and in this conversation, he takes us through the last 6 years spent here. Dharak also shares how he experiences the company values in his #LifeAtInMobi.
Tell us about your role at InMobi
As Director for Performance Sales and Strategy, my role is focused on building and managing the performance sales teams and customer success management teams for the growth and expansion of our business in North America.
Walk us through your journey at InMobi
I joined the team in San Francisco back in 2017 as a Senior Account Strategist under the performance delivery team. Back then, the organization was at a nascent stage in the region and my role came with a lot more than what can be picked by the job title. I was playing the role of an account manager and a trader along with campaign management and business intelligence.
From that, we soon decoupled the role to break it down and I continued my journey on the account management front. I also grew from being an individual contributor to managing a small team and then eventually managing the entire West Coast account management team in North America. While building the team and focusing on the revenue from there, I parallelly started getting involved with the customers and working with sales more actively.
In 2021, I decided to make a complete shift from account management to sales and started that journey again as an Individual contributor before I started building my team in that role. As recently as last month is when I started leading both sales and customer services network, which has been a homecoming of sorts into the account management domain, but after a complete circle of growth to now being a leader.
It has been incredible putting my expertise in the domain of performance marketing while being able to explore different roles and responsibilities, being able to zoom in and zoom out, and progressing vertically as well as horizontally.
What do you enjoy and find motivating about being at InMobi?
It's been close to 6 years for me at InMobi now and I cannot bring that down to any one particular reason. It is a combination of a lot of things that makes InMobi an enjoyable place for me to be at. First and foremost is the challenging and innovative environment. InMobi in North America is a challenger, which involves the need to hustle and constantly do the best in terms of performance and growth. And where there are challenges, there are opportunities too. Overcoming these challenges results not just in the growth of the company but also in the growth of the individuals.
Another factor is InMobi's innovation history and the fact that it continues to go forward with that same mindset. We have seen InMobi being the first to market with a lot of our products and offerings across regions and that's something which makes me feel pretty great to be a part of the company. Not to mention the pride that comes with being with an Indian unicorn that has made it big in so many different markets and made a name for itself globally.
Lastly, it is the vision of the leadership that transcends effortlessly. I see my personal values aligned with the company's visions and that really adds value and merit to whatever I do here.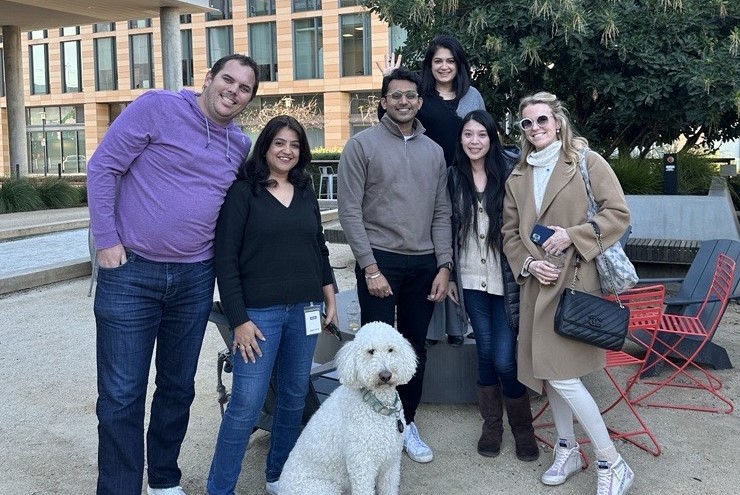 Which InMobi value resonates the most with you?
I believe that InMobi values are such that we get to embody and live by them all at different times, situations, and phases. I might not be experiencing them all at once but I definitely live by each of them at different times. They are also intertwined in such a way that they form one cohesive way of being.
I may not necessarily be thinking big when I am solving a very operational problem at hand, but at the same time, the larger goal is to always think big. Being passionate is absolutely necessary if you want to excel at anything, be it professionally or even in your personal life. Being fanatically driven, but in the right direction with a clear vision is also equally important, all this while enjoying freedom with responsibility is very important. That's how all our four values co-exist for me.
Tips for aspiring InMobians
Be ambitious about your work and be willing to work hard and go the extra mile. You will experience immense freedom and autonomy at InMobi, so I would recommend staying prepared for taking ownership and use this as an opportunity to take initiative. Don't look for solutions only but also for sources of problems and areas for improvement. Most importantly, see the process through.
What do you enjoy in life outside of work?
I often come across as a very intense and serious person when it comes to work, which might also be true, but it's the complete opposite when it comes to my personal life. I like to keep myself engaged in physical activities and live an active life. Trekking is one activity that I thoroughly enjoy and have also covered multiple base camps in the Himalayan region in India over the years. On a more regular basis, boxing is an activity that helps me destress or just relax. It's something that I picked up a couple of years ago and now I club it with my regular workout. Traveling is also something that I enjoy during my time off. Having traveled significantly over the years, I have come to enjoy traveling not just as a holiday, but as an appreciation for different cultures and gathering perspectives.
Watch the video to find out all that Dharak has to say about his growth journey at InMobi.
Explore opportunities on our careers page and accelerate your journey of growth with InMobi.