With the public release of iOS 16.1, Apple dropped a highly anticipated update to its privacy-preserving advertising attribution framework, SKAdNetwork (SKAN) 4.0. Its debut comes with a number of welcome changes announced during Apple's Worldwide Developer Conference (WWDC) in June '22, as well as a few new surprises.
Here's a breakdown of the highlights and what it all means for the iOS performance advertising ecosystem.
SKAN 4.0 Went Fully Live With All Announced Features
Apple shut down skeptics by delivering all the notable enhancements promised when SKAN 4.0 was first revealed in full well before the end of 2022. InMobi covered these in more detail shortly after SKAN 4.0 was announced, and here's a quick recap of the expected improvements now available:
Fixed conversion windows of 0-2, 3-7, and 8-35 days rather than a rolling timer:
One of the most confounding mechanisms included in earlier versions of SKAN is the rolling 24-hour timer that resets each time a user completes one of up to 63 conversion events, meaning any insight into the most highly engaged users acquired as a result of a campaign can be delayed up to 65 days. Now, let the collective rejoicing begin as the rolling clock is replaced by three static windows of time that will allow for much more predictable delivery of campaign insights aligned to key stages of the post-install customer journey.
Track up to three distinct conversion events instead of just one
As a companion to the three new fixed conversion windows, SKAN will also send up to three attribution postbacks. This gives app growth marketers notably better insight into the post-install customer journey, which in turn provides a clearer understanding of return-on-ad-spend (ROAS) and richer, more frequent signals for improving campaign optimization. A winning ad network is eligible to receive all 3 postbacks, and up to 5 non-winning ad networks are eligible to receive the first postback.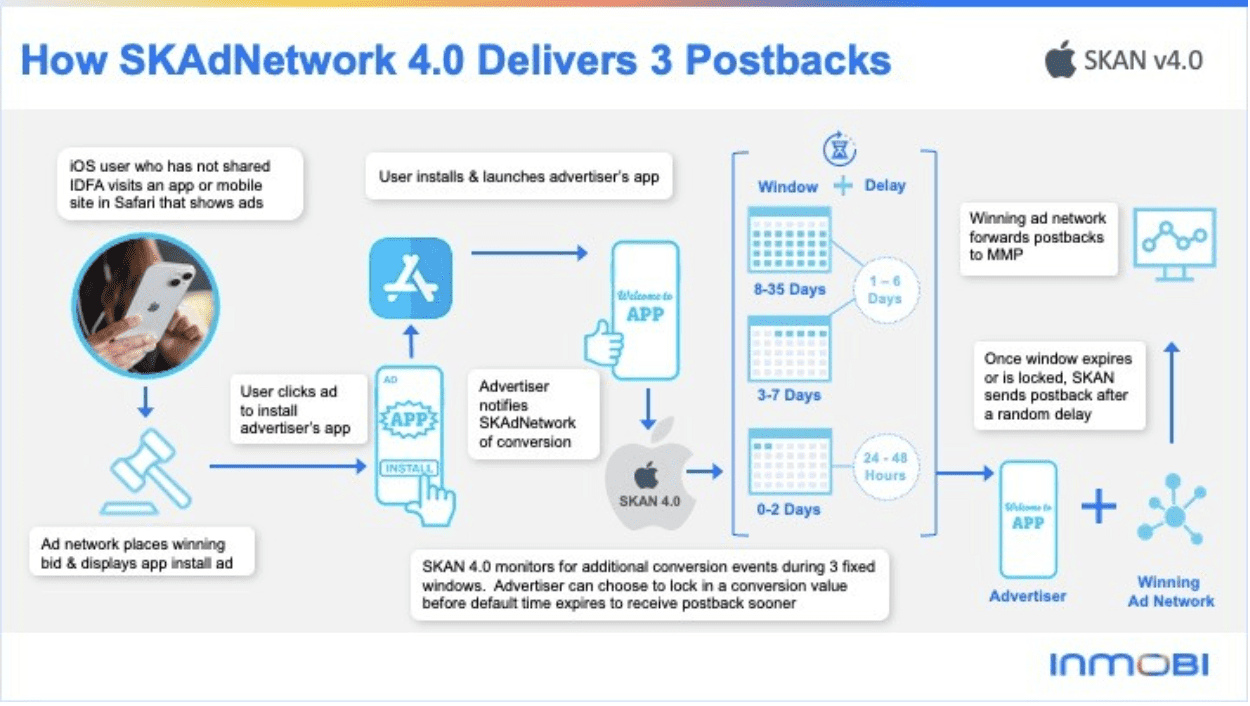 More flexible, multi-tiered approach to crowd anonymity instead of a binary threshold
For an attribution postback to contain key insights like conversion value in SKAN v3.0 and below, each campaign is graded daily and assigned a passing or failing score that hinges on whether Apple is satisfied that the number of installs it drove was high enough to adequately obscure each converted user's privacy. SKAN 4.0 grades on a curve instead, delivering a broader range of insights with varying granularity dependent on a crowd anonymity spectrum that takes into account the traffic volume of both the advertiser's and the ad publisher's app, as well as how many users converted after seeing an ad associated with a distinct campaign and ad network.
Media partners have up to 1000x more freedom to optimize campaigns
Perhaps the most limiting feature found in earlier versions of SKAN from a campaign optimization perspective is the 2-digit campaign identifier, which caps the number of campaigns each media partner can run to no more than 100. Gone is the 2-digit Campaign ID in SKAN 4.0, and in its place is a new parameter called Hierarchical Source ID that can have as many as 4 digits. The number of digits included in an attribution postback is controlled by Apple's updated crowd anonymity grading scale with more digits passed as Apple's confidence in user privacy grows. This gives ad networks up to 10,000 unique combinations of signals they can take advantage of to fine-tune for maximum performance and cost effectiveness.
Expanded spectrum of conversion insights available at varying levels of granularity
Apple's school of privacy in advertising likes to reward good students and one such reward is the Hierarchical Conversion Value, which is new in SKAN 4.0. The legacy conversion value in earlier versions of SKAN that allowed advertisers to define up to 63 conversion events is still in place, but it is now referred to as the Fine-Grained Conversion Value with a companion called the Coarse-Grained Conversion Value. This new parameter has three values that can be assigned to important conversion events, and it can be received in any of the 3 postbacks even when the highest tier of crowd anonymity isn't met, while the fine-grained value will be reserved for only the first postback and higher crowd anonymity tiers.
Support for Safari mobile web-to-app campaigns within the SKAdNetwork flow:
While earlier versions of SKAdNetwork offer support for only in-app campaigns, SKAN 4.0 adds the ability to attribute app performance driven by ads shown in Safari's mobile browser. This unlocks an additional conversion path for attracting new users via SKAN-compliant app growth campaigns.
Apple Had a Few New Tricks Up its Sleeve
In addition to delivering all expected SKAN 4.0 features ahead of schedule, Apple also worked in a few surprises, with some more welcome than others. Here's a rundown of the new details revealed now that SKAN 4.0 is available in the wild:
Ability to lock conversion windows
Additional functionality was revealed that gives advertisers the choice to trigger a locking mechanism when conversion events occur within each of the three new default windows. This causes SKAN to stop tracking additional conversion events until the next fixed window opens, and in turn will allow postbacks to be delivered more rapidly to inform campaign optimizations. This locking mechanism can be configured to trigger as soon as any conversion event happens within one of the three windows, or it can be tailored to apply selectively only when events that matter most occur.
Randomized delay mechanics for postback delivery
The rolling timer that resets anytime a new conversion event occurs in earlier versions of SKAN might be gone, but now there's a new timing nemesis to contend with in the form of less favorable randomized delays dictating when Apple sends postbacks after a conversion window is locked or closes by default. The first postback is delivered 24-48 hours after the conversion window closes, which is in line with earlier versions of SKAN. However, the second and third postbacks can be delayed up to 144 hours, or 6 days, dampening hopes of deeper post-install cohort analysis of how conversion timing impacts lifetime value.
Broader range of crowd anonymity tiers and visibility into corresponding levels of data granularity available in postbacks
Apple described three levels of crowd anonymity when it announced SKAN 4.0, but newly released documentation reveals four data tiers numbered from 0 at the low end to 3 at the high end. When the first postback is sent, the top two tiers are both eligible to receive the most granular conversion and source ID values, with the only difference between the two being that the 2nd tier does not receive details on which specific app displayed the ad that drove conversion. Tier 1 only receives a 2-digit source ID and the Coarse-Grained Conversion Value, and tier 0 mirrors what is received in SKAN v3.0 and below in instances when the Privacy Threshold is unmet. More detail on how postback granularity is impacted by data tier and conversion window sequence is available in this handy visual.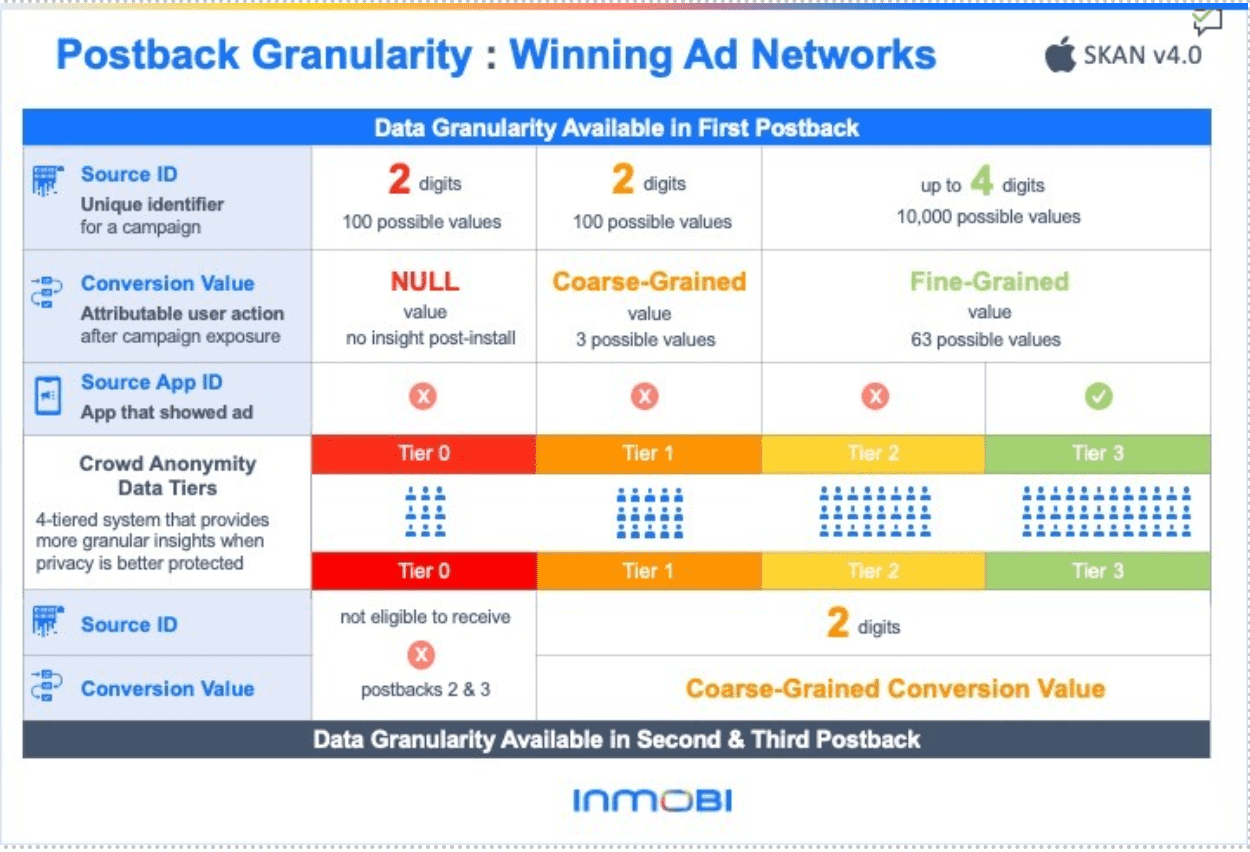 In addition to adding more advanced logic to how Crowd Anonymity is calculated, Apple also revealed key elements that factor into this equation:
Crowd size of advertiser's app
Crowd size of ad publisher's app
Frequency with which an ad network's hierarchical source ID appears in conversion events
Safari to app flow
Documentation for SKAN 4.0 clarifies that its newly released web-to-app flow is limited to only Safari v16.1+ and will not support other browser apps or in-app browsers. This additional channel is still an incremental win, despite being narrower in scope than the industry hoped.
InMobi has been bullish about SKAN from the start, and we're excited to embark on this next phase alongside our clients and partners. We know how complex SKAN is to navigate, and the last thing app growth marketers need to worry about is unpacking all the technical minutia that comes with each new version. We've put together some quick tips here with steps you can take now to prepare to take advantage of SKAN 4.0's enhancements, and are happy to help you cut through the noise and understand how these changes impact your app's growth in a meaningful way.
Reach out to your InMobi Account Executive to get started, or use our contact form. You can also find more of our insights on how to navigate iOS app performance marketing and SKAN in a privacy-first world in our SKAN 4.0 Resource Center.