Based on automated marketplaces that work in real-time instead of manual insertion orders and human intervention, programmatic advertising has transformed the status quo of the traditional media buying process. Programmatic at its heart is driven by automation where demand from buyers such as advertisers and agencies is met by supply from publishers on a digital marketplace.
Over 40% of advertisers spend up to 25% of their budgets on mobile programmatic advertising. Programmatic is gaining popularity across the globe with different regions embracing programmatic at different levels of maturity as marketers realize that the channel can aid brands to raise awareness, engage, acquire, re-target users.
Drive Real Action at Scale
Programmatic advertising offers multi-fold benefits for marketers and brands when it comes to reaching their audiences at scale. This means that advertisers can identify, curate, and target custom audiences, reaching them via the always on-medium of mobile. For example, you can precisely target audiences who enjoy watching movies in a multiplex or shopping enthusiasts who love technology devices. With 'always on' segments, reaching customers effectively 'anytime, anywhere' is made possible by in-app programmatic.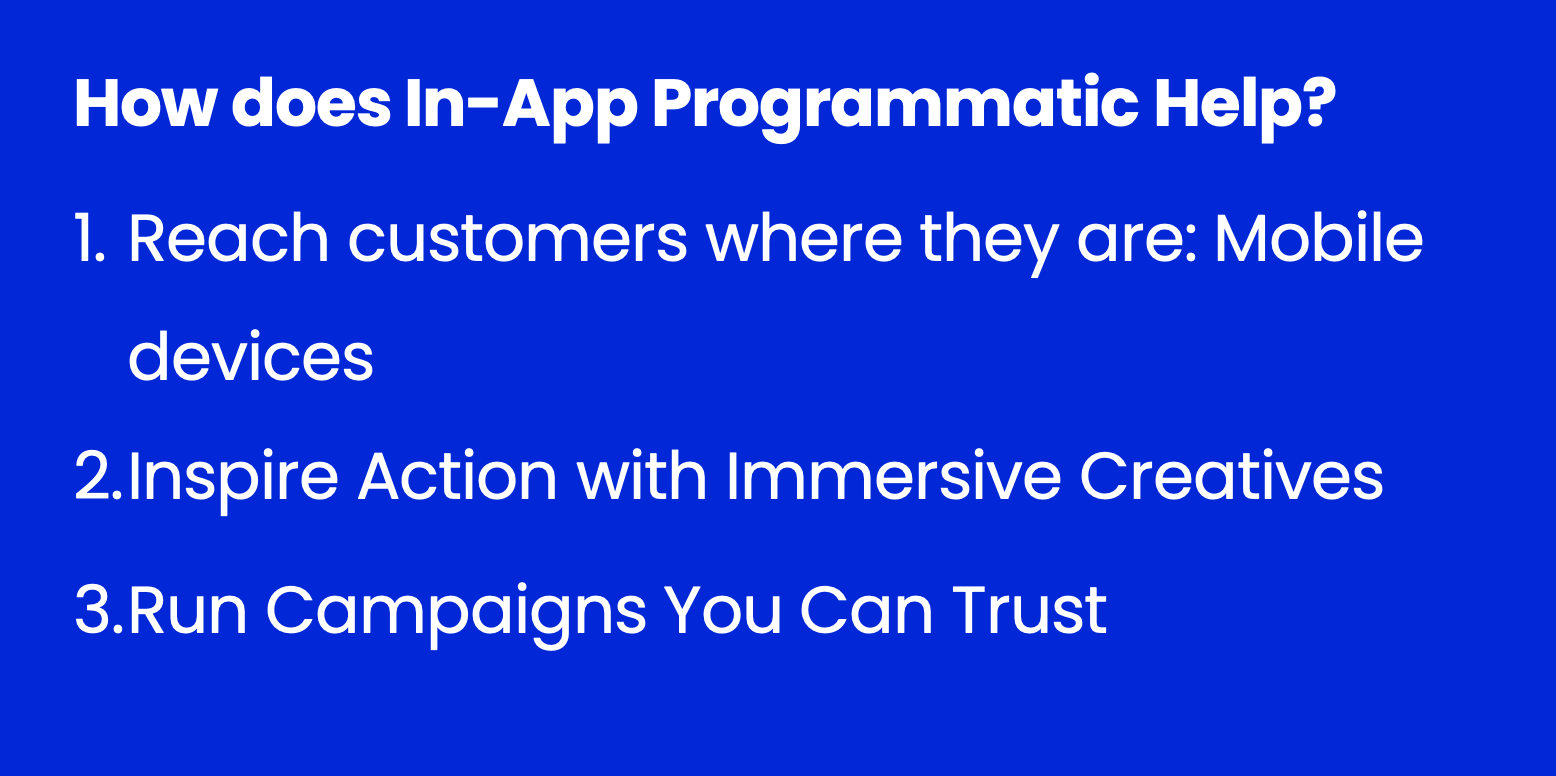 Thumb Stopping Creatives
Captivating creative experiences can make all the difference to a brand's campaigns. Be it through video, rich media, or through an augmented reality experiences, the right creative can make a consumer out of a window shopper. Vertical video has been an especially powerful format that has driven significantly higher engagement when compared to other formats such as banner and horizontal video. When paired with the right calls to action (CTA), these immersive formats can drive phenomenal results.

Run Campaigns You Can Trust
Advertisers today have a wide variety of buying choices be it private marketplaces or open exchanges. Regardless of their choice, brands must focus on accessing brand-safe, measurable and transparent media. This can be achieved through a combination of in-house controls, working with 3rd party partners, adoption of industry standards, and demanding accountability from your partners.
Ready to launch your campaign? Make sure to tick these off your checklist!
Identify and define audience segments by supplementing first-party data with carrier-grade data for a holistic view of consumers

Choose between different methods of programmatic buying such as Open Exchange (more suited for performance campaigns) vs Private Marketplace (more suited for brand campaigns) based on your needs

Leverage rich media, video and interactive formats to captivate users

Drive greater brand experience with personalized user experiences

Leverage cross-device identity graphs to reach consumers no matter where they are

Ensure trust and transparency standards are met by checking for brand safety and ad quality

Monitor and optimize campaigns based on the larger goals of your campaigns

Make use of retargeting campaigns to drive top of mind awareness, and nudge potential users down the funnel